Coin Values Moving with Precious Metals: Up-Dated 11/27/2023: Gold $2010 | Silver $24.66
1957 Nickel Value
Because of large outstanding numbers available, premium 1957 nickel value is found in the condition of the coin. Recognizing special qualities added with high overall condition is needed to spot a Jefferson nickel in demand by collectors.
Collectors follow a series of steps as they evaluate coins. Beginning with date and mint combination along with condition of the coin are two of the key elements to how much a vintage nickel is worth. Proceed though the step-by-step method looking for special qualities of your coin.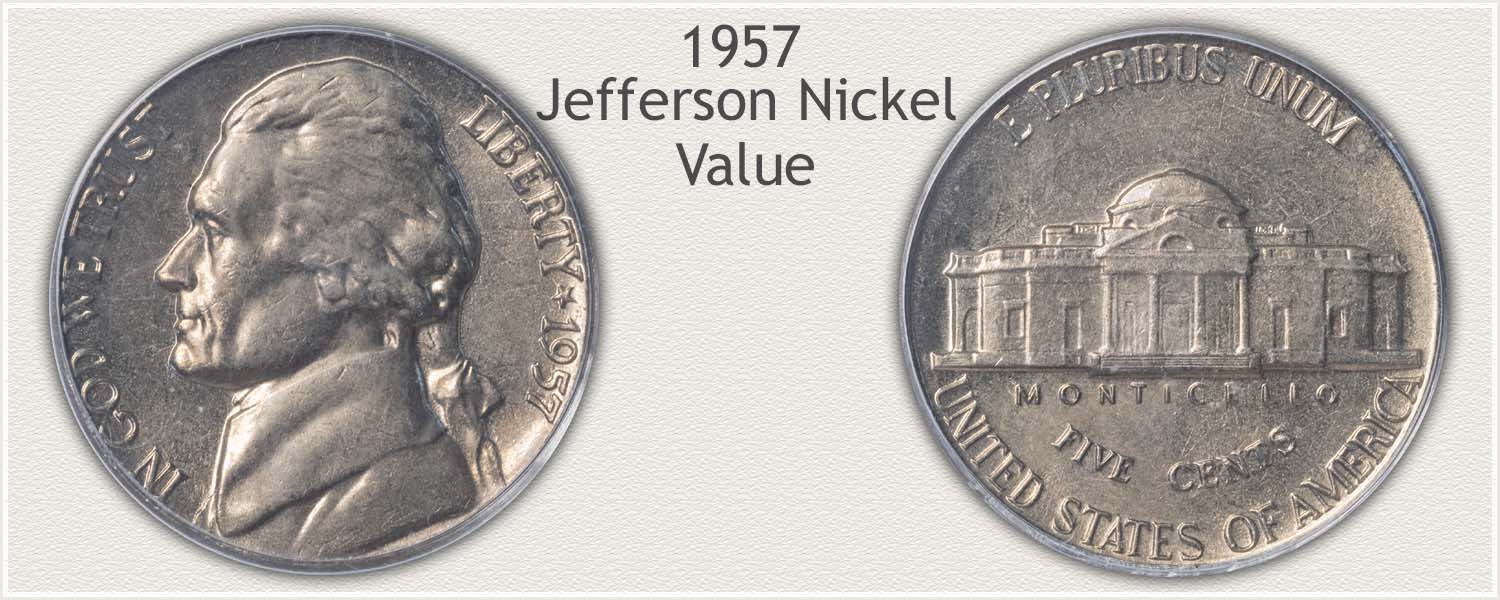 Steps Leading to Value:
Step 1: Date and Mintmark Variety - Identify the two different varieties of nickels struck in 1957.
Step 2: Grading Condition - Compare to images of grades to judge condition and collectability of a vintage nickel.
Step 3: Special Qualities - Find qualities of the coin potentially adding to its appeal to collectors and added value.
1957 Jefferson Nickel Value
Condition of Coin
Date
Good
Fine
Extremely
Fine
Mint
State
1957 Jefferson Nickel Value Up-Dated
2023
1957
$0.05
$0.05
$0.05
$0.43
1957 D
$0.05
$0.05
$0.05
$0.43
Of all your old Jefferson nickels, a few usually standout as above average in appearance. These are the coins likely to attract the attention of a collector willing to place a premium on the coin. Dates and their mint marks are important; however, exceptional coins with the least wear are the coins in demand.
Follow the steps to judge and identify a coin distinctly different - quality above the average circulated and worn nickels.
Step 1: | Date and Mintmark Variety Identified
Two Mint Varieties of 1957 Jefferson Nickel
Mintage quantities of nickels increased greatly in 1957. Two mints; Philadelphia and Denver produced over 176 million Jefferson nickels. As a date the 1957 nickel is abundant and if showing moderate to heavy wear, they have minimal collector value.
Collectors identify the mint variety to obtain one from each mint when completing collections of vintage nickels. A preference for high condition examples is shown in the value chart.
1957-D Jefferson Nickel
"D" Mintmark on Reverse: Denver Mint Struck the Coin
Denver began to mint larger amounts of nickels in 1957 compared to prior years. With a large jump to 136.8 million the Denver mint variety is abundant. Worn examples are easily obtained by collectors with very little premium over face value. The challenge is locating nice crisp and detailed examples.
Locate the "D" mintmark on the reverse. Denver placed a small "D" to the right of Monticello to identify its coinage.
1957 Jefferson Nickel
No Mintmark on Reverse: Philadelphia Mint Struck the Coin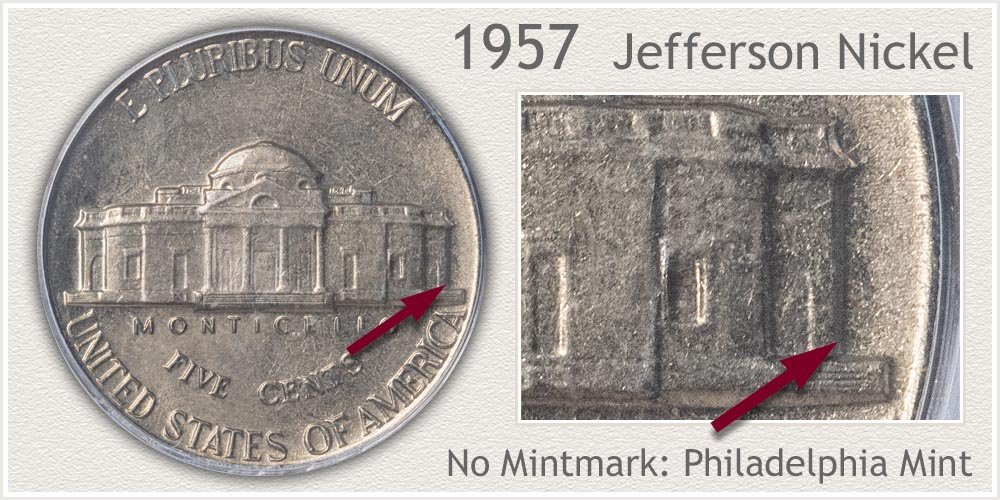 Philadelphia is the second mint variety 1957 nickel. Producing an additional 38.4 million to place into circulation. These circulated for years with the majority becoming worn. A collectible condition coin displays light to no wear to the surface. Pleasing examples are sought and affordable to a new collector.
No mintmark was use by Philadelphia in 1957. A 1950's nickel without a mintmark on the reverse next to the rim is from the Philadelphia mint.
Step 2: | Condition is Judged and Grade Determined
Grading and 1957 Jefferson Nickel Value
Grading involves an overall view of the coin and then a close inspection of finer details to judge condition. Images of standard grades are used to compare your coin and find a close match. The important distinction is the separation of Mint State examples from circulated - worn nickels for both value and market demand.
Mint State Grade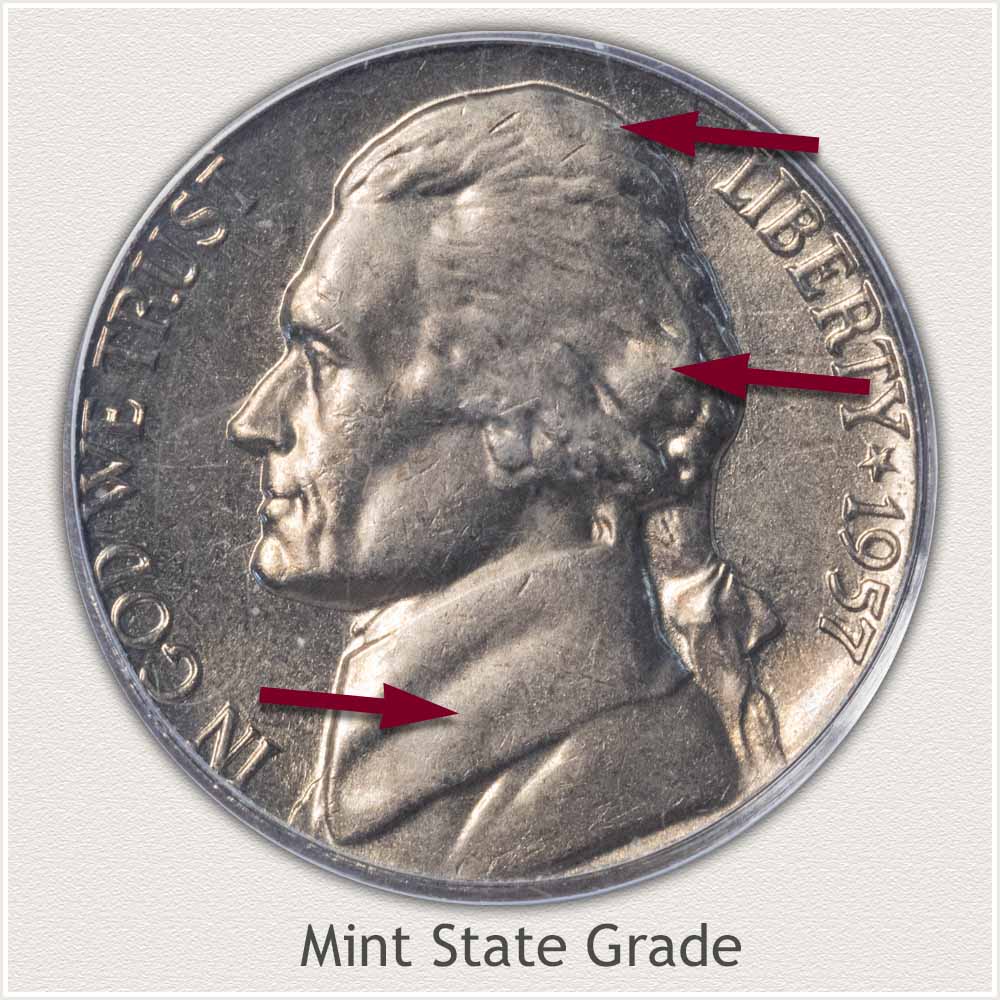 Mint State: No wear to the surface is the key to the Mint State grade. The presence of luster over the entire surface is determined to confirm a coin without wear. Luster is the fine texture imparted during the minting of coinage, giving the shine. High areas are first inspected looking for continuous coverage of luster.
Jefferson's hair towards the top of his head is a large area and remains covered in luster on Mint State examples. A close look shows no dulling or smoothing of the metal, both indicate the original surface is intact. With a similar look found across the high points of hair and a frosty luster remaining the mints state grade is confirmed.
Extremely Fine Grade
Extremely Fine: Light wear removing the luster and just small amounts of metal from the highest areas is the definition of a nickel in Extremely Fine grade.
Most of the fine details must remain to achieve the Extremely Fine grade. Jefferson's hair from the top of the head to below the ear is only lightly worn. Highest points of contours are only slightly flattened and importantly, many remain separated and not merged with others.
When looking closely at the eyebrow, notice the slightly lowered contour separating the cheek below. A subtle point that helps identify a lightly circulated Extremely Fine grade nickel.
Low Circulated Condition Examples
Low Circulated Condition: Lower grade circulated nickels are visibly worn and large areas are without finer detail. Facial features appear flattened and often a large smooth area is at the collar and coat line.
Jefferson's hair once full of defined and contoured waves is now one flat smooth area. Lacking any details to the central hair lowers the condition and appeal. A small feature to inspect is the eyebrow is now fully connected to the cheek below in a flat surface. Jefferson face has lost the raised contours of jaw, cheek, and separation from hair lines.
Monticello on the reverse is very worn and most details of columns and windows are missing. Eye appeal is lowered as well as demand.
How to Video: Grading Jefferson Nickels
Example images of the different grades of Jefferson nickels are used to help visualize the subtle changes wear causes to the surface.
Video, Images and Descriptions | Grading Jefferson Nickels
Step 3: | Special Qualities Enhancing Value
Technical Eye Appeal is Recognizable
Eye appeal of a coin is considered a subjective determination by a collector. Their own personal tastes and opinion plays a large role in their likes and dislikes of a coin. Adding a particular nickel to their collection is a serious consideration. Technical grade is a large part of the decision when purchasing a coin and equally important is the aesthetics, overall eye appeal.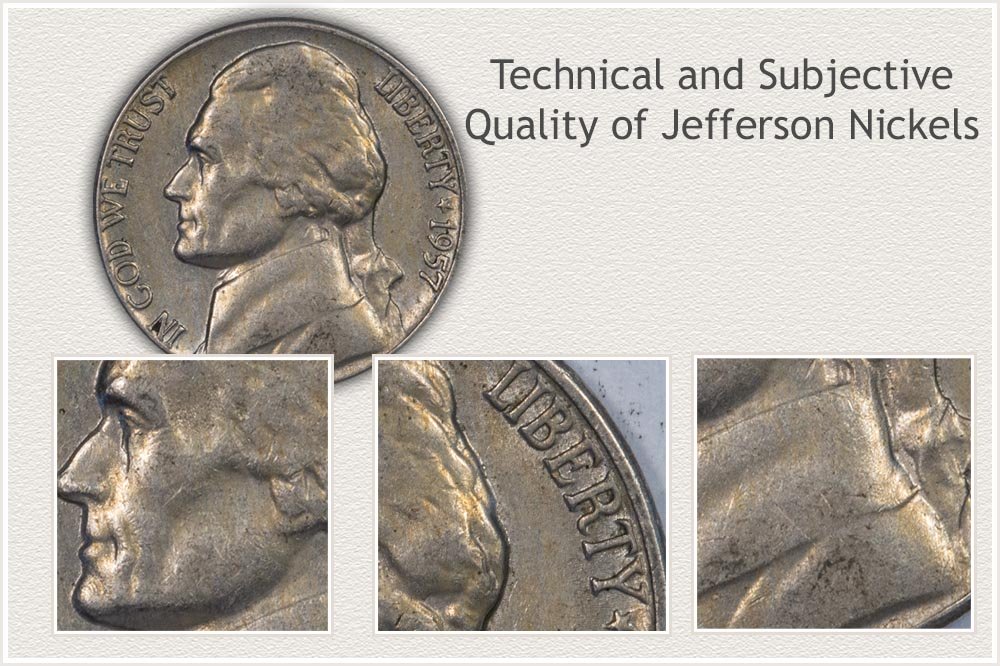 Identifying the technical condition of a coin includes the important basis to many eye appealing qualities as well. Viewing the example coin, it projects a pleasing appearance, easily recognizable. Technical points contribute to projecting a quality look.
Light wear is visible; very slight and evenly distributed. Wear eliminates the technical grade of Mint State, however, the coin remains highly detailed.
A subtle point, but technically seen, is the boldness of the strike. This coin is presenting a well struck example of a Jefferson nickel. Lettering is fully separate of the rim, sharply defined where they meet the field of the coin, and squared and flat on the tops. Features of Jefferson's face are strongly raised and contoured, details of the hair are defined, and his coat and collar are fully detailed.
Marks and abrasions are another aspect to the technical quality. Looing closely, a distinct absence of marks is seen. Looking even closer, and studying the high areas of the cheek and collar, marks are few and small. Slowly inspecting the fields finds only a few abrasions. A remarkable lack of marks is appreciated by all collectors, a universal aspect to eye appeal.
An inspection of your coin with a focus on spotting examples with no to light wear, bold details highlighted by crisp lettering, and absence of distracting marks recognizes a collectible quality. Coins possessing these traits are sought by collectors.
References
U.S. Mint. 1958 U.S. Mint Annual Report https://hdl.handle.net/2027/osu.32435056485402
Coin Values | CoinStudy Articles
Date by Date
In Depth Jefferson Nickel Values
1938 to 1964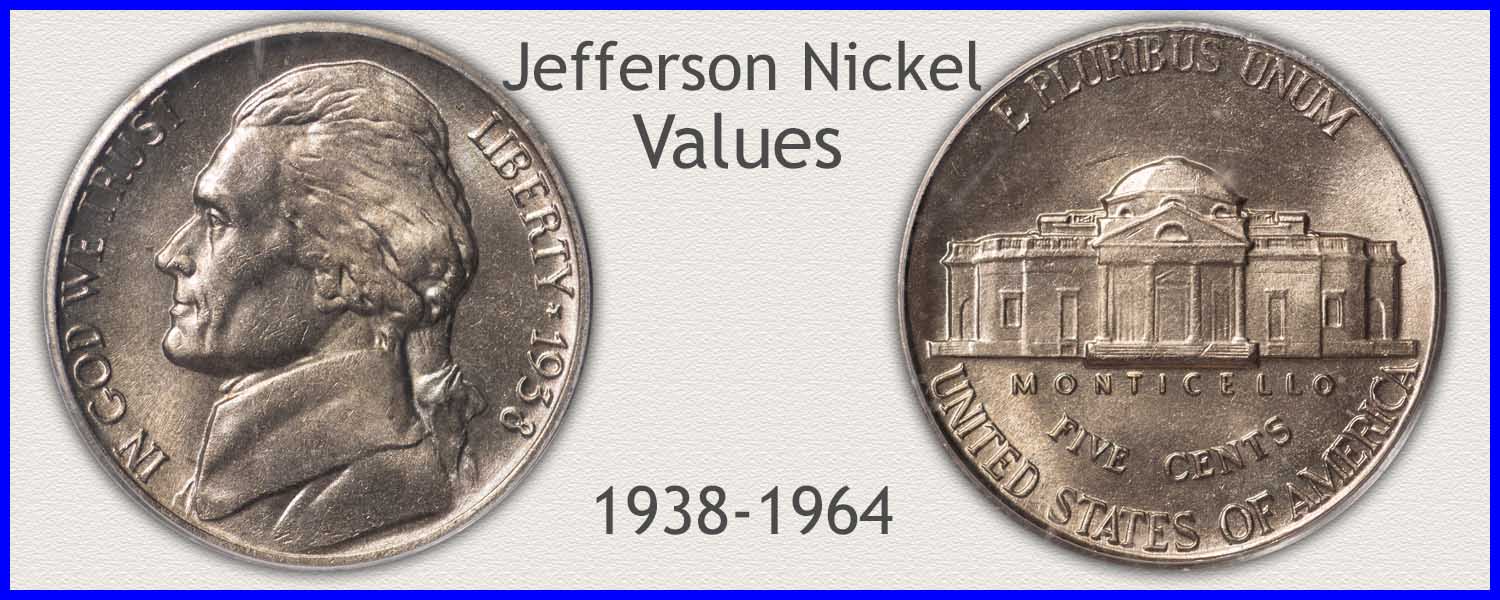 Jefferson Nickel Values | Discover Their Worth
A key to Jefferson nickels and values is condition of the coin. Special attention is given to grading using images to compare and identify condition. Value charts now highlight the dates and mintmarks with premium listings.
Print the Coin Values Worksheet
List your Jefferson nickels and record their values. Should you decide to sell... use the worksheet as an invoice and packing slip when sending coins through the mail to dealers. It indicates you have done your coin values homework.
Coin Value Guide | How to Value a Coin Collection
Printable sheet to list and inventory your coins and record Jefferson nickel values.
Safe Coin Storage | Recommendations
Recommendations on basic supplies that greatly improve coin storage. Providing for safe handling, preserving of value and organizing your box of old coins. Safe storage of nickel coins is as important as copper and silver alloy coins to maintain their preservation into the future.
★ Coin Values Discovery finds 1957 Jefferson Nickel Value and...
All old US coin values. The home page is an excellent index, quickly leading to the major coin series. From Cents to Gold. Easily sort and value your coin collection using a step-by-step method.