Coin Values Moving with Precious Metals: Up-Dated 11/27/2023: Gold $2010 | Silver $24.66
1959 Nickel Value
Last year of the 50's decade is a good choice to future premium 1959 nickel value. Date and mint combination is a start with the importance of condition playing a large role in a collectible quality coin.
Most of the total 1959 nickels produced entered circulation and became worn and lost much of the design detail. Following a few steps identifies the quality of coin that today's collectors award a premium value.
Steps Leading to Value:
Step 1: Date and Mintmark Variety - The correct mint variety is identified and mintmark located.
Step 2: Grading Condition - Preservation of your coin is key to its value. Compare to images helping judge condition.
Step 3: Special Qualities - Find the positives adding to your coin's appeal and collectability.
1959 Jefferson Nickel Value
Condition of Coin
Date
Good
Fine
Extremely
Fine
Mint
State
1959 Jefferson Nickel Value Up-Dated
2023
1959
$0.05
$0.05
$0.05
$0.43
1959 D
$0.05
$0.05
$0.05
$0.43
Condition of your coin becomes the key issue to 1959 nickel value. Many have survived and are available today, most in worn condition. Step 2 below is a necessary step to recognize a quality collectible condition sought by collectors.
Proceed through the steps, confirming the date and mint first, and then begin the "grading process". With a little time and comparing your coin to the condition images, you can spot the differences and correctly judge your coin.
Step 1: | Date and Mintmark Variety Identified
Identify 1959 Jefferson Nickel Mint Variety
Jefferson nickels were produced in large numbers in 1959. Two mints struck the coins, Philadelphia and Denver, with great differences in quantities. Both varieties are considered abundant today, however collectors are aware of the huge differences in original mintages.
Mintmarks are the identifying feature to determine the mint that struck the 1959 nickel variety.
1959-D Jefferson Nickel
"D" Mintmark on Reverse: Denver Mint Struck the Coin
Denver is the top producer of 1959 nickels, striking 160,738,240 pieces. With a large initial supply these are considered by collectors as an easily obtainable date and mint. Premiums are very affordable to all levels of collectors, beginning to advanced. A focus is made to obtain examples in very high grades of preservation.
Identify the Denver nickel by the "D" mintmark on the reverse. At the right side of Monticello, a "D" mark was placed on the Denver mint issue coins.
1959 Jefferson Nickel
No Mintmark on Reverse: Philadelphia Mint Struck the Coin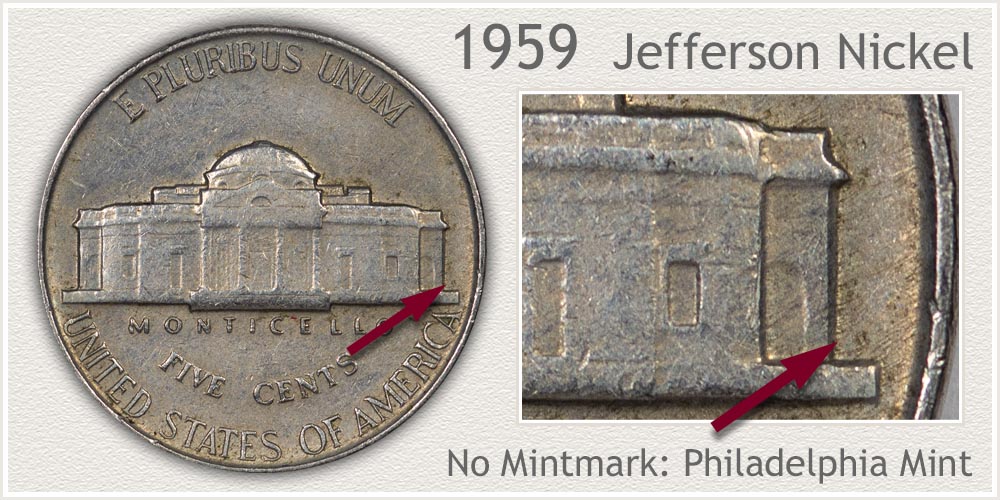 Minting a total of 27,248,000 nickels for circulation, Philadelphia issue nickels of 1959 remain abundant today. Although the original mintage is smaller than the Denver variety, supplies are keeping premiums similar.
No mintmark was used by Philadelphia on coinage of the era. On the reverse, look to the right of Monticello, with no mintmark present, the coin is the Philadelphia mint variety.
Step 2: | Grade Identifies Condition and Narrows Value
Condition Determines 1959 Jefferson Nickel Value
The bold features of Jefferson's portrait and its high and low relief areas are used to determine condition of the coin. Wear is the primary factor to identifying the state of preservation and narrow a grade range. Comparing to images representing stages of wear with a focus on specific points highlights the different grades.
Mint State Grade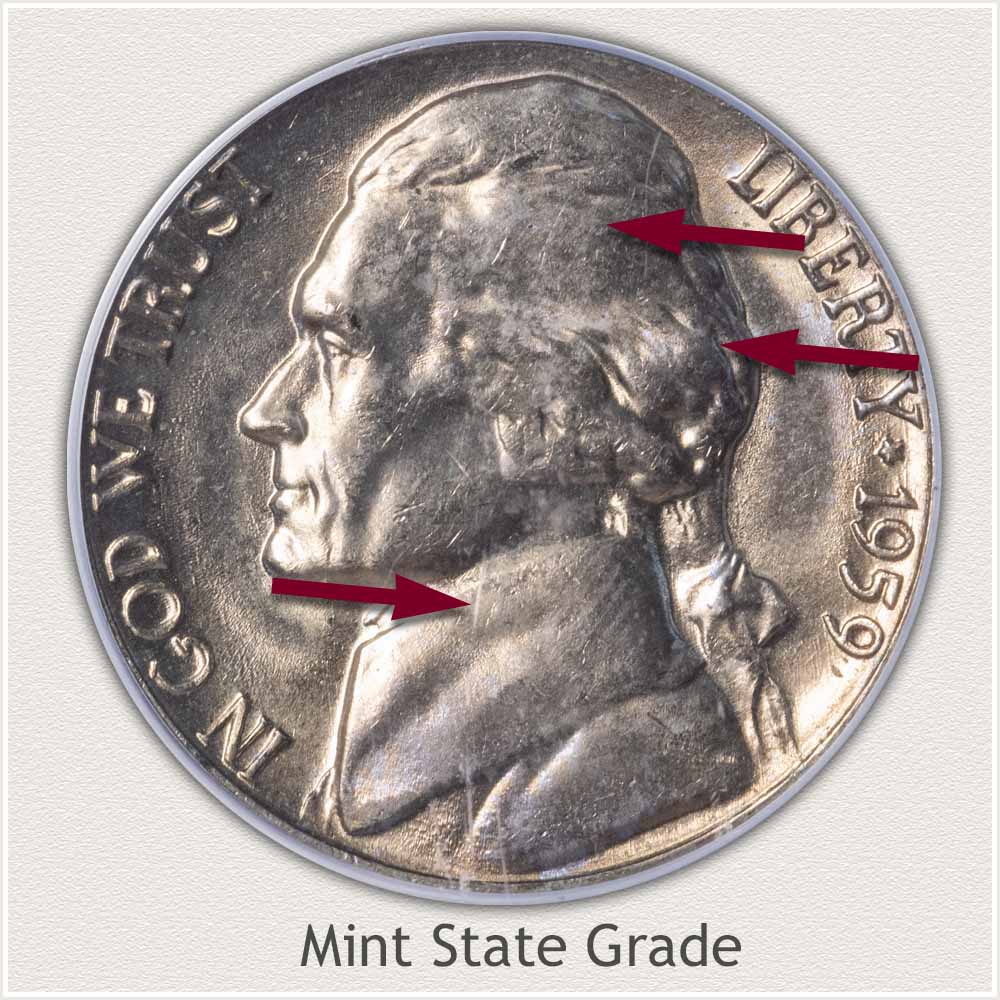 Mint State: A coin without any wear to the surface is defined as the Mint State grade. Typically, a close inspection is needed to confirm the surface is intact as minted. Mint luster is a delicate texture of the metal giving the coin its shine. Easily disturbed, luster is a good indication if the coin is worn on the surface.
Inspect the central area of the hair looking at the raised and lower contours. Texture and shine of high points match the luster of low areas on Mint State condition nickels. A very high area is found behind the ear and shows a covering of luster matching the rest of Jefferson's hair.
Dulling and smoothing of the metal indicates removal of metal because of wear. The example is a coin without wear considered mint state grade with luster over the entire surface.
Extremely Fine Grade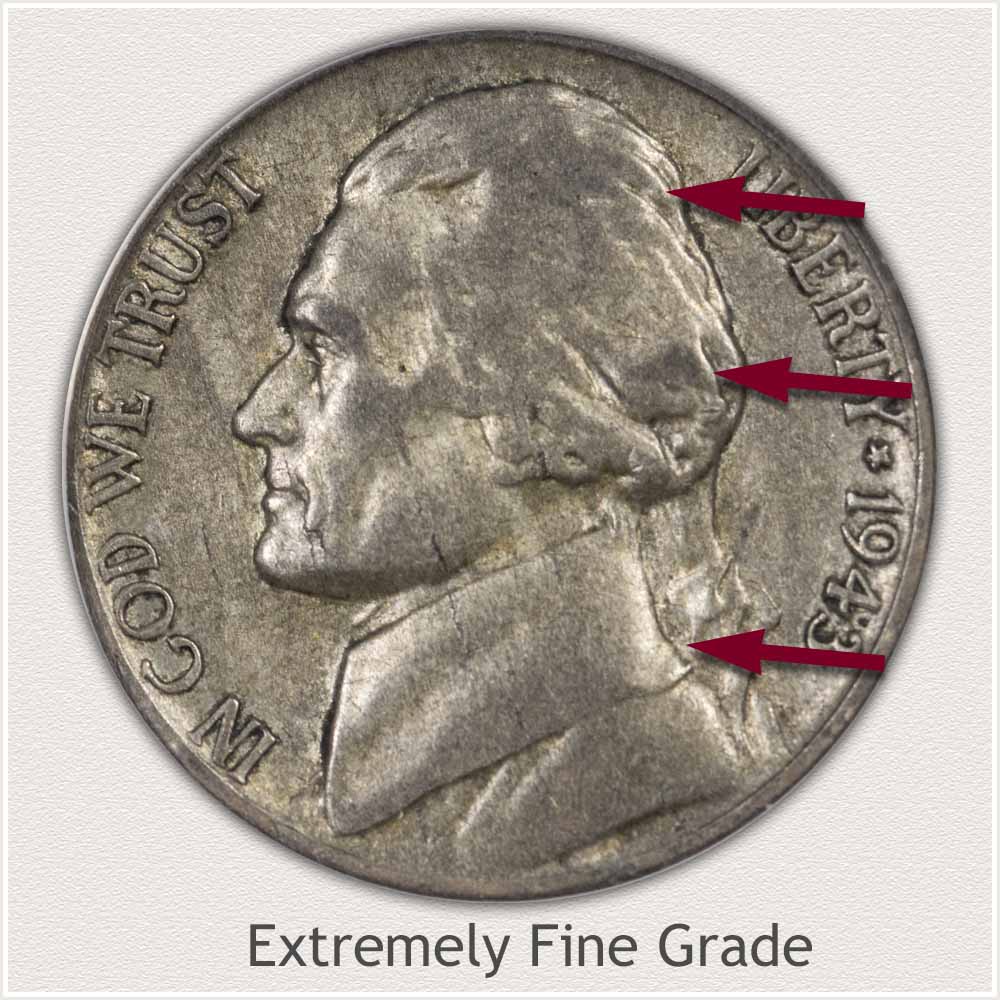 Extremely Fine: As a coin begins to circulate, its shine and luster is quickly disturbed noticeably on the highest areas. Light wear produces a dulling and smoothing of the surface. High areas are inspected to determine the extent and amount of metal that is worn.
Very small amounts of metal are smooth and flattened on the example, a definition of the extremely fine grade. Jefferson's hair is no longer bright with luster a slight amount of wear is dulling the high contours. Towards the back of his head, behind the ear the high point of hair is worn to a flattened area. Important to the grade is worn areas are disconnected with high areas distinct.
Crisp details remain on the coat and collar. Sharply defined lettering and date are fully separated from the rim.
Low Circulated Condition Examples
Low Circulated Condition: As wear removes moderate to larger amounts of metal, major design details begin to flatten and merge. Lower condition 1959 nickels are noticeable worn and display large smooth areas.
Jefferson's hair is a flat surface extending from his ear upwards to the top of his head. Notice the area behind the ear is at the same level as the rest of the hair. No contours of high and low remain within the central areas of the hair.
Lettering is beginning to appear as merging with the rim. Combining the soft, faded look of the reverse with the major details missing from the obvers lowers eye appeal and grade. Jefferson nickels of the later vintage years are abundant in moderately worn condition.
How to Video: Grading Jefferson Nickels
Subtle points to grading are covered in additional detail.
Video, Images and Descriptions | Grading Jefferson Nickels
Step 3: | Special Qualities Enhancing Value
Value of Positive Qualities
Judging the preservation and qualities of an old nickel often begins by looking for the negative aspects. Typically, the first inspection is for the presence of wear, considered a negative, as it is the removal of metal and lowering of grade. Another technical part considered is the number of marks and nicks to the surface, all considered as less than ideal. An effort to find what's "wrong" with the coin is diligently explored.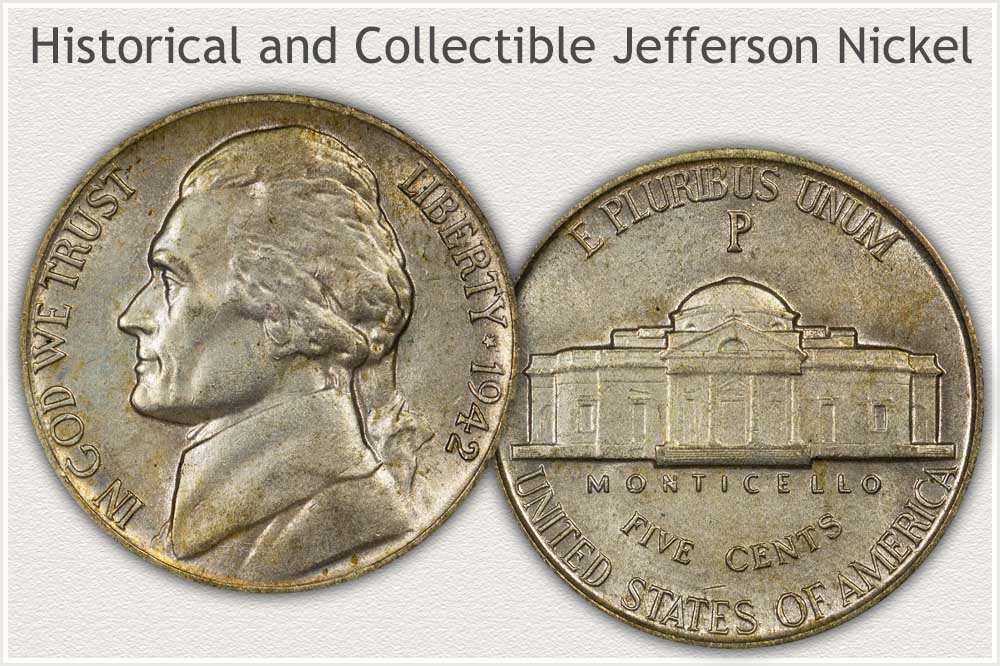 Most coins when considered from a different perspective have qualities that are heavily on the positive side. A vintage Jefferson nickel with wear to the surface is an affordable coin to all collectors. Coins a young or beginning collector can purchase is a strong positive. Wear becomes a positive to many collectors by allowing participation in collecting an important part of U.S. coinage. Supplies of these lightly circulated coins are considered abundant, thus low premiums. However, a low-premium is a positive to many. As a side note: abundant is in the context of lesser demand when comparing vintage Jefferson nickels to other series.
Circulated vintage nickels are an excellent path to deeper understanding of the coin market. Collectors that assemble and invariably trade or sell parts of a collection gain insight to both sides of the buy/sell transaction. They discover how others view their coins and selections. Valuable insight to the workings of the coin market, their abilities to judge qualities of coins, all add to their expertise. Young collectors develop into experienced collectors.
Jefferson nickels from the 1930's through the 1960's; the early era of the series, form a worthy and interesting collection of U.S. coinage history.
References
U.S. Mint. 1960 U.S. Mint Annual Report. https://nnp.wustl.edu/library/book/514147
Coin Values | CoinStudy Articles
Date by Date
In Depth Jefferson Nickel Values
1938 to 1964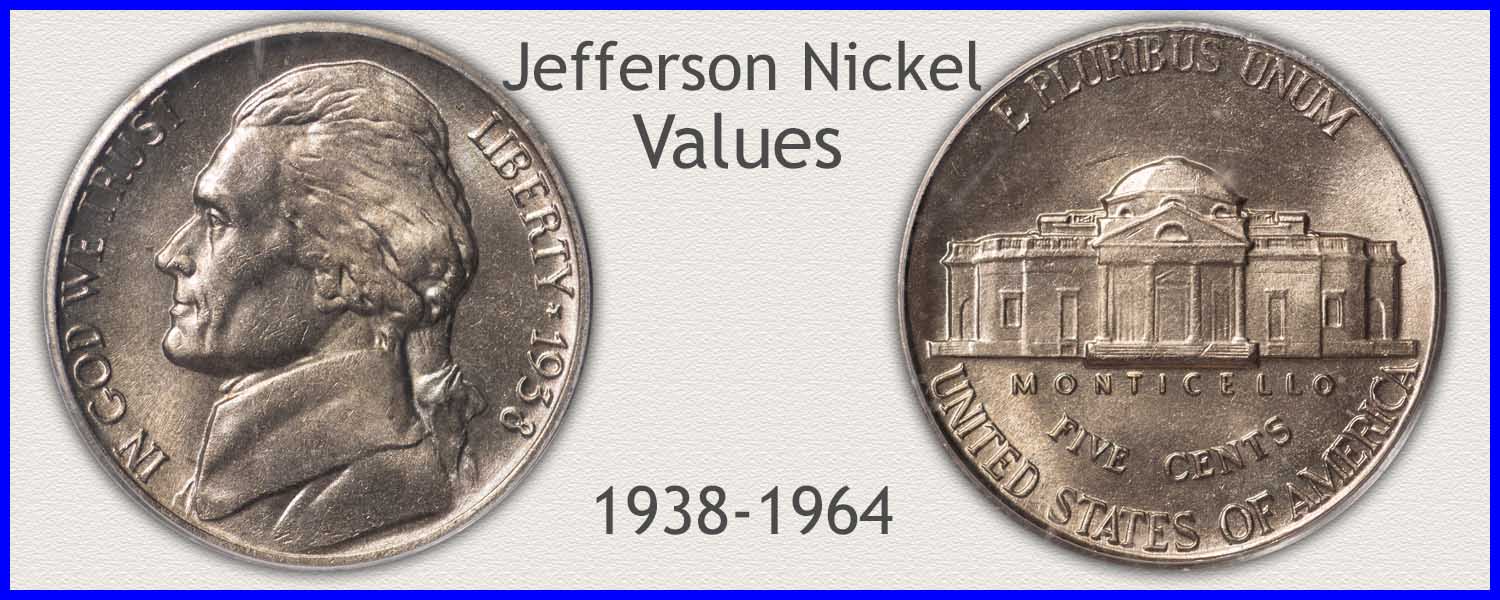 Jefferson Nickel Values | Gaining Popularity
Jefferson nickels are typically collected in high grade. Value chart starting in 1938 show the collector grades and values. Identify the nickels in demand by collectors using a step-by-step method. Images and descriptions are used to grade condition.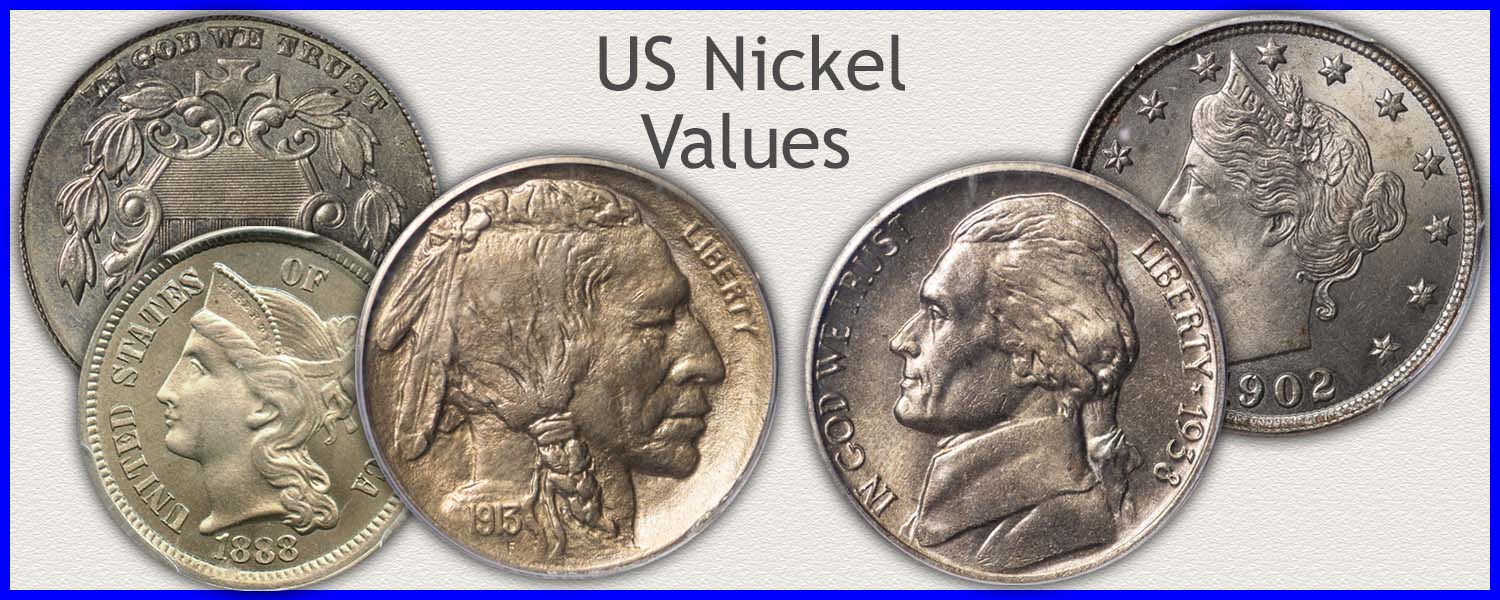 Old Nickel Values | Guide to Nickels
Starting with the old Shield nickel first minted in 1866 to the Liberty nickel. Followed by the very popular Buffalo nickel. 1959 nickels are part of the long running denomination. Value Charts and grading images identify rare nickels.
Rare nickels, for example, ones with a slight doubling of letters, occasionally "hide" in your box of old coins. Scarce dates and mintmarks are listed with how to identify. High quality nickels are also in favor with today's collectors. Many nickels have become rare because of age and lack of availability.
Print the Coin Values Worksheet
List your Jefferson nickels and record their values. Identify and organize your collection, and keep a summary of all coins.
Interest of collectors is the base to coin values. Collecting sets of silver coins places demands on older series raising their values above underlying metal values. Popularity trends identify these coin series.
★ Coin Values Discovery finds 1959 Jefferson Nickel Value and...
All old U.S. coin values. Identify your coin with the image index and text links to coin value charts. From small cent to gold coinage, grading images and descriptions uncover how much your box of old coins is worth.