Coin Values Moving with Precious Metals: Up-Dated 9/25/2023: Gold $1921 | Silver $23.44
1948 Nickel Value
Using a few steps, find where your coin places on the value chart. First is identify date and mint combination, next recognize state of condition. 1948 nickel value is narrowed and its demand in the collecting field is determined.
Vintage Jefferson nickels are popular as an affordable collection. Collectors seek examples with just light wear as a minimum standard. In today's market, larger premiums are found in the Mint State range of condition. Ample quantities available offer many examples for collectors to choose from.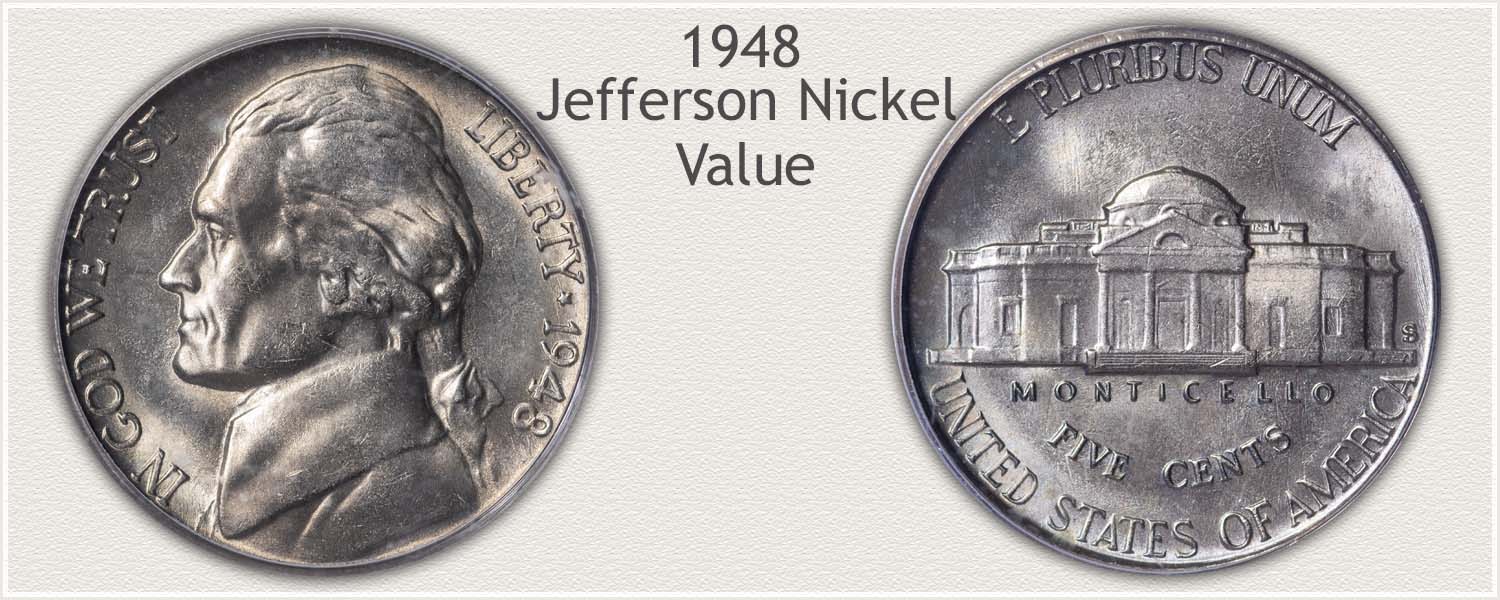 Steps Leading to Value:
Step 1: Date Plus Mintmark Variety - Important to correctly identify both date and accurate mintmark variety.
Step 2: Grading Condition - Judging condition is next and important to place your coin on the value chart.
Step 3: Special Qualities - Jefferson nickels often display certain qualities that potentially raise or lower value.
1948 Jefferson Nickel Value
Condition of Coin
Date
Good
Fine
Extremely
Fine
Mint
State
1948 Jefferson Nickel Value Up-Dated
2023
1948
$0.05
$0.05
$0.05
$1.15
1948 D
$0.05
$0.05
$0.05
$2.58
1948 S
$0.05
$0.05
$0.05
$1.45
Standout qualities are the deciding difference in finding premium value. After date and mint, quality of the coin, both in surface preservation and eye appeal is a strong factor. Subtle qualities are often what appeals to collectors. Steps below cover the points to judge and determine the potential of your coin.
Step 1: | Date and Mintmark Variety Identified
Three Varieties of 1948 Jefferson Nickel to Recognize
A bold, deeply contoured portrait of Thomas Jefferson is featured on these vintage nickels from the 1940's. Compared to the later modified portrait, these highly contoured coins are distinctly different. Collectors assembling a vintage nickel collection seek an example of the three mint varieties of 1948.
1948-S Jefferson Nickel
"S" Mintmark on Reverse: San Francisco Mint Struck the Coin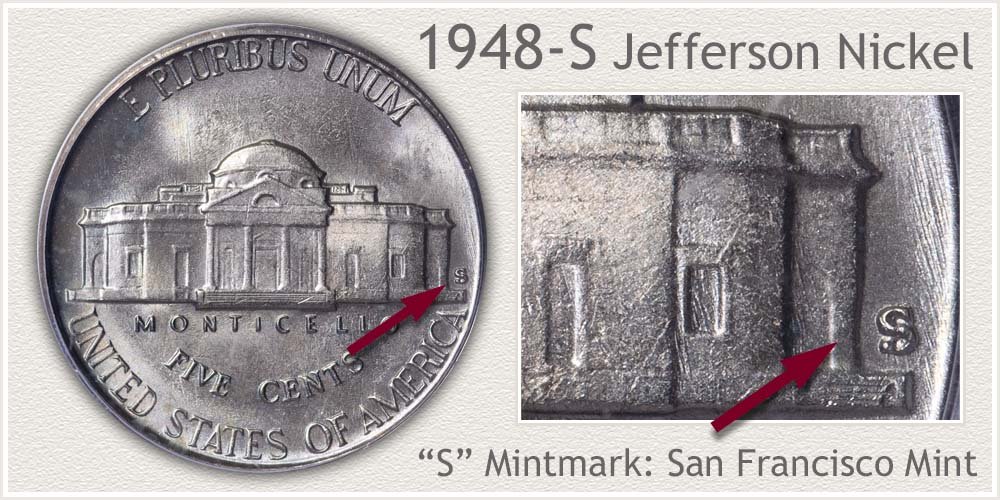 The San Francisco mint in California struck the fewest nickels of the three mints in 1948. With a total of just over 11 million these are encountered less frequently than others. Ample supplies in relation to collectors results in affordable values for a 1948-S nickel.
A nice older nickel from San Francisco is confirmed by the small 'S" mintmark to the right of Monticello. Look on the reverse close to the rim to find the mintmark.
1948-D Jefferson Nickel
"D" Mintmark on Reverse: Denver Mint Struck the Coin
Denver produced a substantial number of nickels. Over 44 million 1948 nickels feature the "D" mintmark on the reverse. Ample numbers minted with many remaining allow collectors to choose high condition examples to add to collections.
Denver mint placed a "D" mintmark on the reverse. To the right of Monticello, a small "D" in the area next to the rim is a Denver minted coin.
1948 Jefferson Nickel
No Mintmark on Reverse: Philadelphia Mint Struck the Coin
Most 1948 nickels were minted at the main mint in Philadelphia. Leading with over 89 million, the majority of surviving 1948 nickels are from Philadelphia. Many are available in all conditions helping to keep premiums affordable to all collectors.
Confirm your coin is the Philadelphia variety by the absence of a mintmark on the reverse. In 1948 Philadelphia did not use a mark to identify its coinage. To the right of Monticello and next to the rim, if the area is empty, Philadelphia struck the coin.
Step 2: | Judge Condition to Identify Grade
Grading Narrows 1948 Jefferson Nickel Value
An overall view of your coin begins the grading process. An appealing coin; for example, one lacking large marks or scrapes, is easily recognized. Subtle factors concerning presence of wear are then judged to arrive at an accurate value. Viewing under a magnifying glass is routinely done by collectors to help detect important elements confirming a grade.
Beginning with a Mint State example highlights the complete design, wear resulting in missing design is use to gage lower condition nickels.
Mint State Grade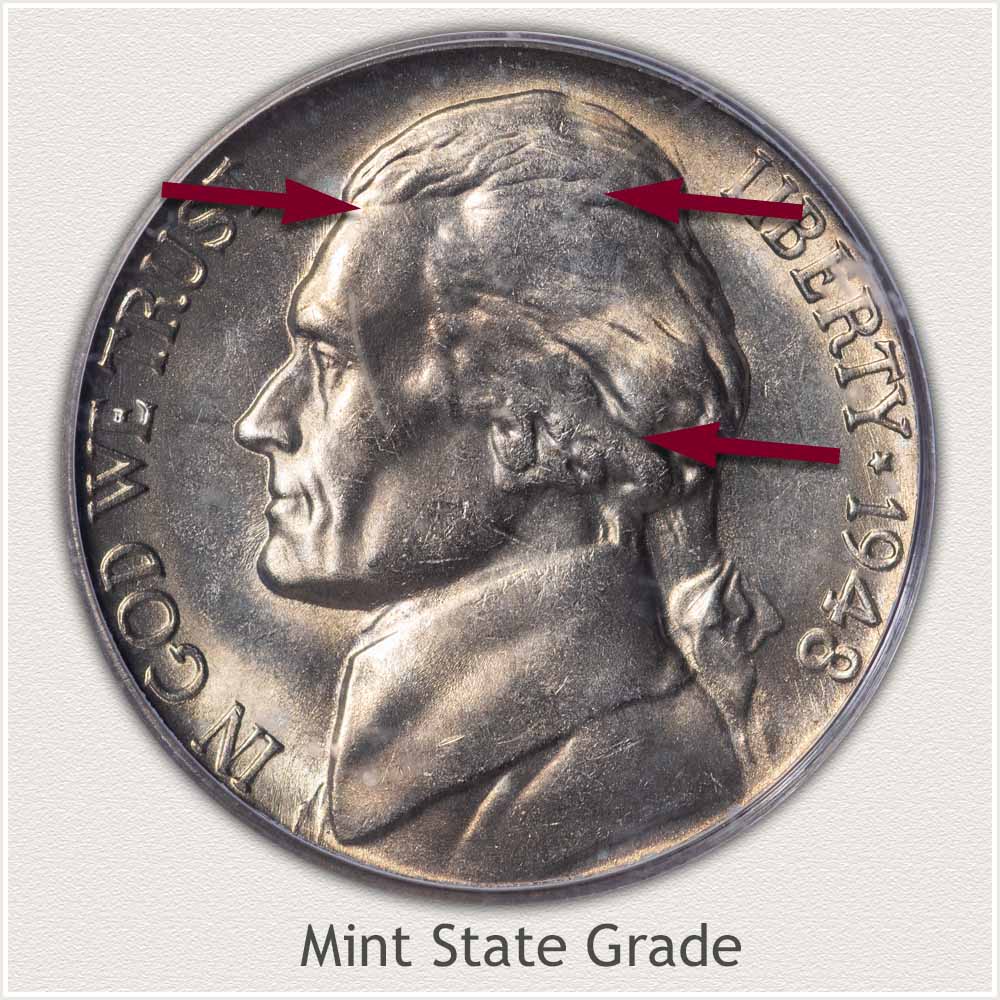 Mint State: A strict definition of Mint State grade is no wear to the coin. This is identified by mint luster remaining on the high points of the design. Luster is delicate and when worn is replaced with a dull grey shine.
Jefferson's hair line surrounding the forehead is quickly worn in circulation. Inspect the raised area of hair to confirm luster is present. Further back towards the center is also a high point. Luster and its sparkle are similar overall with fine hair strands visible. Tilt the coin under light to help see the luster and any traces of wear.
Extremely Fine Grade
Extremely Fine: Notice on the worn example the small areas of wear both removing luster and small amounts of metal. Light wear on high points only is a nickel in Extremely Fine grade. Overall a detailed appearance helps define the condition.
Hair beginning at the forehead is bold and well defined. Small strands are visibility worn with only a small amount of metal loss. Flattened areas are just at the very top of contours. From the top of Jefferson's head to ear is beginning to show smoothness and a color change to the metal.
A bold highly profiled face and coat give the coin a pleasing appearance.
Low Circulated Condition Examples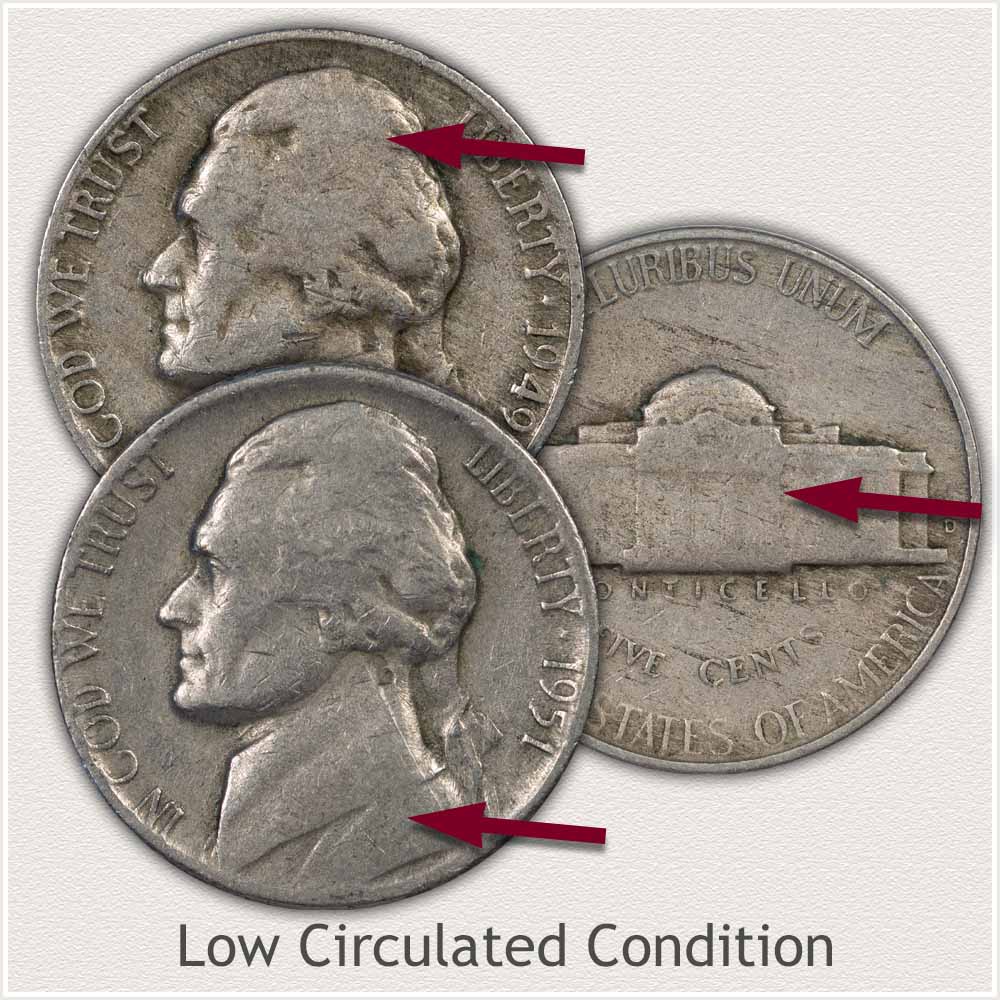 Low Circulated Condition: This grouping of coins represent low condition circulated examples commonly found. Ample supplies of the quality are limiting any premium collector value.
A distinctive feature is the smooth area of hair throughout the center of the portrait. Missing are fine strands of hair detail and a bold, distinct line at the forehead. Flatness appears at the shoulder helping define the condition.
Both sides of the coin display noticeable wear. Central columns to Monticello are faded and only slightly visible.
How to Video: Grading Jefferson Nickels
Added images and descriptions further define the condition and collectability/demand of Jefferson nickels.
Video, Images and Descriptions | Grading Jefferson Nickels
Step 3: | Special Qualities Enhancing Value
Recognize Collectible Quality from Low Appeal Jefferson Nickels
Verification and certainty is an important part of collecting coins. Collectors insist on identifying the exact date, mintmark and authenticity when adding coins to a collection. Any unclear element causes a certain amount of concern. Heavily worn coins with faded dates that are hard to distinguish, is an example, resulting in lower demand. Suspicion of cleaning or enhancing the surface is another area collector's default to caution. When in doubt a collector avoids these "uncertain" coins.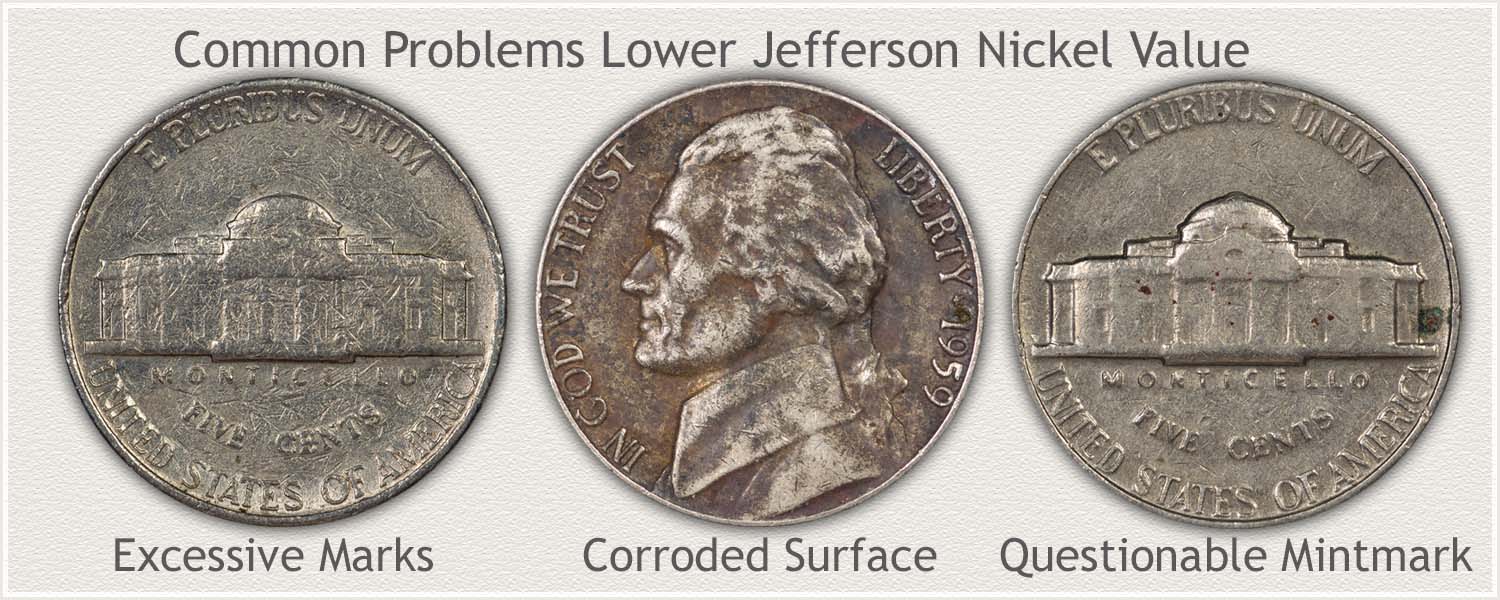 Many problem coins are easily identified because of recognizable traits. Large marks or many marks to the surface is quickly noticed. The coin in the image shows the reverse with an abundance of marks becoming distractive.
Corrosion, often the result of improper storage, has rendered the 1959 nickel dark and unappealing to a collector. If left unchecked, a corroded surface become pitted, an actual loss of metal.
A small area is showing a problem and lowering the value of the third example. Looking closely at the reverse, in the area reserved for the mintmark, a spot of verdigris is found. Reaction with the copper in the alloy is forming a green coating - verdigris. This double problem of obscuring the mintmark and damage of the surface lowers the coin below collectability status.
When viewing coins, those with natural, attractive surfaces are possible premium examples.
References
U.S. Mint. 1949 U.S. Mint Annual Report https://nnp.wustl.edu/library/book/340
Coin Values | CoinStudy Articles
Date by Date
In Depth Jefferson Nickel Values
1938 to 1964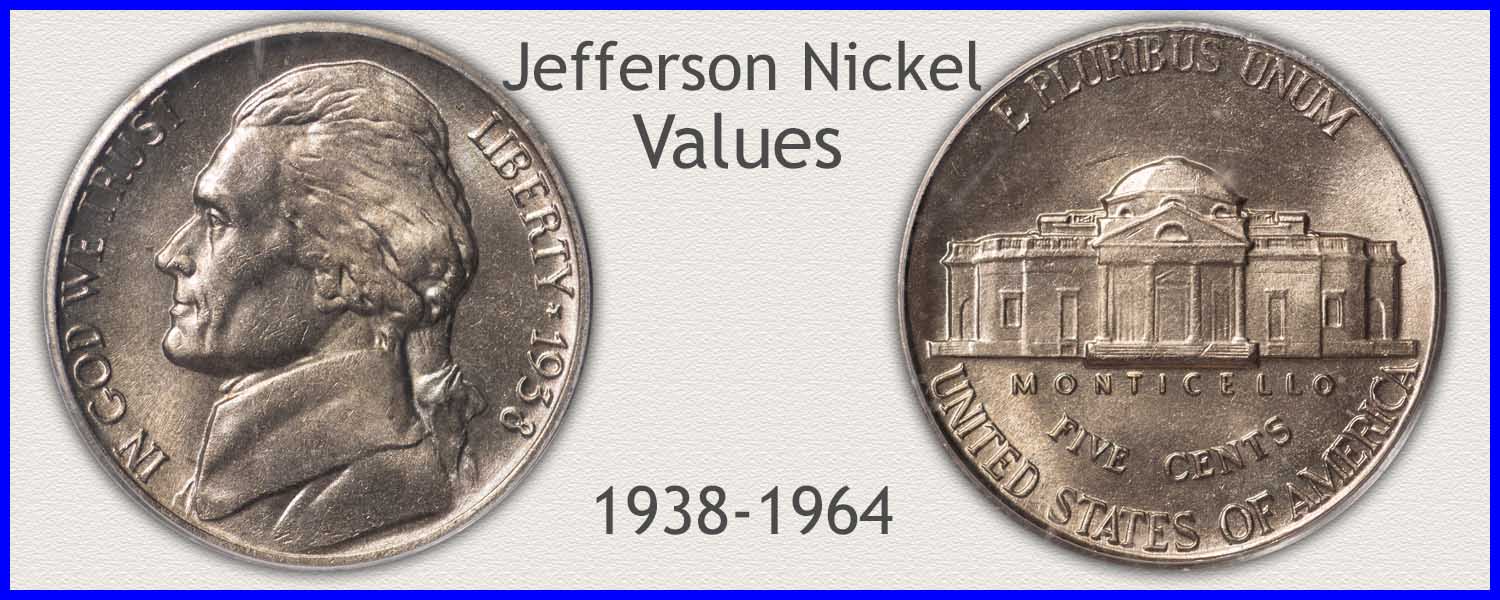 Jefferson Nickel Values | Gaining Popularity
Jefferson nickels are typically collected in high grade. Value chart starting in 1938 show the collector grades and values. Jefferson series collector dates and condition are identified with a step-by-step method. Images and descriptions are used to grade condition.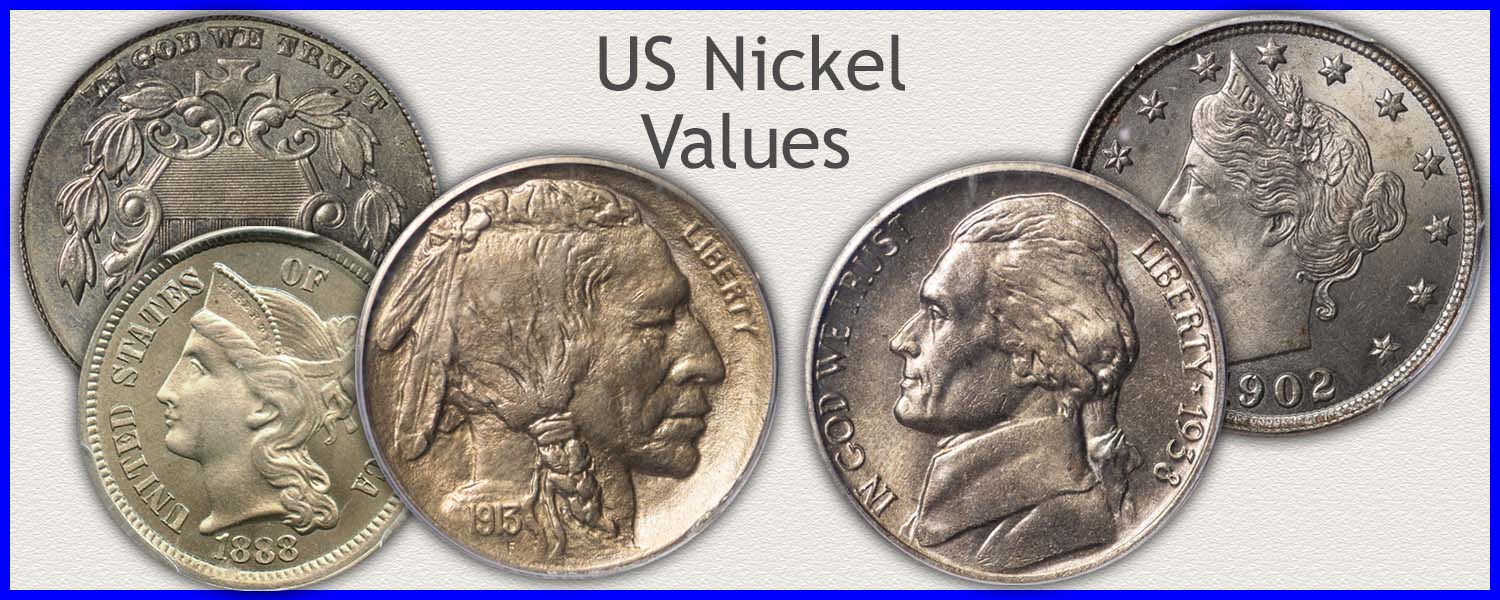 Old Nickel Values | More Old Nickel Values
Including more relating to your 1948 nickel value. These early date Jefferson nickels are becoming valuable. Easily find how much your old coins are worth.
Value charts, along-side grading images and using a step-by-step process; identify the potential of your coin.
Print the Coin Values Worksheet
List your Jefferson nickels and record their values. Coins of higher value are listed individually on the worksheet. The worksheet becomes a convenient and organized summary of your box of old coins.
Among 20th century U.S. coins, collecting Jefferson nickels is popular along-side Buffalo nickels as a favorite with collectors. A study of Registry Set totals identifies popularity of each series by numbers of collectors involved in actively assembling collections. An insight into the coin hobby and the many U.S. coins by denomination and series.
U.S. Coin Values | Mobile Guide
A quick reference to U.S. Coin Values. Coins are identified by images and listed by type. Charts list common date values. See the sections on mintmarks and varieties. Steps include grading to narrow how much each coin is worth. Bookmark page to phone - Mobile Guide.
★ Coin Values Discovery finds 1948 Jefferson Nickel Value and...
All old U.S. coin values. The home page is an excellent index with images, helping to identify your coins, including text links to all coin series, from Cents to Gold. Value charts, grading images and descriptions uncover how much your box of old coins is worth. Begin the step-by-step process to value any coin series.