Coin Values Moving with Precious Metals: Up-Dated 11/27/2023: Gold $2010 | Silver $24.66
1960 Nickel Value
A step-by-step method is used to find premium 1960 nickel value. Collectors and their interest are the underlying base to how much these vintage Jefferson nickels are worth. One important factor; date and mint combination is part of assembling a set of old nickels and each is identified.
Follow the steps to complete an accurate judgement of your coin and its potential.
Steps Leading to Value:
Step 1: Date and Mintmark Variety - Identify the mint striking your coin to accurately finds it place on the value chart.
Step 2: Grading Condition - A clear separation to premiums is found by the grading process. Compare these old nickels to grading images.
Step 3: Special Qualities - Recognize subtle striking differences to spot a potential high quality nickel.
1960 Jefferson Nickel Value
Condition of Coin
Date
Good
Fine
Extremely
Fine
Mint
State
1960 Jefferson Nickel Value Up-Dated
2023
1960
$0.05
$0.05
$0.05
$0.39
1960 D
$0.05
$0.05
$0.05
$0.39
Most 1960 Jefferson nickels entered circulation. These worn examples are available in large numbers. It is the ones saved before becoming worn and abraded now in the premium value range.
Step 2 below is the "grading section" using images showing stages of wear to compare your coin. An insight to its condition is the key to finding the "grade" of coin collectors seek and are worth added value.
Step 1: | Date and Mintmark Variety Identified
Two Varieties of 1960 Jefferson Nickel to Recognize
The 1960's era of Jefferson nickels is known for the large numbers of coins produced. Two mints, Philadelphia and Denver struck all 1960 nickels. Close to a quarter bullion were released into circulation.
Condition is the primary reason a premium value is placed on a 1960 nickel. Those showing signs of wear are abundant and not actively sought by collectors. A new or young collector enjoys the opportunity to obtain one at affordable prices. Step 2 identifies the collector quality.
1960-D Jefferson Nickel
"D" Mintmark on Reverse: Denver Mint Struck the Coin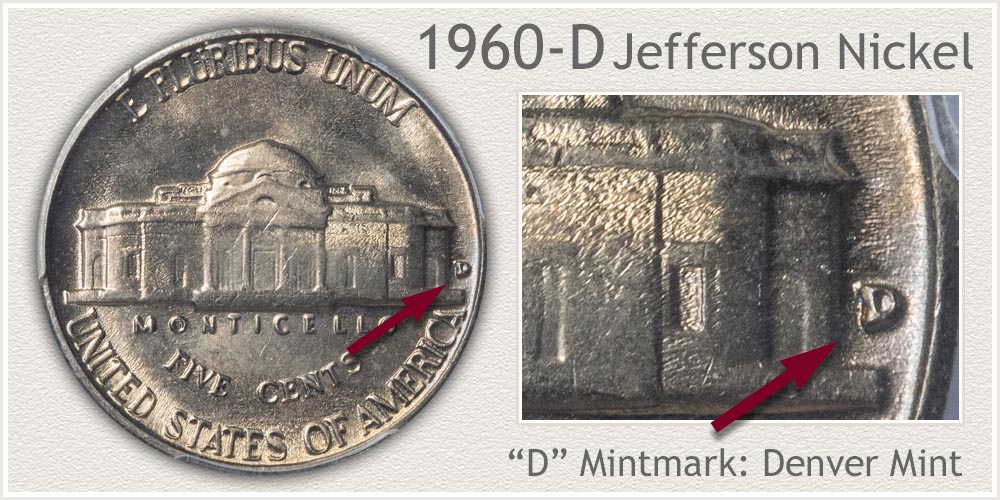 Denver was the primary supplier of 1960 nickels. Striking 192,582,180 pieces, far more than Philadelphia. A huge number ranking eight highest of any date and mint for the vintage years.
A "D" mintmark was used by Denver to identify its coinage in 1960. On the reverse next to Monticello is the small "D" mark beside the rim.
1960 Jefferson Nickel
No Mintmark on Reverse: Philadelphia Mint Struck the Coin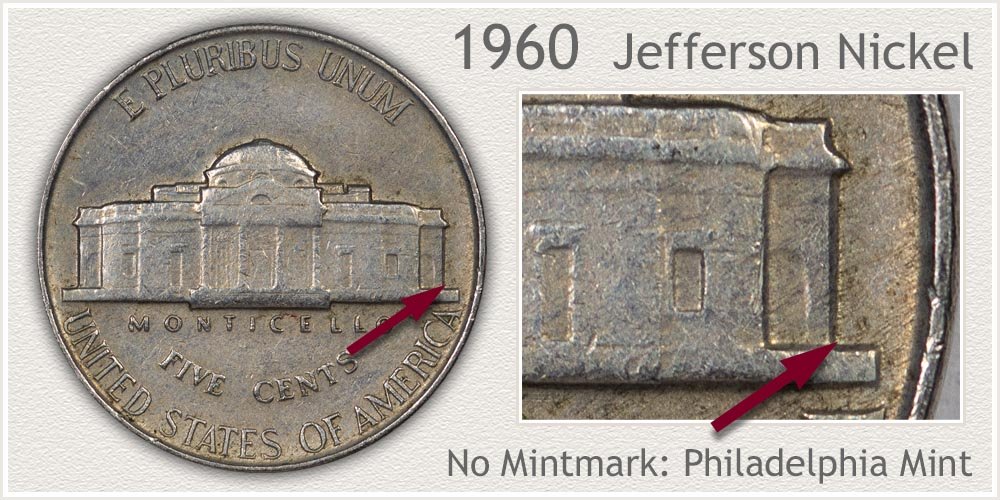 A high production year for Philadelphia and ample quantities remaining defines the 1960 nickel. Over 55 million Jefferson nickels released into circulation, and circulating for years. It is the separation of worn from the "like new" condition examples that identifies collectible quality.
Each mint variety of the year is needed by collectors to complete a Jefferson nickel set. Identifying the Philadelphia issue is important along with condition. It is a year that plentiful supplies and affordability of high-grade examples is holding premiums for worn examples low.
A Philadelphia 1960 nickel does not have a mintmark. On the reverse, to the right of Monticello, no mark near the rim confirms the Philadelphia mint variety.
Step 2: | Judge Condition to Identify Grade
1960 Jefferson Nickel Value is Conditional
1960 nickels are abundant despite their age. A focus on quality by collectors is placing demand on these in the Mint State grade, a condition with no wear to the surface. Grading the condition of your coin is done by comparing to images representing stages of wear found on the coin.
Images begin with a nickel in Mint State grade helping to recognize the complete design when newly struck. Inspect the key points described and judge the condition and grade leading to value.
Mint State Grade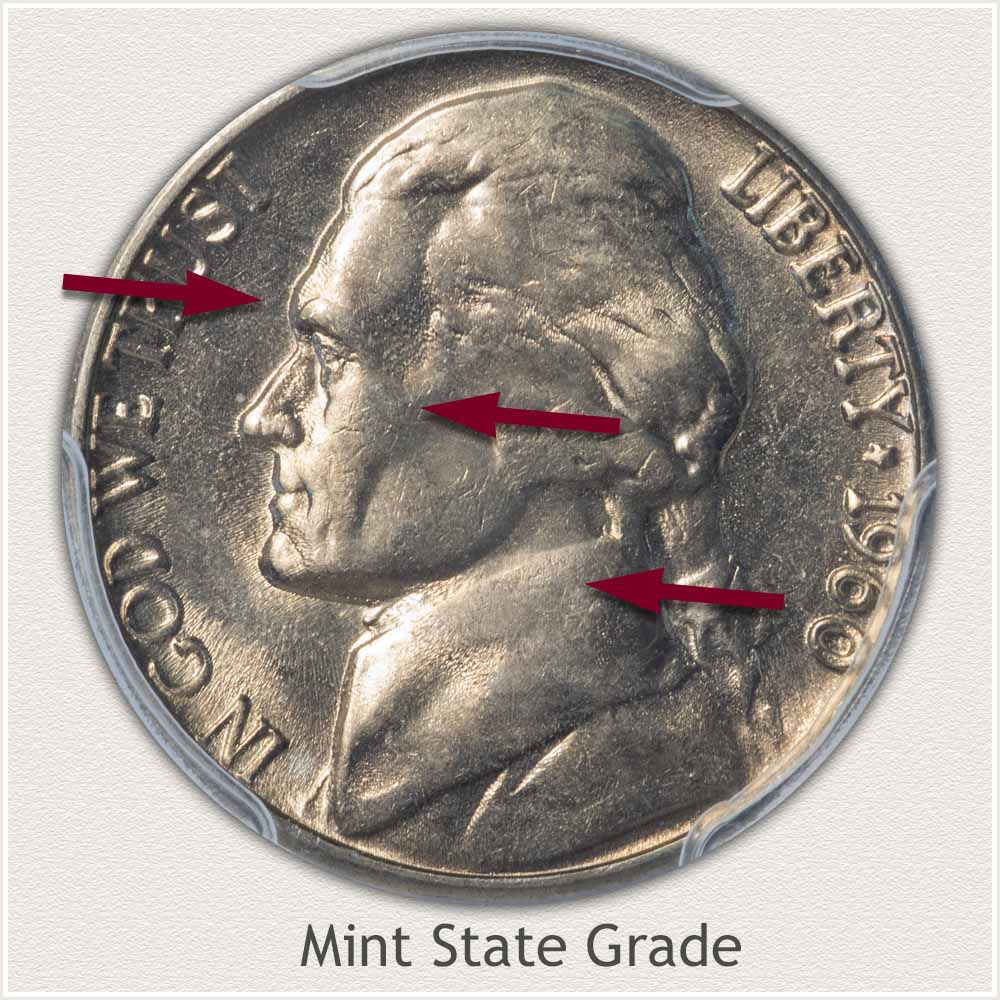 Mint State: Absence of wear to the surface is defining a Mint State grade Jefferson nickel. Bold features of Jefferson's face are high open areas of the design. These high contours are one of the places to inspect for the dulling and smoothing of metal indicating wear.
Jefferson's eyebrow sits high and on mint state coins remains with luster covering the area. Luster is a fine texture when worn becomes dull. Compare the eyebrow with surrounding metal of the forehead to note a similar appearance. If the eyebrow is not worn the nice luster matches the forehead.
Looking at the cheek under the eye and the high areas of the jaw of the example image, note the shine and color is similar and no smoothing is seen. When tilting the coin under a light the shine moves across the surface remaining brilliant.
Extremely Fine Grade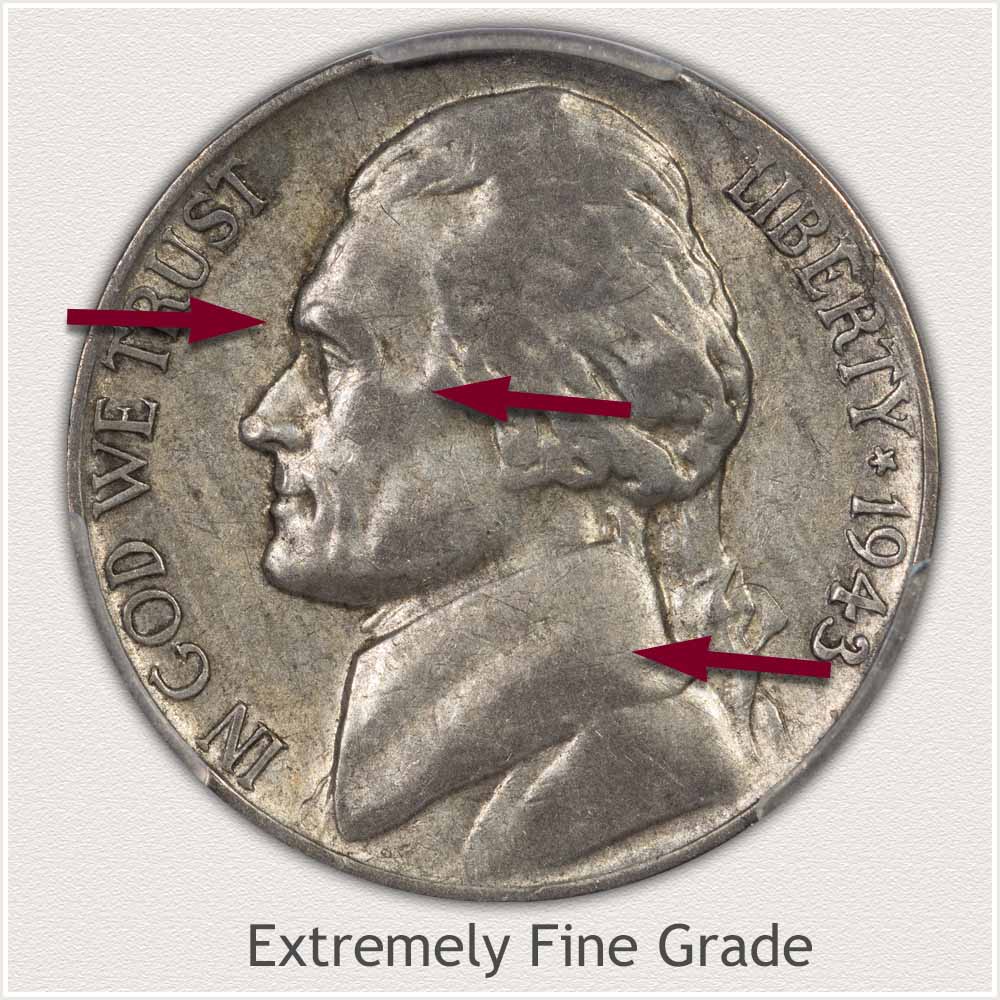 Extremely Fine: As wear appears on a coin high points of the design begin to loose luster and become smooth. A distinct change in texture shows as a dull tone to the colors. Light wear confined to just the highest areas defines the Extremely Fine grade.
Jefferson's features are showing small areas of smoothness to the metal. His eyebrow is worn slightly and reduced in height. The cheek below the eye is worn and smooth and forming a flat area. Lower parts of the jaw are also showing a smooth surface with flatness. Helping confirm the grade, none of the flat areas are connecting. Contours are separating the high points. An overall sharpness is presented.
Average Circulated Condition Examples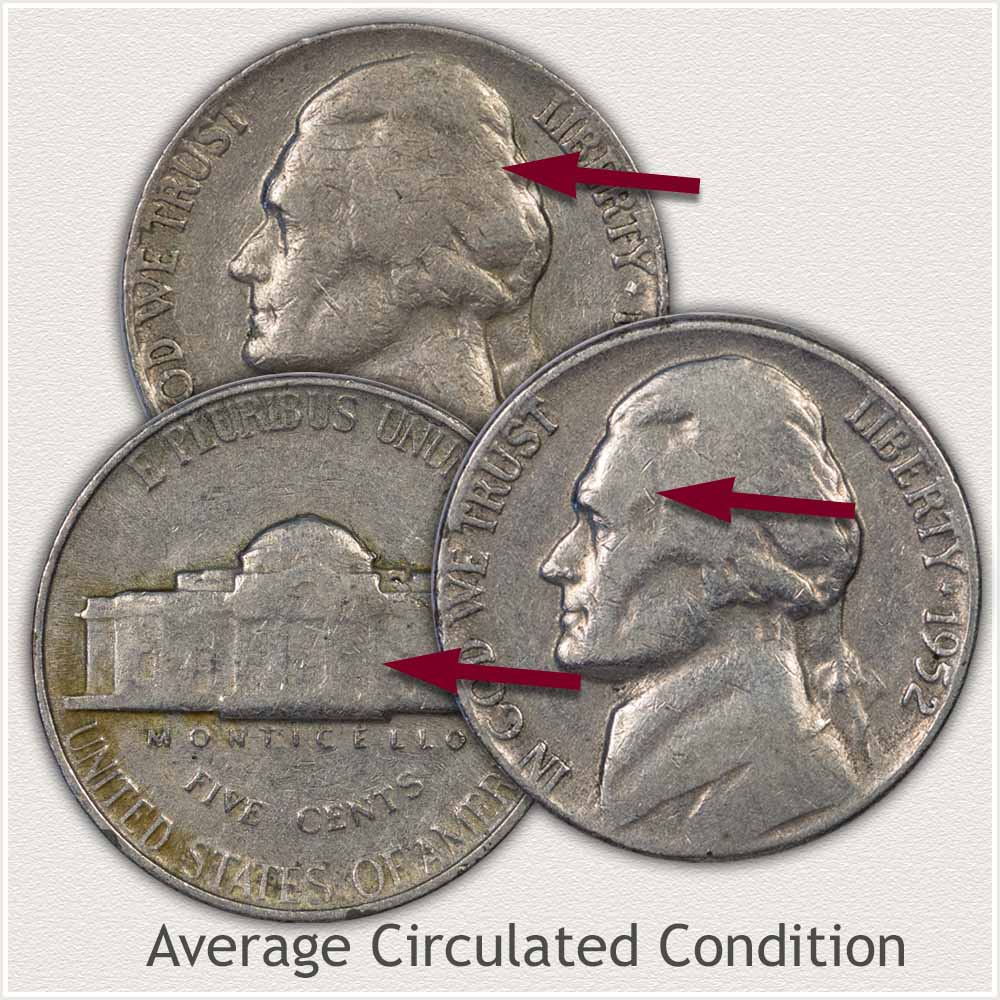 Average Circulated Condition: Notice the large amount of wear causing flatness across the high points of design. A worn nickel with noticeable flatness is a condition found in abundance. These vintage Jefferson nickels are below the Extremely Fine grade and trade at low premiums.
The example nickels all portray a flattened and smooth area representing Jefferson's hair. Few strong details remain within the hair close to his face. Eyebrow is now smooth and flat without any defining contour. Notice the connecting smooth surface of the cheek and jaw, with no defining separation. Once high relief areas of the face are now level and worn.
Monticello on the reverse is very faded missing sharply defined columns. Moderate to heavy wear is lowering both the grade and appeal. Ample supplies of higher condition coins are keeping premiums of average condition coin to a minimum.
How to Video: Grading Jefferson Nickels
Inspecting many nickels and judging yours against the examples of different grades improves the ability to spot the subtle differences. Descriptions of key points helps define the quality of nickel in demand by today's collector.
Video, Images and Descriptions | Grading Jefferson Nickels
Step 3: | Special Qualities Enhancing Value
Strike Quality Adds Eye Appeal and Premiums
Although it is the intention of U.S. mints to strike coins of the highest quality, some invariability show signs of less than ideal qualities. Producing millions of nickels on a fast paced schedule sometimes show in the results.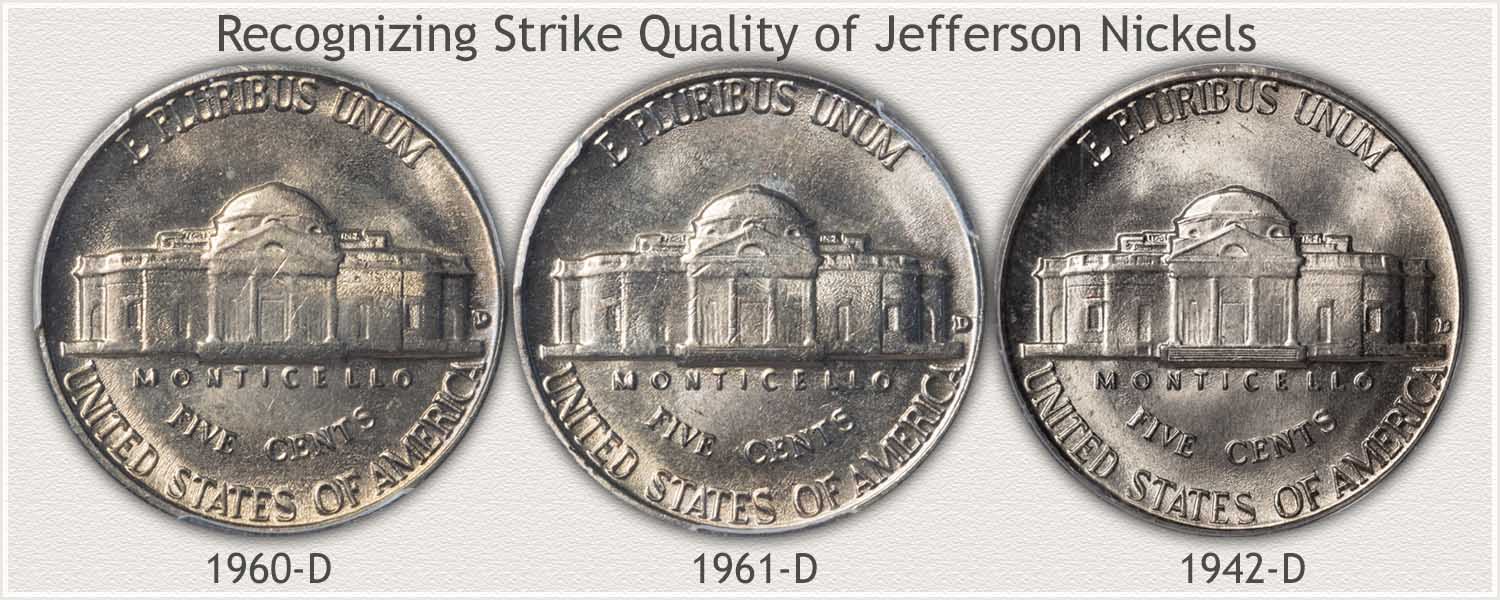 Most dates and mints of Jefferson nickels are well struck. Details are recognizable and the high relief of the designs are well formed. Allowing for the large numbers coined, some are visibly sharper looking than others. Within the Jefferson series many collectors identify the bold strikes from lesser quality strikes and place the better examples in their collections.
A noticeable lack of a bold and crisp design is found with the nickels of 1960. A year where both mints; Philadelphia and Denver nickels are difficult to find well struck.
Looking closely at the example nickels, the first is a typical 1960-D nickel.
Softness of strike is giving the 1960 nickel a "worn" appearance despite of its mint state (no wear) condition.
In the middle is a 1961 nickel with also a somewhat soft strike appearance, although better than the 1960 nickel. Some fading of detail is found on the details of the windows. The deep texture effect is displaying the age and extended use of the working die striking the coin. This coin shows a higher quality and deeper impressions of the details typical of many throughout the series. Again, the example is mint state grade - no wear to the surface.
Early in the series, the 1942 nickel on the right displays a very bold strike. Monticello seems to rise upward from the fields of the coin. Lettering is sharp, columns are rounded, and details of windows are easily seen.
Subtle points are often the difference in spotting a collector quality high premium value nickel. As the Jefferson series advances in age these small aesthetics have begun to play a larger role in determining values amount mint state examples.
Judge not only technical wear and abrasions to the surface of coins, include a judgement of original minting quality. Lightly circulated coins and those in Extremely Fine grade or higher, display a higher degree of eye appeal if boldly struck when first minted.
References
U.S. Mint. 1964 U.S. Mint Annual Report. https://nnp.wustl.edu/library/book/519605
Coin Values | CoinStudy Articles
Date by Date
In Depth Jefferson Nickel Values
1938 to 1964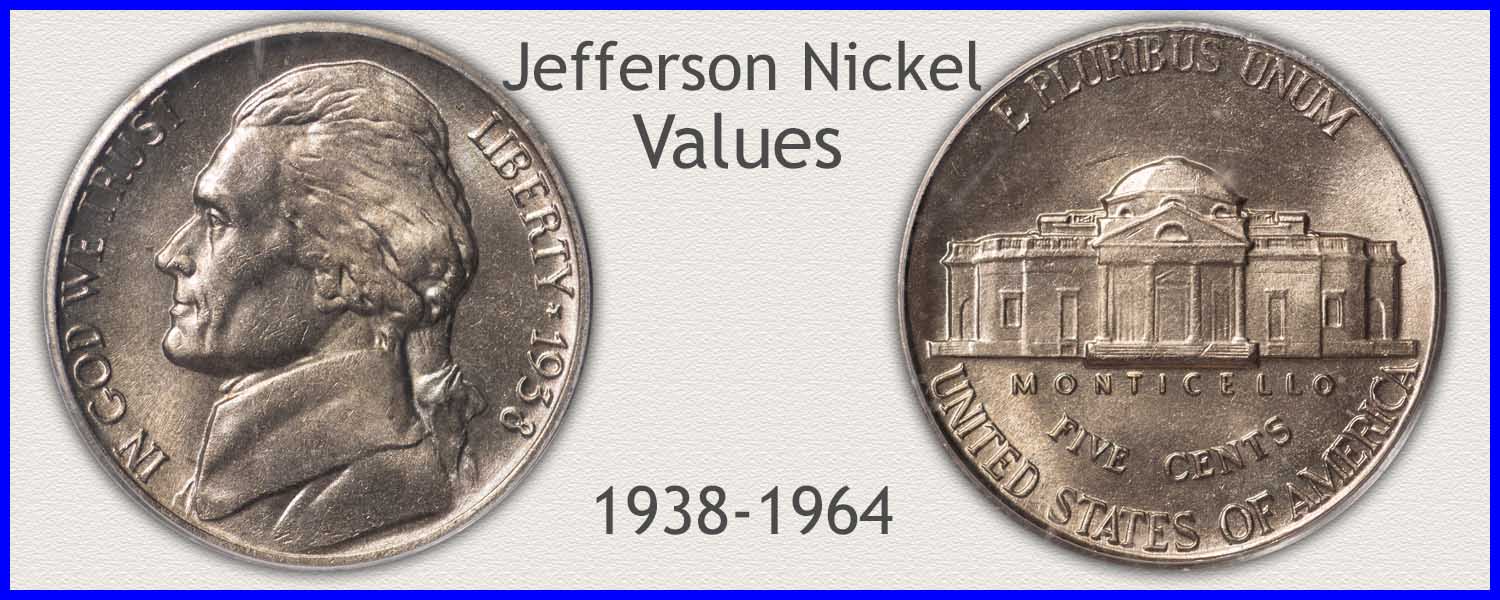 Jefferson Nickel Values | Gaining Popularity
Jefferson nickels first minted in 1938 and still minted today are growing in popularity. Collectors focus both on dates from the early eras and condition of the coins when adding to collections. Identify the scarce issues; plus, using grading images, determine collector quality nickels.
Print the Coin Values Worksheet
Separate and organize your group of coins by denomination and dates. A listing of the coins is recorded on the worksheet. Next is beginning to recognize and judge condition as you determine values.
Coin Value Guide | How to Value a Coin Collection
A coin collection is valued using a step-by-step method. Key factors are identified and the coin value guide leads to charts of how much your collection is worth.
Safe Coin Storage | Recommendations
Thoughtful coin storage to improve safe handling, preserve value, and organize your box of old coins. A few basic supplies are highlighted that provide long term protection.
★ Coin Values Discovery finds 1960 Jefferson Nickel Value and...
All old U.S. coin values. Follow an image index to identify all U.S. coin series, from Cents to Gold. Value charts, grading images and a step by step procedure uncovers how much your box of old coins is worth.