Coin Values Moving with Precious Metals: Up-Dated 11/27/2023: Gold $2010 | Silver $24.66
1940 Nickel Value
1940 nickel value indicates these coins are available. Although quantities exist, collectors focus on the mint that struck the coin and its condition. Becoming very old and part of the first era of Jefferson nickels, they are popular and sought by both new and beginning collectors.
A step by step method determines how much they are worth today.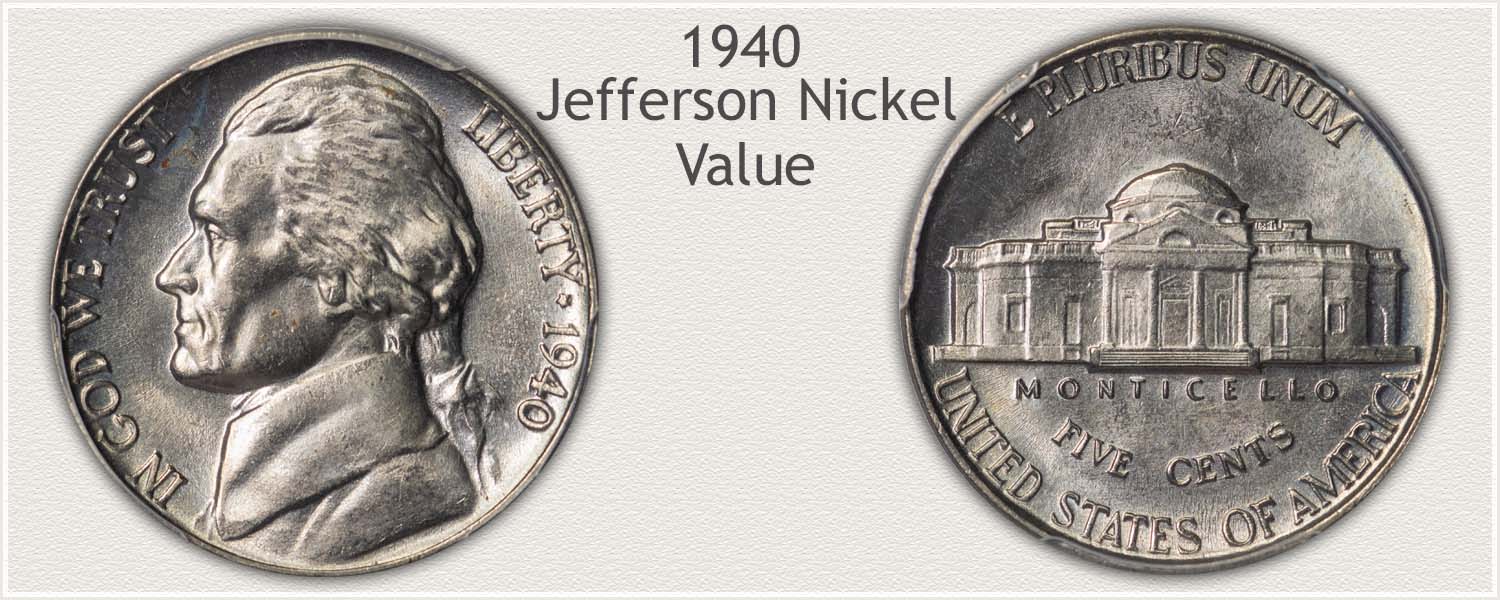 Steps Leading to Value:
Step 1: Date and Mintmark Variety - Identify each date and its mintmark variety. Collections are built to include all date and mint combinations.
Step 2: Grading Condition - Judge condition of your coin helping determine its grade and position on value chart.
Step 3: Special Qualities - 1940 is part of the first era Jefferson series. A now long running series the beginning coins are in demand.
1940 Jefferson Nickel Value
Condition of Coin
Date
Good
Fine
Extremely
Fine
Mint
State
1940 Jefferson Nickel Value Up-Dated
2023
1940
$0.05
$0.05
$0.10
$2.58
1940 D
$0.05
$0.05
$0.10
$2.21
1940 S
$0.05
$0.05
$0.10
$3.86
Dates and mintmark combinations are important when attempting to value a Jefferson nickel. It becomes the first part of the process. Knowing the exact coin and then the grade narrows any concerns as to value. A good light and a close look is needed.
Step 1: | Date and Mintmark is Confirmed
Recognize the Three Mints That Produced 1940 Jefferson Nickels
It took the combined efforts of three U.S. Mints to strike 259 million nickels in 1940. An ample amount to enter circulation. In 1940 the Jefferson design was still new and was paired with Buffalo nickels as the five-cent coin of the day. Of importance are the San Francisco mint variety.
1940-S Jefferson Nickel
"S" Mintmark on Reverse: San Francisco Mint Struck the Coin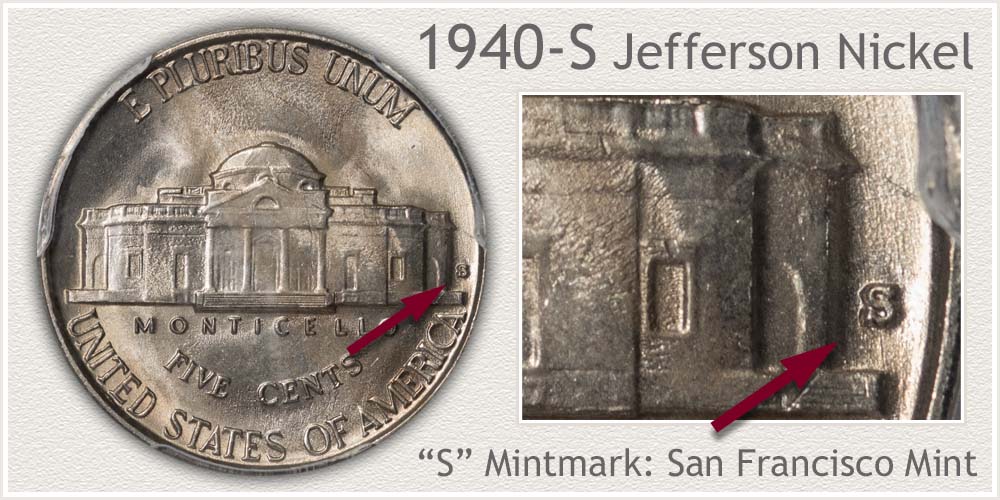 San Francisco branch mint supplied coinage to the western U.S at the time. Needs were less than towards the east and production at the mint was routinely lower than the other mints. 1940 saw 39,690,000 San Francisco variety nickels struck.
Look on the reverse to identify San Francisco production. On the right of Monticello an "S" mintmark next to the rim is the mark of the mint.
Today they are available and premiums are found in high condition coins.
1940-D Jefferson Nickel
"D" Mintmark on Reverse: Denver Mint Struck the Coin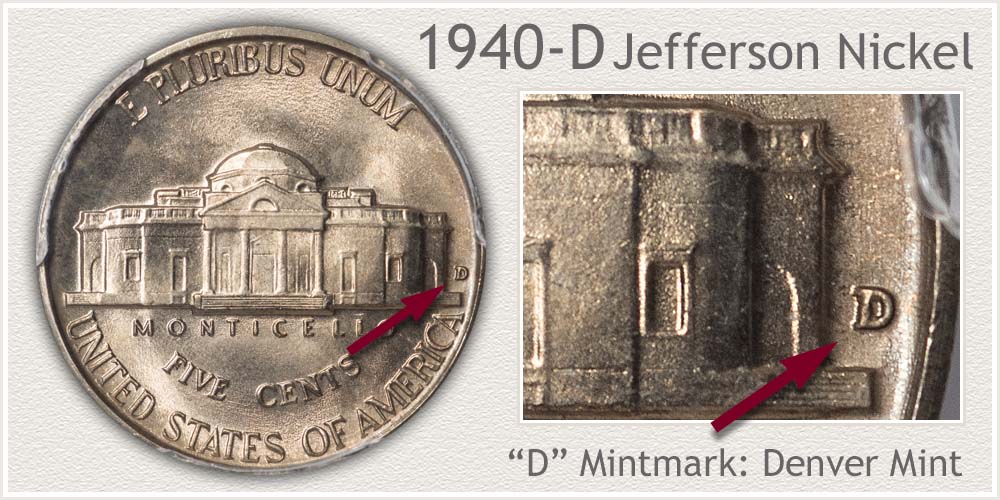 The Denver mint is the branch located in central U.S. Producing over 43.5 million nickels in 1940, many are available today. However, most saw use in circulation and the majority are well-worn.
Denver used a "D" mintmark to identify its production. At the right side of Monticello on the reverse a "D" mintmark was placed on all Denver coinage.
1940 Jefferson Nickel
No Mintmark on Reverse: Philadelphia Mint Struck the Coin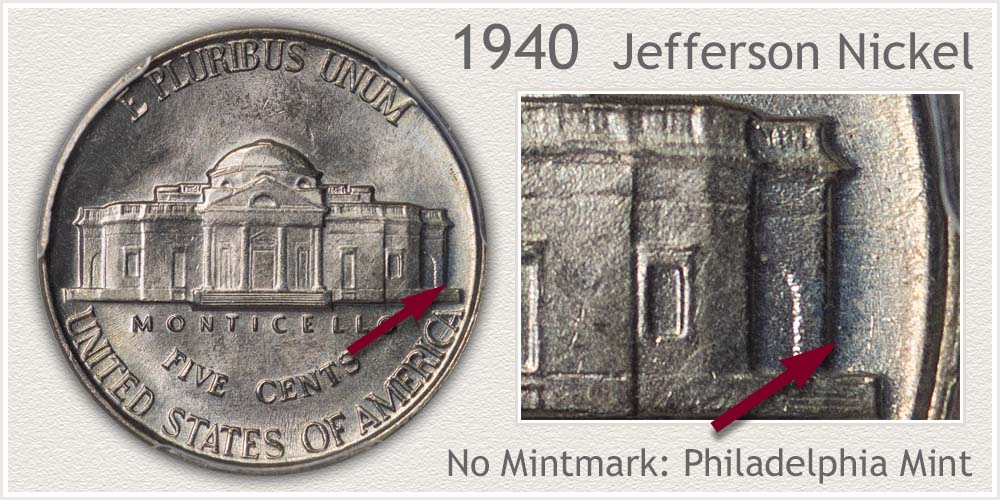 Of the three varieties of 1940 nickels the Philadelphia issue is the abundant variety. Philadelphia struck over 176 million nickels and is the likely mint found of the year. Although abundant, it remains an important part of a date run collection of Jefferson nickels. High grade coins are sought.
Philadelphia did not place mintmarks on coinage in 1940. The area next to the rim on the right side of Monticello is empty on all 1940 Philadelphia nickels.
Step 2: | Judge Condition to Identify Grade
1940 Jefferson Nickel Value is Conditional
A collector after confirming date and mintmark combination next determines the grade of a nickel when deciding on value. Condition of the surfaces of the coin is examined and compared to standards for the different grades.
Worn coins exhibit levels of wear starting with high areas. As wear progresses, stages are noted and define the grade of condition.
Mint state condition is a good place to start when beginning the grading process. These fully detailed coins help reference the complete design as minted.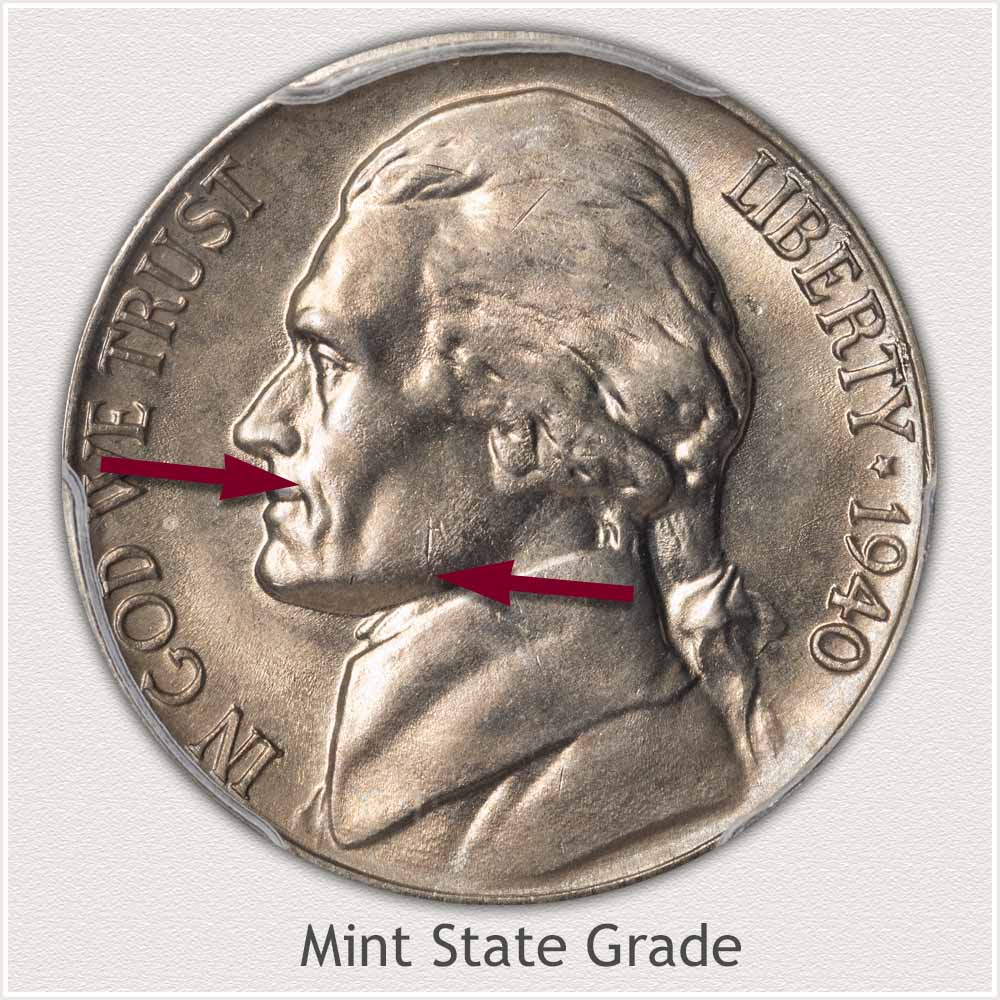 Mint State Grade: A high level collectible nickel is one without wear to the surface. Known and defined as Mint State the condition of these nickels is as when minted.
Begin with looking at Jefferson's jaw line. Notice the deep contour of the lower cheek near the jaw. This area is raised and with a rounded profile. Mint luster covers the area and is the same color and texture as the rest of Jefferson's face. Any wear dulls the lower cheek and jaw compared to the surrounding metal.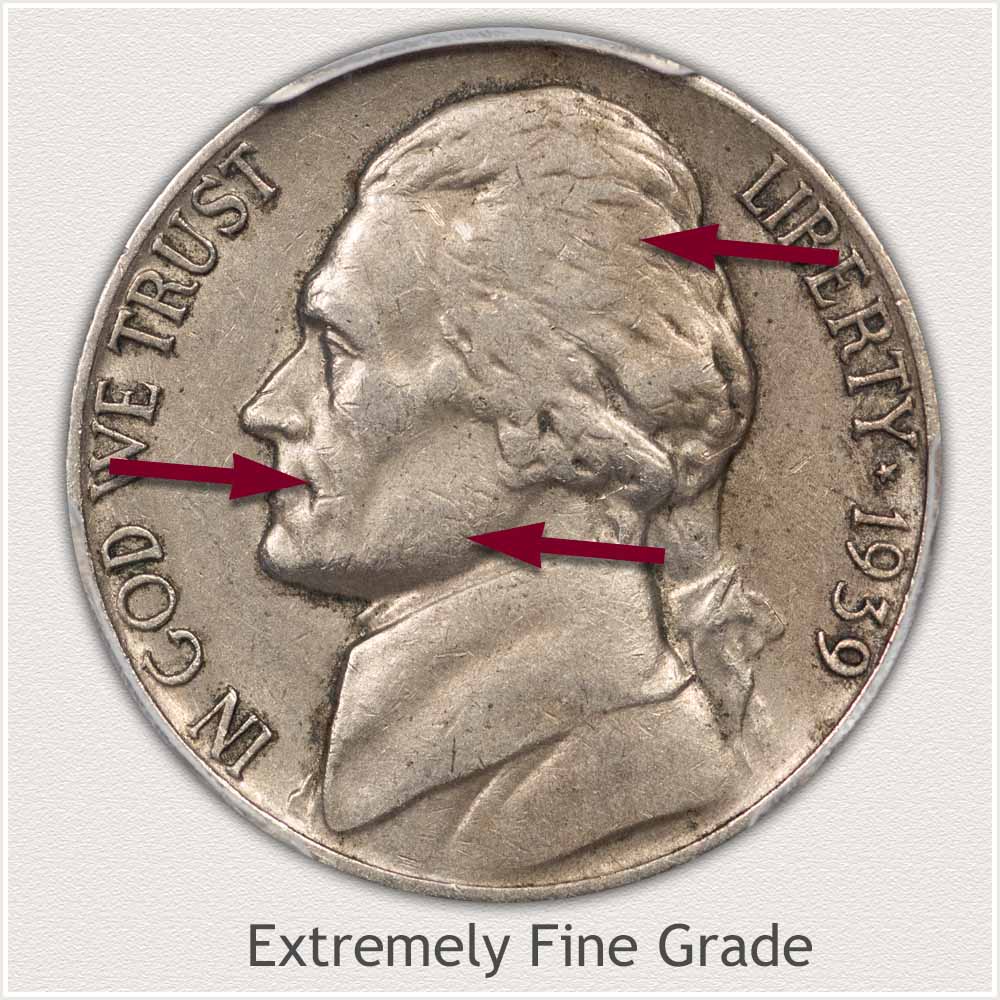 Extremely Fine Grade: Wear is now present removing small amounts of the higher profile details. Light wear, disconnected, and restricted to high points defines the Extremely Fine grade.
A high areas is the cheek just above the jaw line. Notice the slight smoothing of the metal with a change in the color. Wear has removed a small amount of the original contour and in doing so changed the profile. This small amount of wear combined with a duller tone to the metal is typical of the extremely fine grade.
All fine details of the hair and lines in the coat are visible, helping recognize a collectible grade nickel.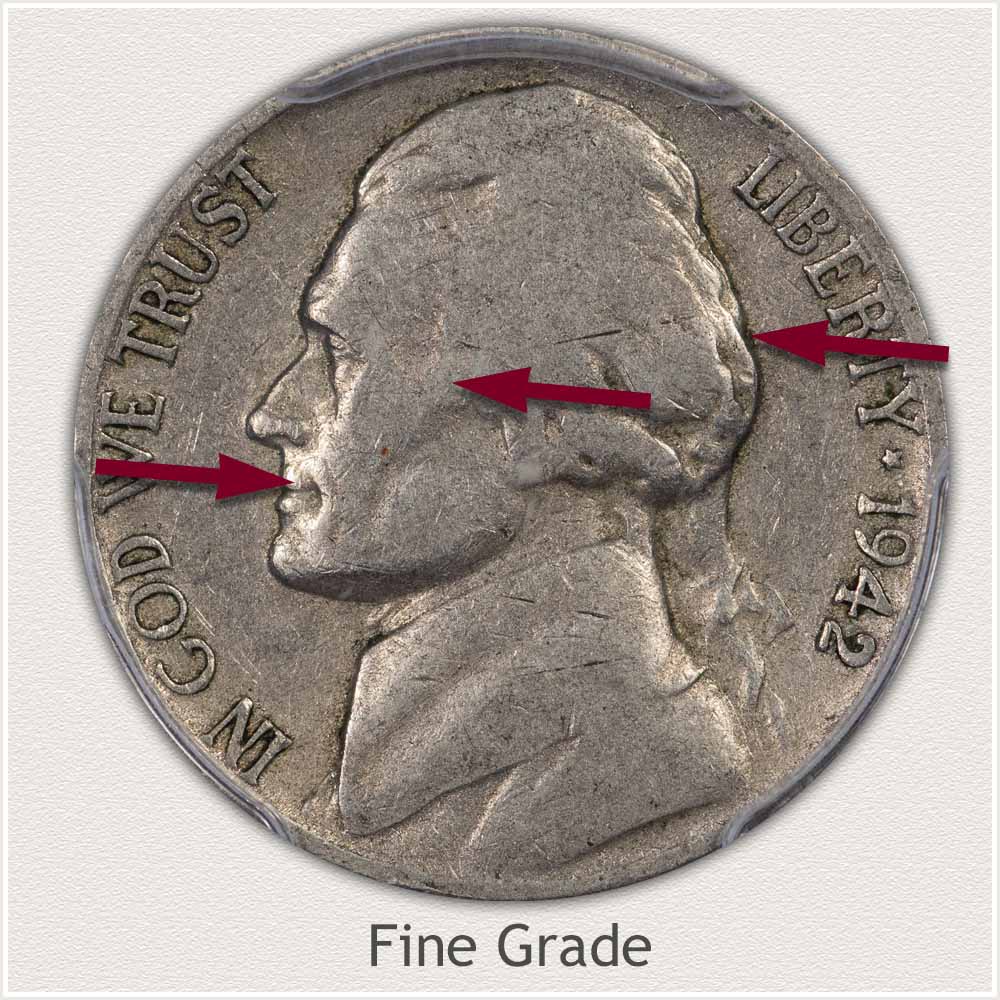 Fine Grade: You can see evidence of wear on many areas of Jefferson's portrait in the Fine grade. Condition of the surface is showing large smooth spots in his hair and coat.
Focus on the cheek close to the jaw line. A distinct flatness is seen extending from the ear towards the chin. Flatness extends upward, however, in Fine grade does not connect with the upper cheek close to Jefferson's eye.
A pleasing amount of detail remains in the hair towards the back giving the coin a detailed look. Avoiding any heavy marks helps this example standout.
Good Grade: A Jefferson nickel in Good grade has the "worn" look. Flatness is covering most of Jefferson. His face is missing contours along with hair detail.
Jefferson cheek just above the jaw line is now a continuous flat area extending to his eye. High and low areas of design are now merging. A clear separation of his hair from forehead is gone.
A recognizable rim remains, any merging with tops of lettering is slight and occasional. Bold, best describes the date and legend, helping add appeal, despite heavy wear to the portrait.
How to Video: Grading Jefferson Nickels
Video, Images and Descriptions | Grading Jefferson Nickels
Step 3: | Special Qualities Enhancing Value
1940 Nickel Permanent Collectability Status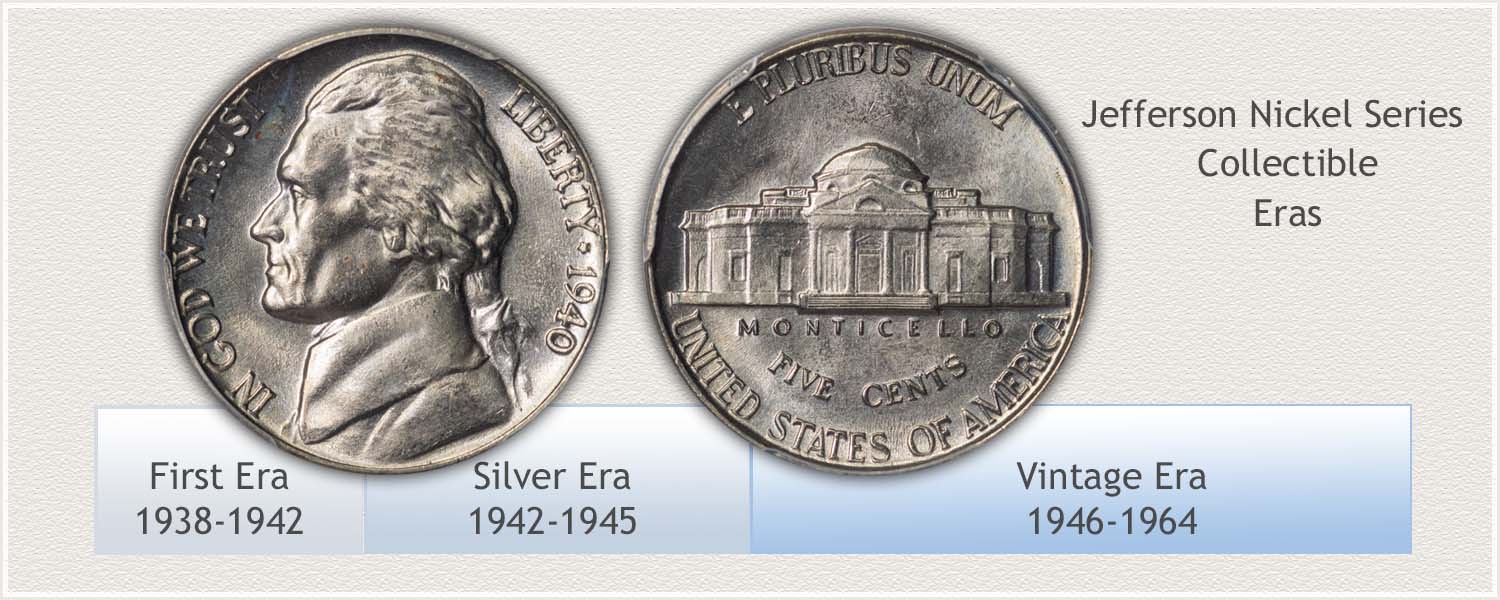 As a design series matures eras emerge within the many years of its production. Jefferson nickels passed the eighty-year mark in 2018. Early Jefferson nickels are now a vintage era coin. 1940 nickels are part of an interesting first major event in the series and the vintage era. 1938 to 1941 are years minted just prior to the silver issues, a major variety of 1942 through 1945.
Evolving are three collectible parts to the vintage Jefferson series. Each form a collectible theme.
1938 to 1942 | First Era
1942 to 1945 | Silver Era
1946 to 1964 | Vintage Era
Mint State examples of this very first era are an established collectible and well-priced. Collectors are now beginning to place a premium on all lightly circulated dates and mints of 1938 to 1942 era. Pleasing circulated examples are added to collections started by young and beginning collectors.
A majority of early nickels circulated for years, many becoming very worn and now lacking detail. These well-worn coins are abundant with only slight interest by collectors. Examples displaying full details with only light wear are less available. Coins with few distractions, such as marks and discoloration and displaying excellent eye appeal become a challenge to find. Finding a pleasing example with strong details recognizes a collectible, premium coin.
A 1940 Jefferson nickel from any of the three mints is a very old and collectible coin. Sought by many collectors and an important part of the Jefferson nickel series.
References
U.S. Mint. 1941 U.S. Mint Annual Report https://nnp.wustl.edu/library/book/334
Coin Values | CoinStudy Articles
Date by Date
In Depth Jefferson Nickel Values
1938 to 1964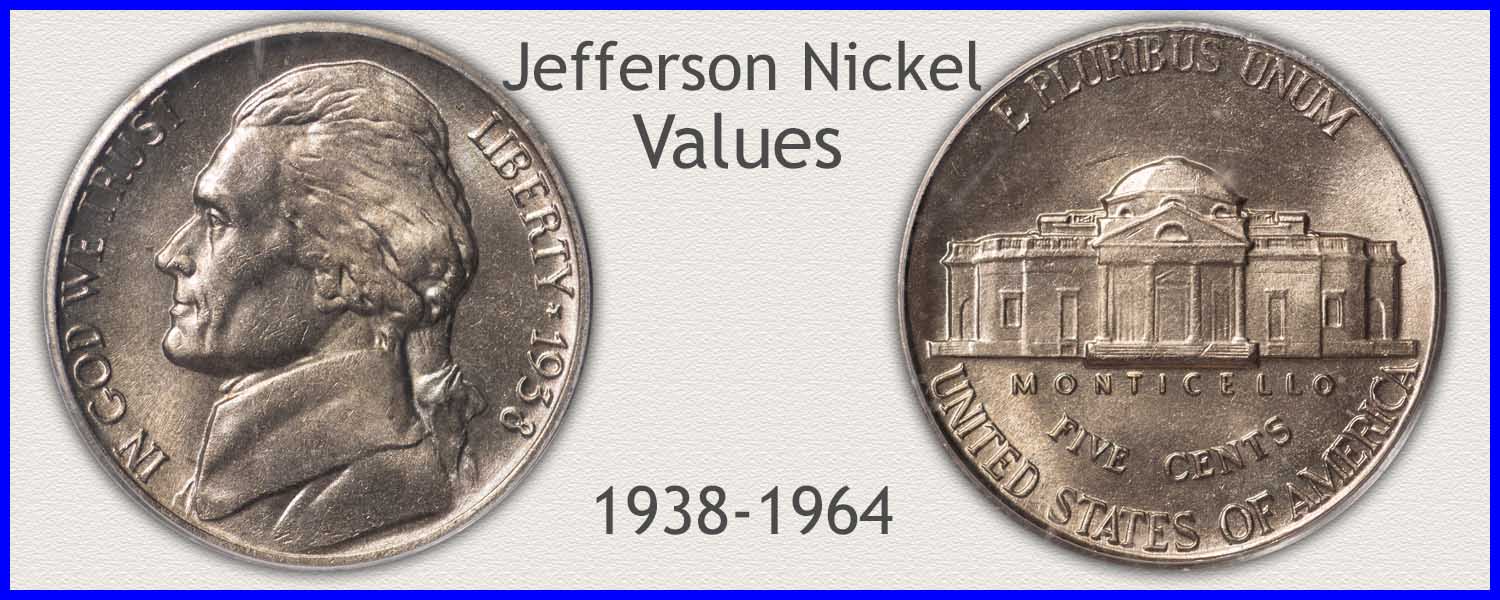 Jefferson Nickel Values | Gaining Popularity
Jefferson nickels are typically collected in high grade. Value chart starting in 1938 show the collector grades and values. Jefferson series collector dates and condition are identified with a step by step method. Images and descriptions are used to grade condition.
Print the Coin Values Worksheet
After following the steps above to evaluate coins. Print the worksheet to list your Jefferson nickels and record their values.
A study of Registry Set collection totals begins to identifies popular coin series. U.S. coins are diverse in design and different series. Collectors enjoy many themes of interest. Popular denominations and series are listed in order.
Coin Value Guide | How to Value a Coin Collection
A coin collection is valued using a step by step method. Key factors are identified and the coin value guide leads to charts of how much your collection is worth.
Safe Coin Storage | Recommendations
Recommendations on basic supplies that greatly improve coin storage. Providing for safe handling, preserving of value and organizing your box of old coins. Safe storage of nickel coins maintains their preservation into the future.
★ Coin Values Discovery finds 1940 Nickel Value and...
All old U.S. coin values. Follow an image index to identify all U.S. coin series, from Cents to Gold. Value charts, grading images and a step by step procedure uncovers how much your box of old coins is worth.