Coin Values Moving with Precious Metals: Up-Dated 9/25/2023: Gold $1921 | Silver $23.44
1962 Nickel Value
Mintages numbers of nickels in the early 1960's was large, resulting in availability today. Scarcity is not a factor to 1962 nickel value.
A focus on quality is needed to determine if your coin is suitable to attract collector interest. Using a few steps and comparing to images identifies the subtle points to premium quality.
Proceed through the steps below.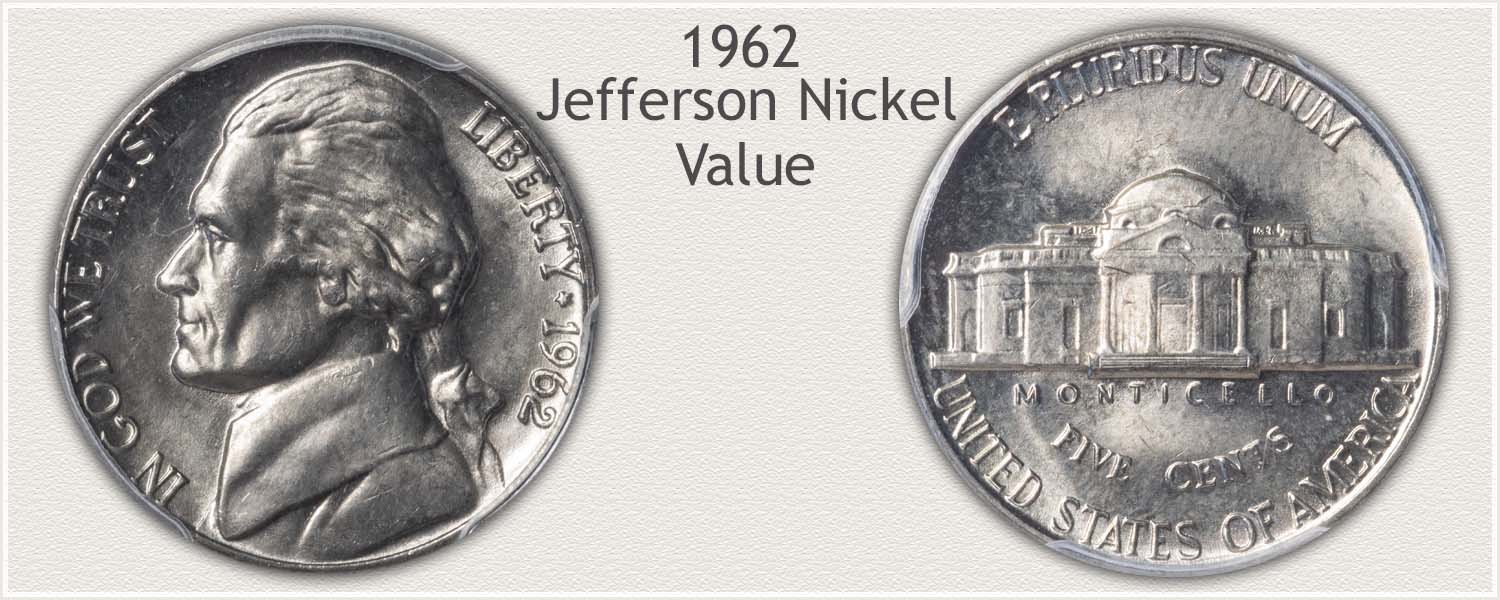 Steps Leading to Value:
Step 1: Date and Mintmark Variety - Old nickels are collected by date and mint variety. Correctly identify the variety to located value on chart.
Step 2: Grading Condition - Condition judges the state of preservation of the coin. The degree of wear is compared to images to determine a grade.
Step 3: Special Qualities - Identify the quality in demand by collectors.
1962 Jefferson Nickel Value
Condition of Coin
Date
Good
Fine
Extremely
Fine
Mint
State
1962 Jefferson Nickel Value Up-Dated
2023
1962
$0.05
$0.05
$0.05
$0.39
1962 D
$0.05
$0.05
$0.05
$0.39
A pleasing 1962 nickel with few barely noticeable marks is the condition of a coin within the collectible range. Ample quantities of these 1960's nickels are available to collectors to choose. A high-quality coin is what they seek to add to a collection.
Following the steps to determine value highlights the importance of condition. In step 2 images are used to compare your coin with examples in acceptable condition to attract premium value.
Step 1: | Date and Mintmark Variety Identified
Varieties of 1962 Jefferson Nickel to Recognize
1962 Jefferson nickels are one of the available issues of the vintage years. Mintages were very large, over 377 million struck for circulation by two mints. Philadelphia and Denver are the mint varieties needed to recognize. Both are collected separately. Listings on charts show values are affordable and judging condition is needed to find collectible quality examples.
1962-D Jefferson Nickel
"D" Mintmark on Reverse: Denver Mint Struck the Coin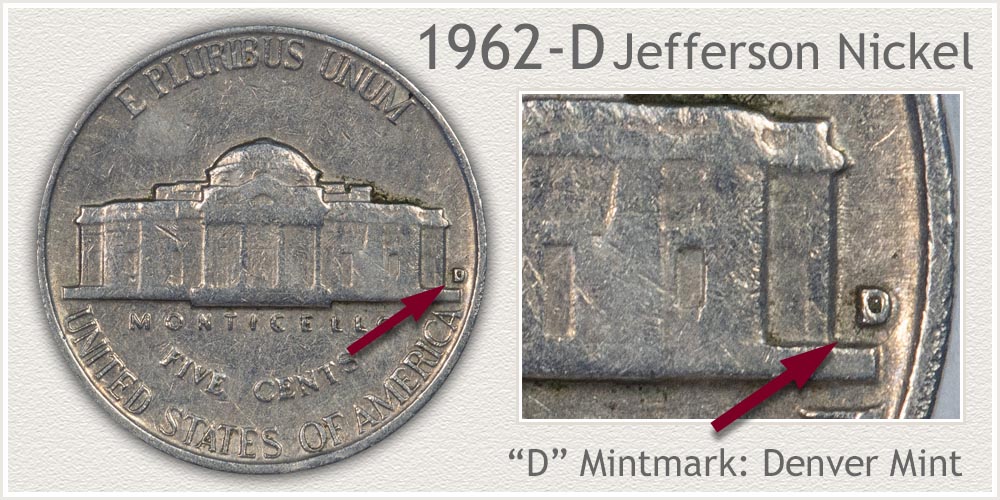 With increased production, Denver struck the third highest number of nickels in 1962 of all date and mint combinations of the vintage era. Many were saved from circulation over the years and are available in large numbers today. Light to moderately worn is the average quality of most 1962-D nickels.
Identify the Denver mint variety by the "D" mintmark on the reverse. Next to the rim, to the right of Monticello a small "D" mark was used on all Denver nickels of the time.
1962 Jefferson Nickel
No Mintmark on Reverse: Philadelphia Mint Struck the Coin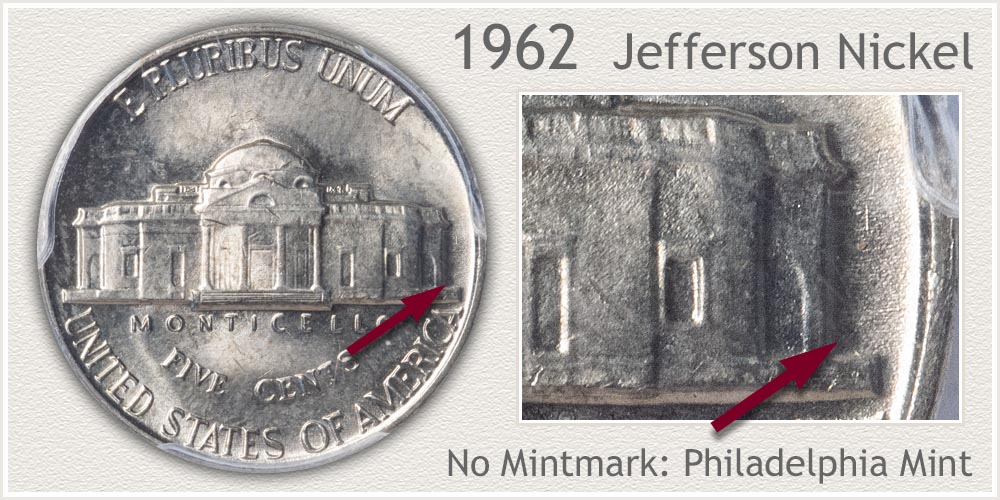 Adding another 97 million nickels to the 1962 total, Philadelphia struck the other mint variety of the year. Similar values are shown for both varieties indicating ample supplies to meet collector demand. Condition is the key to finding premium nickels.
Philadelphia did not place mintmarks on coinage in the early 1960's. Looking on the reverse, the space to the right of Monticello and rim is empty, indicating Philadelphia struck the coin.
Step 2: | Identify Grade to Find Collectible Nickel
Grading Confirms 1962 Jefferson Nickel Value
A large value difference listed on the chart is the separation of a coin without wear from a coin with wear. Surface wear is compared to images and further judged to an accurate grade.
Mint State Grade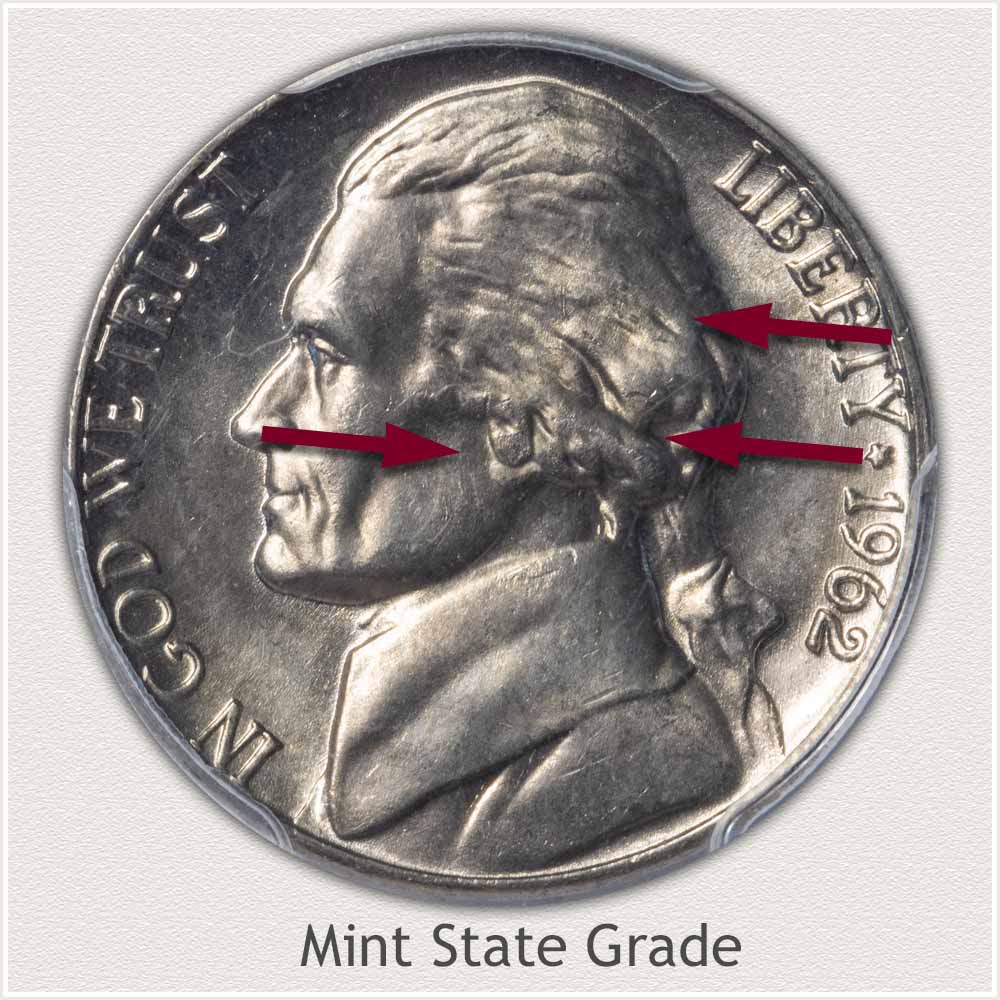 Mint State: A coin with no wear to the surface is graded as "mint state"; no wear defines the grade. This is the preferred grade of a 1962 nickel and placing it as a collectible and high on the value scale.
Look closely at the hair surrounding the ear of Jefferson. A small tuft of hair curls over and just covers the very top of the ear, an additional raised hair wave is behind. On mint state examples the waves and curls of hair display a rounded, raised contour covered in luster. Any wear shows as a flattening and smoothing effect.
Extremely Fine Grade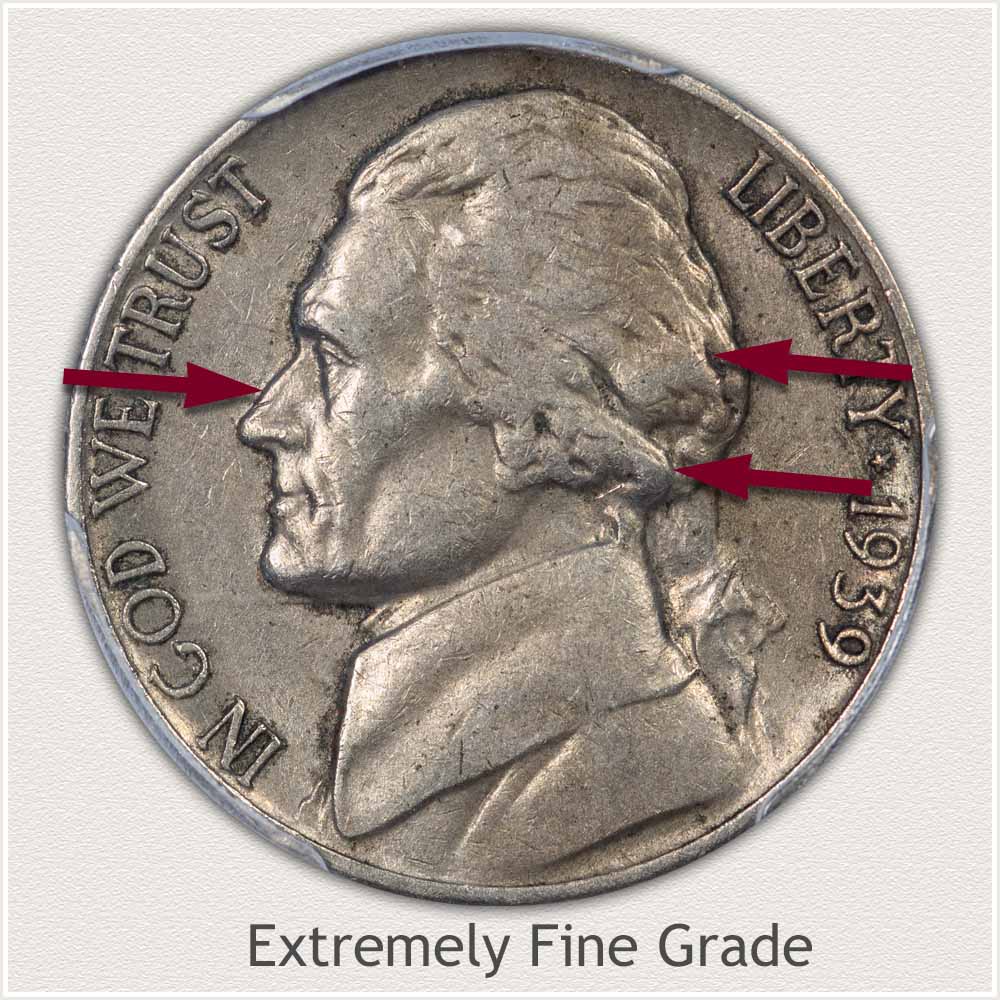 Extremely Fine: Light wear just beginning to cover the high points design describes an Extremely Fine grade nickel.
Small curls of hair over the ear now display a minor but distinct flatness to a once rounded profile. In extremely fine grade only the very tops of the curl have blended. A small flat area is now noticeable to the high area behind the ear. However, the curl is clearly separated from the larger curl of hair just above.
Jefferson's face is beginning to show evidence of minor flattening. Importantly, all major features are well separated.
Low Grade Examples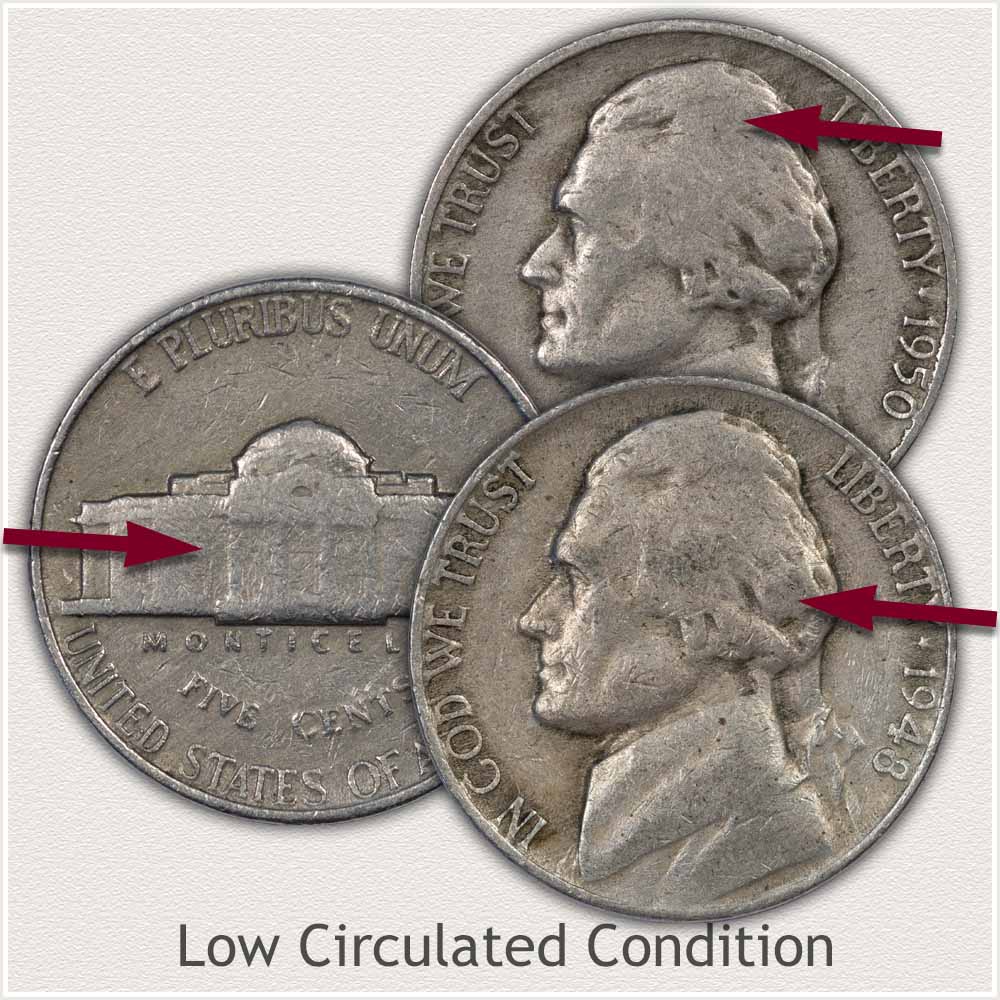 Low Grade Condition: Low grade nickels display widespread flatness and faded details. Nickels in this condition are below the extremely fine condition.
Hair detail is missing over the top to central areas of Jefferson's head with just the deepest recesses visible towards the back. A flat area now represents the ear and the large wave of hair just behind lacks any fine strands.
Facial contours are reduced to flat areas. Holding the example coins from a higher grade is the flatness and connecting of the flat areas throughout the face. Heavy wear is seen on the coat and collar with the collar line faded. Monticello on the reverse is also displaying only faint details across the front.
How to Video: Grading Jefferson Nickels
Examine grading images in greater depth, recognizing subtle differences of collectible nickels.
Video, Images and Descriptions | Grading Jefferson Nickels
Step 3: | Special Qualities Enhancing Value
Complete Strike Premium Jefferson Nickels
Vintage nickels of the 1960's are somewhat of a special group of coins. From 1960 through the coinage of 1964 the total number of nickels struck by Philadelphia and Denver amounted to over four billion coins. Four of the five highest mintage years were from the 1960's. A huge number of coins to produce strained the capacity of the mints. Suffering was the quality and overall eye appeal of many pieces struck. Many nickels received less than perfect impressions on either one or both sides.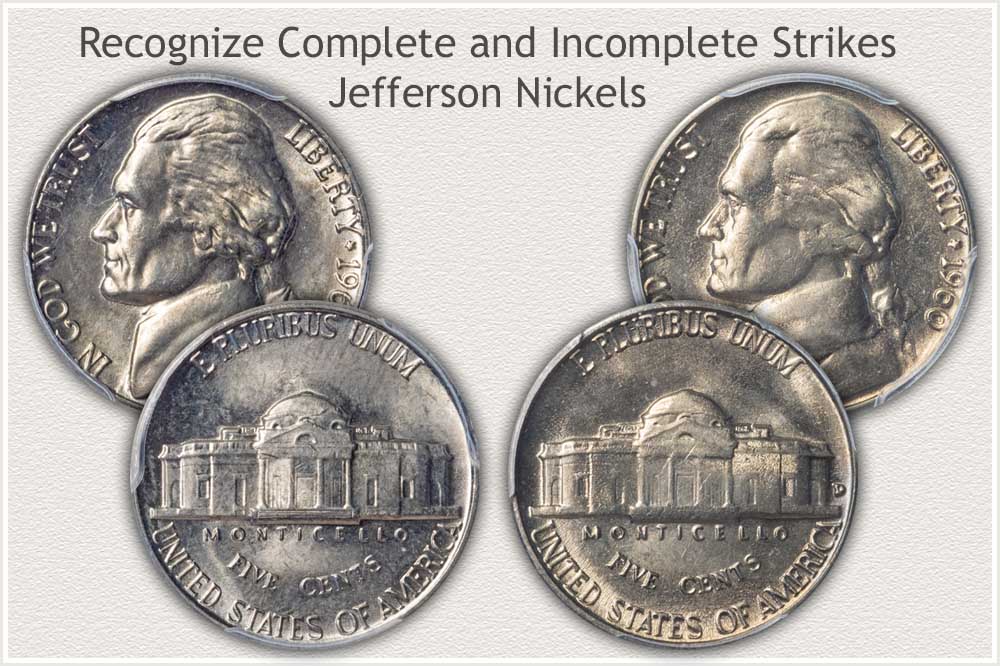 Quality of strike is noted on the 1960's nickels by collectors and a preference for complete strike examples is showing in premiums awarded to these high-quality coins. Auction results demonstrate all coins exhibiting strong details sold at higher premiums. Many date and mint combinations sold for double or more over a lower quality example of the same issue.
The 1960-D and 1964-D issues standout as receiving strong premiums and attention when a well struck coin was auctioned. In comparison, 1962 nickels of Philadelphia are of a better quality overall with only slight premiums for crisp detail examples.
1960's nickels need an inspection going beyond the technical grading of wear to the surface and brilliance of luster. A small improvement in strike quality bringing out small details helps define a high value coin. Demand from collectors for the exceptional coin is strong with many dates representing a challenge.
Although strike quality is focused on Mint State grade nickels, a lightly circulated piece benefits when boldly struck. Any improvement in eye appeal strengthens market acceptance. When judging your coin, look closely for the finer details; lines within the hair, complete collar line separating the shoulder, and window details across the front of Monticello. All of these small details remaining clear are representing a collectible Jefferson nickel.
References
U.S. Mint. 1963 U.S. Mint Annual Report. https://nnp.wustl.edu/library/book/514148
Coin Values | CoinStudy Articles
Date by Date
In Depth Jefferson Nickel Values
1938 to 1964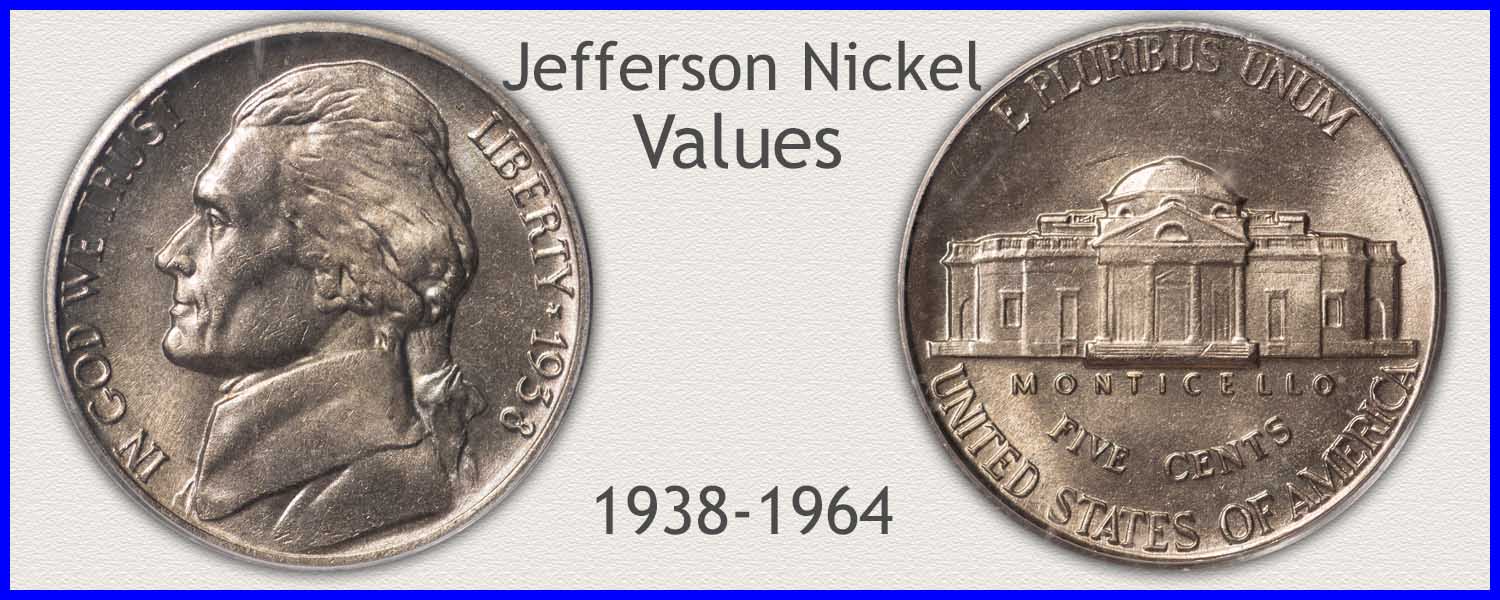 Jefferson Nickel Values | Gaining Popularity
Early era Jefferson dates standout with premiums, silver issues have enjoyed premiums over the years. Value chart lists all vintage nickel values. Follow the step-by-step method and determine how much all your old nickels are worth.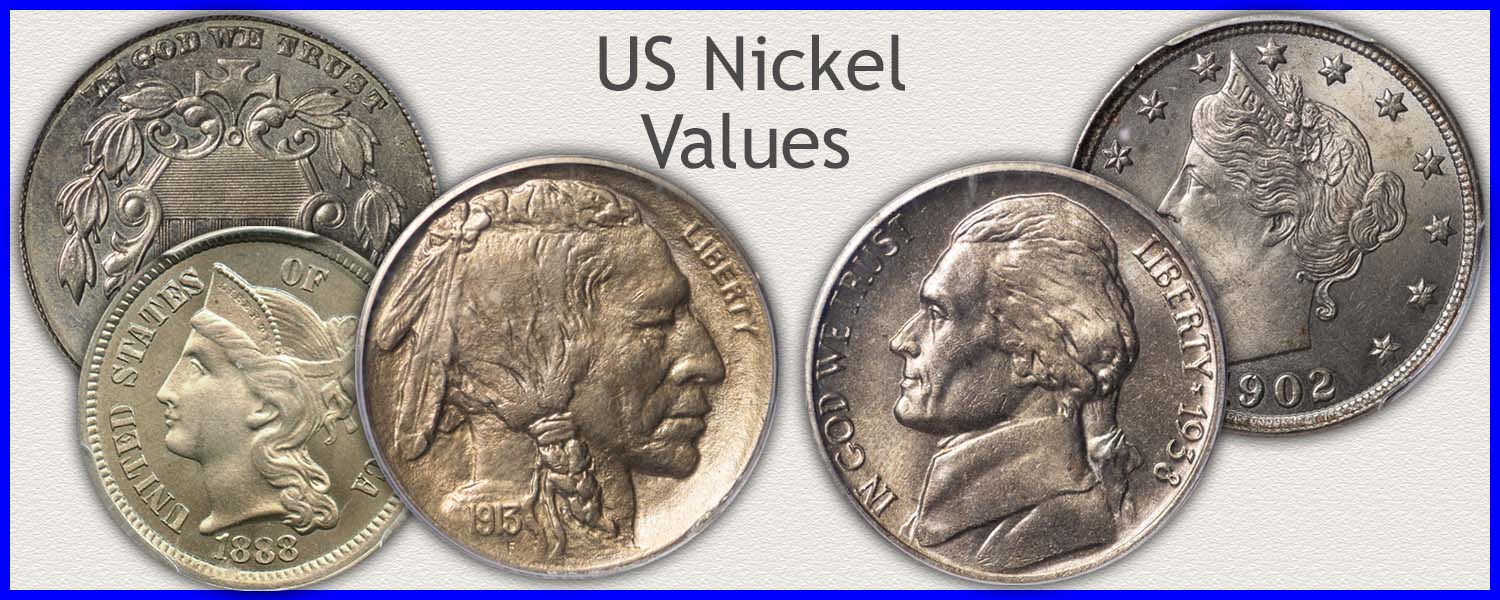 Old Nickel Values | Stable to Rising
Jefferson nickels and your 1962 nickel value are part of the long running five cent denomination. Find value charts and step by step methods to determine how much the older series of Shield, Liberty, and Buffalo nickels are worth.
Print the Coin Values Worksheet
Printable sheet to list and inventory your coins and record Jefferson nickel values.
Safe Coin Storage | Recommendations
Safe coin storage to preserve value, organize your box of old coins, and improve safe handling. A few basic supplies are highlighted that provide long term protection. Nickel coins need the protection as other coinage metals such as copper and silver.
U.S. Coin Values | Mobile Guide
A quick reference to U.S. Coin Values. Coins are identified by images and listed by type. Charts list common date values. See the sections on mintmarks and varieties. Steps include grading to narrow how much each coin is worth. Bookmark page to phone - Mobile Guide.
★ Coin Values Discovery finds 1962 Jefferson Nickel Value and...
All old U.S. coin values. It is an excellent index listing and images of the different coin series. Match your coins and follow the link to in-depth values. Charts, grading images and a step-by-step procedure uncovers how much your box of old coins is worth.