Coin Values Moving with Precious Metals: Up-Dated 11/27/2023: Gold $2010 | Silver $24.66
1955 Nickel Value
Availability of nice, pleasing examples is a factor to 1955 nickel value. Millions were produced, however most saw extensive use in circulation. Many becoming very worn and unappealing.
Collectors are beginning to realize the Philadelphia variety as somewhat elusive in higher - nicer condition.
Following a few steps identifies the mint variety and condition leading to how much these vintage nickels are worth.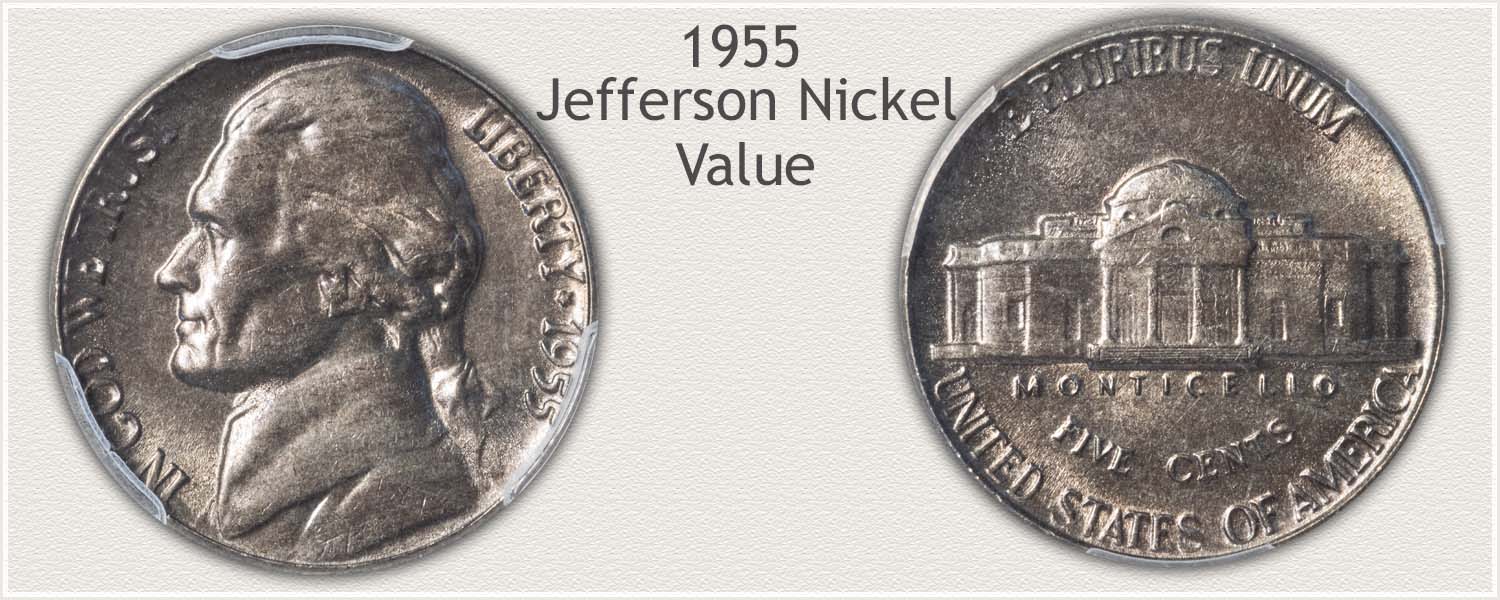 Steps Leading to Value:
Step 1: Date and Mintmark Variety - Accurately identify date and mint variety Jefferson nickel.
Step 2: Grading Condition - An important factor to a coin's appeal, condition is graded comparing to images and descriptions.
Step 3: Special Qualities - Mintage numbers lead to the demand of a 1955 nickel variety.
1955 Jefferson Nickel Value
Condition of Coin
Date
Good
Fine
Extremely
Fine
Mint
State
1955 Jefferson Nickel Value Up-Dated
2023
1955
$0.05
$0.05
$0.10
$0.53
1955 D
$0.05
$0.05
$0.05
$0.46
There are a few steps you can take to identify any premium value potential to your 1955 nickel. These vintage coins are collected with an eye towards quality of surfaces. The least amount of wear, noticeable marks, and discoloration is an alert to finding a possible quality collectible.
Collectors search for the pleasing examples from the many available. Once a candidate to place in a collection is found it is awarded with added value. Follow the steps as outlined below to judge your coin.
Step 1: | Date and Mintmark Variety Identified
Low Mintage Variety of 1955 Jefferson Nickel to Recognize
San Francisco suspended minting nickels after 1954 leaving the Philadelphia and Denver mints to supply the five-cent denomination. Production at these two mints was low and 1955 is recorded as the fifth lowest total mintage of the Jefferson series.
Recognized by collectors, 1955 is a notable year in the vintage Jefferson nickel series. Finding an eye pleasing example is a challenge.
1955-D Jefferson Nickel
"D" Mintmark on Reverse: Denver Mint Struck the Coin
A Denver mint variety 1955 nickel is the likely encountered coin. Denver struck the majority of nickels for the year, over 74 million. These turn up in abundance and collectors are selective in choosing an example to add to a collection. Condition is the key to 1955 nickel value. High grade is the condition sought.
Recognize the Denver mint variety by the "D" mintmark found on the reverse. A small "D" was placed next to the right side of Monticello, near the rim.
1955 Jefferson Nickel
No Mintmark on Reverse: Philadelphia Mint Struck the Coin
Philadelphia is the main U.S. mint. Its responsibilities include striking coinage, preparing all dies used to produce coins, an assay office, and refining precious metals. In 1955, duties of manufacturing nickels fell and was a low production year. These Philadelphia issues however are considered abundant with low premiums awarded to moderately worn examples. The small mintage number does lead to a steady demand.
Philadelphia did not place any mintmark on coins in 1955. Looking on the reverse, to the right of Monticello, if the space next to the rim is empty, Philadelphia produced the coin.
Step 2: | Judge Condition | Identify Grade | Narrow Value Range
1955 Jefferson Nickel Value is Conditional
The primary separation of value in these vintage Jefferson nickels is the condition of the coin. Grading is inspecting the surface of the coin, identify any signs of wear and the amount of wear. Mint State grade coins of the latter vintage era is the grade of choice with collectors. Comparing to images spots the collectible condition in demand.
Mint State Grade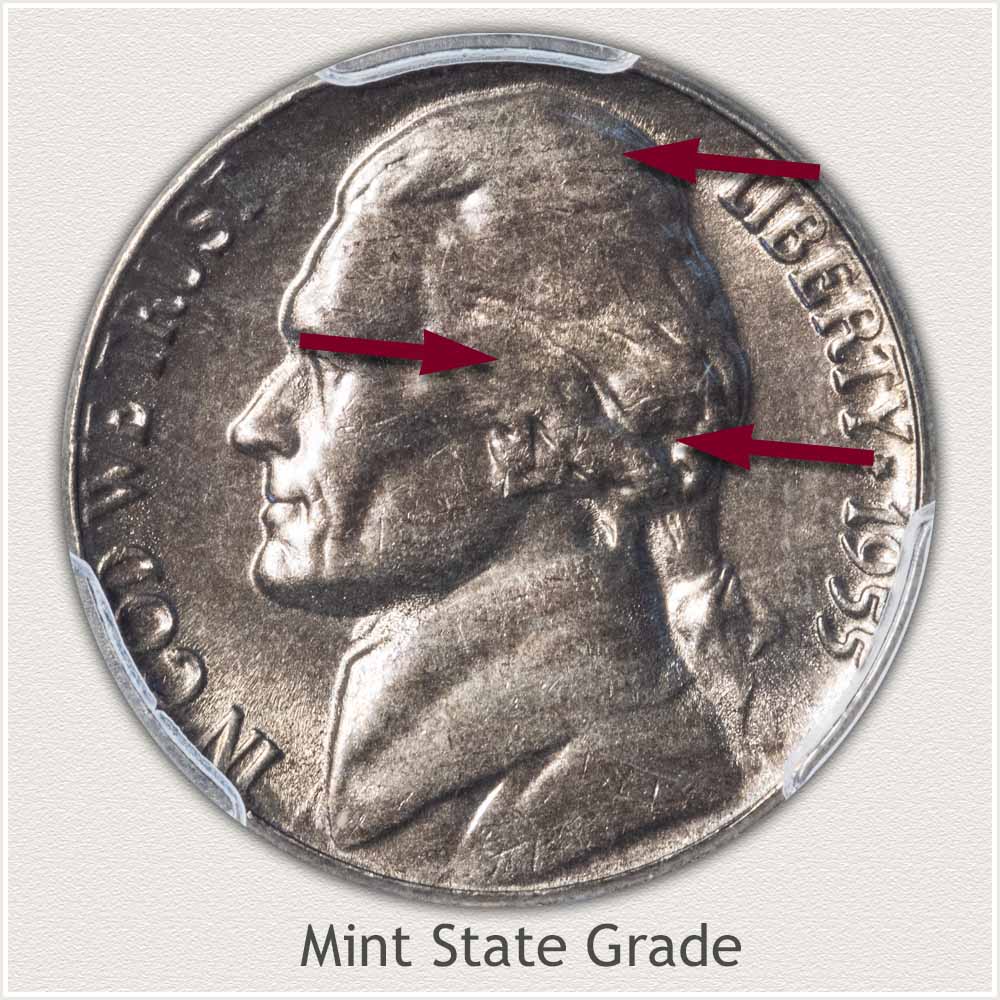 Mint State: A newly minted coin displays the silvery shine and luster of the metal. The minting process of a coin produces fine grains to the surface causing light to reflect in bands of luster. Removal of luster is the first signs of wear.
Inspect Jefferson's hair in the area above and behind his ear. High profile waves of hair quickly show the smoothing and dulling caused by wear. On the example, luster cover the entire area above and behind the ear as well as the rest of Jefferson's hair. A similar appearance of shine and color is noted overall with no breaks.
Rotate the coin under a light to confirm luster is complete across the coin and no dulling is seen.
Extremely Fine Grade
Extremely Fine: Light wear causing small flattened areas defines the Extremely Fine grade. Wear is just beginning to smooth only the very highest points of the design.
Jefferson's hair above and behind his ear shows a small but distinct change in color, smooth surface, and a flat spot. Note that these areas remain separate with lower contours between, no merging of the waves of hair. Towards the top of his head light wear shows as a slight color change and smooth texture of metal.
Fine details of the coat and lines in the collar are complete. The high area of Jefferson's shoulder is slightly worn smooth.
Low Grade Examples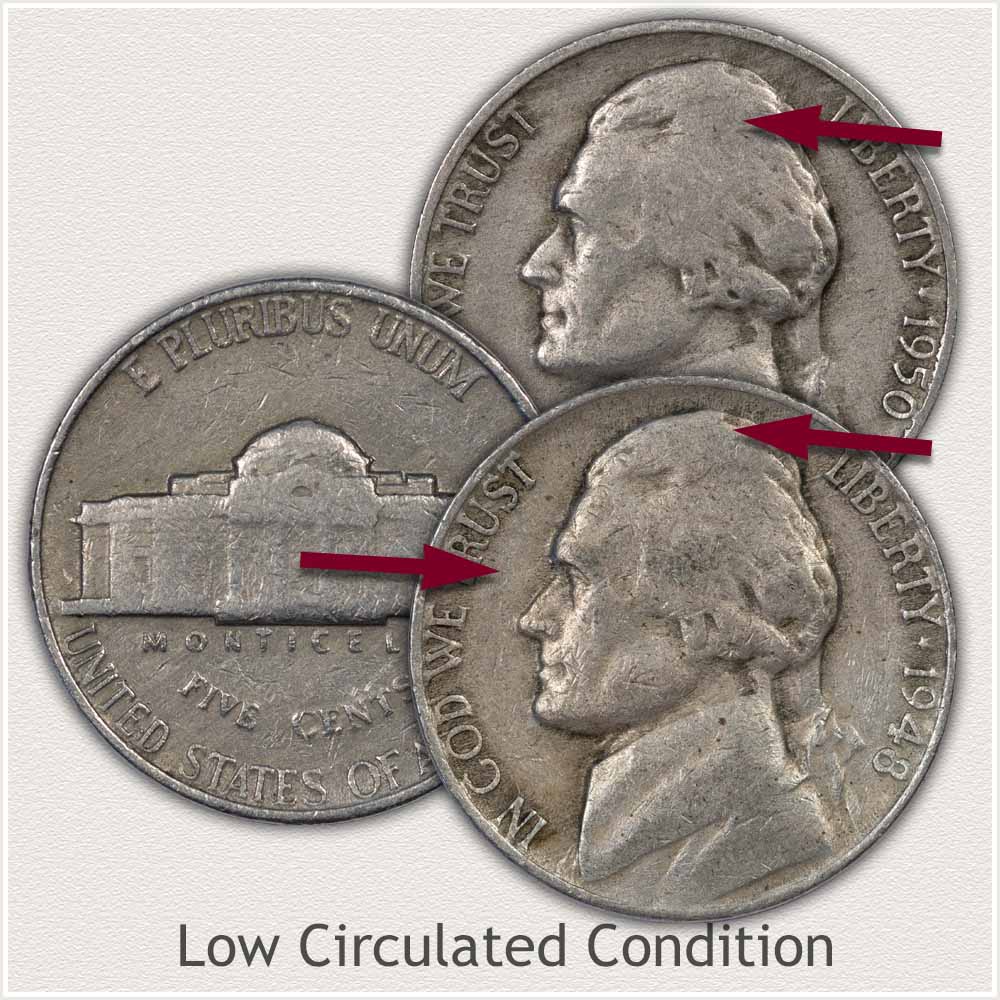 Low Grade Condition: Wear smoothing and removing small details lowers condition below the Extremely Fine grade. As wear progresses more of the major details in the hair and coat are smooth and merging together.
In the area above the ear, once rounded hair profiles are now flat with no strand details. This high area is also beginning to connect with the hair towards the top of the head. A large flat area is replacing the once detailed hair.
Crisp details of the coat and collar are now flattened and merging. Noted are the flattened areas of Jefferson's face, cheek below the eye, and jaw.
How to Video: Grading Jefferson Nickels
The more subtle details visible on these vintage nickels, the closer to a collectible grade. A detailed inspection of the obverse and reverse using close-up images and video narrows the grade.
Video, Images and Descriptions | Grading Jefferson Nickels
Step 3: | Special Qualities Enhancing Value
Mintage Scarcity Factor to the 1955 Nickel
Low mintage numbers signal to collectors a mint variety with the possibility of becoming scarce. Recognizing an unusually low number of nickels struck at a mint creates a sought-after coin. Premiums rise and many are quickly placed into collections.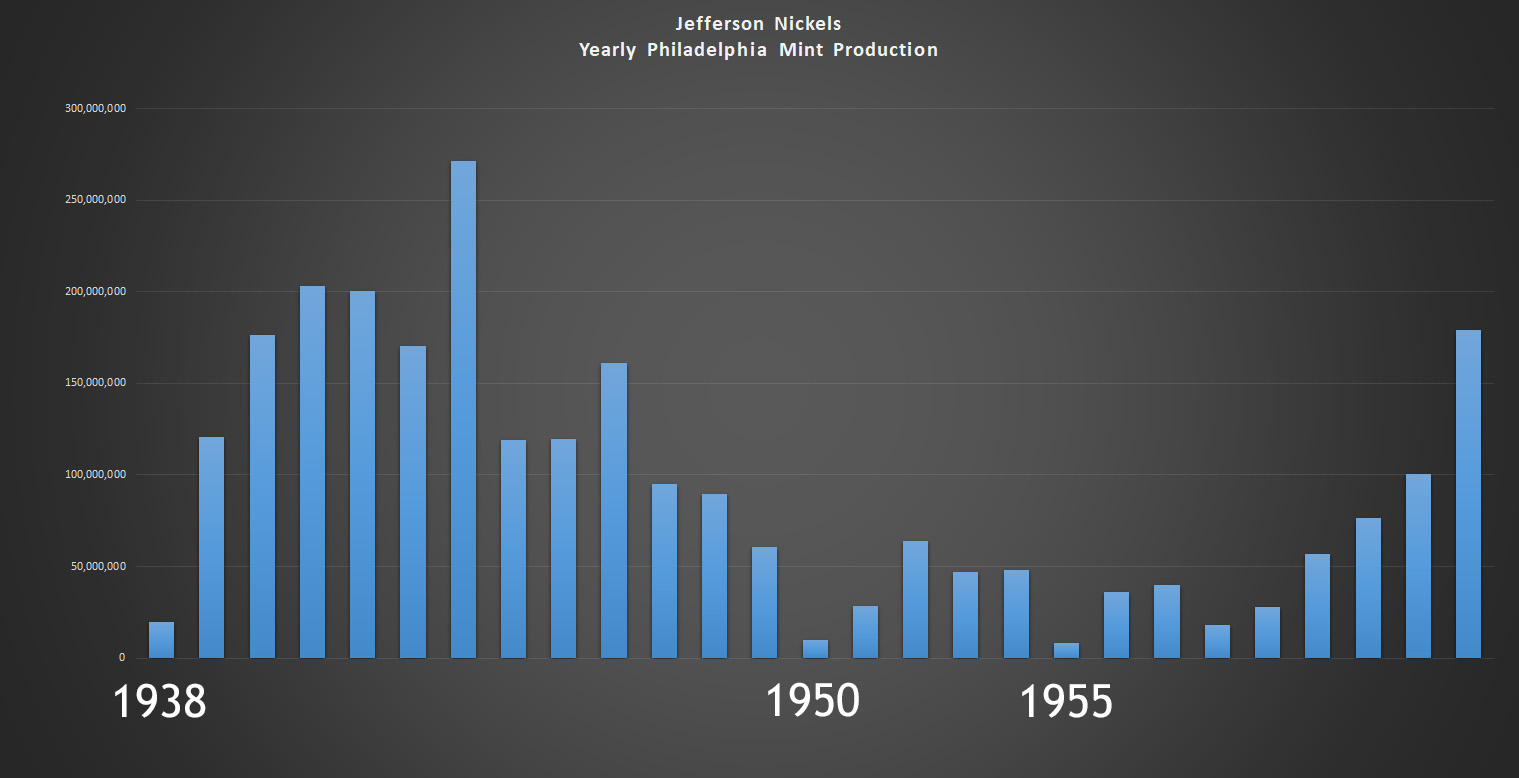 Philadelphia struck just over 8 million nickels in 1955, of these 7,880,199 were released into circulation, far below normal production levels. This number stands out as the lowest of the Philadelphia mint for the entire Jefferson series. And the seventh lowest of any mint for the Jefferson series. Its place in the vintage era has an added appeal because of mintage standings.
Today's Value: Premiums remain affordable today for a coin with such low mintage totals. Two factors likely contribute to the favorable price. Firstly, demand was elevated early after production in 1955 and many were saved. And secondly, current demand is met with existing supplies. With typical mintages in later years in the hundreds of millions; a low mintage vintage nickel adds a scarcity factor to a collection of Jefferson nickels.
References
U.S. Mint. 1956 U.S. Mint Annual Report https://nnp.wustl.edu/library/book/345
Coin Values | CoinStudy Articles
Date by Date
In Depth Jefferson Nickel Values
1938 to 1964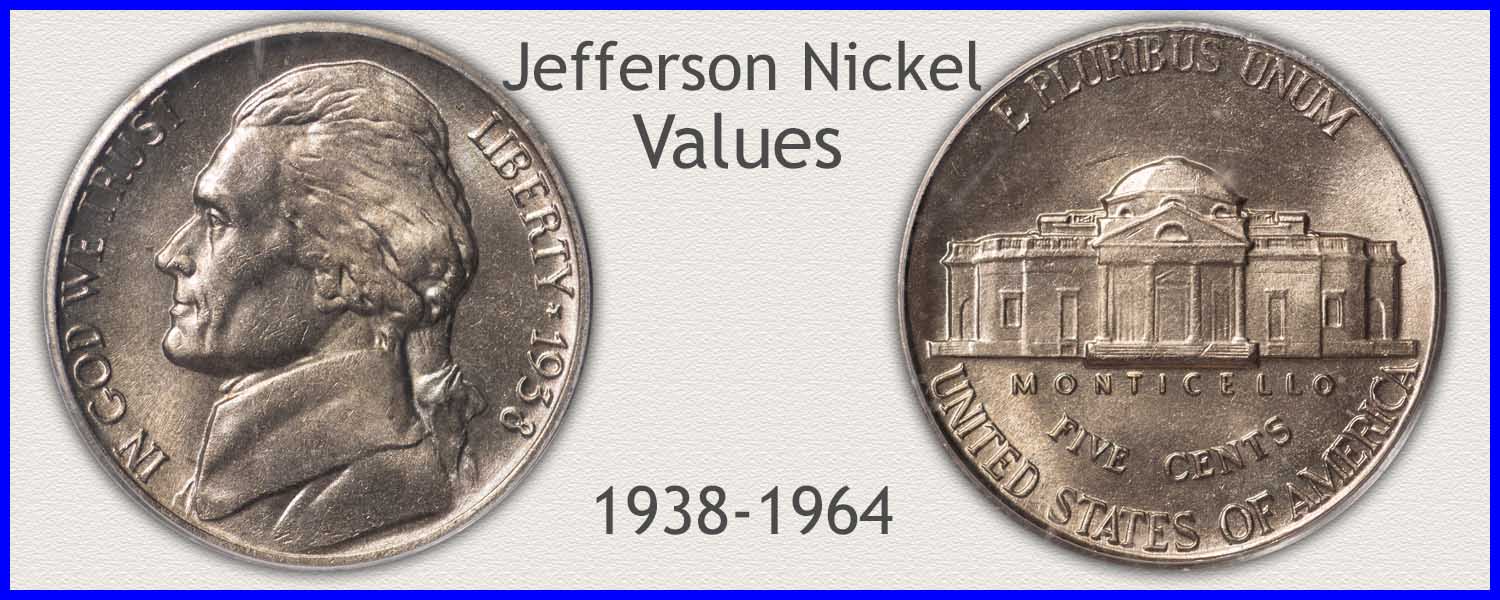 Jefferson Nickel Values | Gaining Popularity
Jefferson nickels first minted in 1938 and still minted today are growing in popularity. Collectors focus both on dates from the early eras and condition of the coins when adding to collections. Identify the scarce issues; plus, using grading images, determine collector quality nickels.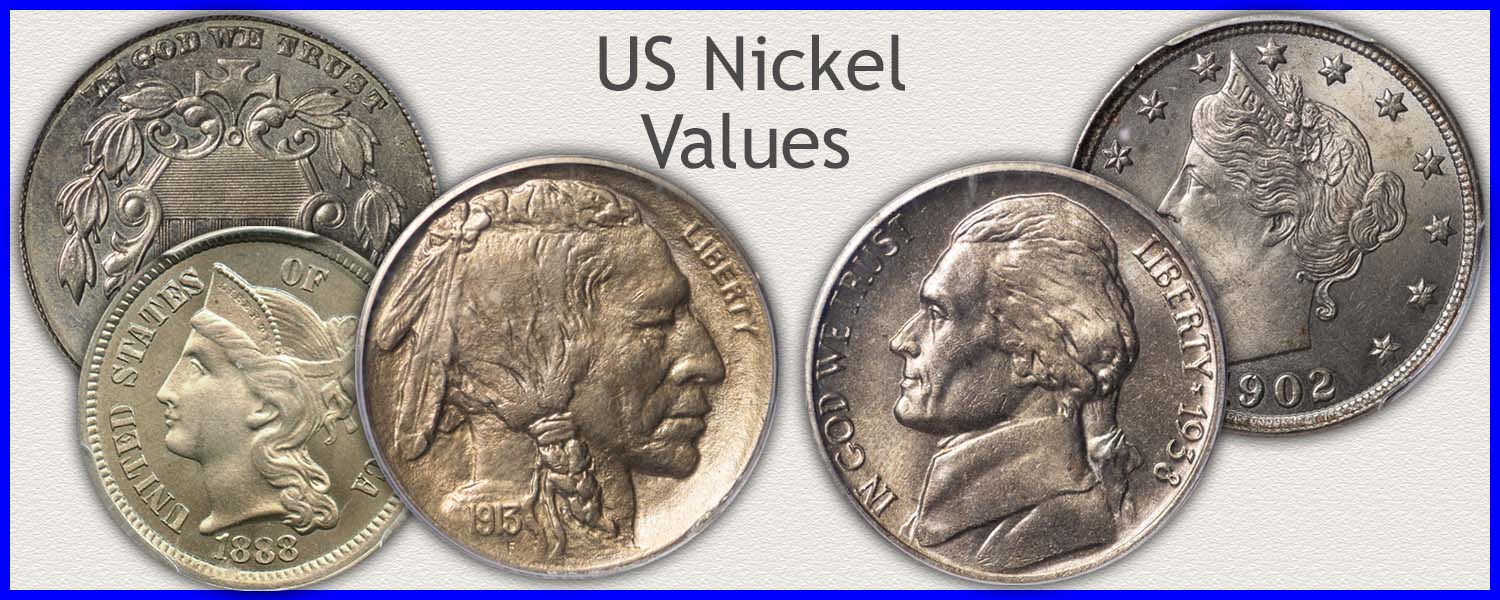 Old Nickel Values | More Old Nickel Values
Including more relating to your 1955 nickel value. These early date Jefferson nickels are becoming valuable. Easily find how much your old coins are worth.
Covering the Nickel series from Shield nickels, Liberty, Buffalo and Jefferson nickels. All include value charts, along-side grading images to find the accurate value of your old nickels.
Print the Coin Values Worksheet
List your Jefferson nickels and record their values. Should you decide to sell... use the worksheet as an invoice and packing slip when sending coins through the mail to dealers. It indicates you have done your coin values homework.
A study of Registry Set collection totals begins to identifies popular coin series. US coins are diverse in design and series. Collectors enjoy many themes of interest. Popular denominations and series are listed in order.
Coin Value Guide | How to Value a Coin Collection
Placing a value on a coin collection is done by following a step-by-step method. Each series is identified with images, important dates are highlighted. Grading condition, one of the important steps is accomplished with images of grades to compare your coins. An organization of your coins is part of the process.
★ Coin Values Discovery finds 1955 Jefferson Nickel Value and...
All old U.S. coin values. Identify your coin with the image index and text links to coin value charts. From small cent to gold coinage, grading images and descriptions uncover how much your box of old coins is worth.