Coin Values Moving with Precious Metals: Up-Dated 11/27/2023: Gold $2010 | Silver $24.66
1941 Nickel Value
Part of the early era of the series, 1941 nickel value is gaining premium status as a collectible date. Large initial mintage numbers - 297 million - total of all varieties, is now secondary with less resistance to emerging demand in support of their value.
Using a step by step approach, determine how much this now old nickel is worth.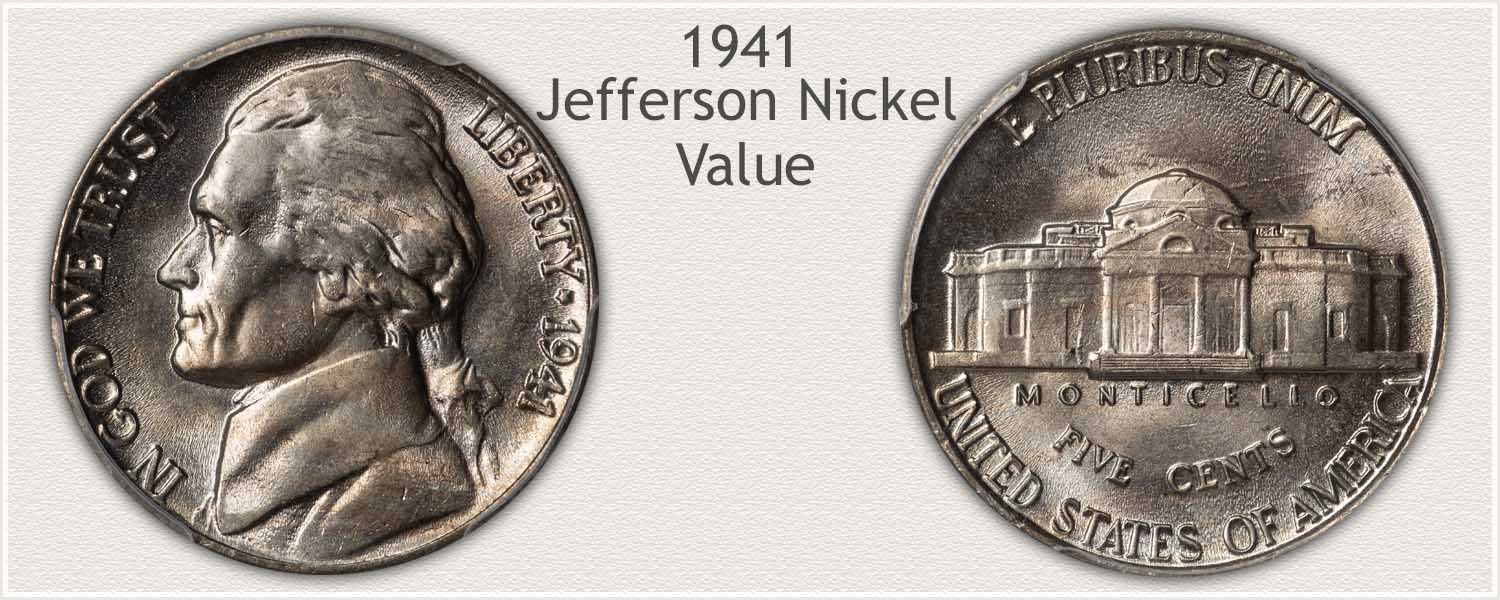 Steps Leading to Value:
Step 1: Date and Mintmark Variety - Identify each date and its mintmark variety. Three varieties are needed to separate.
Step 2: Grading Condition - Judge condition of your coin to spot the collectible grades and position on value chart.
Step 3: Special Qualities - 1941 is gaining collectible status as an early era example of the long running Jefferson nickel series.
1941 Jefferson Nickel Value
Condition of Coin
Date
Good
Fine
Extremely
Fine
Mint
State
1941 Jefferson Nickel Value Up-Dated
2023
1941
$0.05
$0.05
$0.10
$2.73
1941 D
$0.05
$0.05
$0.10
$5.25
1941 S
$0.05
$0.05
$0.10
$5.88
There is a demand for these old nickels, however, collectors are selective in the coins they attach a higher value to. The important factors, quality combined with specific variety, separate these coins and help narrow the range on the value chart.
Step 1: | Identify Date and Mintmark Variety
Three Varieties of 1941 Jefferson Nickel to Recognize
Another strong production year for U.S. mints striking just under 300 million nickels from the three mints. A following of collectors pursue Jefferson nickels. Advanced collectors seeking high condition pieces note the "S" mintmark as premium coins. New hobbyist enjoy the challenge of finding pleasing circulated examples.
A demand for all three varieties shows in the chart.
1941-S Jefferson Nickel
"S" Mintmark on Reverse: San Francisco Mint Struck the Coin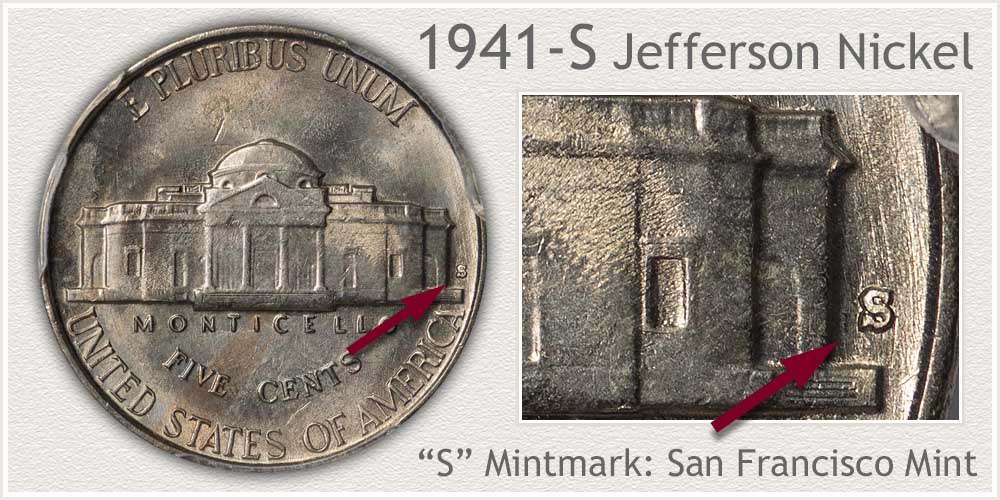 Early era vintage nickels struck at the San Francisco mint display the "S" mintmark on the reverse. Supplies of these coins are enough to satisfy collectors with affordable prices.
A challenge does exist in obtaining circulated examples in a condition with a lack of distractions. With the majority of San Francisco nickels of 1941 circulating for years, a lightly worn example is a nice find.
The identifying "S" mintmark is on the reverse. Look on the right edge of Monticello next to the rim for the small "S".
1941-D Jefferson Nickel
"D" Mintmark on Reverse: Denver Mint Struck the Coin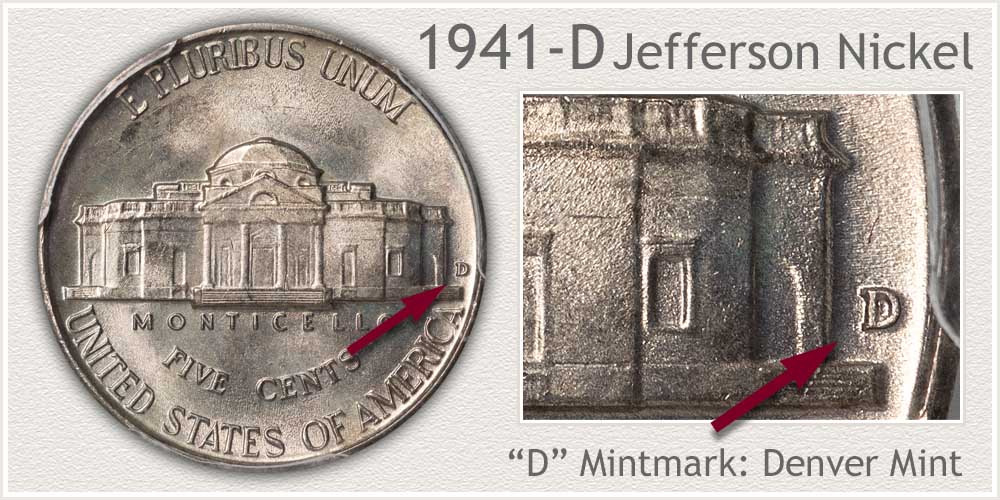 Collectors need the Denver variety 1941 nickel as part of the vintage Jefferson series set. A production of 53,432,000 coins provides an ample supply. Values are affordable both in circulated and Mint State condition, the key is finding pleasing examples.
A premium 1941 Denver nickel is a lightly circulated or better example. Denver placed a "D" mintmark on all coins to identify the mint. Finding a small "D" on the reverse at the right of Monticello is the Denver coin.
1941 Jefferson Nickel
No Mintmark on Reverse: Philadelphia Mint Struck the Coin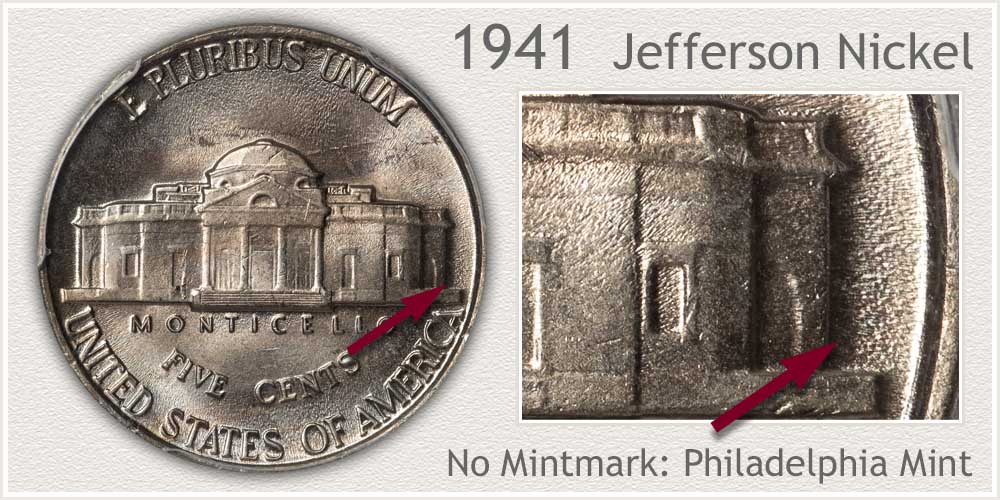 Large numbers of 1941 nickels were minted at the Philadelphia mint. These are the variety likely encountered because of the over 200 million produced. An affordable coin in circulated grades. Mint state condition examples are also one to the lowest premium coins of the series.
With plenty of supply, a 1941 nickel is an excellent year to represent the early Jefferson nickels series. Collectors are helping support values.
Philadelphia mint did not use a mintmark. On the reverse, the area is empty on the right side of Monticello, indicating the Philadelphia variety nickel.
Step 2: | Judge Condition to Identify Grade
1941 Jefferson Nickel Value is Conditional
Grading a coin determines first, the presence of wear. Secondly, if wear is visible, then the extent of wear is measured. With images to compare as standards for the different grades, visually match your coin and place a grade on its condition.
Starting with a nickel in Mint State grade gives a view of all the original detail to the design. Using a full design as a reference, missing detail is recognizable.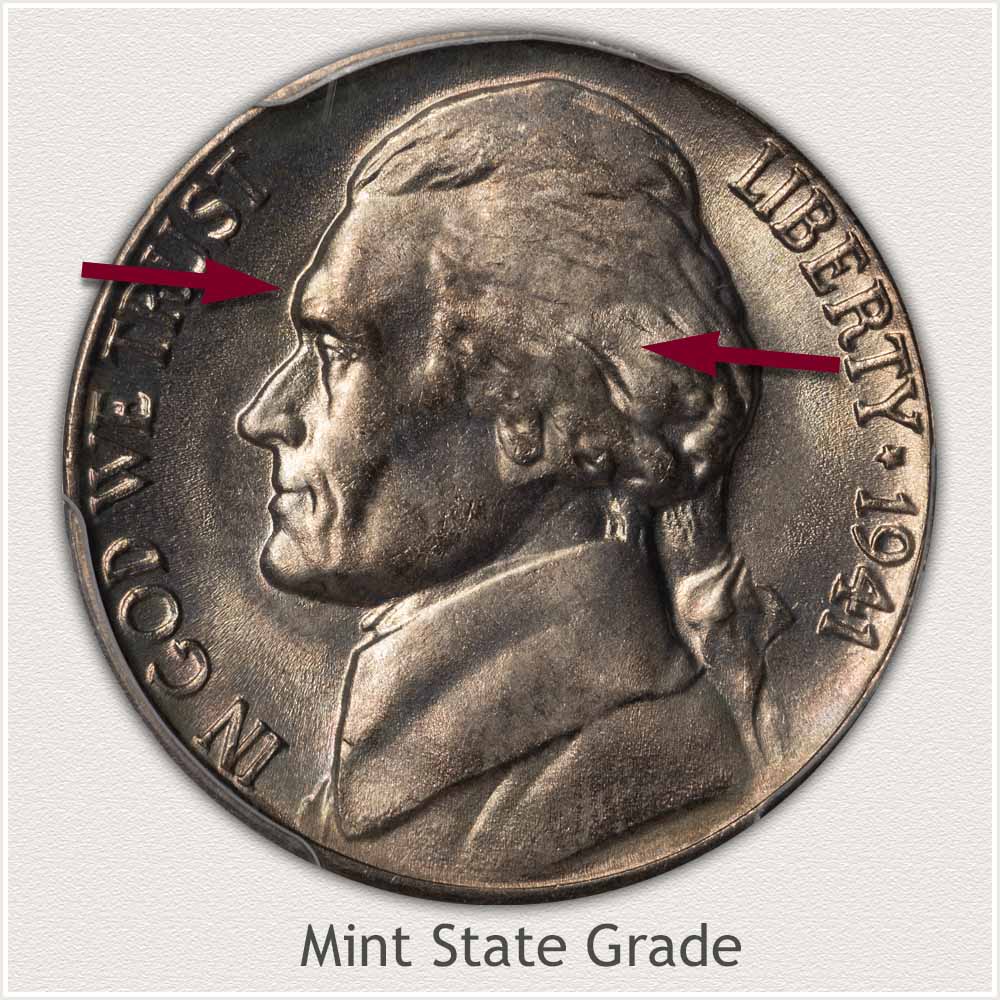 Mint State Grade: The majority of value in a 1941 nickel is awarded to those remaining in Mint State grade. These coins are very pleasing in appearance and the number one factor deciding mint state condition is the complete absence of wear to the surface.
Jefferson's portrait is full of contours both high and low. His eye brows and hair above the ear are two areas prone to receiving early wear. A mint state example shows original luster and texture above the eye and ear. Tilt the coin under a light to see the glow of luster move as the angle of tilt is adjusted.
The example displays complete luster, no dulling of the shine due to wear.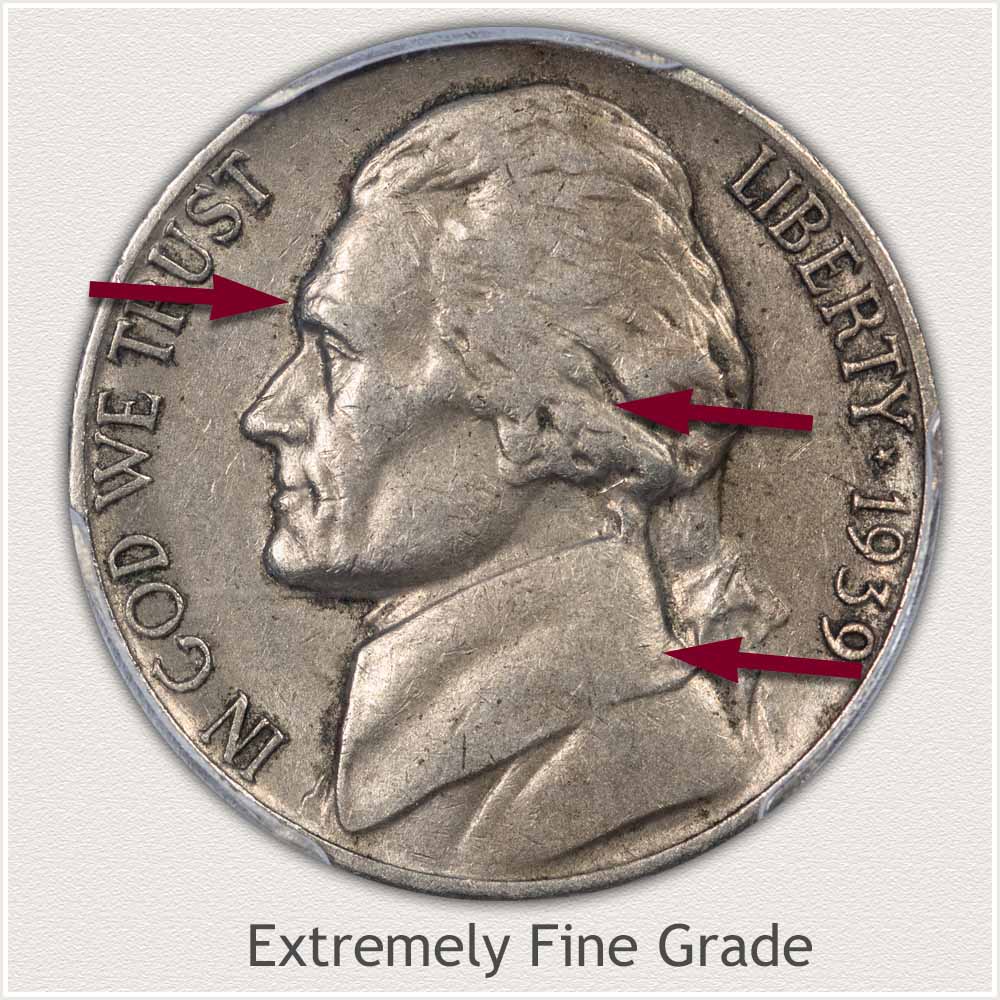 Extremely Fine Grade: A slight amount of wear has removed both the luster from the surface and small areas of metal, defining the Extremely Fine grade.
Using Jefferson's eye brow as a point to inspect, notice the small degree of flatness. Moving to the hair over his ear, again a small amount of flatness is smoothing the area. Important is the small strands of hair remain despite the presence of wear on the higher areas.
Ample detail remains overall, fine hair strands visible, and contours in Jefferson's coat. Extremely fine grade coins project a crisp appearance.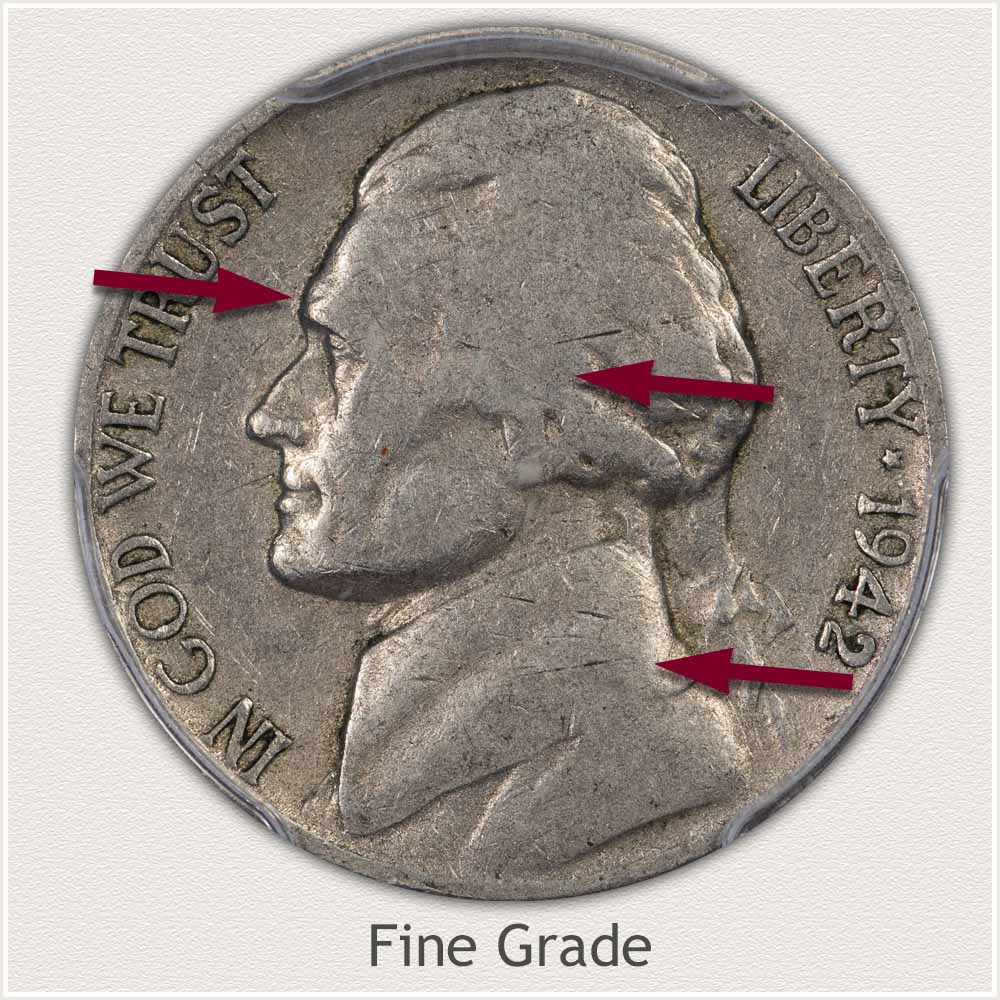 Fine Grade: Wear has given this nickel as somewhat flattened look. Areas of wear are beginning to connect with loss of defining lines, defining the Fine grade.
With a worn condition nickel, presence of major design elements must remain. Although Jefferson's portrait is clearly worn, his face and hair is slightly separated. His eye brow is now flat, however not connected to the hair, a small contour remains. Hair above the ear is now smooth and beginning to blend with hair at the top of the head.
Although wear is obvious, many strong contours with Jefferson's face and coat are distinct helping improve eye appeal.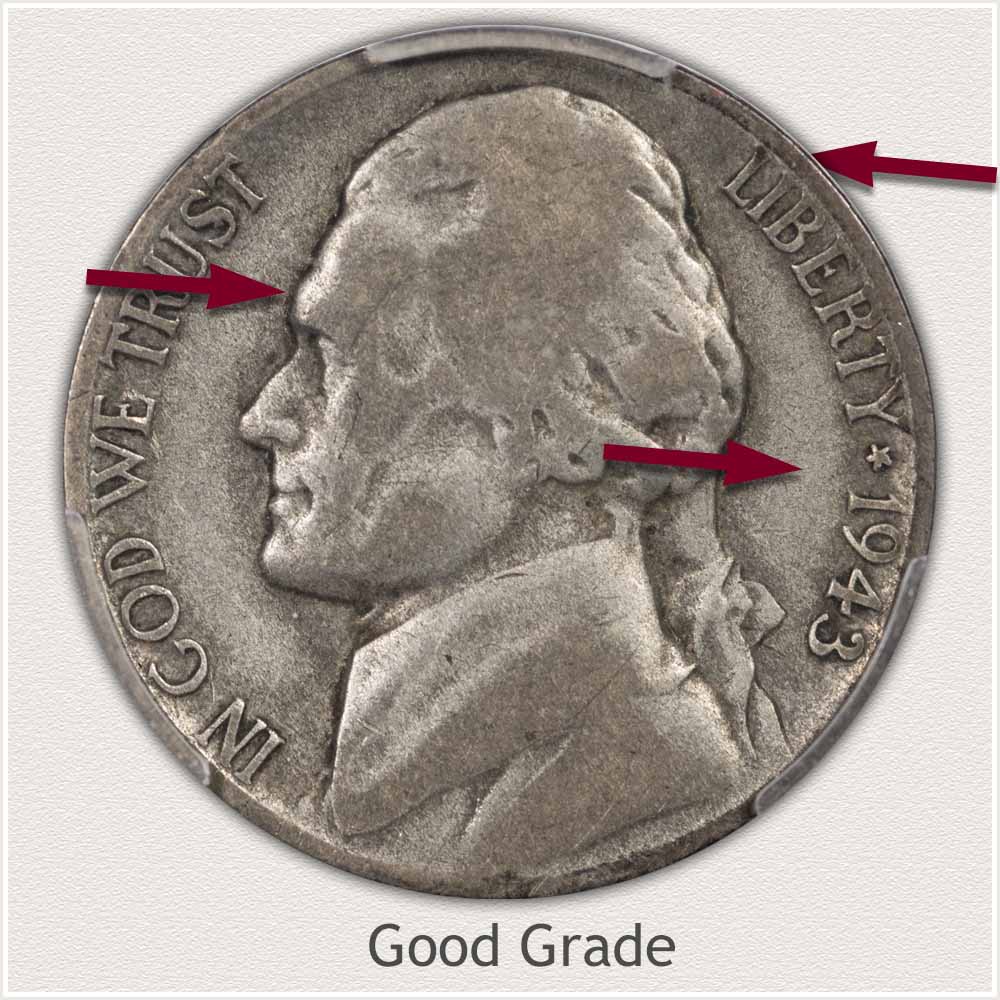 Good Grade: A coin with most major design elements worn to an outline describes the Good grade.
Jefferson's portrait originally began as very high in profile above the fields of the coin. In heavily worn condition large areas of flatness extend across the head and face. Contours of the eye brow are flat and connect in a continuous flat area with the hair.
The large flat areas connecting across the face and hair define the condition. A clear date and lettering are visible. The rim once the highest point of the coin is worn to the level of the lettering and a slight amount of merging is often visible.
How to Video: Grading Jefferson Nickels
Additional grading images and descriptions aid in recognizing subtle points to accurate grading.
Video, Images and Descriptions | Grading Jefferson Nickels
Step 3: | Special Qualities Enhancing Value
Collectible Quality and Value 1941 Jefferson Nickels
Despite the age of early era Jefferson nickels, they remain abundant compared to demand. Quantities of worn 1941 nickels are available. Nickels minted 1938 to 1942 are the very first years of the series and with the change to silver alloy in 1942 are in a special very early span of the series.
Popularity of the Jefferson series is steady with a number of both advanced and beginning collectors. Their preferences drive values. Advanced collectors search among the higher quality examples building sets of elite grade coins. Beginning collectors seek pleasing, well preserved, circulated coins to assemble collections. Both types of coins and condition represent a challenge to find.
Beginning to break away in value are the eye appealing, lightly circulated nickels minted 1938 to 1942. Demand is catching up with supply, basic affordability of the series is attracting added numbers of collectors. With added pressure on supplies, scarcity is revealed in rising premiums.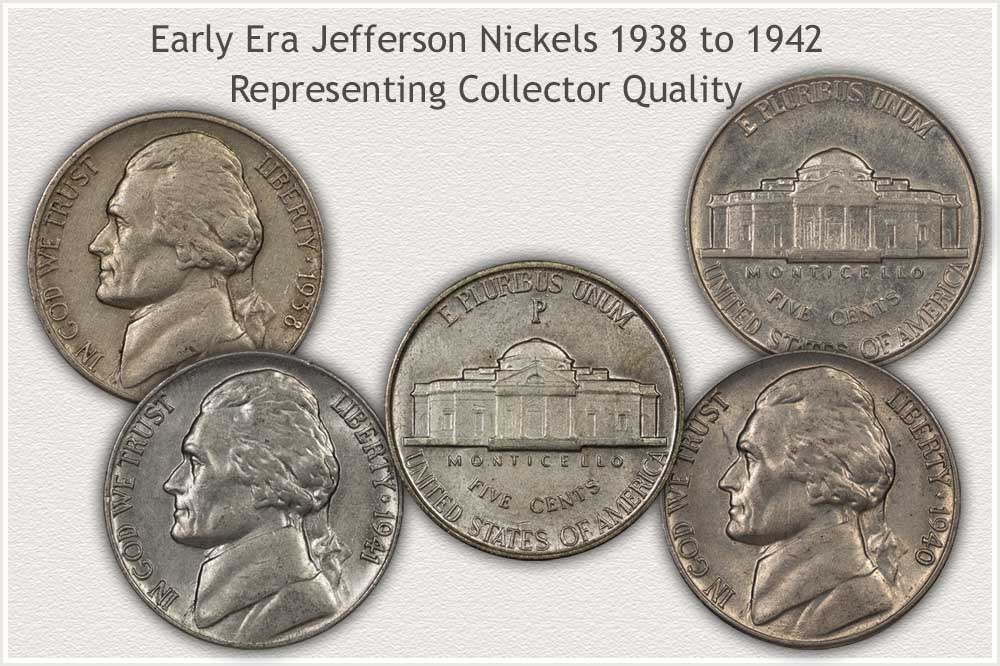 The example coins represent the quality sought by many collectors as they become familiar with the Jefferson series. Looking closely at the coins a few features is typical to all.
Wear is at a minimum, a first priority.
No distracting marks, large nicks and rim dents are absent.
Bold features of Jefferson, crisp features represent his face and hair.
Well struck and defined Monticello on reverse, windows and columns visible.
An eye appealing nickel of the very early years is beginning to have a collector value representing a nice premium. Any old 1941 nickel you find displaying a pleasing look is kept separate and not mixed with the abundant lower quality nickels.
References
U.S. Mint. 1942 U.S. Mint Annual Report. https://nnp.wustl.edu/library/book/335
Coin Values | CoinStudy Articles
Date by Date
In Depth Jefferson Nickel Values
1938 to 1964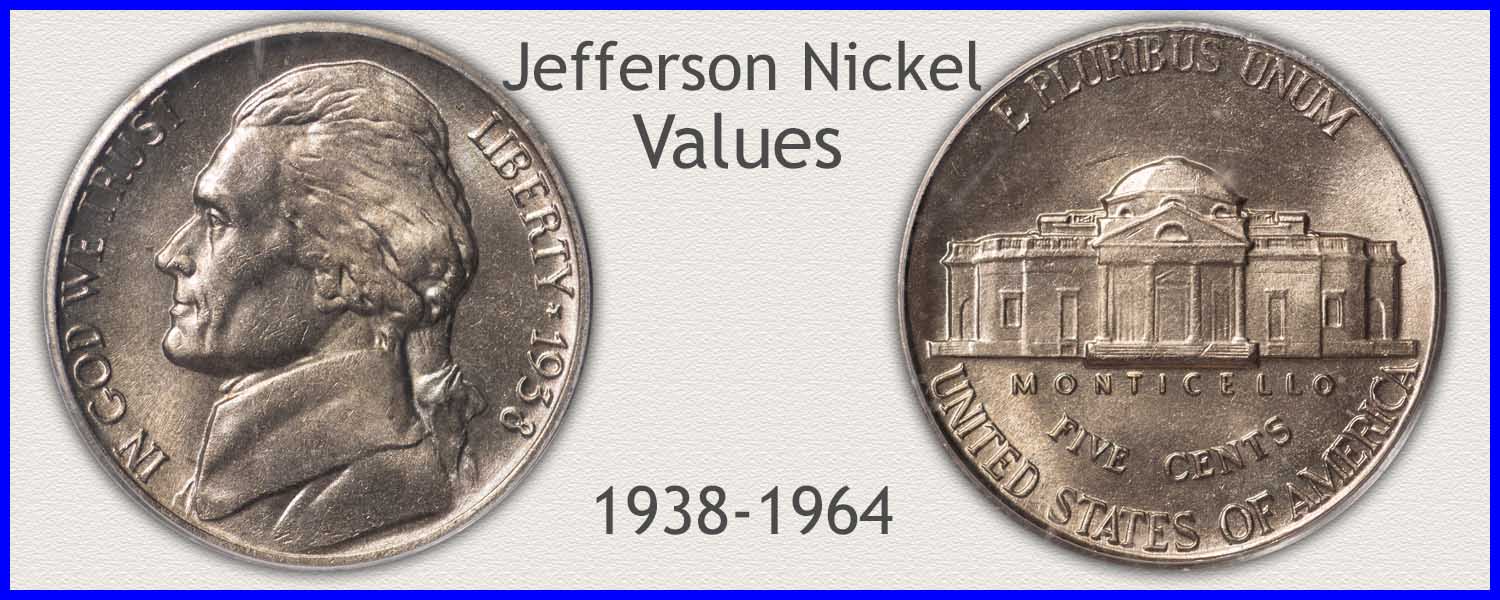 Jefferson Nickel Values | Discover Their Worth
Jefferson nickels first minted in 1938 and still minted today are growing in popularity. Collectors focus both on dates from the early eras and condition of the coins when adding to collections. Identify the scarce issues; plus, using grading images, determine collector quality nickels.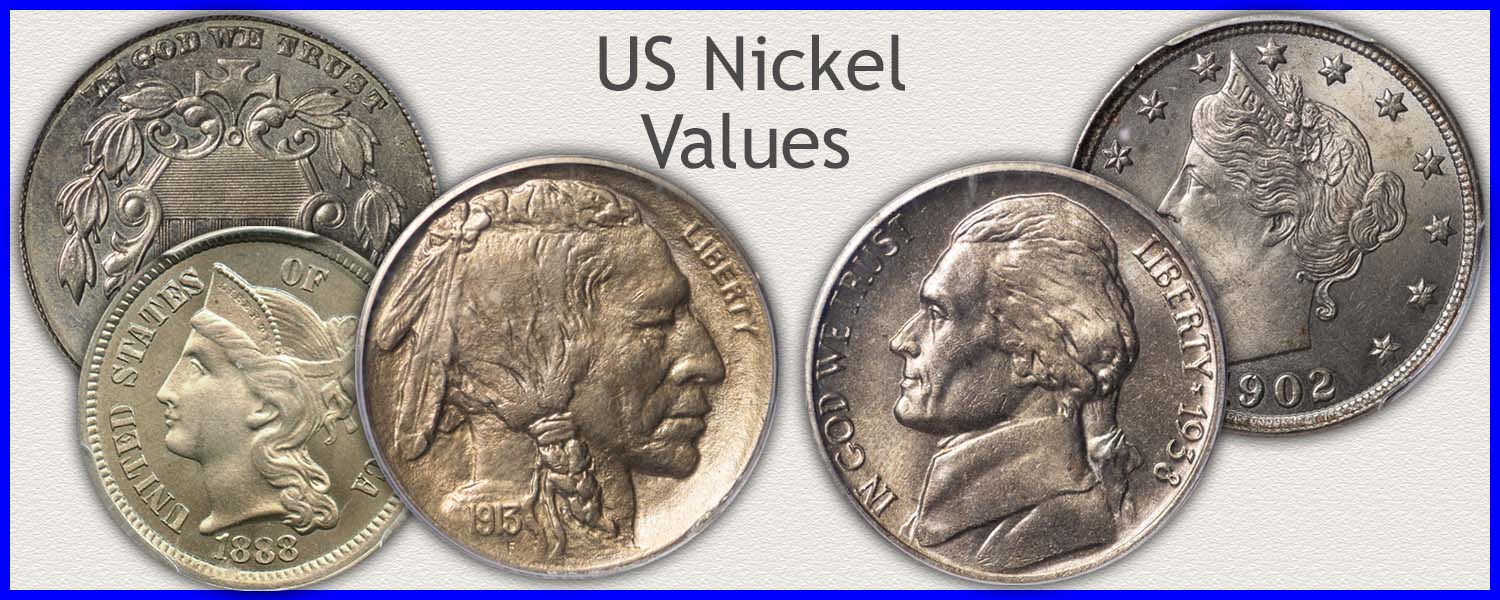 Old Nickel Values | Stable to Rising
Starting with the old Shield nickel first minted in 1866 to the Liberty nickel. Followed by the very popular Buffalo nickel. 1941 nickels are part of the long running denomination. Value Charts and grading images identify rare nickels.
On occasion rare nickels do turn up... old better date buffalo nickels, valuable silver war nickels, even a few Jefferson nickels and others. Search your box of old coins and discover any collectible nickels.
Print the Coin Values Worksheet
Printable sheet to list and inventory your coins and record Jefferson nickel values
Among 20th century US coins, collecting Jefferson nickels is popular along-side Buffalo nickels as a favorite with collectors. A study of Registry Set totals identifies popularity of each series by numbers of collectors involved in actively assembling collections. An insight into the coin hobby and the many US coins by denomination and series.
★ Coin Values Discovery finds 1941 Jefferson Nickel Value and...
All old U.S. coin values. Image and description index leading to value charts. Step by step method to date and variety identification. And grading condition by comparing to images, video and descriptions. Special qualities are also judged. Discovery how much your box of old coins is worth.