Coin Values Moving with Precious Metals: Up-Dated 9/25/2023: Gold $1921 | Silver $23.44
1944 Nickel Value
1944 nickel value starts by recognizing the mintmark variety and condition of your coin. You determine how much your nickel is worth by following a step by step method. Confirming date, mint that struck the coin, and then followed by a judgement of condition.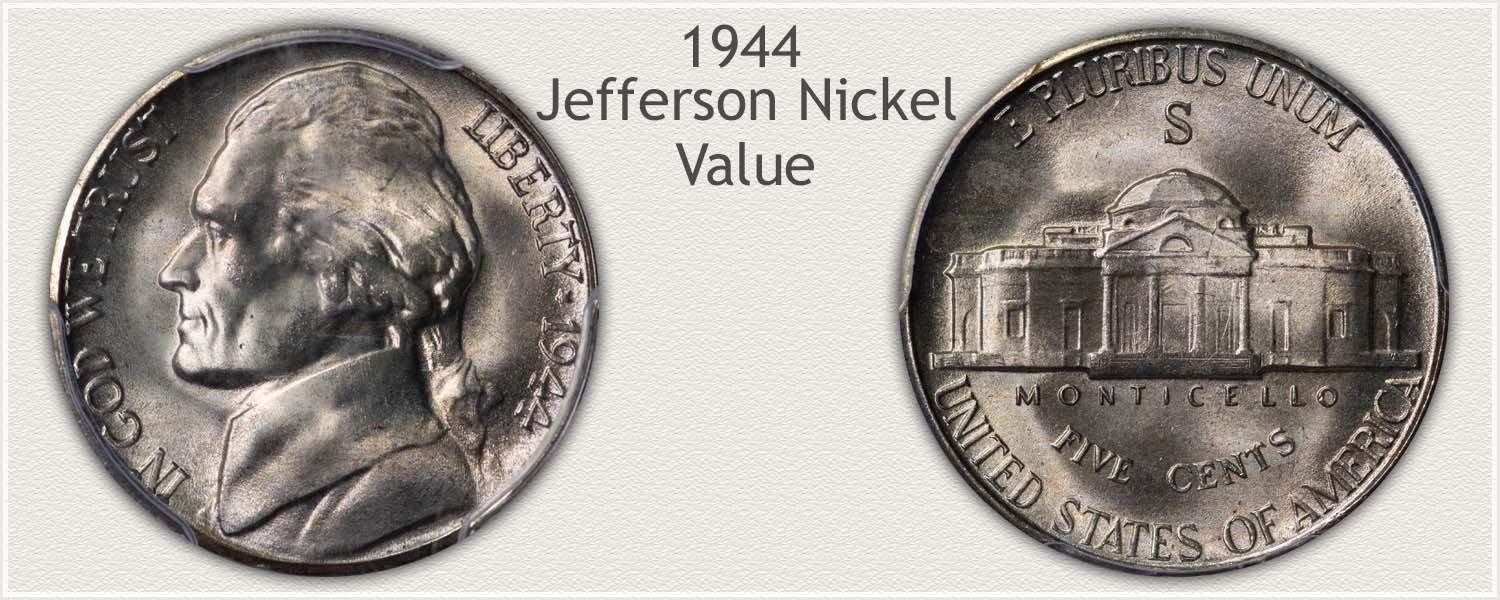 Steps Leading to Value:
Step 1: Date and Mintmark Variety - 1944 nickels are part silver in their alloy. Important to identify date and mint variety. San Francisco issues are a variety to recognize.
Step 2: Grading Condition - Judge the condition of your coin, determine its grade and place on the value chart. Images and description guide the process.
Step 3: Special Qualities - Silver content is base value; collector quality examples are premium coins.
1944 Jefferson Nickel Value
Condition of Coin
Date
Good
Fine
Extremely
Fine
Mint
State
1944 Jefferson Nickel Value Up-Dated
5/25/2023
1944 P
$0.94
$0.94
$0.94
$7.17
1944 D
$0.94
$0.94
$0.94
$10.17
1944 S
$0.94
$0.94
$0.94
$8.00
Metal content of these 1944 nickels, in this case silver, is the solid base to value. Movement in silver raises or lowers this base. Collector quality and mint variety are also involved in an assessment of value.
The above chart highlights the difference in quality of coins with Mint State values far ahead of circulated pieces.
Collectors seek all mint varieties and, depending on their level of collecting, seek circulated or mint state condition coins. To determine the quality of your coin, Step 2 helps recognize condition. First step; is to compare your coin to the following images to identify mint variety.
Step 1: | Date and Mintmark Variety Identified
Three Mints Struck 1944 Silver Jefferson Nickels
1944 was the second full year all mints struck silver nickels. Total numbers for the year topped 173 million. Three mints produced nickels and each is slightly different in value because of numbers available today.
Silver is the base to value, with scarcity and condition adding premiums.
1944-S Jefferson Nickel
"S" Mintmark on Reverse: San Francisco Mint Struck the Coin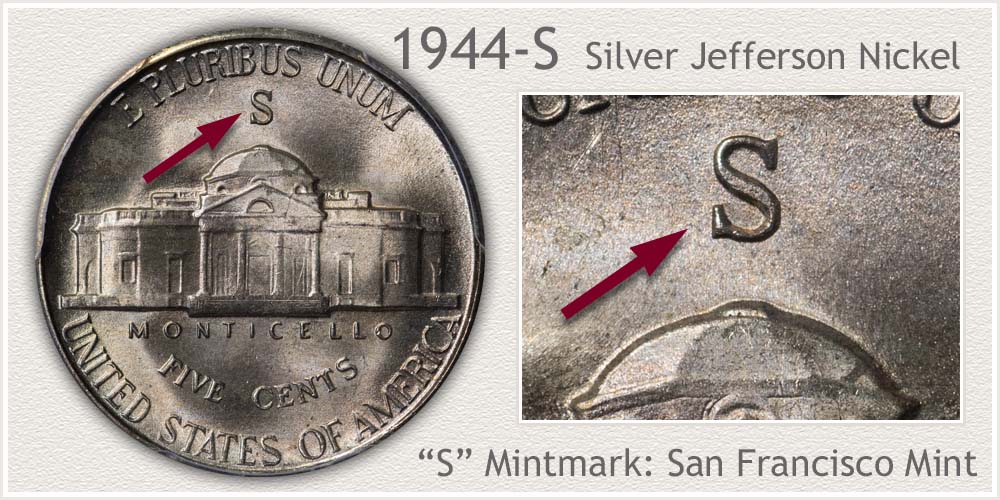 San Francisco mint is the low production mint of 1944. With 21,640,000 produced, special attention is placed on judging condition of these silver nickels.
Identity of the San Francisco issue is the large "S" mintmark above the dome of Monticello on the reverse. 1944 nickels are a silver alloy issue with a solid premium based on silver price. Judging condition is the next key step.
1944-D Jefferson Nickel
"D" Mintmark on Reverse: Denver Mint Struck the Coin
All Denver 1944 nickels are a valued collectible because of the silver alloy used in the coins. Collectors often focus on the silver issues exclusively searching for outstanding examples. 1944 nickels from Denver are abundant in worn condition and these trade at silver value. A collectible coin displays ample detail and wear limited to high areas. Elite grades, with no wear are worth far above silver value.
Denver used a large "D" mintmark on the silver issues. On the reverse, above Monticello a "D" mintmark confirms the Denver coins.
1944-P Jefferson Nickel
"P" Mintmark on Reverse: Philadelphia Mint Struck the Coin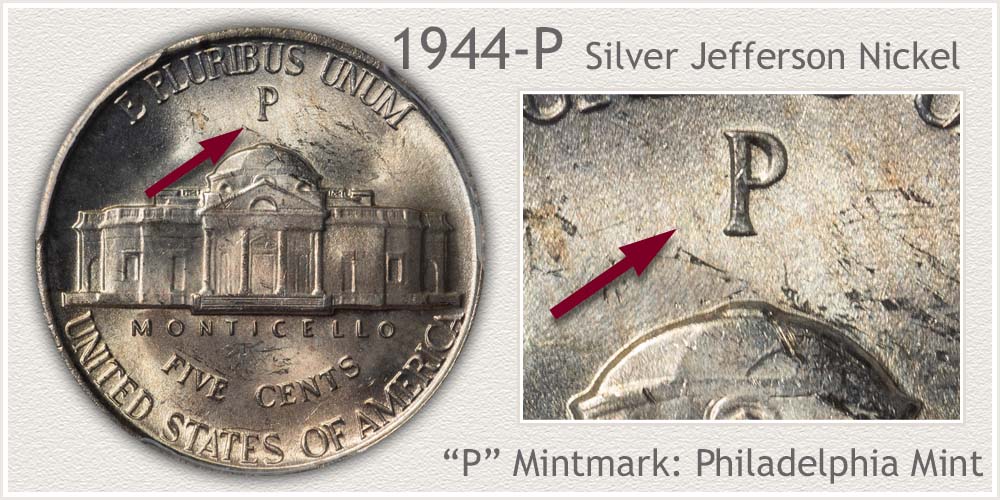 Philadelphia produced a large amount of silver nickels in 1944, over 119 million. These are the abundant variety of 1944 nickels. Because of silver content all are worth far above the five-cent face value.
To indicate the silver issue nickel, Philadelphia placed a "P" mintmark above Monticello on the reverse. The large "P" mark confirms the silver nickel.
Step 2: | Judge Condition to Identify Grade
1944 Jefferson Nickel Value is Conditional
An important value step with all coins is judging condition. Collectors are in search of an affordable example to represent a date and mint combination. Grading is a process of inspecting the surface of the coin to detect wear, if any, and amount of original detail present.
If you start by examining closely the Mint State example all design detail is visible helping when you begin to judge the effects of wear and loss of detail.
Grading a silver nickel follows the same standards as the nickel-copper alloy pieces.
Mint State Grade: Mint State nickels are known for complete coverage of luster. Luster imparted during the striking process gives the coin its shine and wear is first noticed as removal of shine on the high points.
One very high area is Jefferson's cheek just below the eye. This is represented by a high contour with very low contours above and below. Mint luster remaining indicates the coin never circulated and became worn. Color and shine are the same as the low relief areas nearby.
Looking over the rest of the surface finds no dulling and smoothness at the highest points. Hair and coat radiate luster when the coin is tilted under a light.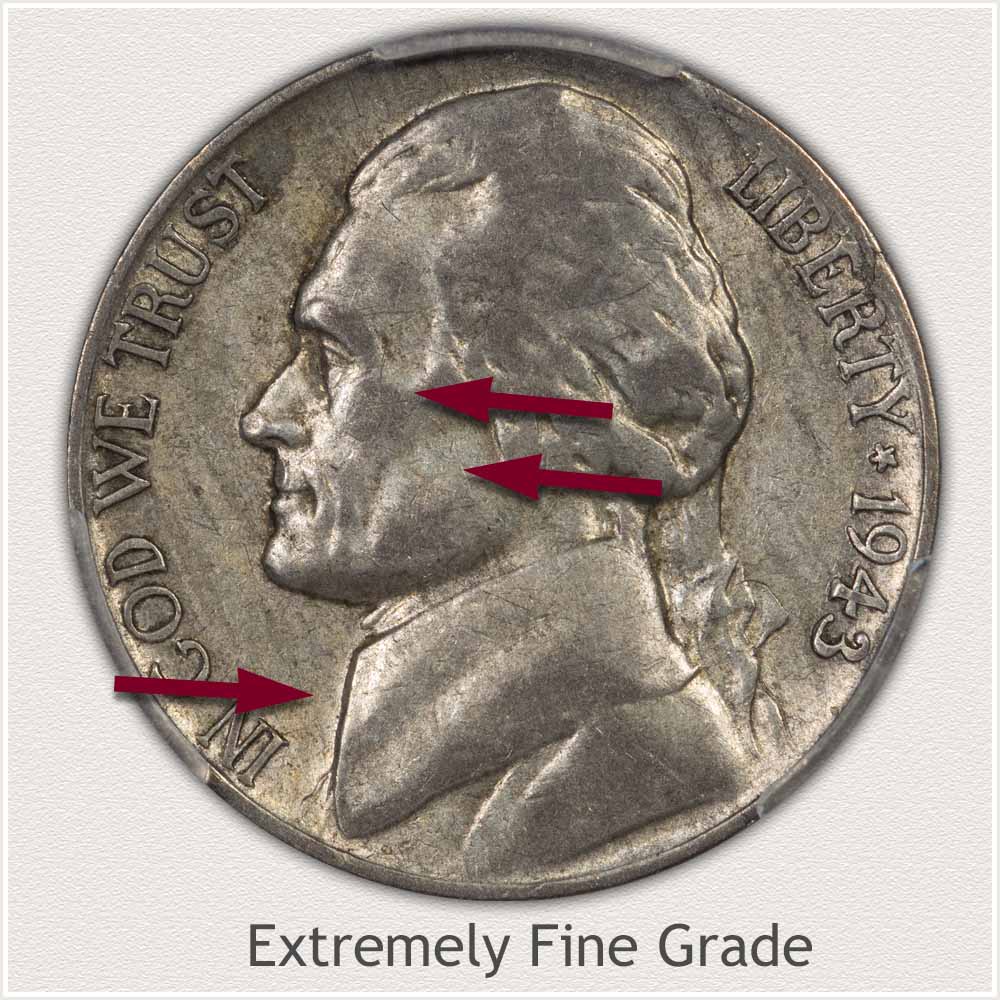 Extremely Fine Grade: A collectible grade Extremely Fine condition coin is crisp and small details are visible.
Under Jefferson's eye, the cheek shows just a small amount of flatness to the contour. Metal is smooth at the point of wear. Important to define the grade is the cheek is raised above the low relief areas above and below. A strong separation is seen at the hairline.
Wear is visible in the hair; however, many small strands of hair are defined. Bold lines and contours still represent the collar and shoulder.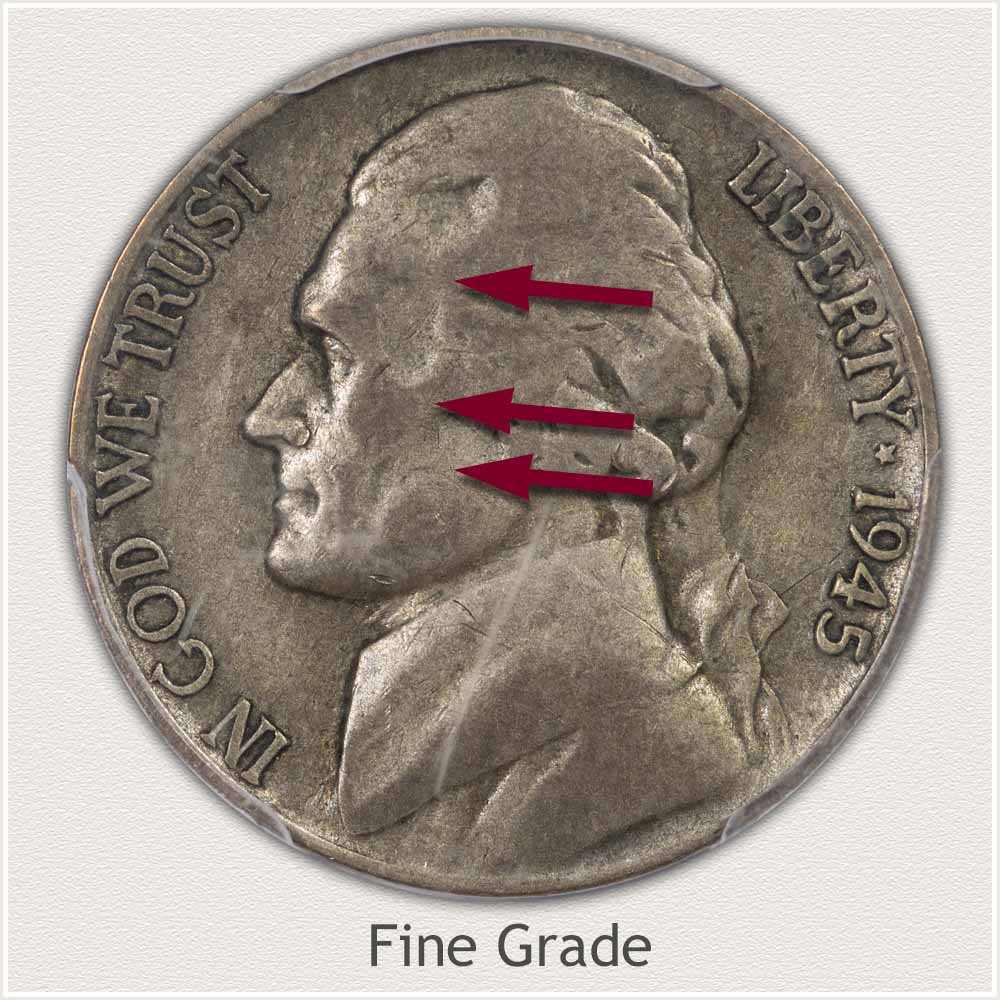 Fine Grade: Wear has become noticeable as large flat areas on a nickel in Fine condition. Smooth areas are found over the entire portrait.
Jefferson's cheek below the eye is now a distinct flat spot. His cheek is connecting with both the hair and eye brow above. A low relief area remains below the cheek and a low contour represents his temple. Both are helping identify the Fine grade.
Flatness is widespread in the hair. Looking at his coat, the collar line is beginning to merge with the shoulder. Bold features remain in the lower relief areas of Jefferson's face.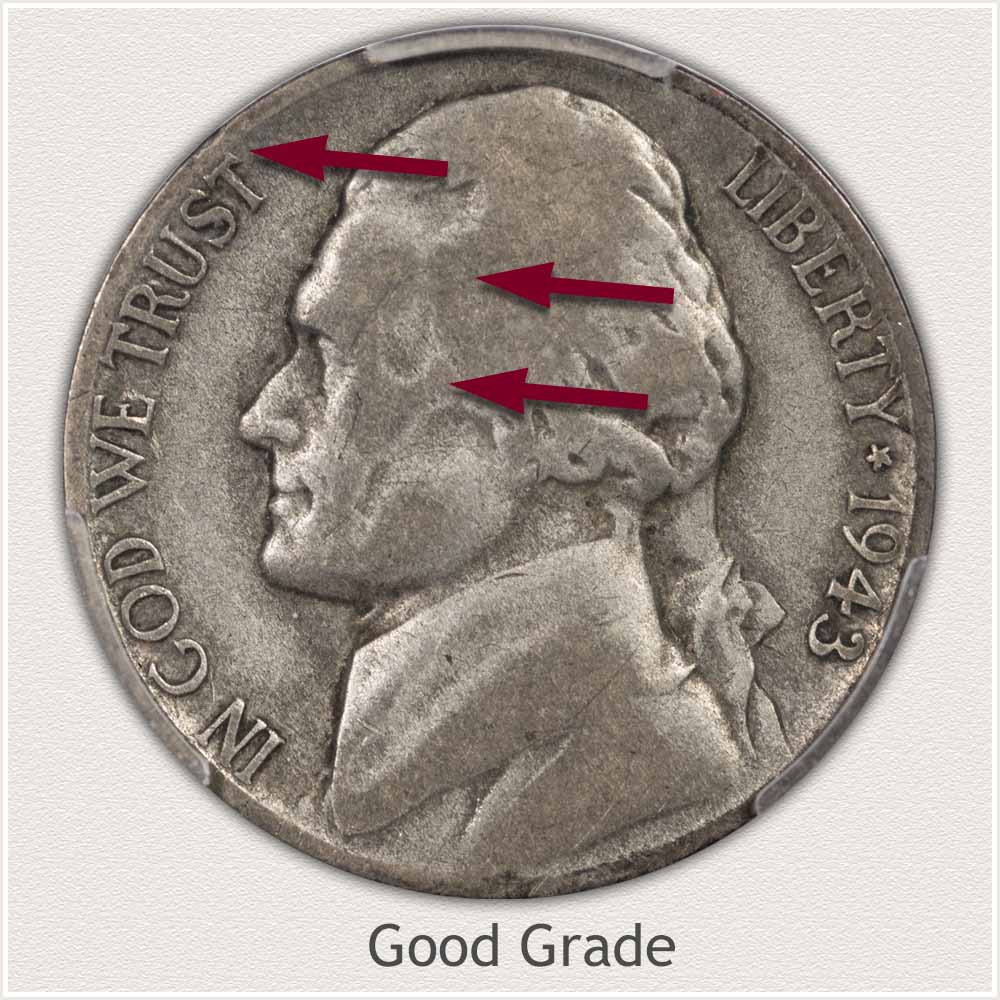 Good Grade: Wear has reduced the rim, hair, and most the details in the coat. Heavy wear is defining this coin and its condition.
A once rounded and high-profile cheek in now a flat surface fully connected to the eye brow above, forehead, and hair. Flatness covers the majority of hair detail also.
All major details are now flat surfaces with little inner detail. A strong date is a plus to this coin, lettering is complete and just touching the rim in places, also a plus. Lacking any deep marks, this coin is very worn but not damaged.
How to Video: Grading Jefferson Nickels
Added images and descriptions give insight to the many points of grading coins.
Video, Images and Descriptions | Grading Jefferson Nickels
Step 3: | Special Qualities Enhancing Value
Collector Quality Adds Value to 1944 Nickels
As values of high-grade coins rise beyond affordability to new and young collectors, pleasing circulated coins gain popularity. Jefferson nickels are now a very long running series, early years are past eight decades since production. Relatively low mintages plus advanced age result in mint state examples of these vintage coins are advancing in value and cost. New collectors are enjoying the search for lightly circulated examples as an affordable way to assemble collections.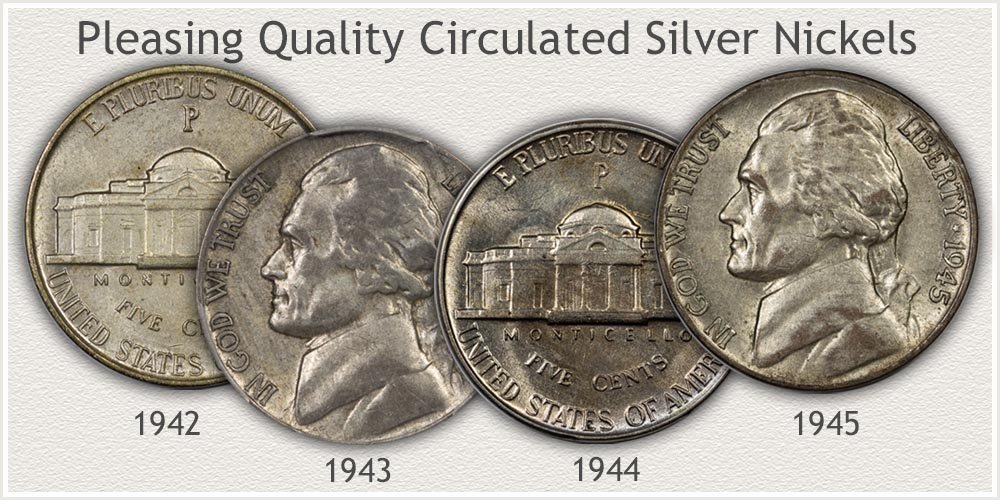 Each of the early nickels in the image is a pleasing circulated example. Light wear is combining with decades of natural toning to create eye appeal and highlight design features. Accepting the challenge to seek this quality of coin and finding suitable examples is part of the enjoyment of building a collection.
1944 Jefferson nickels are part of the special silver issues and these are often collected as a theme set within the overall series. Any silver nickel in lightly circulated condition or better is a candidate for one of these special collections. Moderate to heavy wear examples of silver nickels have a built-in silver premium, all are worth above face value. Collector premium above silver value is beginning for aesthetic examples. Each 1944 nickel and all silver issues are inspected for potential collector appeal.
Of the millions of 1944 nickels minted, most entered circulation and remained in use for decades. It is from the small percentage of those saved at the time in Mint State condition or just after entering circulation that is gaining in collector demand.
References
U.S. Mint. 1945 U.S. Mint Annual Report https://nnp.wustl.edu/library/book/338
Coin Values | CoinStudy Articles
Date by Date
In Depth Jefferson Nickel Values
1938 to 1964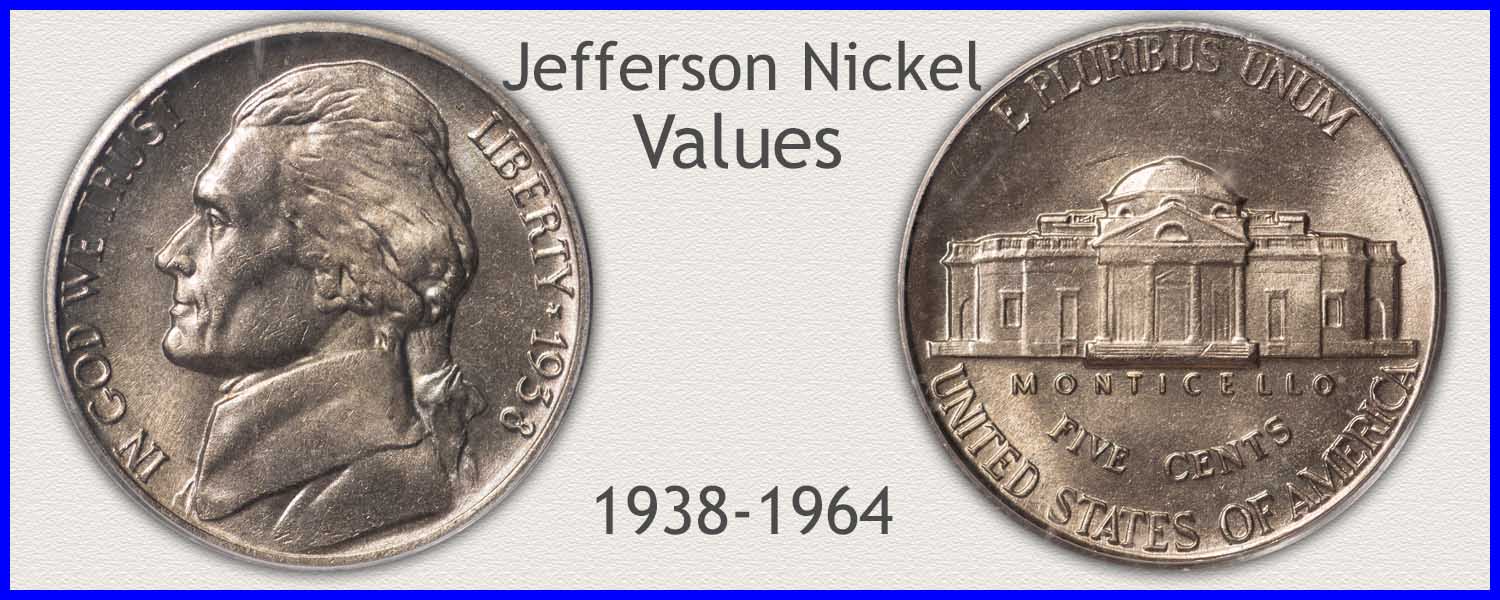 Jefferson Nickel Values | Gaining Popularity
A key to Jefferson nickels and values is condition of the coin. Special attention is given to grading using images to compare and identify condition. Value charts now highlight the dates and mintmarks with premium listings.
Found in the Jefferson series are a few scarce nickels. Earlier nickels, Shield, Liberty, and Buffalo series have a share of valuable examples also. Collectible nickels are sometimes a high condition nickel among a group of coins.
Print the Coin Values Worksheet
Record the different groups of coins as you sort them. Coins of higher value are listed individually on the worksheet. The worksheet becomes a convenient and organized summary of your Jefferson nickels.
Coin values are influenced by popularity. Large numbers of collectors create demand showing in premiums in value. Collecting interests vary and are ranked on charts by denomination and series. The Jefferson series is a popular choice of collectors collecting nickels.
★ Coin Values Discovery finds 1944 Jefferson Nickel Value and...
All old U.S. coin values. Index page of images to identify your coin and text links to all coin series, from Cents to Gold. Value charts, grading images and a step by step procedure uncovers how much your box of old coins is worth.