Coin Values Moving with Precious Metals: Up-Dated 11/27/2023: Gold $2010 | Silver $24.66
1951 Nickel Value
Follow a few steps to identify the significant mint variety and premium 1951 nickel value. Mintages per year vary according to demand resulting in numbers that survive and are available today. Step 1 helps locate this variety.
Another consideration is Jefferson nickels of the early 1950's are abundant in average condition. What is important is they are somewhat elusive in nice collectible condition. Images are used to compare your coin and find the quality sought by collectors today.
Steps Leading to Value:
Step 1: Date and Mintmark Variety - Mint variety identifies a potential premium Jefferson nickel.
Step 2: Grading Condition - Condition judges the surface quality. Amount of wear, nicks, and scratches all determine its appeal to a collector.
Step 3: Special Qualities - These old nickels reach collectible status and value when meeting a level of quality.
1951 Jefferson Nickel Value
Condition of Coin
Date
Good
Fine
Extremely
Fine
Mint
State
1951 Jefferson Nickel Value Up-Dated
2023
1951
$0.05
$0.05
$0.05
$3.75
1951 D
$0.05
$0.05
$0.05
$3.25
1951 S
$0.05
$0.05
$0.10
$4.08
The value chart highlights the need to identify both a branch mint and collectible condition of your 1951 Jefferson nickel.
Collectors typically place an example of all varieties of nickels struck per year in a collection. Finding the San Francisco nickel and determining it grade recognizes a coin sought by collectors.
A few steps and comparing your coin to images, confirms a sought-after vintage nickel. Follow the steps below.
Step 1: | Date and Mintmark Variety Identified
Three Varieties of 1951 Jefferson Nickel to Recognize
Mintmarks are the identifier of the three mints striking Jefferson nickels in 1951. These small marks placed on coins confirms the mint and helps recognize the premium 1951-S variety.
1951 is notable as the third lowest total production year of the Jefferson series. 56.8 million nickels from the three mints, Philadelphia, Denver, and San Francisco. Collectors recognize these early 1950's nickels are not commonly found.
1951-S Jefferson Nickel
"S" Mintmark on Reverse: San Francisco Mint Struck the Coin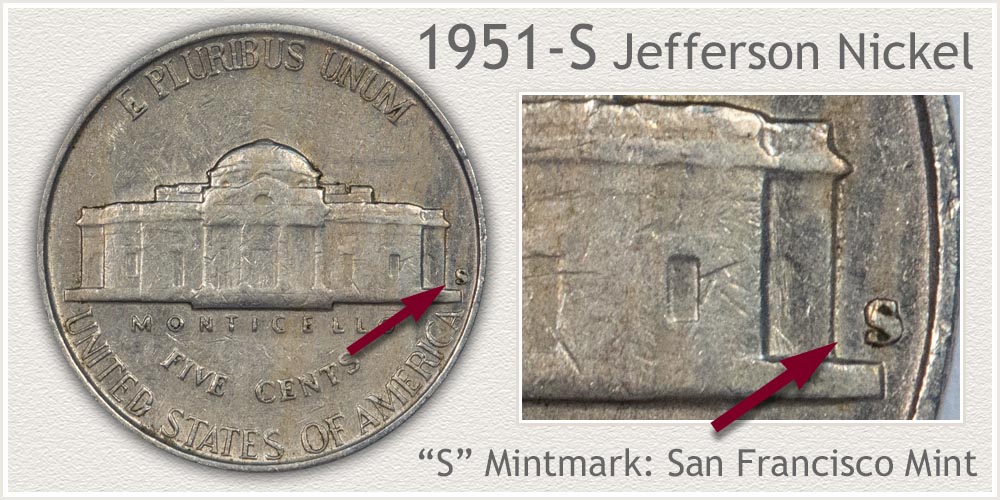 The San Francisco mint 1951 nickel is beginning to show a premium in lightly worn condition. It is ranked as the sixth lowest mintage variety of the entire Jefferson nickel series. 7,776,000 were struck and released. Most received heavy wear through use. It is one of the few Jefferson nickels considered collectible in worn condition.
An "S" mintmark placed on the reverse identifies the San Francisco variety. Look to the right of Monticello for the "S" next to the rim.
1951-D Jefferson Nickel
"D" Mintmark on Reverse: Denver Mint Struck the Coin
Denver mint nickels are identified by a "D" mintmark on the reverse. An abundant number of nickels were struck by Denver in 1951, over 20 million, and these are affordable today. Most in circulated-worn condition are traded close to face value.
Denver placed the mintmark on the reverse to the side of Monticello. Look to the right of the building for a small "D" indicating the Denver mint variety.
1951 Jefferson Nickel
No Mintmark on Reverse: Philadelphia Mint Struck the Coin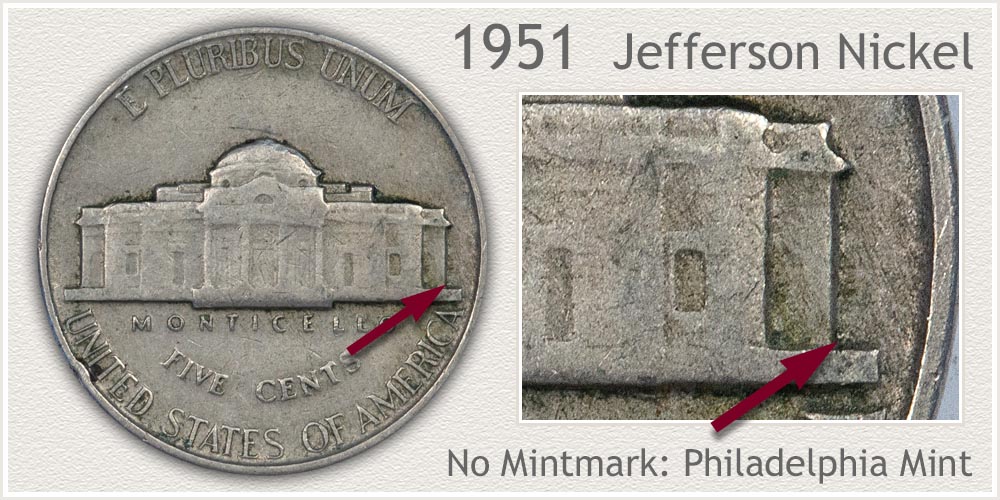 The need for minor denomination coinage was low in 1951. Philadelphia mint, the major producer of coins struck a moderate 28.6 million nickels for the year. A nice-looking example, with minimal wear is an excellent find. Vintage Jefferson nickels are a popular collection theme.
The Philadelphia mint in the 1950's did not place mintmarks on coins. On the reverse, to the right of Monticello, the small space between the rim is empty on Philadelphia coinage.
Step 2: | Judge Condition to Identify Grade
1951 Jefferson Nickel Value is Conditional
Condition of coins are classified into "grades" as shorthand descriptions of the state of preservation. With a 1951 Jefferson nickel, the important grades to identify are Extremely Fine and above to the Mint State level.
High condition coins are those sought by collectors and awarded premium values. Comparing to images representing the different grades recognizes the important collector coins. A focus on the amount of wear to the high points of the design begins the grading process.
Mint State Grade
Mint State: Beginning the grading process with a coin with no wear to the surface highlights the complete original design. All areas of a Mint State coin are without wear to the metal. Luster the "shine" of a coin are fine texture lines imparted during the minting process and are delicate and easily removed once a coin begins to circulate.
Prone to show signs of wear is the jaw line close to Jefferson's ear. This high and centrally located area is inspected closely. Note on the example, luster is present and no smoothing and dulling of the metal is seen. Wear replaces luster with a smoother surface and a subtle change in how light is reflected.
Expanding your view, the hair above the jaw and coat collar below are similar in color and texture as the jaw, portraying the shine of luster. While tilting the coin under a single light the shine is unbroken as the light moves across the surface.
Extremely Fine Grade
Extremely Fine: Defining the grade is a coin with light wear in disconnected areas of the high points only. Wear on an Extremely Fine grade coin is light and does not reduce the metal to cause merging of details.
Luster is just beginning to disappear on the highest points of Jefferson's jaw. A small flattened spot has developed along the jaw; however, smoothing is light. Evidence of a color change to the metal is seen thought the hair, with most of the texture of hair remaining. Slight smoothing is over the eye and on the high areas of the coat and collar.
Ample detail remains on a nickel in Extremely Fine grade giving the coin a crisp appearance.
Low Circulated Condition Examples
Low Circulated Condition: Vintage nickels of the 1950's that are worn below the Extremely Fine grade are considered abundant, many with low premiums. Low condition nickels are visually worn in appearance, many details are flattened.
Each of the example coins are noticeably lacking finer details. Once highly textured, Jefferson's hair is now a smooth flat area. His jaw is no longer contoured, wear has reduced the jaw to a flat surface extending from the chin to ear. Moderate to heavy wear is the "look" of the coin.
The reverse side shows heavy wear merging many details of Monticello. Four columns in the center as just visible and faded into the triangle roof above. With most of the original design worn smooth the grade is lowered below Extremely Fine.
How to Video: Grading Jefferson Nickels
Explore the grading of nickels in greater details. Subtle points are recognized to narrow the condition and value.
Video, Images and Descriptions | Grading Jefferson Nickels
Step 3: | Special Qualities Enhancing Value
Subtle Premium Value 1951 Nickels
A few subtle points help identify the separation of premium value 1951 nickels. Easiest to recognize is the "S" mintmark on the reverse. Each variety for the year is needed to complete a set and collector demand has highlighted the "S" mint variety as elusive.
Collectors are now seeking these 1951-S nickels in conditions below the Mint State grade. This highlights a second and subtle point to identify, a close inspection of the coin's condition. A collector quality coin must have a high level of eye appeal. Wear in the circulated grade is limited to just smoothing only the highest points of design.
Throughout the later vintage years, supplies of coins in worn condition is abundant. The greatest demand is focused towards Mint State examples. The 1951 San Francisco nickel is one of just a few issues beginning to show a premium in lightly circulated condition.
Look closely are the details remaining on the front of Monticello. The original design is still seen with four distinct columns. Windows are visible behind the columns as well as edges to the building are well defined. Lettering is crisp and well raised above the field, indicating a strong original strike.
This San Francisco nickel, only lightly circulated and lacking any noticeable marks is a strong candidate to include in a nice circulated set of vintage nickels.
References
U.S. Mint. 1952 U.S. Mint Annual Report https://nnp.wustl.edu/library/book/514146
Coin Values | CoinStudy Articles
Date by Date
In Depth Jefferson Nickel Values
1938 to 1964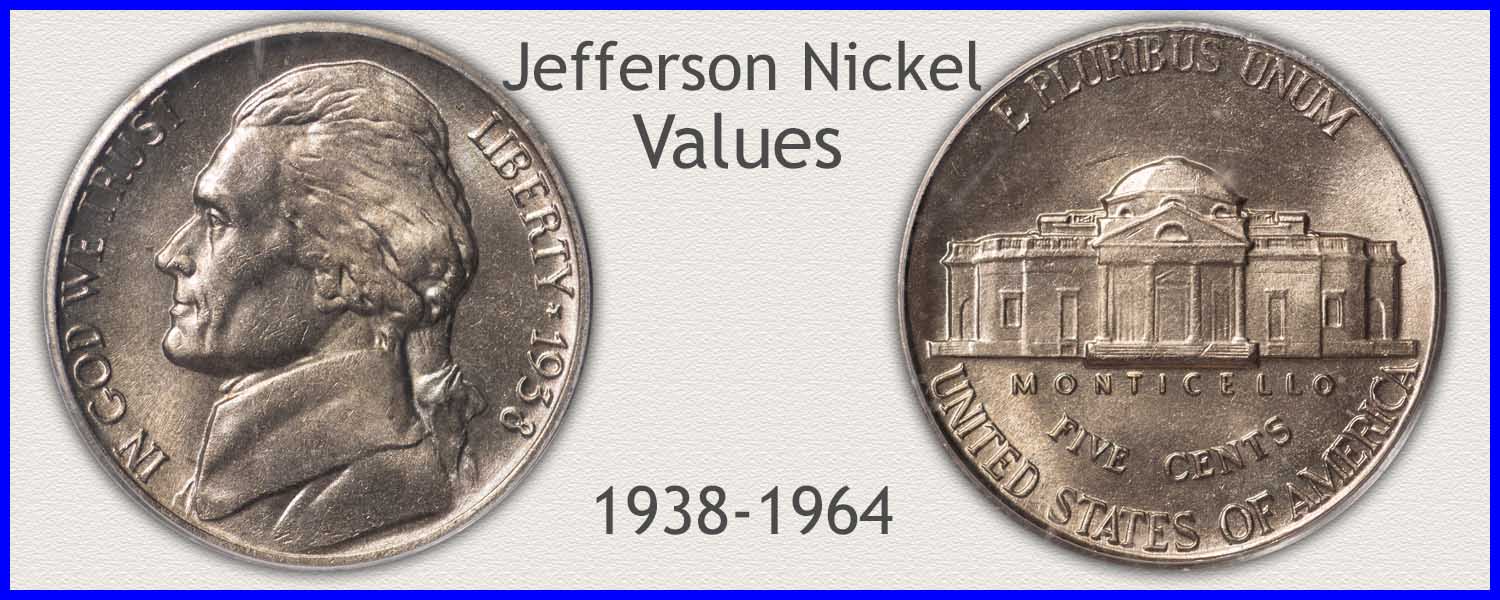 Jefferson Nickel Values | Gaining Popularity
A key to Jefferson nickels and values is condition of the coin. Special attention is given to grading using images to compare and identify condition. Value charts now highlight the dates and mintmarks with premium listings.
Print the Coin Values Worksheet
Separate and organize your group of coins by denomination and dates. A listing of the coins is recorded on the worksheet. Next is beginning to recognize and judge condition.
Safe Coin Storage | Recommendations
Recommendations on basic supplies that greatly improve coin storage. Providing for safe handling, preserving of value and organizing your box of old coins. Safe storage of nickel coins maintains their preservation into the future.
U.S. Coin Values | Mobile Guide
A quick reference to U.S. Coin Values. Coins are identified by images and listed by type. Charts list common date values. See the sections on mintmarks and varieties. Steps include grading to narrow how much each coin is worth. Bookmark page to phone - Mobile Guide.
★ Coin Values Discovery finds 1951 Jefferson Nickel Value and...
All old U.S. coin values. The home page is an excellent index with images, helping to identify your coins, including text links to all coin series, from Cents to Gold. Value charts, grading images and descriptions uncover how much your box of old coins is worth. Begin the step-by-step process to value any coin series.