Coin Values Moving with Precious Metals: Up-Dated 9/25/2023: Gold $1921 | Silver $23.44
1935 Nickel Value
High 1935 nickel value especially for the Denver nickel shows the popularity of these old coins. Buffalo nickels are in demand.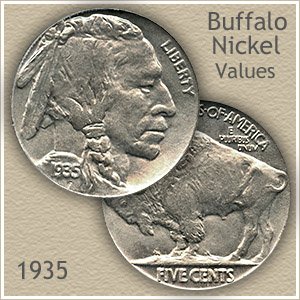 The latter years of the Buffalo nickel series does have its share of scarce issues, and mint marked nickels are the ones leading in value. Production at the Denver and San Francisco mints was typically far lower than the Philadelphia mint.
Branch mint coins, identified by a "D" or "S" are highly valued by collectors, often worth twice the Philadelphia nickel in higher grades. Most buffalo nickels, with a readable date and either a "D" or "S" mintmark are in demand.
1935 nickel value is listed according to the three different mints in four grading categories.
More about grading your coins below.
The "D" or "S" in the listing indicates the mint that produced the coin. D - Denver Mint, S - San Francisco Mint, no mintmark for the Philadelphia Mint. Locate the mintmark on the reverse under the Buffalo.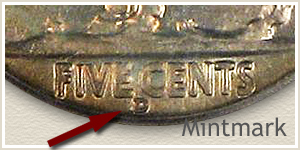 Along with mintmarks and dates, the condition of your old nickel must be considered. Is the coin worn and only part of the date shows, or is it well defined and sharp in appearance? The difference in how much your Buffalo nickel is worth is often surprising. A 1935-D ranges in value from $0.68 to over $41 depending on condition.
Judging the condition of your 1935 nickel is key to finding an accurate value.
1935 Nickel Value
Condition of Coin
Date
Good
Fine
Extremely
Fine
Uncirculated
1935 Nickel Value Updated
2023
1935
$0.57
$1.05
$2
$18
1935 D
$0.68
$2
$15
$41
1935 S
$0.55
$1
$3
$31
One Step to a Valuable Buffalo Nickel
Your box of old coins may contain many worth $.50 cents to $1 each, however your box is only one step away from holding a rare coin. The combined value of all those coins when sold could easily surpass $65, which is the retail price of an "uncirculated" and scarce 1935 Buffalo nickel.
Upgrade your holdings, done all the time by collectors, sell the lesser quality pieces and use the proceeds to buy a rare coin.
The 1935 Buffalo is one date that shows up often in a group of old nickels. When found in worn condition the 1935 nickel along with most dates of the 1930's is a common date. What is not often found are Buffalo nickels in "uncirculated" condition.
Saving a few of your original old coins because of sentimental reasons and historical stories they hold is a good idea. Selling some coins and replacing them with a rare coin... adds to the history of your box of old coins.
Buffalo Nickel Value is Conditional
Of the many variables considered as you value your old nickel, accurate "grading" of its condition is one of the more challenging. Compare your coins to the images, and with a little study, it is possible to identify those in the valuable, higher grades.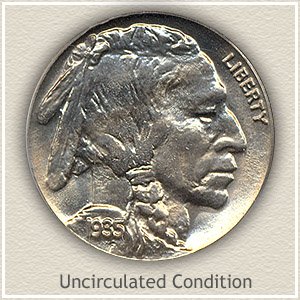 Uncirculated: This grade is reserved for a coin that never entered circulation. No wear is evident on its surfaces. Buffalo nickels in this condition do not show friction from use on the high points of the Indian's cheek and on the reverse, check the top of the Buffalo's head for any signs of wear. A nice coin on the high side of 1935 nickel value.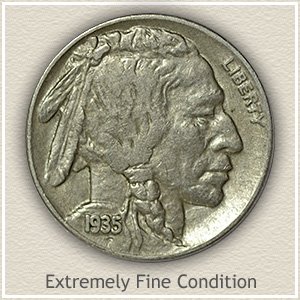 Extremely Fine: The shine of a new coin has disappeared from the surfaces. Slight wear has begun to show on the hair details of the Indian. On the reverse look for wear in the area of the front shoulder and upper back. Overall, still a well defined, collectible coin.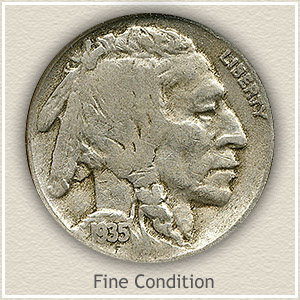 Fine: Fur details on the Buffalo's head have worn smooth, also a wide area from the hoof to the top of the shoulder lacks any detail. The date, one the highest parts of the design and subject to rapid wear, is readable. Hair and braid details of the Indian are lacking.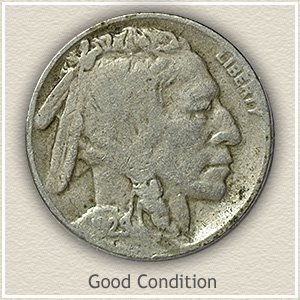 Good: A well worn coin defines this example. The date is readable although a merging of numbers is typical. Further wear of the rim, merges it into the lettering of the legends. Only major details of design remain on the obverse and reverse, producing a distinct flattening of appearance. This coin is at the low side of 1935 nickel value.
Coin Values | CoinStudy Articles
Date by Date
In Depth Buffalo Nickel Value
1913 to 1938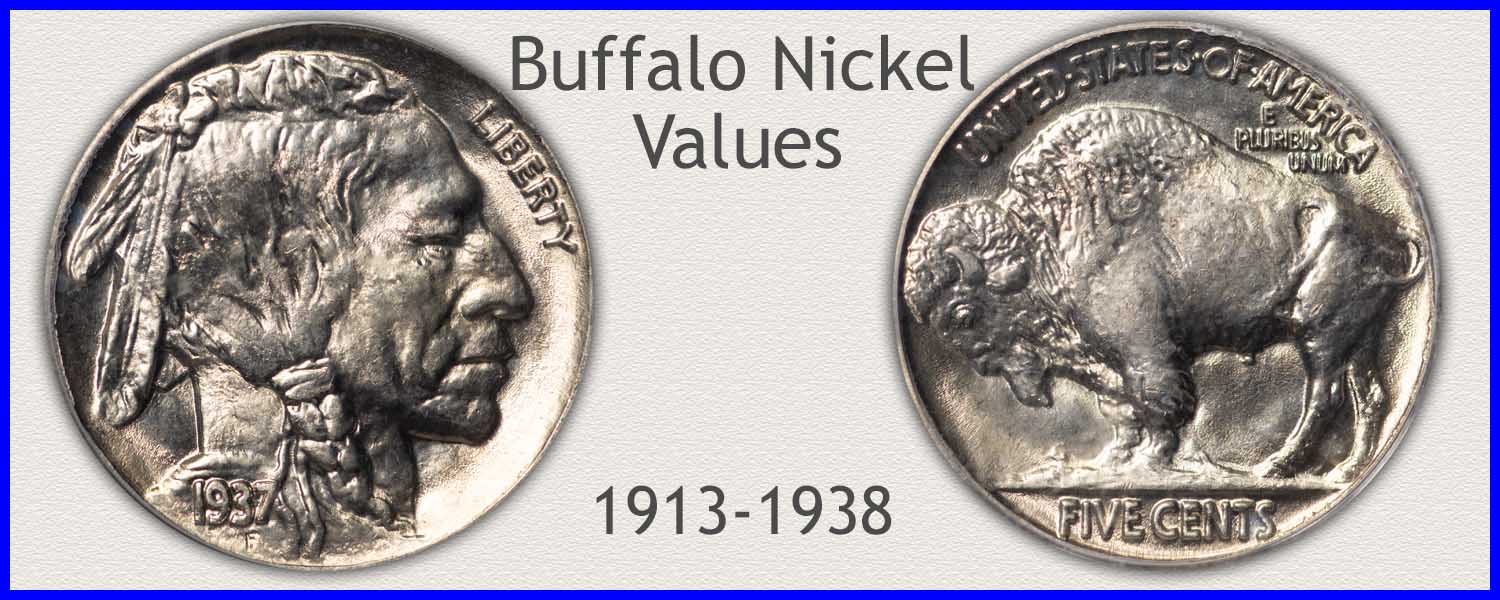 Check all your buffalo nickel values on the chart. Rising prices, caused by increasing demand from both collectors and rare coin dealers requires a second look at your now more valuable coins.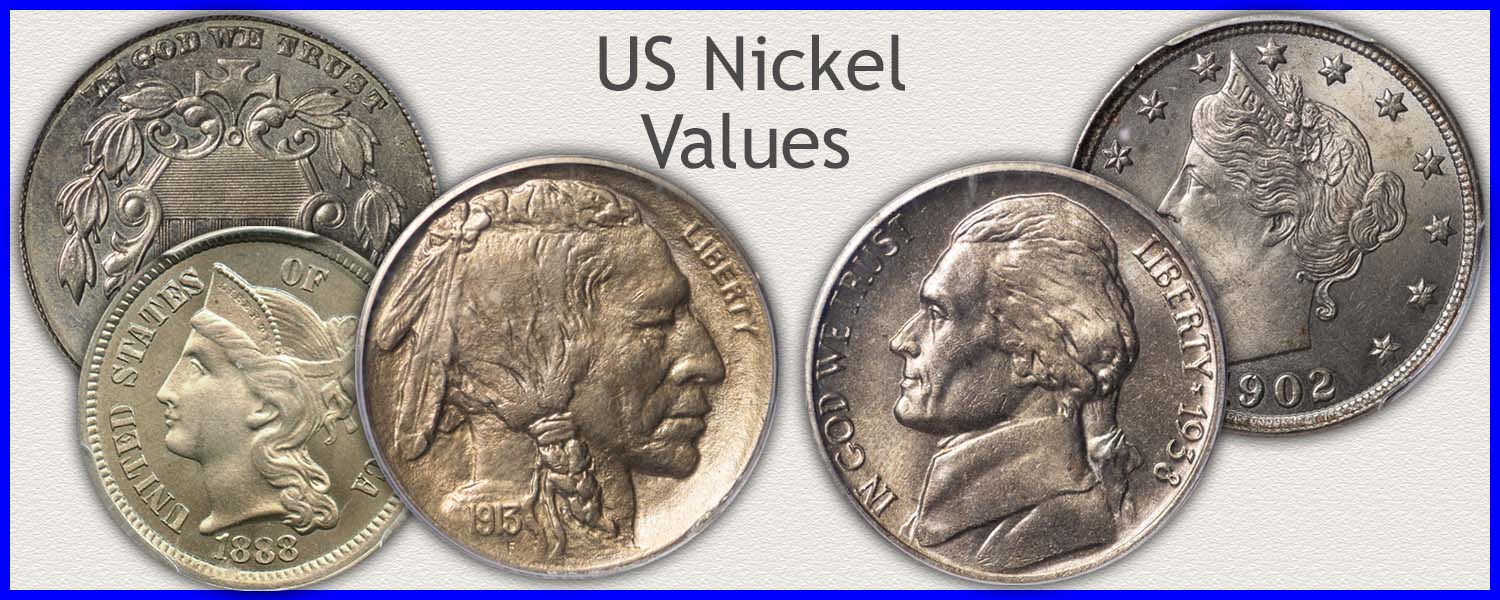 Including more relating to your 1935 nickel value. These early date Buffalo nickels are becoming valuable. Before you consider selling coins, determine how much your old coins are worth.
Covering the Nickel series from Shield nickels, Liberty, Buffalo and Jefferson nickels. All include value charts, along side grading images to find the accurate value of your old nickels.
★Coin Values Discovery... finds 1935 nickel value and...
all old US coin values. It is an excellent index with images and text links to coin series, from Cents to Gold. Value charts, grading images and descriptions uncover how much your box of old coins is worth.
Finding Rare Nickels!
On occasion rare nickels do turn up... old better date buffalo nickels, valuable silver war nickels, even a few Jefferson nickels and others. Search your box of old coins and discover the possibilities of... Finding Rare Nickels