Coin Values Moving with Precious Metals: Up-Dated 9/18/2023: Gold $1928 | Silver $23.14
1913 Penny Value
As a group, early year wheat cent are somewhat elusive in nice condition. As a result, 1913 penny value is at a premium.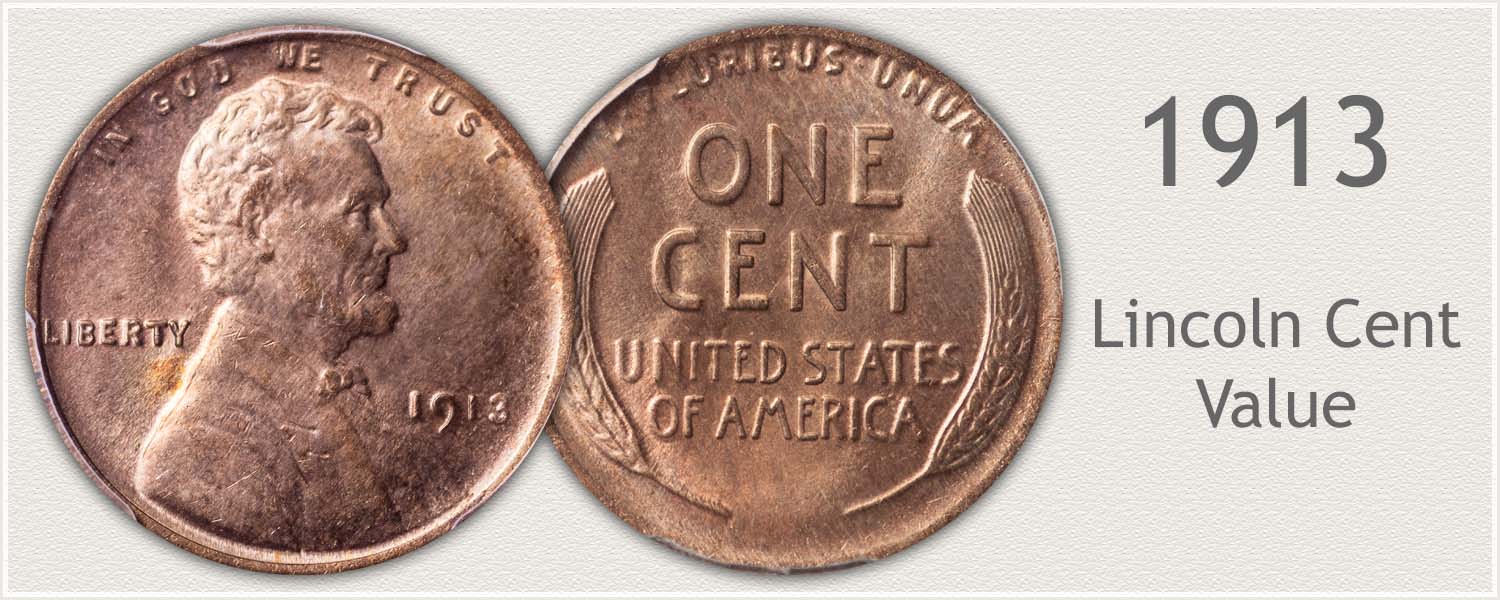 Steps Leading to Value:
Step 1: Date and Mintmark Variety – Identify each date and its mintmark variety. 1913 is found less often than most years.
Step 2: Grading Condition – Judge condition to determine grade.
Step 3: Special Qualities – Certain elements either enhance or detract from value
1913 Lincoln Penny Value
Condition of Coin
Date
Good
Fine
Extremely
Fine
Uncirculated
1913 Lincoln Penny Value Up-Dated
2023
1913
$0.36
$1.50
$18
$21
1913 D
$1.28
$2.84
$44
$99
1913 S
$4.35
$11
$48
$144
Evaluating how much a coin is worth follows a process of identify and judging: Date | Mint Mark | Condition Important to collectors as they form collections is Date and the Mint that struck the coin. Additionally, as the collection grows it is routinely improved by adding or replacing coins in a higher grade.
As a date, 1913 is scarce compared to later years. Early wheats cents are mostly found in low condition. Leading in value is the San Francisco mintage. Premiums are high.
State of preservation of your coin is judged by comparing with grading images and finding a close match.
Begin with verifying Mint Mark:
Step 1: | Date and Mintmark Combination
The 1913 "S" Mintmark Stands Out in Value
Varieties of 1913 Pennies are identified. A necessary step in separating the common from the scarce.
1913 Lincoln Penny
No Mintmark Under Date: Philadelphia Mint Struck the Coin
Heavily worn examples of 1913 cents are rather Abundant. Over 76 million were minted at Philadelphia. Most circulated freely and show heavy wear. A problem free, lightly worn piece is another matter, reflected in a large jump in value. Coins with slight to no wear are Elusive.
Collectors of all ages seek eye appealing coins. One element identifying a nice coin is strong, well defined lettering along the rim. Grading these early cents is important to accurate value.
1913-D Lincoln Penny
"D" Mintmark Under Date: Denver Mint Struck the Coin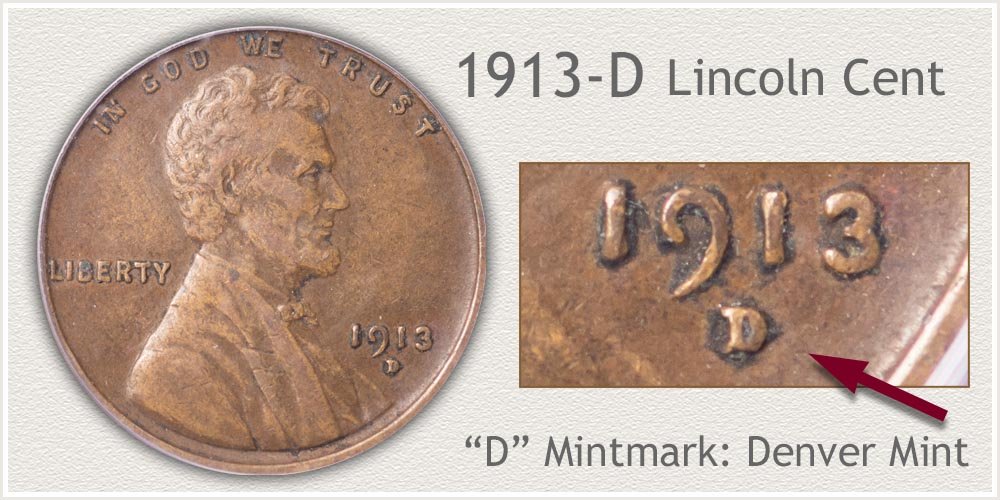 Production of Denver variety cents was modest at 15,804,000 pieces. Numbers remaining in well circulated condition is Abundant, reflected in value. The stronger market for these is in slightly better, Fine grade.
One issue to these early year wheat pennies is the tendency to develop uneven coloring. Soft brown even coloring is preferable to noticeable dark areas mixed with lighter shades. Grading is covered in more detail in the next step to value.
1913-S Lincoln Penny
"S" Mintmark Under Date: San Francisco Mint Struck the Coin
San Francisco 1913 cents are Elusive in all grades, becoming a Semi-Key in higher grades. Collector interest in wheat cents places a large demand on all 1913-S pennies.
Inspecting the reverse and finding areas of the wheat stalks bold sets the coin apart from most. Crisp parallel lines and defined, separated grains is a higher end condition example. A complete evaluation of grade is needed of all 1913 San Francisco cents.
Step 2: | Judge Condition to Identify Grade
Step Two | 1913 Lincoln Penny Value is Conditional
Completing a value process includes a judgement of condition. 1913 penny value ranges not only by mintmark variety but also condition. Grading judges surfaces and preservation. As a coin enters circulation wear begins to remove surface qualities. Judged against standards arrives at a grade.
Preserve aesthetic value by examining these old pennies over a soft surface and avoid coughing. Copper reacts to humidity and moisture.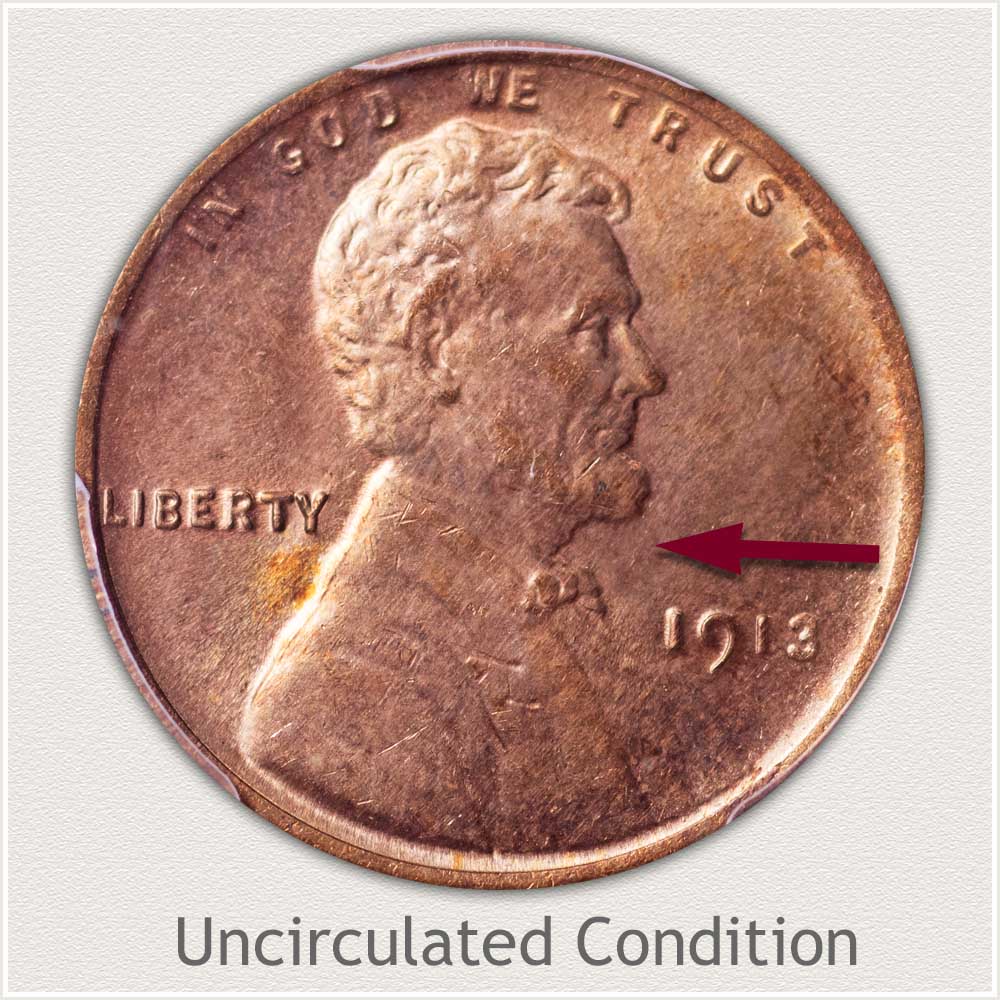 Uncirculated Grade: Saved before entering circulation an uncirculated grade penny shows no wear to any surface of the coin. Lincoln's cheek is still covered with the texture of luster.
An areas prone to wear and removal of luster is Lincoln's jaw near the chin and his bow tie just below. Look closely at the jaw to confirm it remains without any smoothness and loss of detail. His bowtie is somewhat protected, however its central location is prone to any removal of detail. A bowtie still covered in the fine texture helps to establish the mint state grade.
Bright reddish-gold color remains indicating a well-preserved wheat penny. 1913 a very early year of the series and a nice example displaying vibrance.
Extremely Fine Grade: As a penny is passed through hand to hand light wear begins to show rapidly. If saved early and remains just lightly worn a grade of Extremely Fine is awarded.
Lincoln's jaw and bow tie are beginning to lose a small amount of roundness to their profiles. Flat areas are evident on each, confined to the tops of the curves. His bow tie still displays a central knot and folds on either side.
Nice color lays on the surfaces of this coin, highlighting Lincoln and lettering. Deeper brown following the rim helps frame the central areas. Lighter tan helps show remaining details.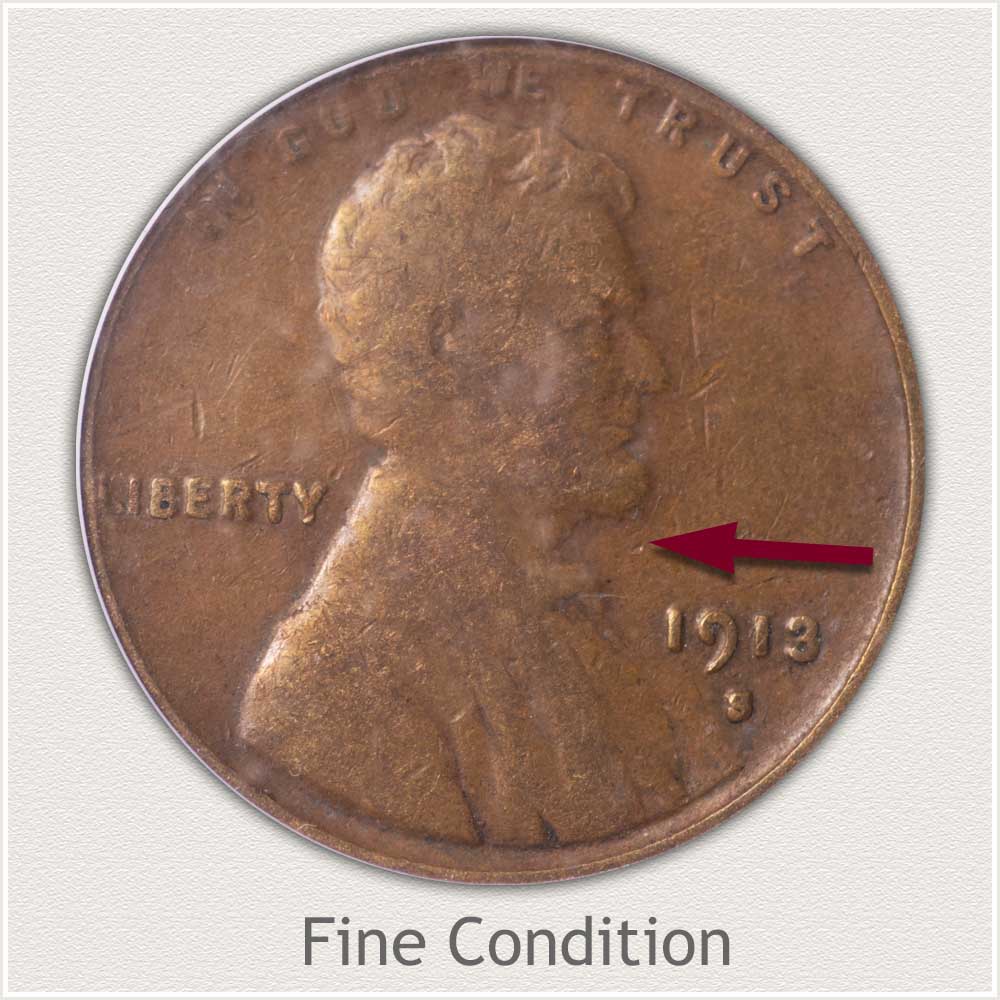 Fine Grade: Large areas of design have merged typical of moderate wear. Smaller details are missing leaving only major outlines clear. Absence of connecting flatness over the entire design keeps this example in the Fine grade.
Both the jaw line and bow tie are clearly visible. Lincoln's jaw remains with a degree of roundness. His bow tie is raised above the shirt and separate from the line of jacket. Both of these elements are visibly worn but distinct.
Bold remaining high relief features are noted of this 1913-S penny giving the coin a vibrant eye appeal.
Good Grade: Heavy, even wear defines a coin in the Good grade. Large areas have worn smooth. Devices are well outlined with lettering and date visible.
A light impression of Lincoln's bow tie remains, lacking any definition of a central knot. His jaw is now very flat, blending with his cheek and neckline. Notice the center area of the coin is smooth with increasing detail showing towards the rims.
A nice defined rim still raised above the field adds to the charm of this very old penny.
Video | Grading Lincoln Wheat Pennies
Detecting wear and condition by examining all parts of the coin's surface confirms a grade. As values climb higher many additional factors are used to decide the grade and worth.
Grading Lincoln Wheat Pennies covers the grading process in greater detail. Video examines grading examples. Descriptions point to elements to establish a grade.
Step 3: | Special Qualities Enhancing Value
1913 Quietly Exceptional Value
Within early year Lincoln wheat series are famous key dates, 1909-S VDB, 1914-D, each standing out as high value. Other dates and mints are difficult to find and considered semi-keys to the series.
1913 is quietly amount these elusive varieties, when found, often in very worn condition. Majority of examples circulated for a long time, wearing heavily. Collectors were not saving the issue in any quantity. Adding to exceptional status are underlining factors.
Total 1913 mintage of all 1913 varieties: 98,434,500; 13th lowest of all wheat cents for any year.
Philadelphia struck 76,529,500: 13th lowest year of production of wheat cents
Denver struck 15,804,00: ranking 10th lowest year of production
San Francisco struck 6,101,000 10th lowest year of production
All 1913 wheat cents are fundamentally scarce within the series, an exceptional quality for any year. Significant is the large value rise separating Extremely Fine grade pieces from those in lower Fine condition.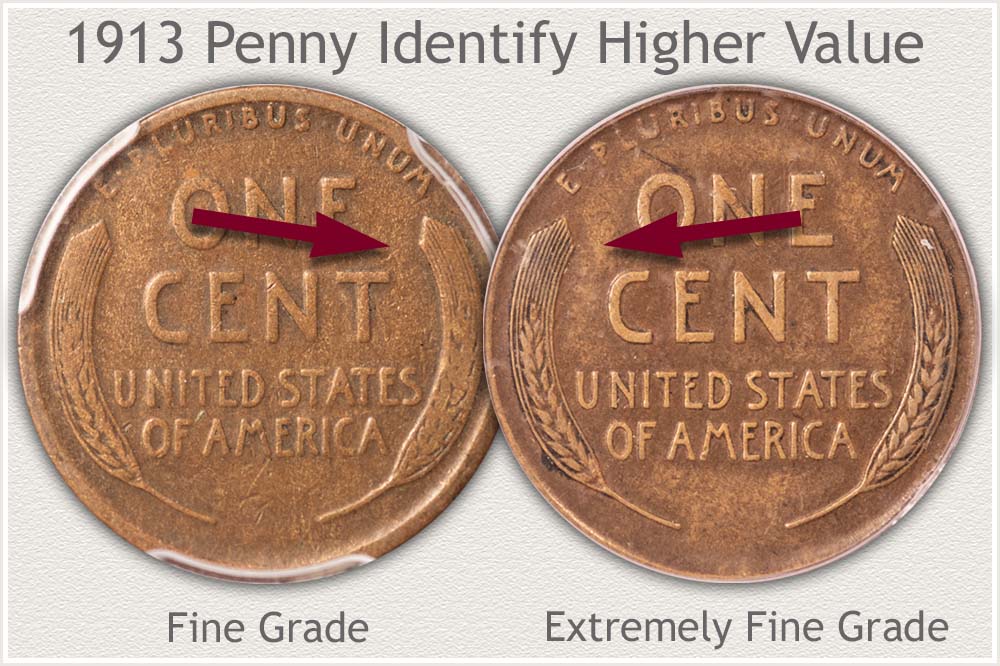 A nice eye appealing 1913 penny in Extremely Fine condition or higher is a scarce coin. Compare the amount wear to the upper wheat stalks on the two examples. Lines are merged in places on the Fine grade and fully separated on the Extremely Fine grade coin. A small difference resulting in a scarce condition and large increase in value.
Popularity and steady demand from collectors shows in value differences from one grade to the next. A strong indication of the elusive nature of early wheat cents in higher grades.
References
US Mint. 1914 US Mint Annual Report https://nnp.wustl.edu/library/publisherdetail/51
Coin Values | CoinStudy Articles
Value chart spans the Wheat design years 1909 through 1958 of Lincoln cents. From uncirculated coins collected by advances collectors to worn examples an affordable collection popular with young collectors. Identify date, mint and condition; a wide range of values is found and identified.
Coin series enjoy different levels of popularity within the hobby. Lincoln cents are avidly collected and pursued. Values are directly related to their interest by collectors. Knowing a coin is in demand by many is an understanding into your coins.
★ Coin Values Discovery finds 1913 Penny Value and...
US coin value charts covering cents to gold. Identify your coins using the image links. Date | Mintmarks | Condition are described and imaged with each series. Small details necessary to accurately value are described.