Coin Values Moving with Precious Metals: Up-Dated 5/29/2023: Gold $1945 | Silver $23.25
1935 Penny Value
A trend of striking fewer wheat cents at branch mints continued. Resulting in premium 1935 penny value. Identifying mint marks of these branch mints is part of the Date | Mint Mark | Condition process of locating value on the chart.
Step One: Date and Mint Marks are identified and confirmed.
The next step: Condition plays a large role in how much a coin is worth. Judging a coin in above average condition and a branch mint issue, spots a premium coin.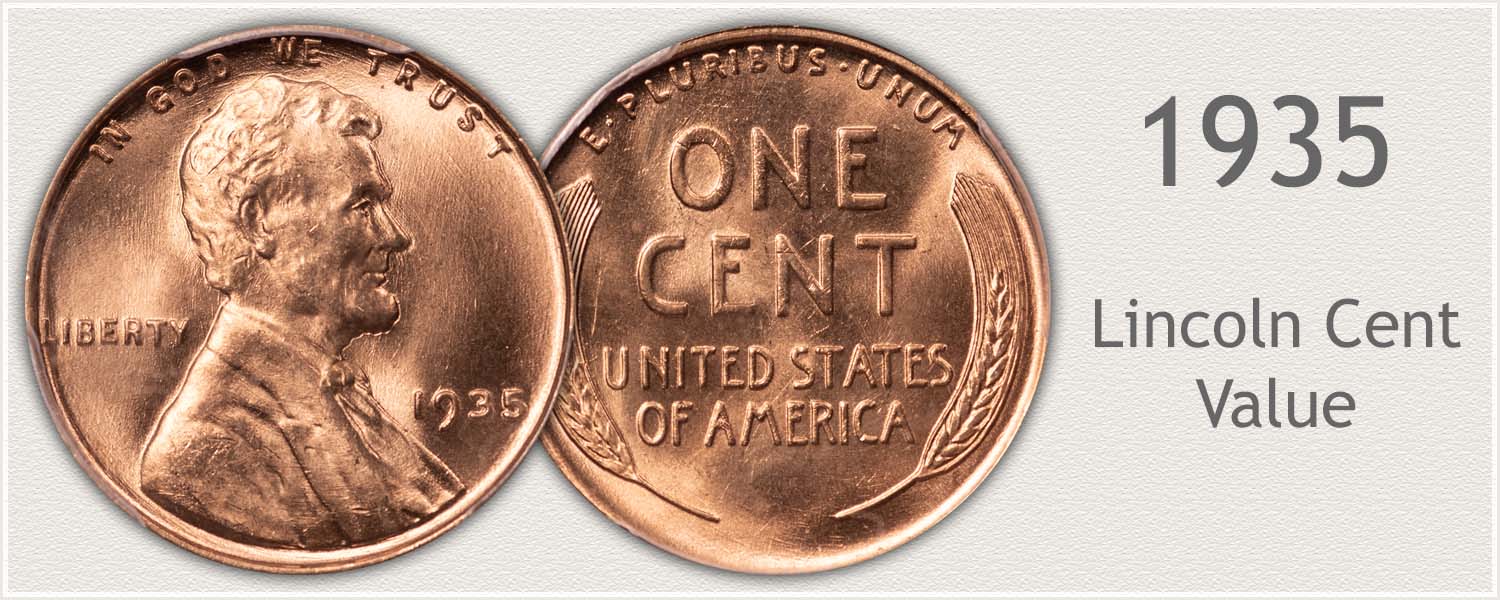 Steps Leading to Value:
Step 1: Date and Mintmark Variety – Identify each date and its mintmark variety.
Step 2: Grading Condition – Judge condition to determine grade.
Step 3: Special Qualities – Certain elements either enhance or detract from value.
1935 Lincoln Penny Value
Condition of Coin
Date
Good
Fine
Extremely
Fine
Uncirculated
1935 Lincoln Penny Value Up-Dated
2023
1935
$0.04
$0.16
$0.20
$3
1935 D
$0.04
$0.36
$0.64
$4
1935 S
$0.04
$0.52
$0.68
$8
Confirming Date and Mint Mark is a first step in the value process. Collectors of these wheat cents have identified elusive date and mint mark combinations. The result: a premium has developed with the branch mints of 1935.
Date and Mint Marks are imaged, identifying the varieties.
Continue the value process by judging condition. The chart highlights 1935 cents are often found heavily worn. An example in Fine grade - moderate wear - begins to show a premium.
Grade condition by matching to images of different stages of wear. Descriptions highlight important point to judge.
Step 1: | Date and Mintmark Combination
1935 Mintmark Varieties
Added work shifts were needed at the mints to meet demand for minor coinage in 1935. Regular hours, overtime and extra daily shifts coined a total of 331,090,000 cents. Three mints produced cents adding to the varieties of the year.
1935 Lincoln Penny
No Mintmark Under Date: Philadelphia Mint Struck the Coin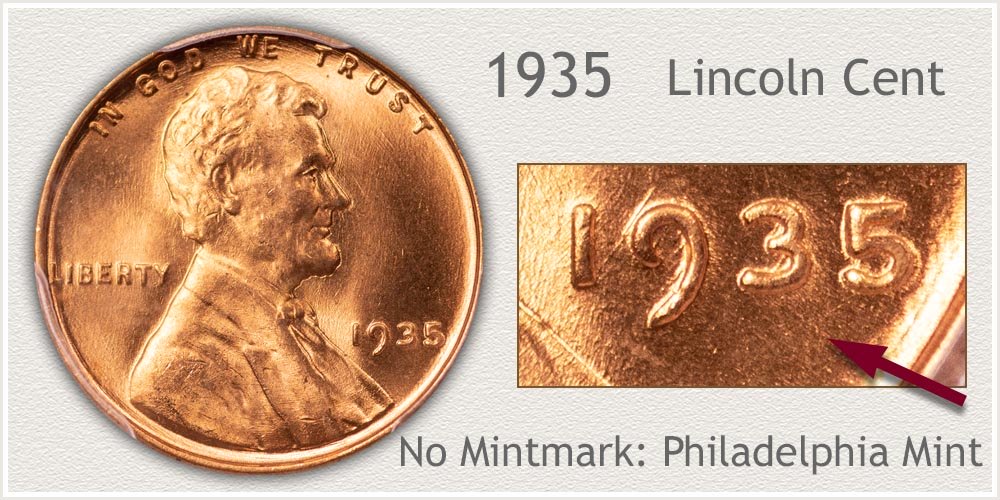 Philadelphia 1935 cents are Abundant on a rarity scale. Circulated examples are typically found with a moderate amount of wear. Collectors strive to add either lightly worn or Mint State (no-wear) coins to their collections.
On the reverse indications of higher condition are noticeable sharp, separated lines in the upper end of the wheat stalk. The next step to value - grading - is covered below.
1935-D Lincoln Penny
"D" Mintmark Under Date: Denver Mint Struck the Coin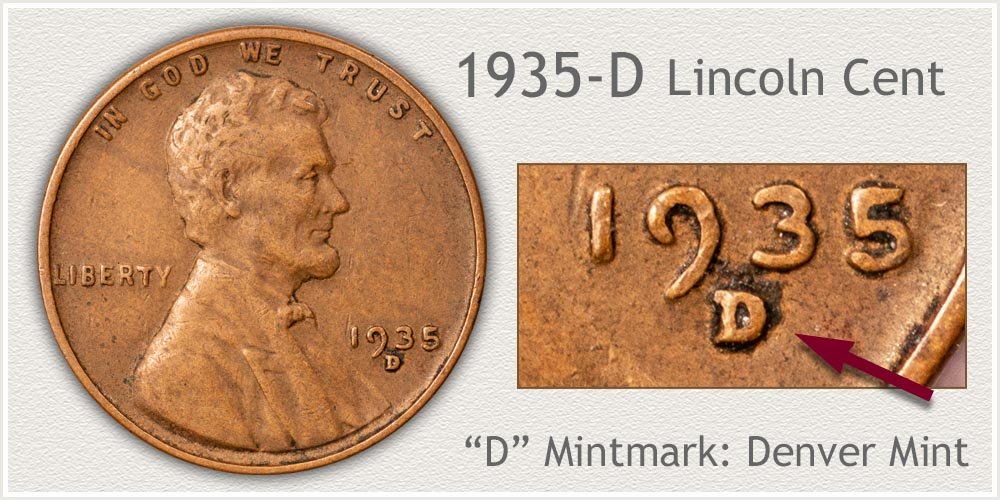 Millions of coins minted results in an Abundant supply available to collectors today. Although long gone from circulation a large number were saved. A notable coin worth closer inspection displays even color over the surface. Splotchy color is a notorious result of the effects of time on the copper alloy used. A combination of even color with sharp details is a coin of interest to collectors.
1935-S Lincoln Penny
"S" Mintmark Under Date: San Francisco Mint Struck the Coin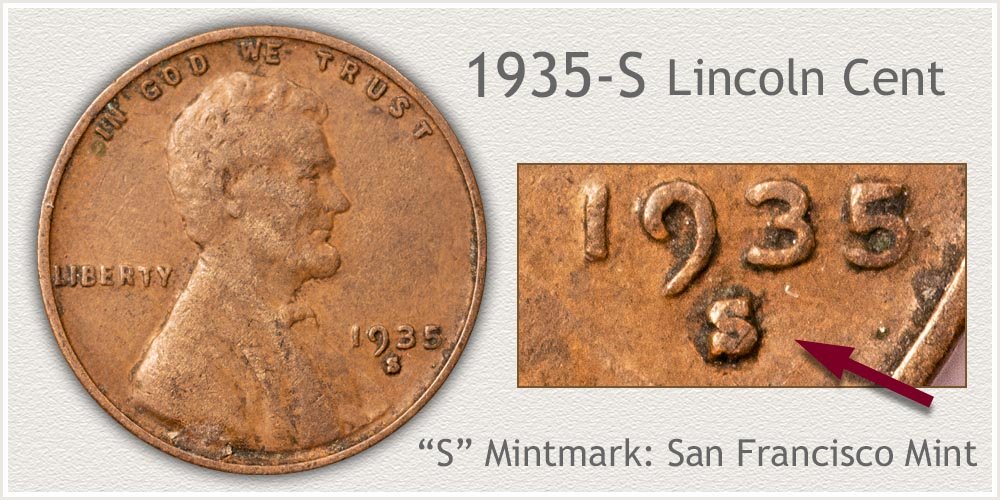 San Francisco produced the fewest cents 38,702,000 in 1935. Although a coinage less than the two other varieties, only a small premium is awarded for average, moderately worn examples.
It takes an eye appealing coin to reach higher value. Notice the lettering along the rims, a pleasing coin features flat lettering on a flat field. Lettering that rolls up the rims is less desirable to collectors.
Step 2: | Judge Condition to Identify Grade
Grading Finds 1935 Penny Value Listing on Chart
Value differences listed on the chart reflect the condition - grade of the coin. Grading wheat pennies judges amount of wear to the surface. Images are use to visualize these differences in grade.
Preserve aesthetic value by examining these old pennies over a soft surface and avoid sneezing or coughing. Copper reacts to humidity and moisture.
Uncirculated Grade: To reach the Mint State - Uncirculated grade a wheat penny has survived without any wear to the devices, legends, and fields of the coin. Original surfaces remain covered with mint frost displaying a fine texture and reflectivity.
Many fine details exist on a coin without wear. One area prone to contact is just above the ear extending forward to Lincoln's temple. Hair waves are high in profile and must remain without any smoothing to the very tops of the waves. High and low areas are distinct with no signs of friction on high points.
Original copper-red and yellow luster covers the 1933 mint state penny imaged. Eye appeal is strong and appealing to collectors. A lack of abrasions in the field in front and behind Lincoln are signs of a well-preserved wheat cent.
Extremely Fine Grade: Just a short time in circulation results in small areas of flatness beginning to appear on the overall design. Light noticeable wear is an indication of the Extremely Fine grade.
Hair above and behind the ear is slightly flattened to the upper most parts. Waves of hair remain separated with a small merged spot above the ear. Crisp and bold is a separation of Lincoln's temple from the hair line.
A detailed portrait of Lincoln remains on the extremely fine grade 1935 penny imaged. Wheat cents minted in the 1930's with light wear are affordable and sought by collectors. Adding to the "look" and appeal of this coin is a lack of distracting marks. Toning in shades of soft tans and browns are undisturbed.
Fine Grade: Wear is becoming noticeable on a wheat cent in Fine grade. Loss of metal from high areas surrounding Lincoln's ear is causing a merging to many parts of the design.
Lincoln's ear is still visible but well connected to hair both above and behind. A small but visible flat area extends from the ear to the temple area. Ample detail remains to the larger waves of hair.
Despite spending time in circulation and loss of detail, bold and crisp lettering and date remain. A well-defined portrait is clear, and no large marks are visible. Eye appeal, important to collectors, is also displayed by soft brown tones of color.
Good Grade: Wide-spread areas of flatness over the portrait defines a wheat cent in the Good grade. Lincoln's ear is visible but mostly an outline remains.
Hair detail behind Lincoln's ear is missing, waves of hair are now worn smooth. His ear is slightly visible, traces of hair detail towards the top and back are just visible. A connection of the contour of his temple area and hair is a flat surface.
Overall view of this wheat cent is positive. Date and legends are clearly readable. A natural toning is evenly distributed without discoloration. An appealing, affordable wheat cent in demand by beginning and young collectors.
Video | Grading Lincoln Wheat Pennies
Additional insight into value and judging condition is covered by visiting Grading Lincoln Wheat Pennies. Many later date wheat cents post 1943, are separated in value by easily recognizable differences in condition. Early dates, pre 1944 are higher in value and need closer inspection.
Step 3: | Special Qualities Enhancing Value
1935 Brasso Cleaned Penny
Collected in the early 1960's the 1935 penny imaged resided in a coin folder for decades. A nice circulation find; with a moderate amount of wear, evident by the flattening of Lincoln's cheek and jaw. A strong strike is noted by the well-defined rim leading to raised lettering and sharp date.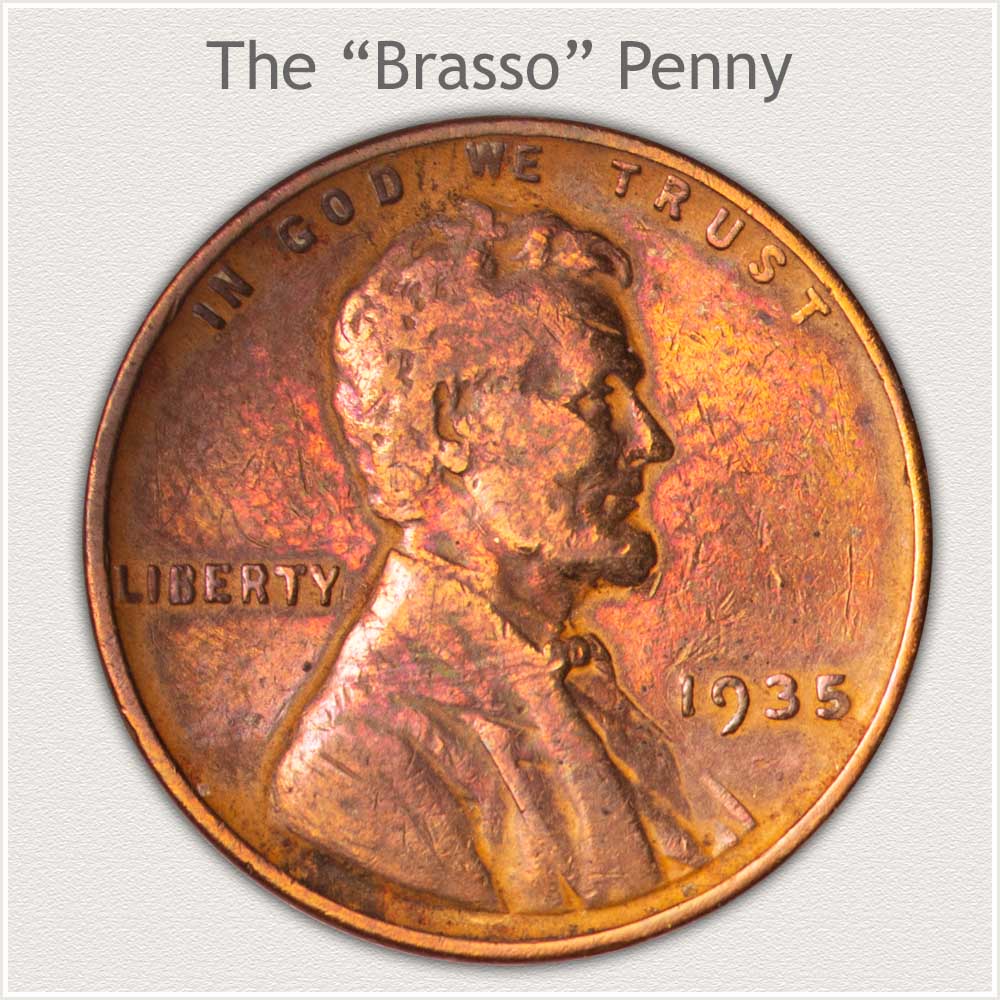 Stunning are the colors on display. Fiery red, violet, deep orange, and golden browns play across the surface. Lincoln's bold portrait is rendered by lively yellows on high points and darker shades of red and brown within the design brining out subtle details. Bright fields backlight the legends adding depth and dimension.
Shortly after placement in the folder this penny was given a cleaning with a soft application of Brasso. A brown circulated penny was cleaned to a yellow brightness. Now housed in a cardboard penny folder, cleaned by Brasso, it rested quietly for decades. Although cleaning a coin is never advised, 1935 is an available date in circulated condition, value affordable. Decades in the "making" this coin does have a certain charm.
In a vast majority of situations, cleaning a coin lowers its appeal to collectors seeking original toning and surfaces. Values after cleaning are considerably less than if left in their natural state.
When reviewing collections looking for dates and mints of high value this 1935 penny is a fortunate find.
References
US Mint. 1936 US Mint Annual Report https://nnp.wustl.edu/library/publisherdetail/51
Coin Values | CoinStudy Articles
Value chart spans the Wheat design years 1909 through 1958 of Lincoln cents. From uncirculated coins collected by advances collectors to worn examples an affordable collection popular with young collectors. Identify date, mint and condition; a wide range of values is found and identified.
How to Reap the Best Value When Selling Wheat Pennies
As with all selling processes; organizing the coins in a manner a dealer can efficiently asses their worth aids in returns to you. Selling a few or many wheat pennies for the best value starts by separating the coins into "market categories" for consideration by the dealer.
★ Coin Values Discovery finds 1935 Penny Value and...
All US coin values. Recognize your old coins using the image links leading to value charts. Date | Mintmark | Condition are considered; all described and imaged within each series. Surprising value is often found in the smallest of detail.