Coin Values Moving with Precious Metals: Up-Dated 11/27/2023: Gold $2010 | Silver $24.66
1918 Penny Value
How to find 1918 penny value. Collectors pay particular attention to: Date | Mint Mark | Condition as they determine how much any coin is worth.
Steps Leading to Value:
Step 1: Date and Mintmark Variety – Identify each date and its mintmark variety, each listed separately on the chart.
Step 2: Grading Condition – Judge condition to determine grade. Comparing the condition of your coin and matching to the grading image locates its value range.
Step 3: Special Qualities – Certain elements either enhance or detract from value
1918 Lincoln Penny Value
Condition of Coin
Date
Good
Fine
Extremely
Fine
Uncirculated
1918 Lincoln Penny Value Up-Dated
2023
1918
$0.12
$0.40
$3.22
$8
1918 D
$0.47
$1.17
$14.00
$47
1918 S
$0.48
$0.98
$8.88
$43
Following the same step by step approach as collectors. Begin the value process by identifying the mint that struck your 1918 wheat penny. Values are separated on the chart according to the mint variety.
Second step to take is judging condition. Compare your coin to grading images, finding a match judges its condition and place on the chart. It is a necessary step; values are dependent on preservation of the coin.
Confirm date and the next section confirms the mint and identifying a mint mark.
Step 1: | Date and Mintmark Combination
1818 Mintmark Varieties
Three varieties of wheat cents are identified. Although large numbers were produced of all varieties, these early wheat cents are somewhat scarce in higher end condition.
Of note: The designers initials were restored to the obverse in 1918. An absence since 1909 when removed because of unpopularity. On the lower edge of Lincoln's shoulder small VDB letters indicate Victor D. Brenner.
1918 Lincoln Penny
No Mintmark Under Date: Philadelphia Mint Struck the Coin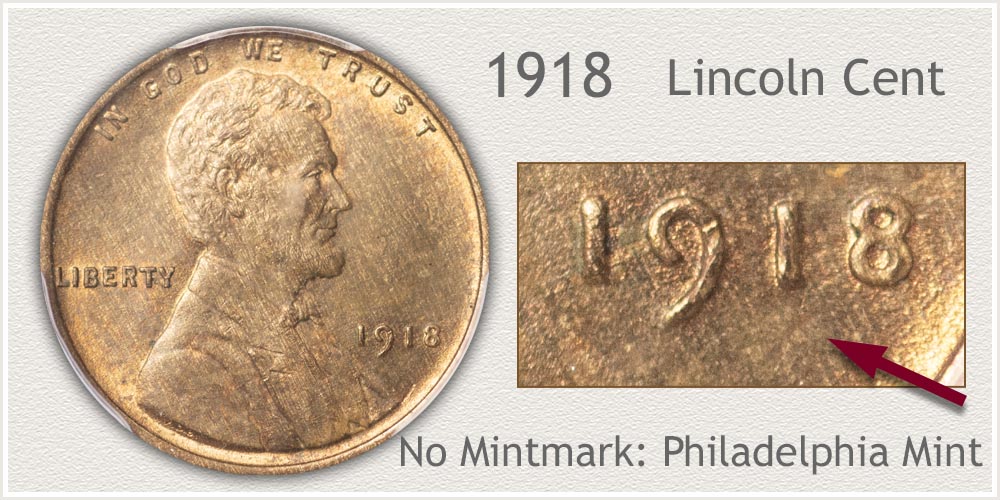 1918 was a record year of mintages. Philadelphia mint struck 288,104,634 cents. These coins are on the beginning end of the rarity scale: Abundant. Large numbers do not accurately reflect availability. High end grade examples are Infrequent on a rarity scale.
A stand out feature to indicate a premium coin is found on the reverse. Lettering of ONE CENT if bold and raised well above the field suggests a well-struck cent. Add detail to the lines in the wheat stalks and potential to higher value is there.
1918-D Lincoln Penny
"D" Mintmark Under Date: Denver Mint Struck the Coin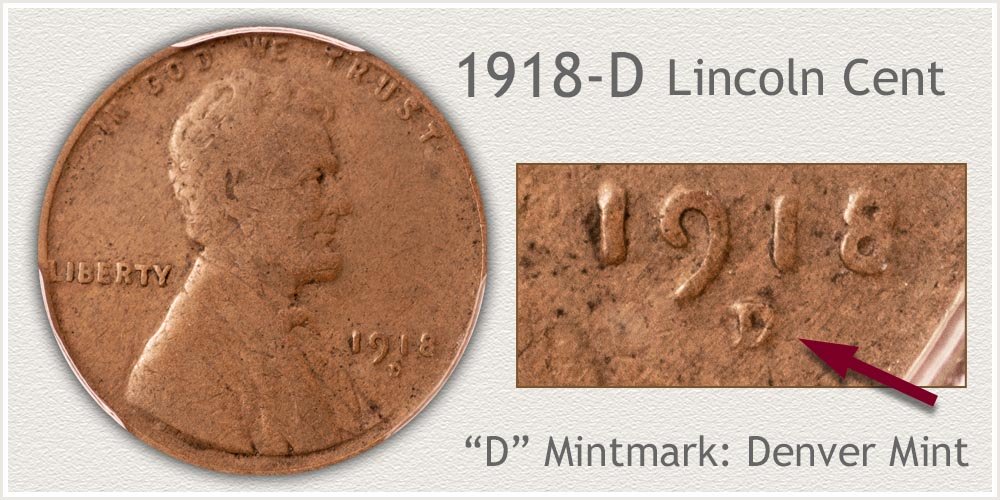 Popular because of its branch mint status, Denver cents in high grade are in demand by collectors. Most collections include all date and mintmark combinations. In lower grades, Good through Fine, these coins are on the rarity scale as Abundant.
With a close inspection and free of noticeable rim bruises and marks to the surface finds a desirable coin. Examples in all grades are appreciated when found without problems.
1918-S Lincoln Penny
"S" Mintmark Under Date: San Francisco Mint Struck the Coin
San Francisco variety 1918 cents show a noticeable rise in value when found in higher grades. A standout coin displays sharp details to Lincoln's portrait. Nice bold lines separating his coat from shirt is a feature indicating a high-end example.
Grading, covered in the next step to value, details subtle points to finding a premium wheat cent. Many were cleaned over the years, many developed dark uneven toning and many circulated long enough to lose most details to the design.
Step 2: | Judge Condition to Identify Grade
Grading Finds Accurate 1918 Penny Value
An overall nice-looking 1918 penny generally means collector quality. Grades are a notation of condition use by collectors to describe a coin. With an indication of quality, a range of values follow these grades up the scale.
Grading follows a process comparing details remaining of devices, legends, and fields of coins. Standards used by collectors are set for each grade and judging condition of these elements determines grade. It is helpful to begin viewing an example with full details; a coin in uncirculated condition, recognizing all parts of the design as minted.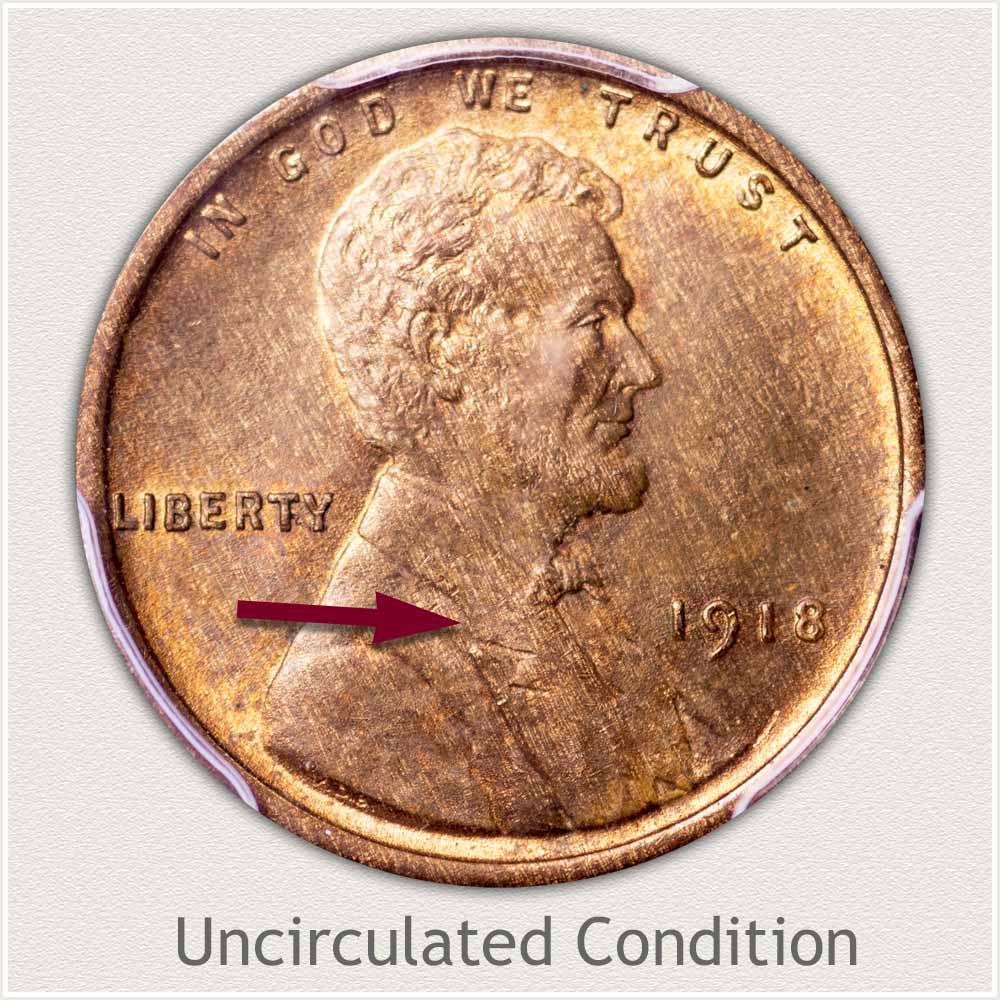 Uncirculated Grade: Mint state - uncirculated grade is noted as a coin without any wear to the surface. Mint luster imparted during minting is delicate and first to show wear. Observing high areas is used in judging condition.
Lincoln's coat has a broad lapel. Edges of the lapel are higher in relief than the center, any early contact would show as a smoothing along the edges. A fine texture of luster remaining confirms no wear took place.
Bright luster radiates from the surface of this 1918 penny. Natural shades of tan and brown are beginning to develop, laying on top of the shine. A nice contrasting of color helps highlight intricate details.
Extremely Fine Grade: Light wear defines the Extremely Fine grade. High areas of the devices and legend are beginning to show smoothness. A minor amount of flatness is noted on high rounded areas.
Lincoln's coat line separating the shirt is worn slightly along the entire edge. Elements defining the lapel are slightly flattened with a clear separation from the edge of the coat. A well-defined bow tie confirms the Extremely Fine grade.
Highlights of tan help bring out many details on the 1918-S cent pictured. Well defined and pleasing eye appeal are elements collectors apricate on circulated examples.
Fine Grade: Wear has reduced many finer details on a coin in the Fine grade. Major elements remain, however show areas of flatness.
A lapel is still recognizable to Lincoln's coat. Both the upper and lower edges defining the lapel are visible. Flatness is just beginning to develop removing portions of the lower central area.
With a degree of detail remaining on all areas of the coin a pleasing appearance is retained. Toning helps highlight hair, facial features, and elements of Lincoln's coat.
Good Grade: Widespread flatness to design elements is an indication of the Good grade. Lettering and date remain clear enough to read.
Lincoln's coat once displayed a distinctive lapel. All evidence of a lapel is now worn smooth and connected to his bow tie. Upper edges of the coat show slightly below the bow tie and separating the shirt.
No distracting marks are noticed and pleasing colors of toning add to the eye appeal. A bold outline of Lincoln is raised from the field confirming the good grade. Visual appeal adds to value.
Video | Grading Lincoln Wheat Pennies
Every coin series is unique in different factors determining grade. Grading Lincoln Wheat Pennies combines video, images, and descriptions highlighting elements needed to accurately grade and value the series.
Step 3: | Special Qualities Enhancing Value
Collector Appeal of 1918 Lamination Error
An interesting feature found on old pennies often changes how a coin is valued. Imaged is a 1918 wheat cent with a large "Lamination" defect. The coin is a nice circulated example, grading just higher than Good condition. Considered abundant on a rarity scale in good grade, value is affordable and thus the coin is appealing to young and new collectors.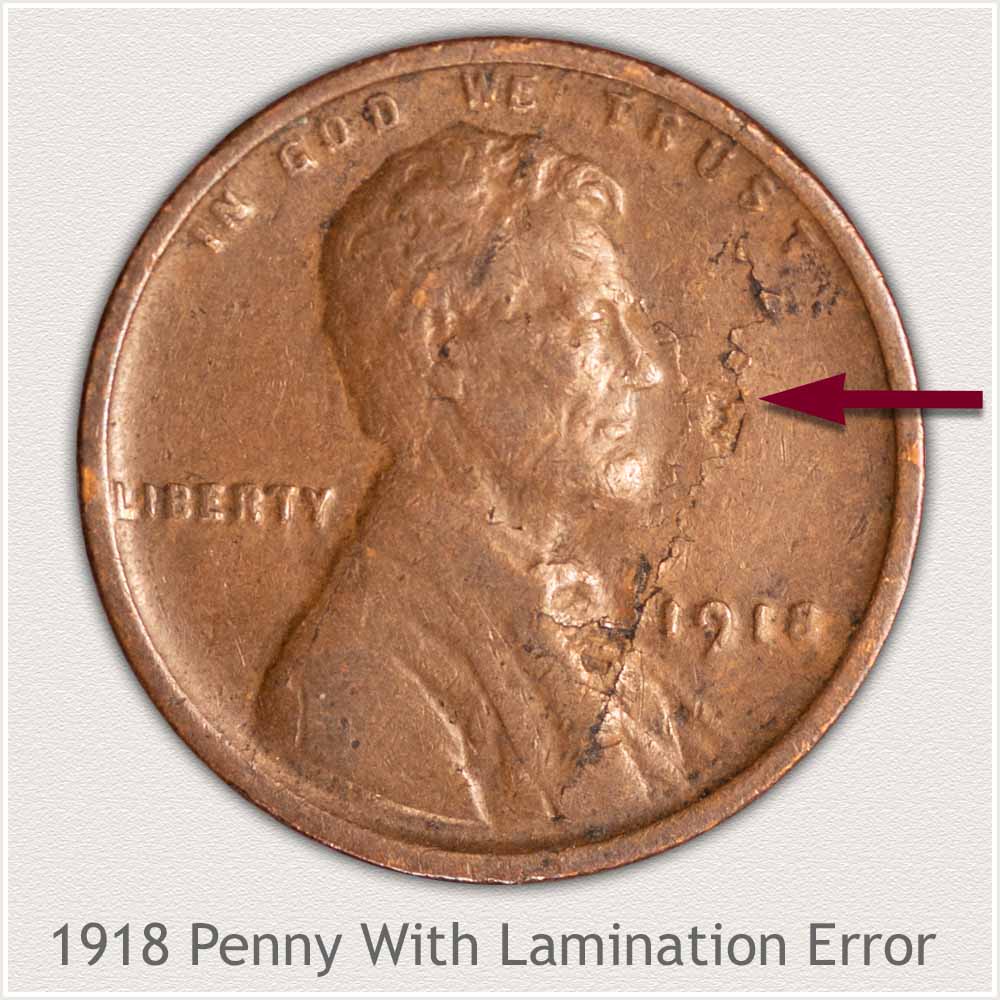 A second group of collectors finds interest in error wheat cents. A Lamination error begins in the stage of melting and mixing metal alloys. If the mixing, annealing, and rolling of ingots is not exact, lamination splits and flaks appear on the surface of the struck cent.
Combining the interest and demand from both date - mint collectors, and error collectors this 1918 has a wide base of interest. Significant to the coin is how large the lamination and location. It crosses from rim to rim on the obverse. Is in a prime focal area without detracting from Lincoln's portrait and disrupting the date. The rest of the coin displays pleasing, even wear and toning. Date and mint collectors add the coin to their collection as a fascinating insight to the minting process. As an error coin it represents an eye appealing example of a lamination fault.
References
US Mint. 1919 US Mint Annual Report https://nnp.wustl.edu/library/publisherdetail/51
Coin Values | CoinStudy Articles
Lincoln Wheat cents span the years 1909 through 1958. From the top condition coins collected by advanced collectors to worn examples; to an affordable collection for young collectors, the range of value is extensive. Identify your date, mint and condition and refer to the value chart.
Selling Wheat Pennies
How to Reap the Best Value When Selling Wheat Pennies
As with all selling processes; organizing the coins in a manner a dealer can efficiently asses their worth aids in returns to you. Selling a few or many wheat pennies for the best value starts by separating the coins into "market categories" for consideration by the dealer.
★ Coin Values Discovery finds 1918 Penny Value and...
All US coin values. Recognize your old coins using the image links leading to value charts. Date | Mintmark | Condition are considered; all described and imaged within each series. Surprising value is often found in the smallest of detail.