Coin Values Moving with Precious Metals: Up-Dated 5/29/2023: Gold $1945 | Silver $23.25
1946 Penny Value
The chart shows three varieties of 1946 penny value. Also, recognizing condition separates average from above average wheat pennies.
Follow a step by step process. Identify and judge: Date | Mint Mark | Condition.
Sizable amounts of these old coins exist in lower grades. Nice examples in higher grades are sought. Each important feature is described and imaged below.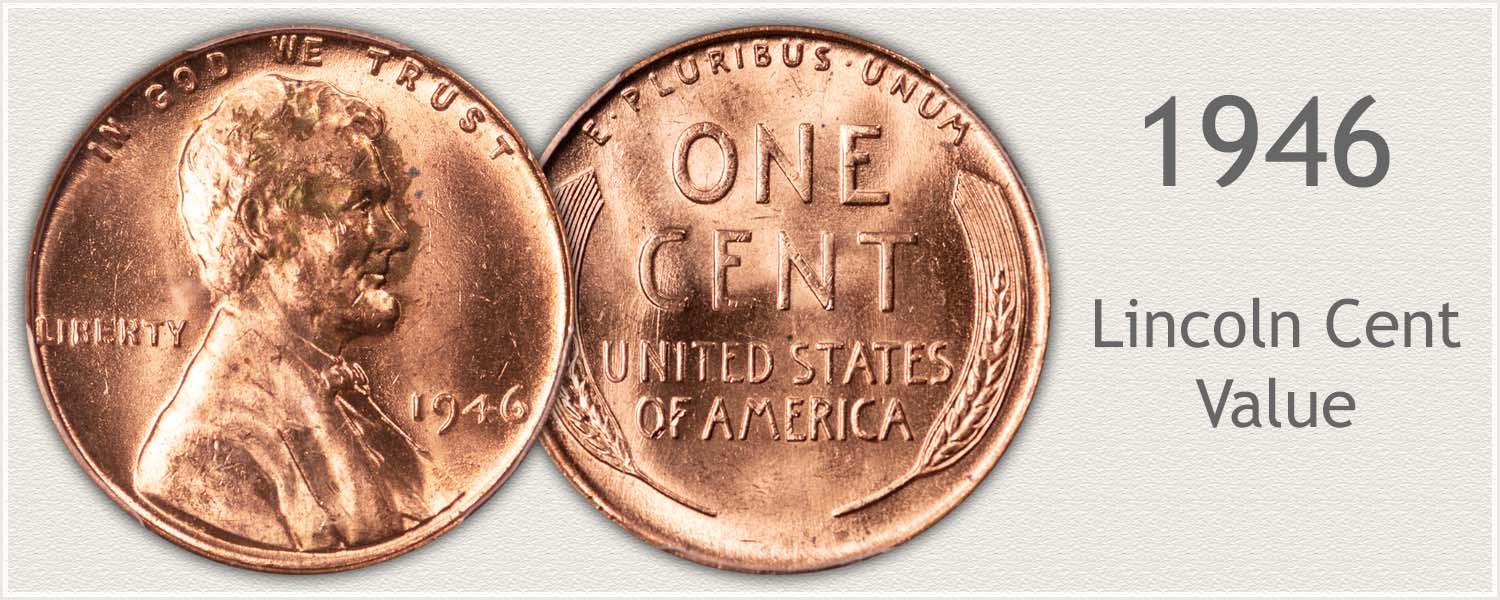 Steps Leading to Value:
Step 1: Date and Mintmark Variety – Identify each date and its mintmark variety. Notable is the "S" mint issue from the San Francisco mint.
Step 2: Grading Condition – Judge condition to determine grade.
Step 3: Special Qualities – Certain elements either enhance or detract from value.
1946 Lincoln Penny Value
Condition of Coin
Date
Good
Fine
Extremely
Fine
Uncirculated
1946 Lincoln Penny Value Up-Dated
2023
1946
$0.02
$0.02
$0.04
$1.10
1946 D
$0.02
$0.02
$0.04
$0.70
1946 S
$0.03
$0.03
$0.05
$3.24
Exact position on the value chart involves key elements. Date | Mint Mark | Condition
A process of comparing your coin to images confirms each variety and range of condition.
Collectors first consider the date and mint mark combination of wheat pennies. With 1946 cents the "S" mint mark enjoys a premium.
Condition is next judged. Stages of wear occur over time as a coin passes through commerce. Grading a coin determines extent of wear when compared to a standard. Images in the grading section help visualize these different grades.
Step 1: | Date and Mintmark Combination
Value in Mintmarks - Identify 1946 Listing on Value Chart
Production numbers of all three varieties of cents in 1946 totaled third highest for any year. 1,505,445,000 struck. Collectors typically collect all varieties per date. San Francisco contributed the fewest and its slightly above in value.
1946 Lincoln Penny
No Mintmark Under Date: Philadelphia Mint Struck the Coin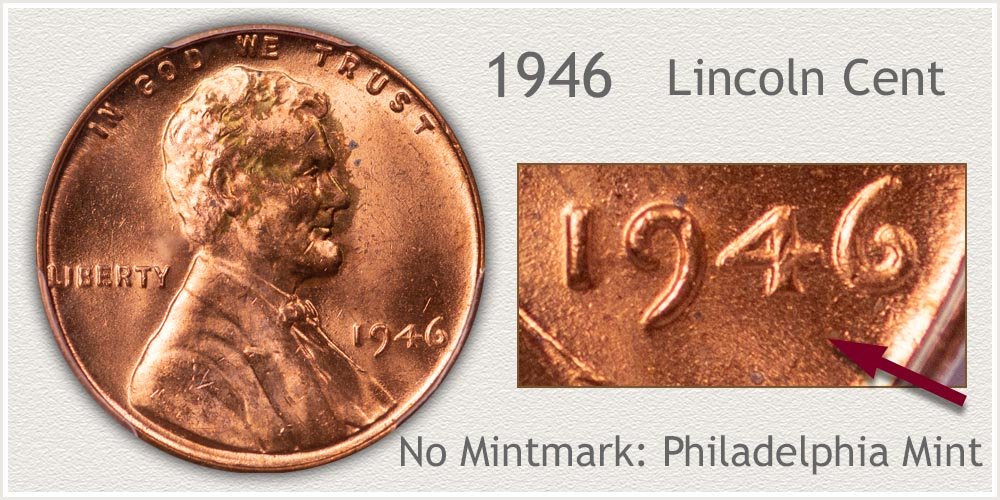 Philadelphia struck an impressive 991,655,000 1946 cents, 5th highest of the wheat series. Rarity scale is Abundant. Many were set aside over the years leading to a range of conditions.
Favored by collectors are Mint State grades and lightly worn examples. An advanced collection obtains a high-grade coin, young collectors seek appealing lightly circulated coins. Inspect closely Lincoln's bow-tie, well defined edges and central knot is an above average piece.
1946-D Lincoln Penny
"D" Mintmark Under Date: Denver Mint Struck the Coin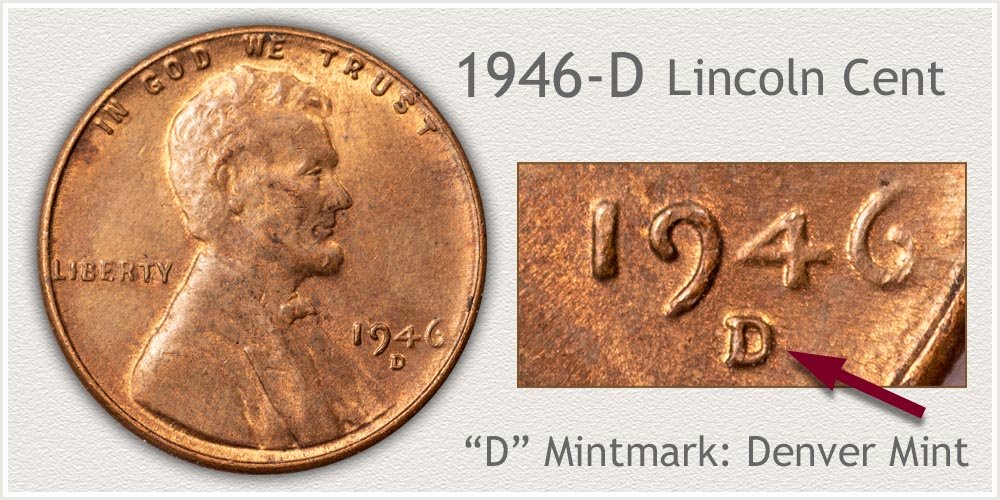 Denver production of 1946 cents was its 10th highest in the series with 315,690,000 struck. These today are Abundant on the rarity scale. Average condition examples, those worn and lacking details to Lincoln's coat and hair are easily obtainable.
A desirable coin, suitable to add to collections is just lightly worn or in Mint State condition. A special coin shows obverse and reverse lettering bold and sitting flat on the fields. Letters curving up the rim indicates a sub standage striking and less desirable to collectors.
1946-S Lincoln Penny
"S" Mintmark Under Date: San Francisco Mint Struck the Coin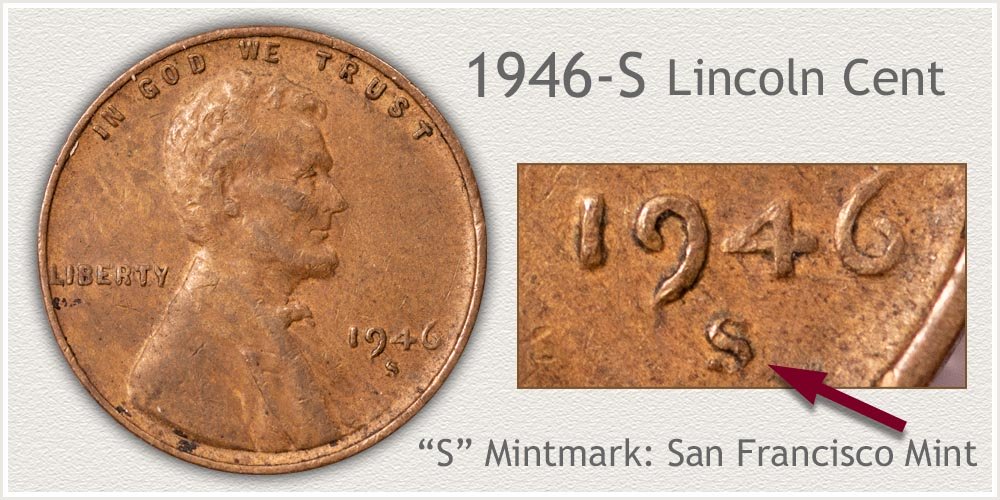 Slightly ahead in value from other varieties of 1946 cents, San Francisco mint pennies have developed a following of collectors. Abundant on the rarity scale, many are in the Good through Fine grade.
Collectors who underpin value, favor these because of lower mintages. An appealing coin is Extremely Fine or better in condition. Circulated examples with separated lines in the wheat stalks are worth a second look. Well defined coins are sought to add to collections.
Step 2: | Judge Condition to Identify Grade
1946 Penny Value Tied to Condition
Condition is the level of preservation the coin displays. A grade denotes this and is used by collectors when describing and placing a value on a coin. Images below help visualize these different stages of condition.
Grading any coin involves subtle points as to its condition. Buyers - collectors see a coin from their point of view. Sellers - dealers view from a different perspective. An overall conservative approach when judging condition finds a solid grade.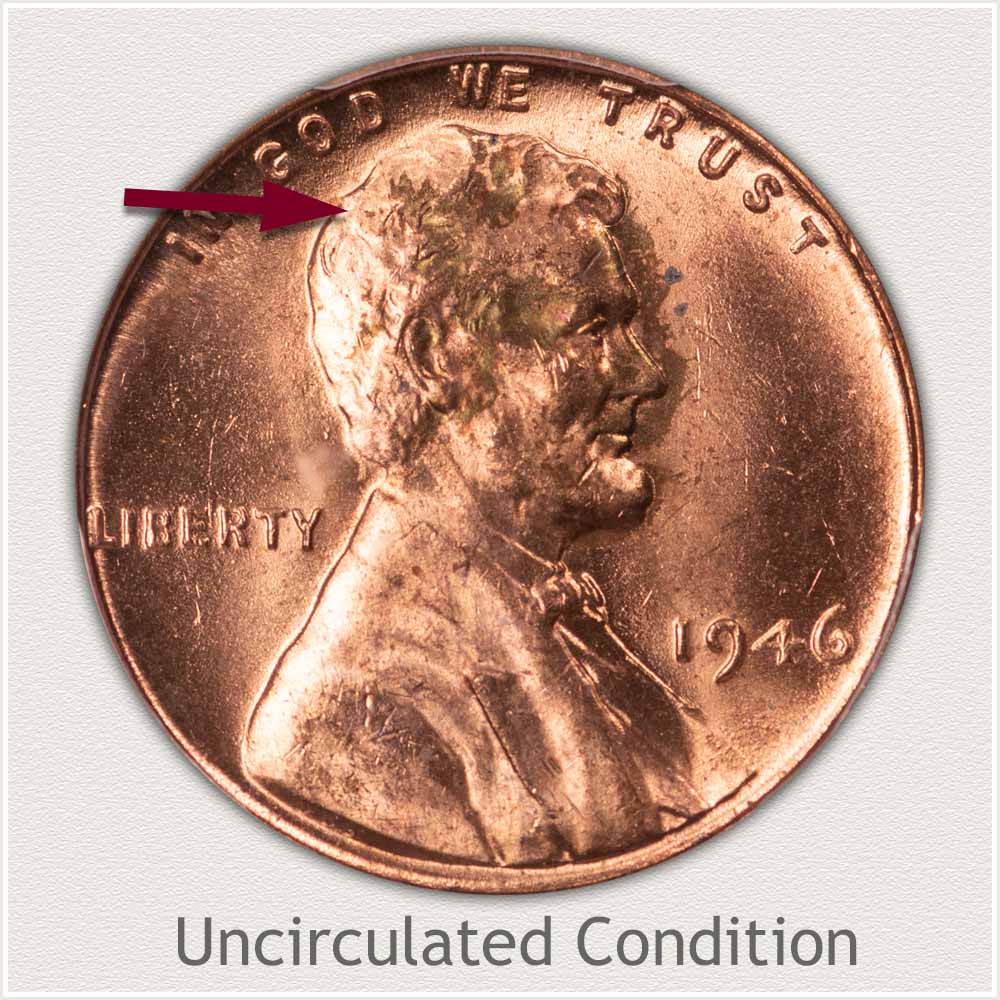 Uncirculated Grade: One of the joys of a collector is assembling a set of mint state grade wheat cents. Each coin is noted as having no wear to the surface, it is in the condition it left the mint.
Examine the waves of hair towards the back of Lincoln's head. A mint state coin has the texture of luster remaining on the high points. Compare the surface of high and low areas to detect any smoothing indicating wear.
Luster on this 1946 uncirculated penny remains bright with little toning. A small number of marks are light in nature and don't detract. A nice example of a wheat cents in original condition.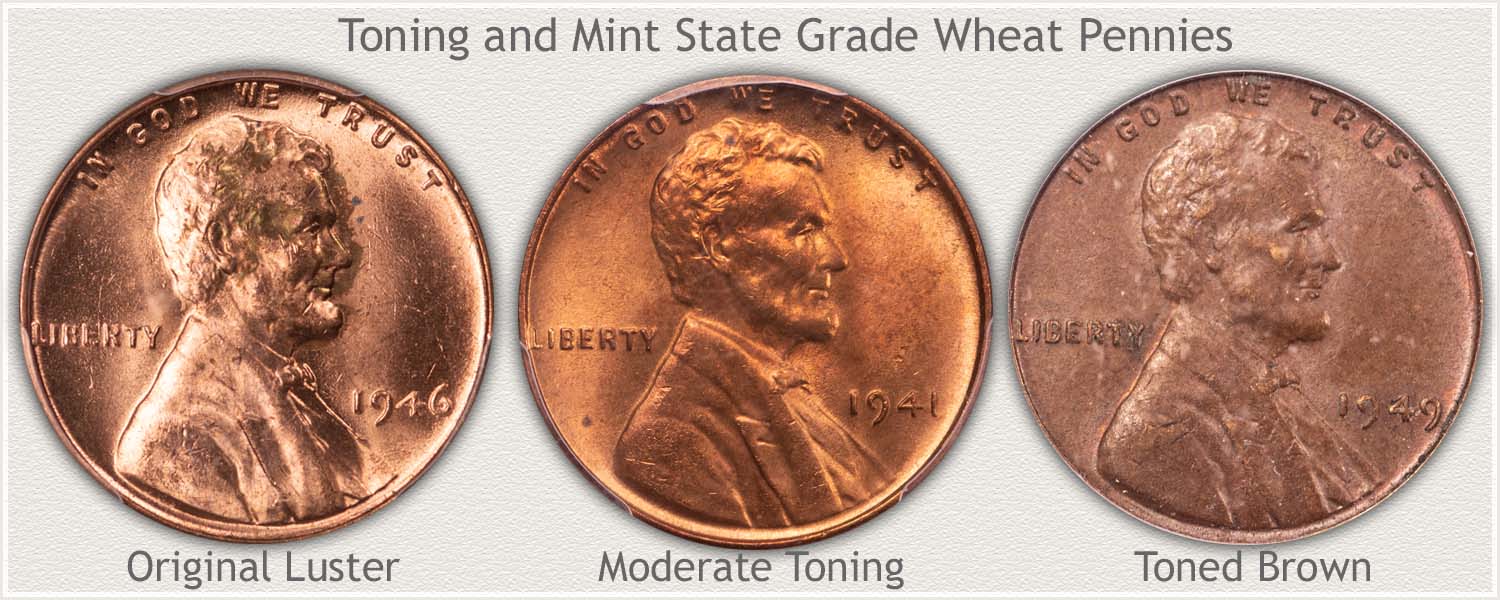 Mint State Grade and Toning 1946 Penny: The 1946 cent is an example of a wheat penny surviving today with original luster as minted. In mint state - uncirculated condition no toning has begun to develop.
Moderate toning is featured on the next coin. Also, in mint state condition, its light toning is not disturbed by wear.
Toned brown is the condition of luster on the third cent and it is also a mint state grade with no wear. All three represent toning is not an indication of wear.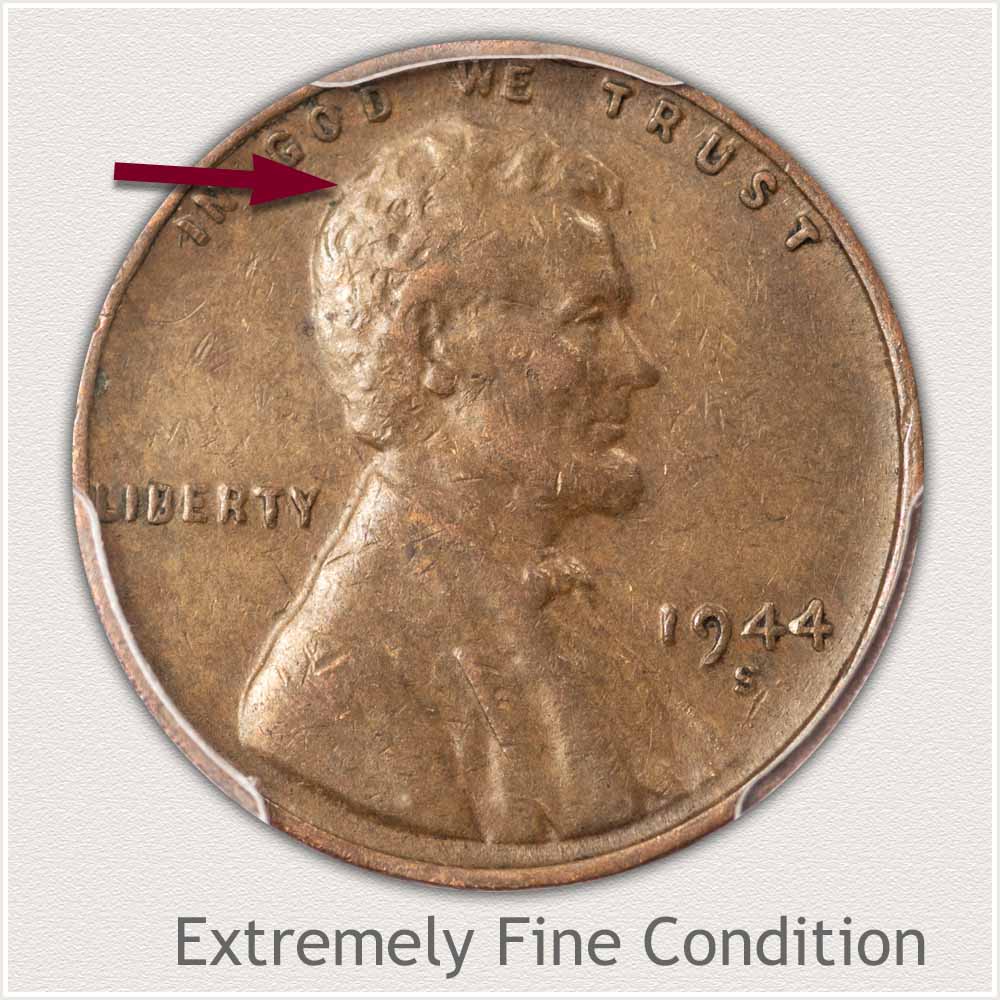 Extremely Fine Grade: Surface texture is changed on a circulated coin. Wear as removed most of the original fine texture that produce luster. Small areas of flatness have developed on the high areas and the majority of color is brown toning.
Lincoln's hair is an indicator of wear. Waves of hair are high and low in profile, small areas of smoothing and flattening are seen on the highest points. Important, the wear is light and confined only to the highest points.
Soft brown toning is featured on the extremely fine grade example. A lack of distracting marks adds to appeal. With the majority of detail remaining and bold, it is a pleasing wheat penny.
Average Circulated Condition: In the marketplace, wheat pennies worn to less than extremely fine grade are available in quantities. Those minted 1944 through 1958 form the bulk of these available coins.
An average circulated coin displays wear flattening many of the bold features of Lincoln. His hair now displays many areas flat and connected. Waves are smooth and merge with his temple area.
Each of the coins display a nice natural brown toning, not to dark. An added plus are no dark spots.
Video | Grading Lincoln Wheat Pennies
To further illustrate grading and pinpoint areas to consider Grading Lincoln Wheat Pennies adds video, images, and descriptions to identify subtle details to condition. Many date and mintmark varieties of wheat pennies have large value ranges because of condition.
Step 3: | Special Qualities Enhancing Value
Step 3: Special Quality of 1946 Clipped Planchet Cent
In the preferences of collectors some qualities found on Lincoln cents are a positive and some negative. The 1946 penny imaged is an error coin popular to some and ignored by others. A machining error resulted in part of a blank punched in an area of the metal strip overlapping a previous punch. To a collector seeking coins representing the best of quality Lincoln wheat pennies, one missing a portion of the design is less desirable.
A fascination of error coins does have a following of collectors. Finding pleasing examples of a clipped planchet wheat cent has created a premium value for these. Stages of coin production involves first punching a cent blank, in mint terms a planchet. This is the stage a clipped planchet cent is created. Once minted into a penny the missing portion can show in any area.
Examples with a readable date are valued above those missing the date. Size of the clip is also considered. The clip on the 1946 penny is small, larger clips tend towards higher values. However, to large a clip, removing portions of Lincoln, are not as highly valued. There is an element of aesthetics and eye appeal each error coin is judge by.
Potential to enhanced value is found in many forms on wheat cents. Finding error coins, exceptional condition examples, and any with high eye appeal are all worth a premium.
References
US Mint. 1947 US Mint Annual Report https://nnp.wustl.edu/library/publisherdetail/51
US Mint. Coin Term glossary. https://www.usmint.gov/learn/collecting-basics/glossary
Coin Values | CoinStudy Articles
Lincoln Wheat cents span the years 1909 through 1958. From the top condition coins collected by advanced collectors to worn examples; to an affordable collection for young collectors, the range of value is extensive. Identify your date, mint and condition and refer to the value chart.
How to Reap the Best Value When Selling Wheat Pennies
As with all selling processes; organizing the coins in a manner a dealer can efficiently asses their worth aids in returns to you. Selling a few or many wheat pennies for the best value starts by separating the coins into "market categories" for consideration by the dealer.
★ Coin Values Discovery finds 1946 Penny Value and...
US coin value charts covering cents to gold. Identify your coins using the image links. Date | Mintmarks | Condition are described and imaged with each series. Small details necessary to accurately value are described.