Coin Values Moving with Precious Metals: Up-Dated 11/27/2023: Gold $2010 | Silver $24.66
1916 Penny Value
Completing 1916 penny value involves two more major steps.
Identify the mint that struck the coin. Branch mint issues on the chart are premium value wheat pennies.
Secondly - Condition: Examples with light wear, indicating higher condition are uncommon and worth strong premiums.
Comparison images are used to determine both, the identify of mint and mint mark and grading condition.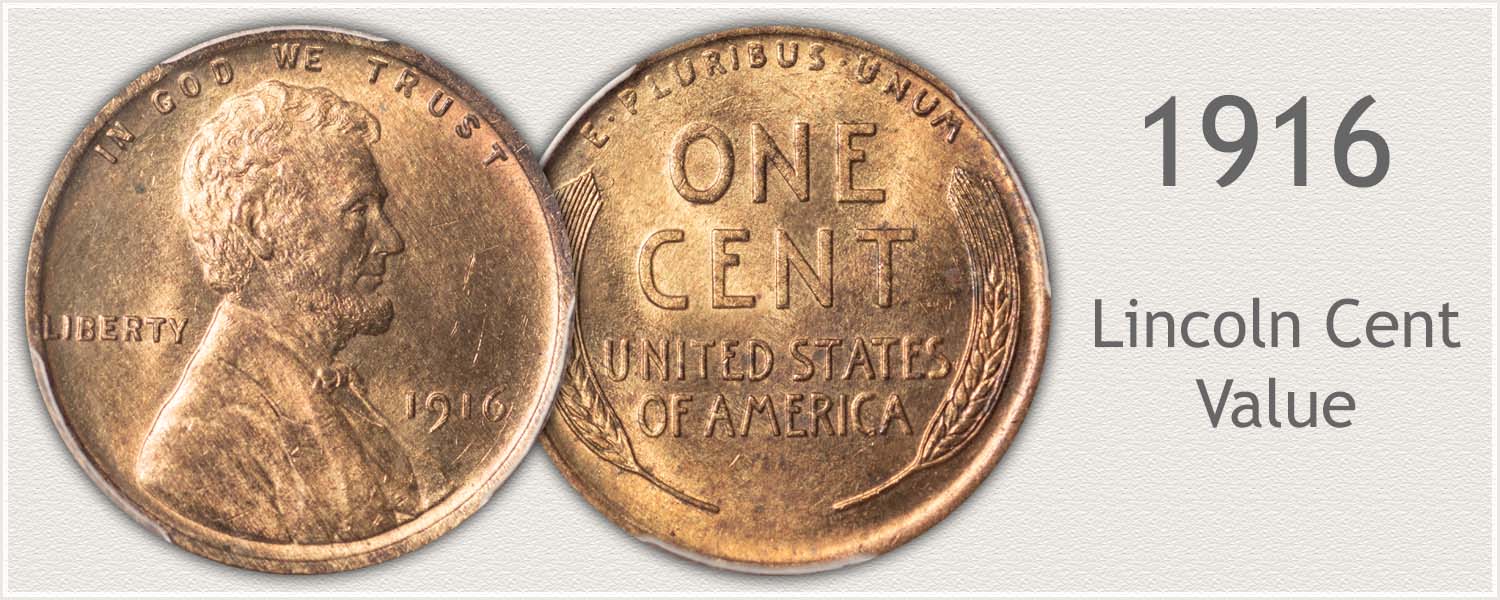 Steps Leading to Value:
Step 1: Date and Mintmark Variety – Identify each date and its mintmark variety.
Step 2: Grading Condition – Judge condition to determine grade.
Step 3: Special Qualities – Certain elements either enhance or detract from value. Here aesthetics play a role in desirability
1916 Lincoln Penny Value
Condition of Coin
Date
Good
Fine
Extremely
Fine
Uncirculated
1916 Lincoln Penny Value Up-Dated
2023
1916
$0.12
$0.68
$7
$12
1916 D
$0.68
$2.18
$18
$50
1916 S
$0.78
$2.54
$24
$72
Many different values are presented on the chart. Each of these representing: Date | Mint Mark | Condition
Mint Marks: 1916 pennies were minted at three different mints. Identifying the mint mark correctly is a must. Collections today are built comprising dates and the different mint marks. As viewed on the chart; availability - scarcity of each date and mint mark combination is reflected in value.
Condition: Judging the condition of a coin determines the amount of wear; if any to the surface. Images in the grading section help to compare the stages of wear and pin point the range of value on the chart.
Step 1: | Date and Mintmark Combination
Confirm Variety of 1916 Cent
With the long run of Lincoln cent dates, collecting the series has developed separate eras of specialization. 1916 cents are part of the early 1909-1933 wheat series. Three varieties of 1916 cents are noted, all valued separately.
1916 Lincoln Penny
No Mintmark Under Date: Philadelphia Mint Struck the Coin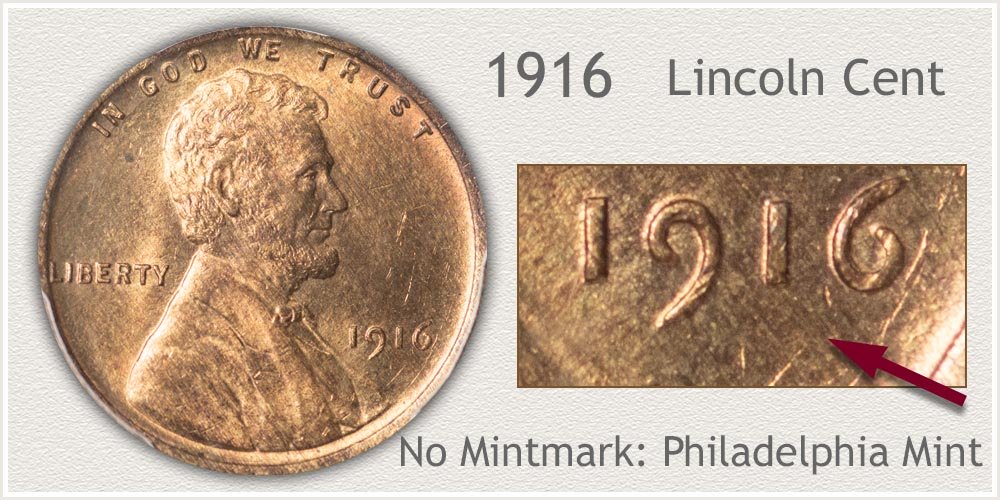 On a rarity scale these Philadelphia cents are Abundant in worn condition. What separates the popular collector quality coins is crisp detail remaining. Inspect the lines separating Lincoln's coat from the shirt. Raised lines along the edge of the coat and dimension to the shirt are indications of a better quality coin.
An eye appealing coin is the target of collectors when considering adding to a set. These early era coins are popular with beginning collectors, circulated coins are in demand notable in the Extremely Fine grade.
1916-D Lincoln Penny
"D" Mintmark Under Date: Denver Mint Struck the Coin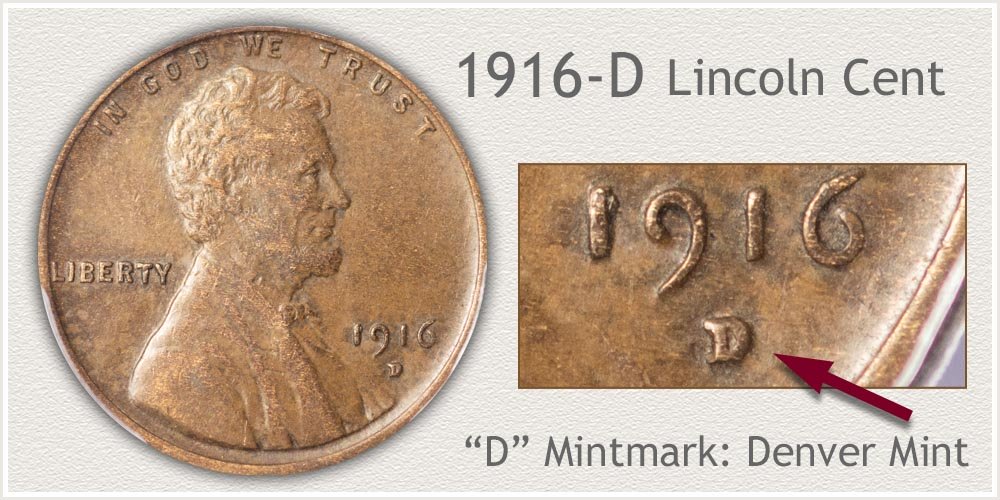 Many Denver mint 1916 cents survive today, rarity scale: Abundant in well-worn condition. Notable on the chart is the wide value difference when identifying a lightly worn coin. Grading and attention to the quality of the coin is needed to an accurate value.
All collectors proceed through the grading process coin when considering a coin for purchase. Your first impression is very accurate in this condition judgement. Is there a clear nice defined Lincoln and lettering to the coin's appearance? The market favors such coins.
1916-S Lincoln Penny
"S" Mintmark Under Date: San Francisco Mint Struck the Coin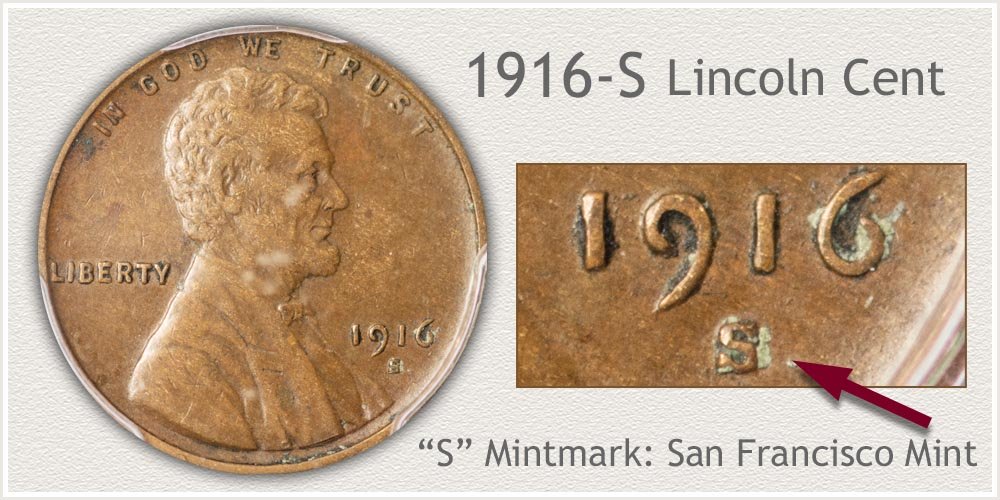 Of the three 1916 varieties, San Francisco struck the fewest cents. 22,510,000 wheat pennies coined. Examples worn to the point of Lincoln's hair lacking any detail are abundant. True scarcity is noted by the value placed on lightly circulated coins.
One important consideration is an overall "look" of the coin. Because of age, long term coloration of copper is judged. Left exposed copper eventually becomes very dark, a nice light to medium shade indicates care of preservation and results in greater appeal.
Step 2: | Judge Condition to Identify Grade
Condition is Key to 1916 Penny Value
Charts list value in order of Grade. Condition of a coin's surface is examined and judged to determine the different grades. High areas of the devices are prone to first contact and wear, these are imaged and described.
Begin the grading process with an overall opinion of the coin. Pleasing tones of tan and brown are preferred by collectors. Follow with comparing your coin to the images finding a condition match.
Uncirculated Grade: Still bright with original mint luster, here a coin is a strong candidate for the Mint State - Uncirculated grade. Undisturbed surfaces, free from any wear is needed to obtain this grade.
High in relief areas are first to inspect. Behind Lincoln's ear many small details are prone to show evidence of circulation wear. Looking closely, mint frost is intact with original texture. No flatness or smoothness is shown.
Collectors realize copper is quick to tone from bright original color to shades of brown. Indicating a well-preserved coin, this old wheat cent is vibrant and close to its original color. An eye appealing coin with strong collector value.
Extremely Fine Grade: After a time in circulation small areas of flatness begin to appear on the overall design. When collected, a grade of Extremely Fine is assigned to indicate its condition to other collectors.
Hair behind the ear is noted with just a slight flattening to the upper most parts. Waves of hair remain separated with a small merged spot above the ear. Crisp and bold are the lower relief elements of hair and ear.
A bold portrait of Lincoln remains in the extremely fine grade. With ample detail, collectors seek early year wheat cents with eye appeal. Adding to the "look" of this coin is a lack of distracting marks. Soft tans and browns colors are undisturbed.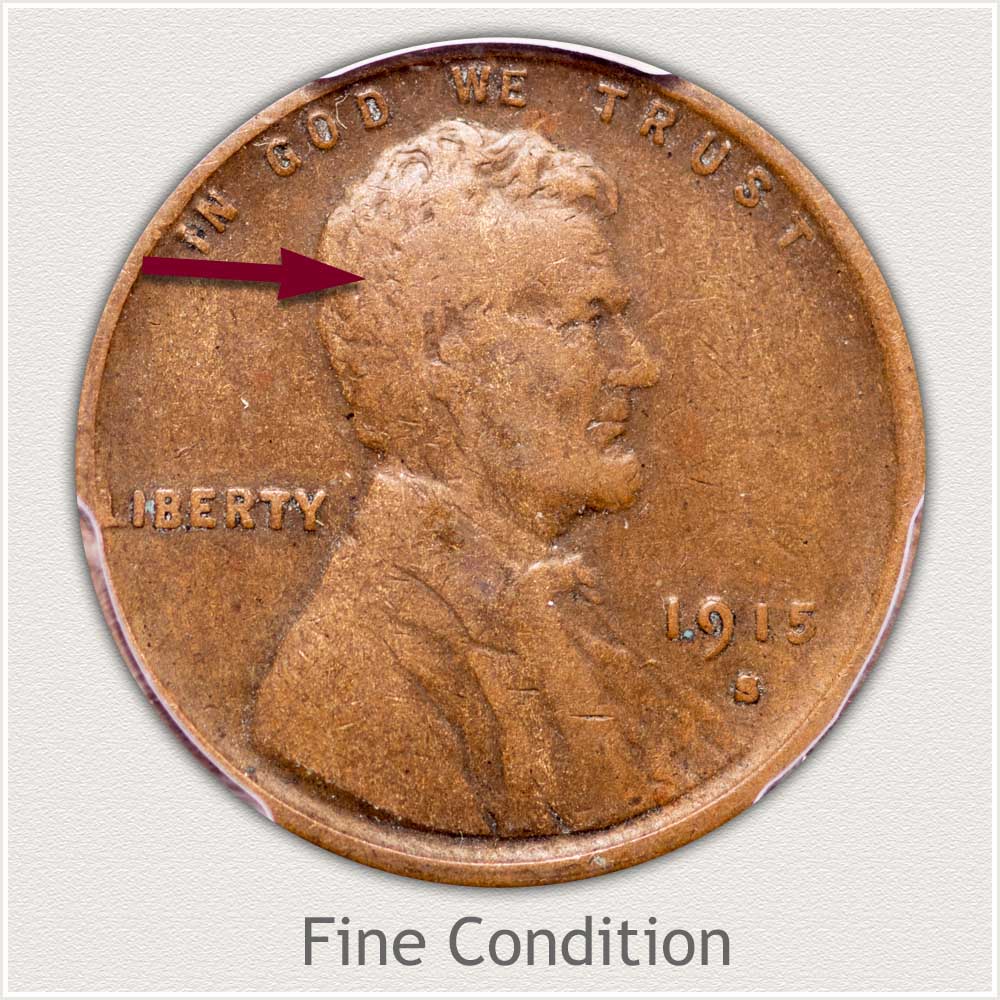 Fine Grade: Moderate wear towards the outer edges with heavier wear within the central areas indicates a coin in Fine grade. Major details are strongly visible.
Lincoln's hair behind his ear is showing areas of merging. Flatness extends to above his ear and a small connection of his forehead is noted. Detail to the waves of hair are still showing towards the back of his head placing this example strongly in the Fine grade.
Fine condition wheat pennies are well detailed and many year and mintmark combination are worth a premium. Adding to value are subtle qualities. A nice contrast in colors is noted on the example. Lighter tones of tan contrasted by darker shades, helping highlight all details.
Good Grade: Heavy wear and lack of minor details to a coin places it in the Good grade. Devices remain outlined, however very small amounts of original elements are visible.
Once full of intricate detail, behind Lincoln's ear is now a smooth surface. His ear just shows and a small amount of contour remains surrounding his portrait. Flatness extends through-out the central area of the coin.
Copper often tones very deep colors of brown if left exposed to air. Lighter shades indicate a coin protected when collected. Preservation plus eye appeal adds to value.
Video | Grading Lincoln Wheat Pennies
Old pennies handled with care and well preserved are sought by collectors. With subtle points to condition separating values Grading Lincoln Wheat Pennies examines the different grades using video and descriptions.
Step 3: | Special Qualities Enhancing Value
All 1916 Pennies are Special with Potential
Strictly from a value stand point all wheat pennies have a base worth of a few cents each. Any 1916 penny is well above this minimum because of a few special qualities.
Collecting wheat cents is structured by availability and cost to collectors. Two distinct eras are evident by the availability of the coins. 1909 through 1933 dates and mints are far less common than dates 1934 to 1958. Lower supplies of early era cents commands higher premiums. Quantities of later era cents holds values to the wheat cent minimum of a few cents.
Another special point is grading potential. Most 1916 cents circulated for a long time, wearing quite smooth. A few minutes grading and finding a slightly better than good condition coin greatly raises value. Early era cents are special in above average grade showing large price changes from one to the next.
From an aesthetic stand point, early cents are nicer in overall quality and rendering of the Lincoln design.
Side by side four decades later the sharp details and crisp lettering is less pronounced. Lincoln's hair, face, and coat are highly detailed on the 1916 cent. The longer the two coins are compared more subtle points appear, crisp vs rounded elements in lettering, rim, and date give two separate looks. An early year set and later year set are visually different.
References
US Mint. 1917 US Mint Annual Report https://nnp.wustl.edu/library/publisherdetail/51
Coin Values | CoinStudy Articles
Value chart spans the Wheat design years 1909 through 1958 of Lincoln cents. From uncirculated coins collected by advances collectors to worn examples an affordable collection popular with young collectors. Identify date, mint and condition; a wide range of values is found and identified.
Rare pennies are identified in series from wheat cents back to the early years of the US Mint. These one-cent and half-cents coins first struck in 1793 have a number of stand-out issues.
★ Coin Values Discovery finds 1916 Penny Value and...
US coin value charts covering cents to gold. Identify your coins using the image links. Date | Mintmarks | Condition are described and imaged with each series. Small details necessary to accurately value are described.