Coin Values Moving with Precious Metals: Up-Dated 11/27/2023: Gold $2010 | Silver $24.66
1931 Penny Value
1931 penny value includes the premium San Francisco mint issue. Three mints: Philadelphia, the main mint and two branch mints: Denver and San Francisco minted wheat cents in 1931.
Step one to identifying your coin is recognizing the mint mark. Followed by a second step; judging condition. A view of the value chart highlights the large differences both mint mark and grade have. Highly prized, scarce and in demand, grading condition is key to value.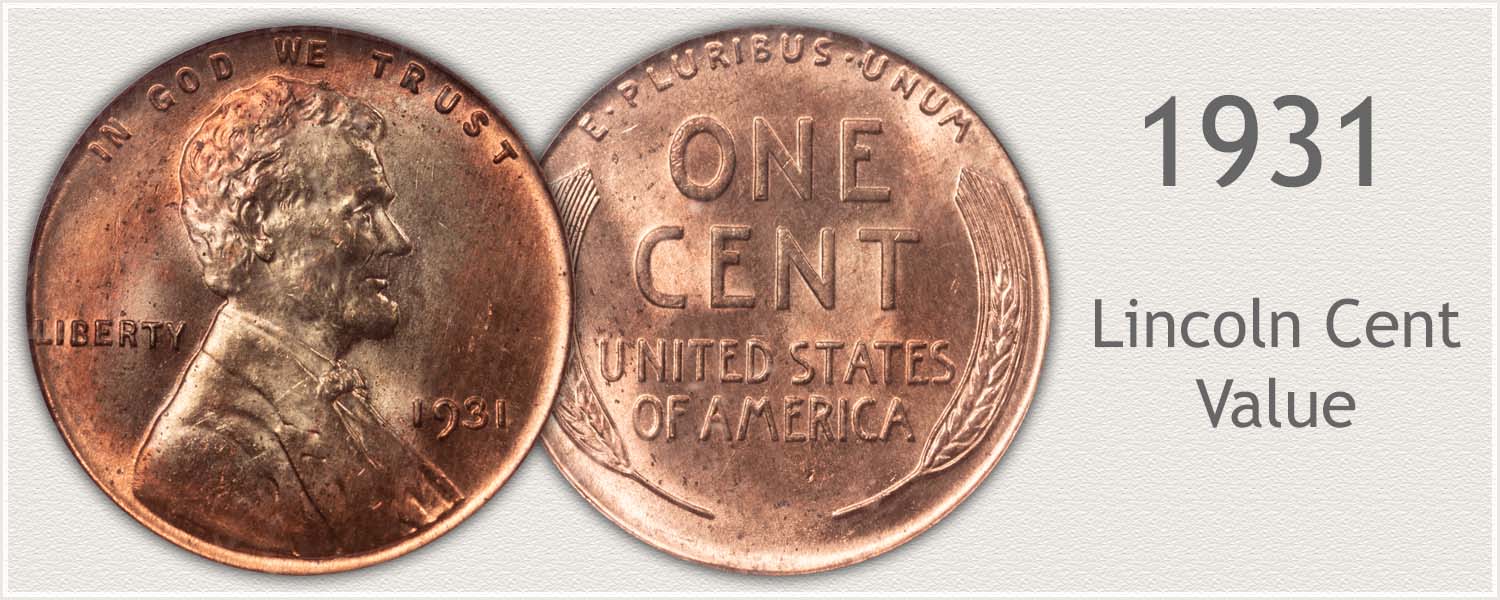 Steps Leading to Value:
Step 1: Date and Mintmark Variety – Identify each date and its mintmark variety.
Step 2: Grading Condition – Judge condition to determine grade.
Step 3: Special Qualities – Certain elements either enhance or detract from value. Close inspection given to the 1931-S issue.
1931 Lincoln Penny Value
Condition of Coin
Date
Good
Fine
Extremely
Fine
Uncirculated
1931 Lincoln Penny Value Up-Dated
2023
1931
$0.35
$0.61
$3.20
$13
1931 D
$2.84
$5.07
$12
$31
1931 S
$29
$59
$72
$96
Completing a process of placing a value on 1931 pennies involves:
Date | Mint Mark | Condition
1931 is a year of two premium varieties. Both branch mints issues are scarce and climb quickly in value when found in high condition. Find a close match of condition by comparing to the images in the grading section below.
San Francisco mint issue 1931 is the leader in value. Followed by the Denver mint pennies. First step: Confirm the mint that struck your coin.
Step 1: | Date and Mintmark Combination
Identify the Important 1931 Varieties
Special consideration is given to all 1931 wheat penny varieties. It is the 4th lowest total mintage year in the series. 24,742,000 cents were coined in 1931. Majority of mint production was devoted to gold coinage at the time. A key date and mintmark cent is the San Francisco issue.
1931 Lincoln Penny
No Mintmark Under Date: Philadelphia Mint Struck the Coin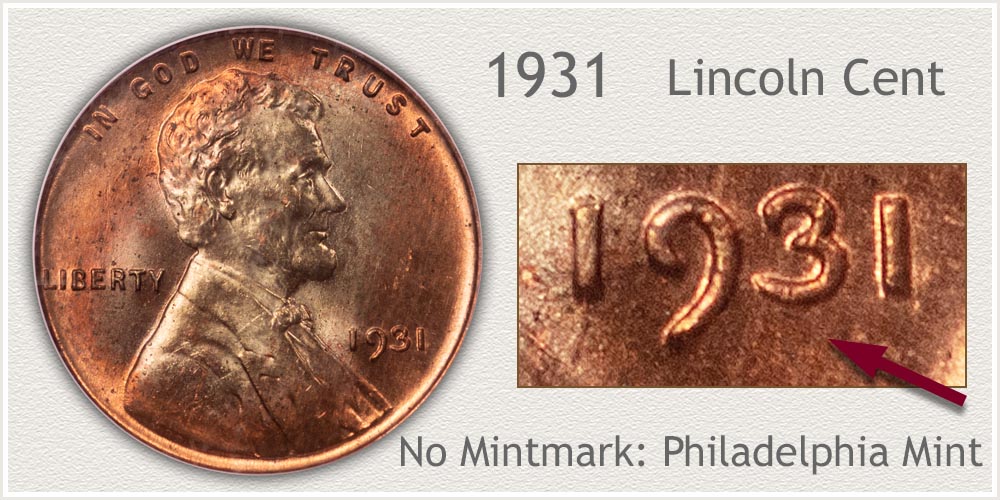 1931 Philadelphia cents are somewhat Abundant on a rarity scale. Majority of those available today are well worn. Notable is the rise in value for any with only minor wear to the surface. These lightly worn coins are infrequently found.
All older pennies are prone to turning a dark color, lowering its pleasing golden-red copper shine of a new cent. A circulated coin, despite losing its brightness when toned a light tan to warm brown is well received by collectors.
1931-D Lincoln Penny
"D" Mintmark Under Date: Denver Mint Struck the Coin
Collectors place a premium value on these Denver mint cents. Low mintage numbers (4,480,000 struck) combined with the popularity of Lincoln cents shows strong values in all grades of condition.
A nice pleasing coin shows a defined bow tie and defined hair on Lincoln's portrait. Alert to altered date: inspect the digits of the date for any uneven spacing. Modifying a 1930-D to a 1931-D in an attempt deceive.
1931-S Lincoln Penny
"S" Mintmark Under Date: San Francisco Mint Struck the Coin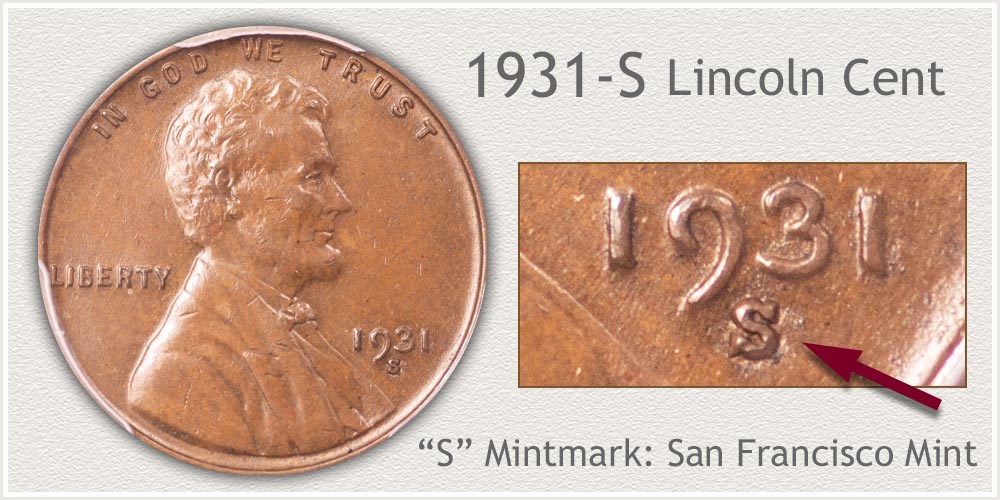 San Francisco produced the 2nd lowest numbers of wheat cents of any year or variety in 1931. These are considered by collectors as a Key date. 866,000 was the total struck. All grades of condition are of interest to collectors. Worn examples appeal to beginning collectors, a scarce date with under 1 million minted.
Grading condition becomes important to value. See the image examples of grades below. Coins without wear to the surface are compared with coins displaying wear.
Alert to Altered Dates: A close view of the date is needed to confirm a genuine 1931-S. Under magnification, the area around the date should not show any signs of disturbance. A 1930-S or 1936-S with parts of the numbers removed were candidates to alter in an attempt to create a scarce 1931-S.
Step 2: | Judge Condition to Identify Grade
Identify Condition to 1931 Penny Value
Value is further refined by condition of a coin. Preservation of devices, legends, and fields are inspected as to condition. Lincoln's portrait is high in profile and subject to wear. Stages of wear are identified and a grade is determined.
Grading pennies involves close inspection of small areas; a magnifying glass is useful. If a magnifying glass is not available, an image is often taken and used to enlarge key points.
Uncirculated Grade: An uncirculated grade Lincoln penny never entered circulation. Issued from the mint to the banking institutions and then saved at that time. No wear to the surface defines the mint state grade.
High points of the design are examined for traces of wear. Lincoln's cheek just below the eye and extending to his ear is prominent, subject to first contact. A mint state example is covered with mint luster. His cheek, temple area above, and jaw below would wear quickly. Examine for any smoothing of these surfaces, a change of texture from surrounding areas, indicates wear.
Mint luster is the initial shine of a new minted copper coin. Delicate in nature and since it is copper, prone to change from bright to shades of tan and brown. A change of color and smooth blending is expected and does not indicate wear. Original texture of the cheek is evident below any toning on an uncirculated wheat cent.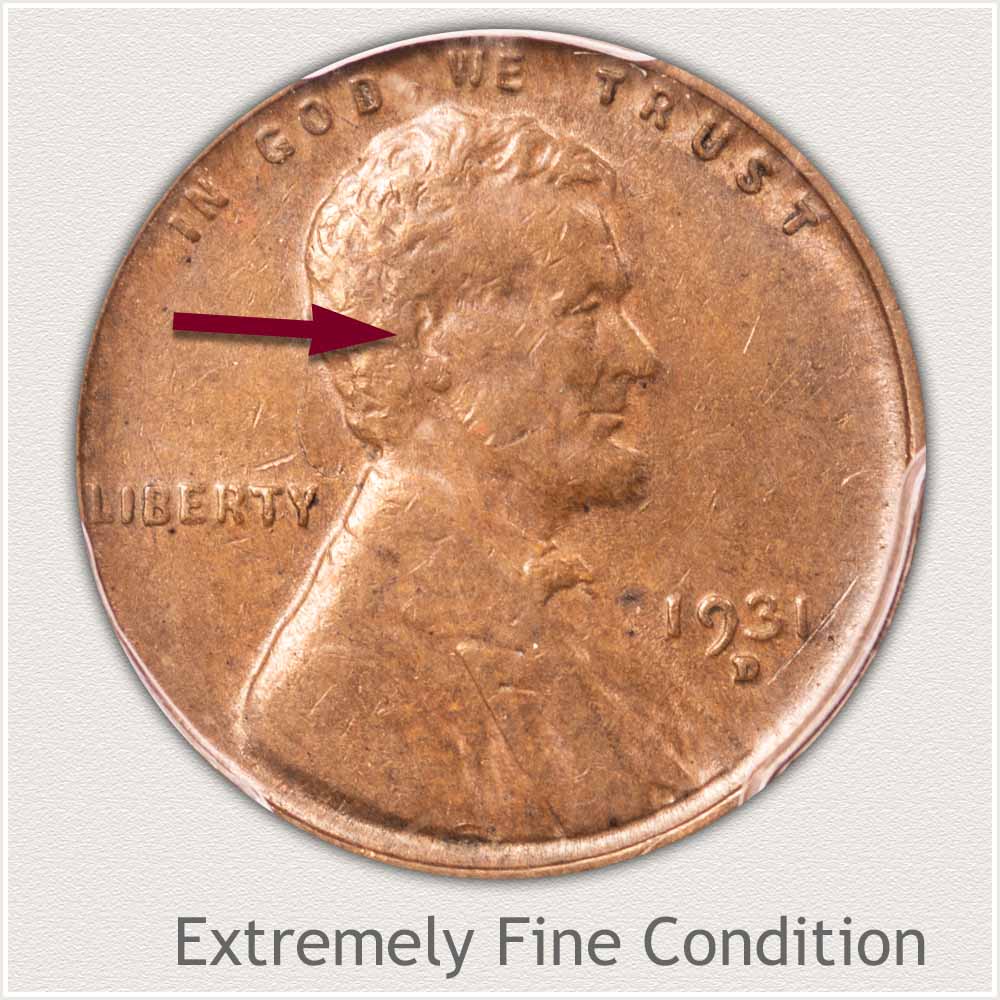 Extremely Fine Grade: A moderate flattening of the highest parts of Lincoln, his cheek, temple, and jaw indicates a wheat cent in Extremely Fine grade. Important in reaching the grade is any flatness and loss of detail remains unconnected from on area to the next.
Only the highest areas of the design are seen with evidence of wear. Lincoln's cheek is just slightly worn, only removing the very top of the contour. A separation from his ear remains and a defined cheek is below Lincoln's eye. Notice a depression and contours between the cheek and jaw.
A nice light and even brown toning covers the example penny. Toning is highlighted with varying shades bringing out the major elements of the design. A bold "look" is important to represent the extremely fine grade. Collectors assembling a collection of circulated wheat cents seek eye appeal. Light wear, circulated sets, are a popular theme and enjoys a strong demand of these old coins.
Fine Grade: Wear is moderate to heavy covering the cheek and jaw on a wheat penny in Fine grade. However, all major details are bold. Areas of design are beginning to connect due to the reduction in profile.
Across Lincoln's face the contours of cheek and jaw are just beginning to merge. A small depression is separating the flatness of his cheek from jaw. A slight merging of the temple and the now flattened cheek is beginning.
A mark free surface adds appeal to a coin in Fine grade. Avoiding noticeable damage sets any coin apart. Light brown toning with clear legends are adding to its charm. Part of the challenge enjoyed by collectors is finding a pleasing circulated wheat cent.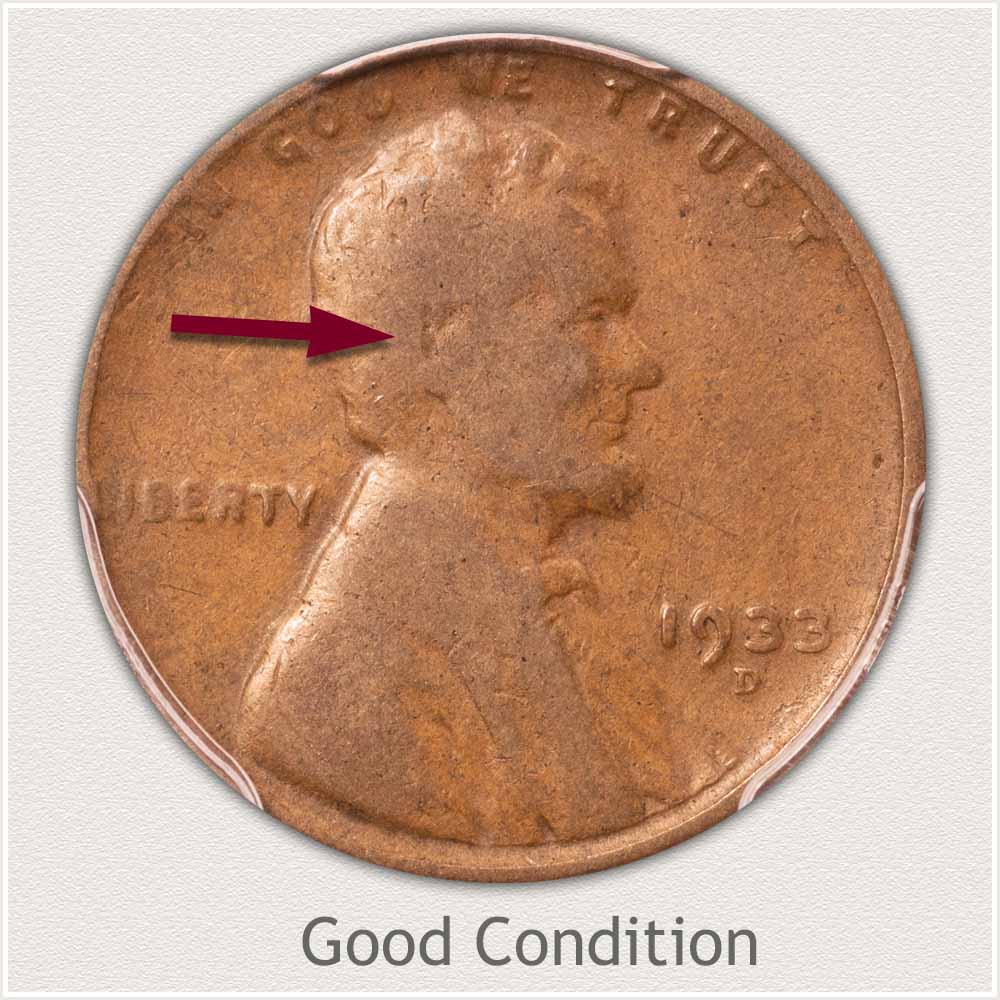 Good Grade: Lincoln's profile is now worn almost smooth. In the "Good" grade most major detail defining facial elements are missing.
A once pronounced cheek and temple area above is now smooth and connected. Completely flat is the chin and jaw now connecting with his cheek. Due to the high relief of the overall design and lettering, these early wheat pennies in the good grade still retain boldness and appeal to many collectors.
Heavy wear does diminish a high value. Appeal to new collectors, because of remaining bold elements and affordability, forms a base supporting demand. A 1931 penny is "old" and still a sought-after coin despite its wear.
Video | Grading Lincoln Wheat Pennies
Grading Lincoln Wheat Pennies continues the process of judging condition. Video, images, and descriptions are used to define important point to the obverse and reverse.
Step 3: | Special Qualities Enhancing Value
Identify Market Appeal of 1931 Penny
Collectors underpin values of Lincoln wheat cents. Their collecting preferences decide if a coin has a strong market appeal. Advanced collectors focus on mint state examples of a date and mint while circulated wheat pennies are popular with the new and young collector.
Circulated wheat cents are affordable, beginning collectors develop their preferences and skills of recognizing quality when assembling sets. Skills are refined to identifying well struck coins, pleasing color toning, and solid grade examples.
A 1931-D wheat cent represents a semi-key and valuable addition to a set. Low original mintage plus advanced age places the coin as elusive.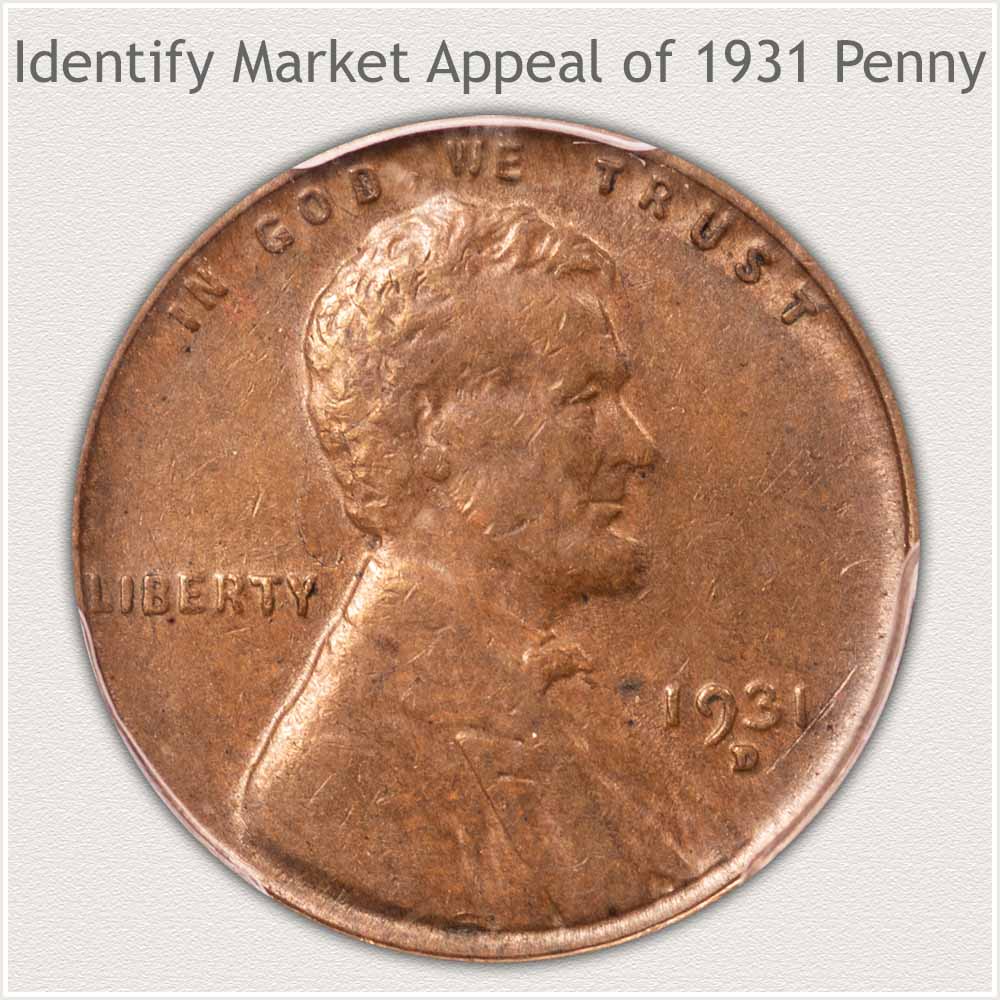 With a higher premium involved, a solid "all there" coin is carefully chosen. A few factors stand out as appealing to the example 1931-D penny.
Nice balanced toning is a strong first impression.
Soft browns and lighter shades of color enhance details.
Absence of marks improves the quality appearance of the coin.
Light wear is noted; however, Lincoln's portrait, legends, and date are bold.
Considering all aesthetics plus evenness of light wear, it is a quality coin. A skillful choice with market appeal and solid value.
References
US Mint. 1932 US Mint Annual Report https://nnp.wustl.edu/library/publisherdetail/51
Coin Values | CoinStudy Articles
Lincoln Wheat cents span the years 1909 through 1958. From the top condition coins collected by advanced collectors to worn examples; to an affordable collection for young collectors, the range of value is extensive. Identify your date, mint and condition and refer to the value chart.
How to Reap the Best Value When Selling Wheat Pennies
As with all selling processes; organizing the coins in a manner a dealer can efficiently asses their worth aids in returns to you. Selling a few or many wheat pennies for the best value starts by separating the coins into "market categories" for consideration by the dealer.
★ Coin Values Discovery finds 1931 Penny Value and...
US coin value charts covering cents to gold. Identify your coins using the image links. Date | Mintmarks | Condition are described and imaged with each series. Small details necessary to accurately value are described.