Coin Values Moving with Precious Metals: Up-Dated 11/27/2023: Gold $2010 | Silver $24.66
1930 Penny Value
How to determine 1930 penny value. Follow a step by step method of identifying: Date | Mint Mark | Condition
A collection of coins is organized by date and mint mark as the first goal. As it grows with improvements made by "up-grading" coins to higher condition examples. All putting pressure on nicer coins. Notice a jump value difference beginning with the Extremely Fine grade.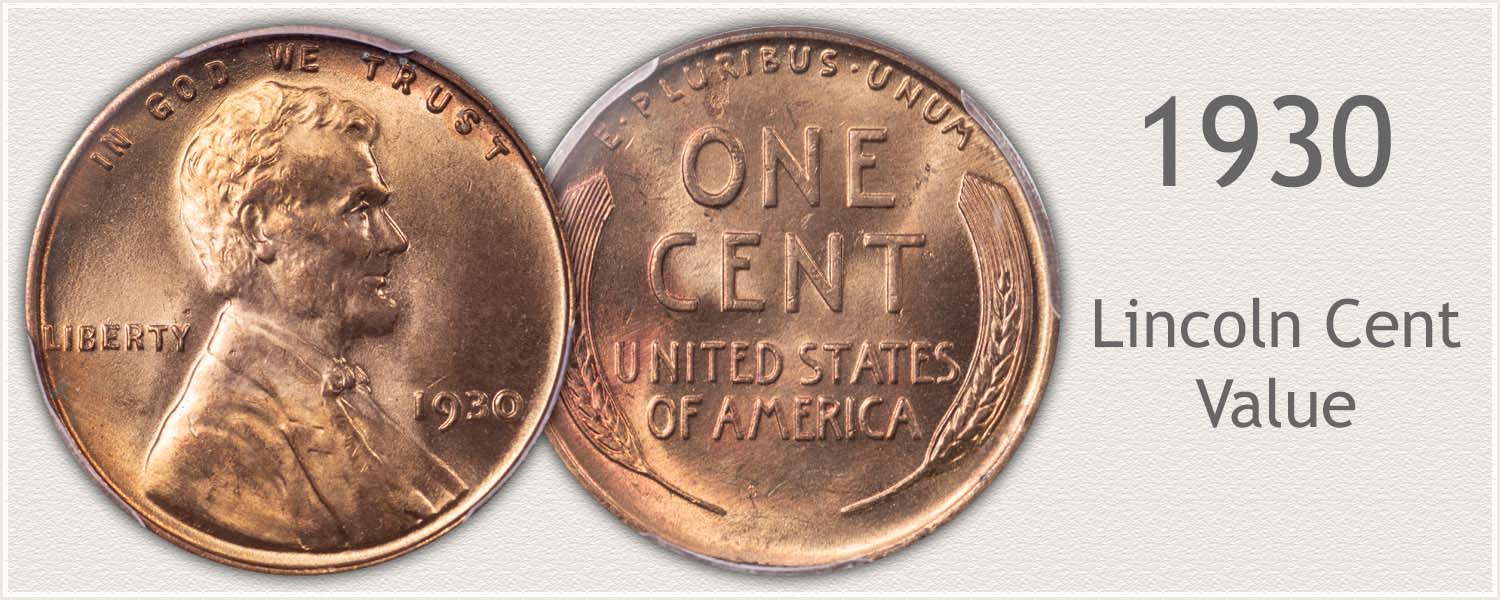 Steps Leading to Value:
Step 1: Date and Mintmark Variety – Identify each date and its mintmark variety.
Step 2: Grading Condition – Judge condition to determine grade.
Step 3: Special Qualities – Certain elements either enhance or detract from value.
1930 Lincoln Penny Value
Condition of Coin
Date
Good
Fine
Extremely
Fine
Uncirculated
1930 Lincoln Penny Value Up-Dated
2023
1930
$0.04
$0.30
$1.09
$3
1930 D
$0.23
$0.44
$1.76
$7
1930 S
$0.27
$0.55
$1.18
$6
A quick separation in value is found in the exact combination of date and mint mark.
1930 cent varieties have three Date and Mint Mark Combinations. Branch mints struck small letters onto the coins as part of the design to identify their production. Match your coin to images to recognize the different marks.
An extra value scale involves condition/grade of the coin. Worn, low grade coins are easy to recognize, displaying flat smooth surfaces. However, subtle details often separate higher condition examples. Images of these different grades help visualize the grading process.
Begin charting how much your 1930 penny is worth by Date and Mint Mark variety
Step 1: | Date and Mintmark Combination
Value in Mintmarks - Identify 1930 Listing on Value Chart
Values of 1930 cents are determined by the quality of the coin and the variety. Branch mint varieties are the less encountered. Above average condition examples are sought by collectors.
1930 Lincoln Penny
No Mintmark Under Date: Philadelphia Mint Struck the Coin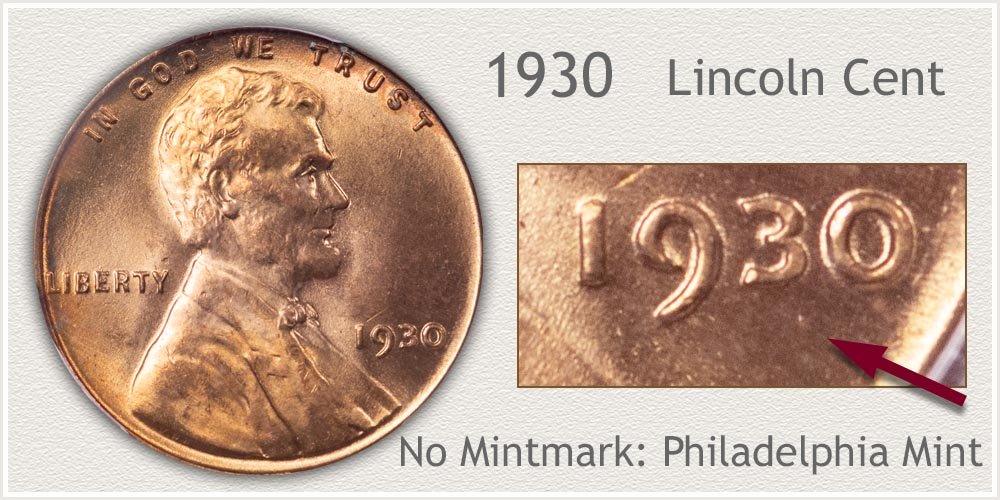 Collectors consider a 1930 Philadelphia cent as a coin struck in the early era of Lincoln wheat series. All dates and varieties of these coins are worth a premium over later years. 157,415,000 were struck and are on a rarity scale as: Abundant within the early era coins.
Grading condition of your coin is important to finding premium examples of these 1930 cents.
1930-D Lincoln Penny
"D" Mintmark Under Date: Denver Mint Struck the Coin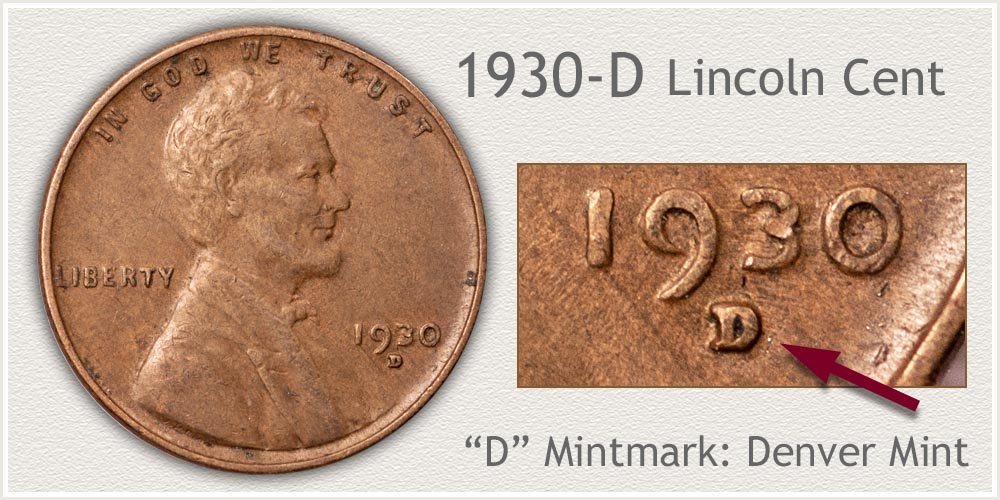 Many Denver 1930 pennies are available to collectors. Poor condition, is however, the typical quality found. Abundant in average condition, a premium is noted on the chart for coins grading Extremely Fine and higher. Inspect lettering along the rim, bold and flat with the surface is a preferred appearance.
1930-S Lincoln Penny
"S" Mintmark Under Date: San Francisco Mint Struck the Coin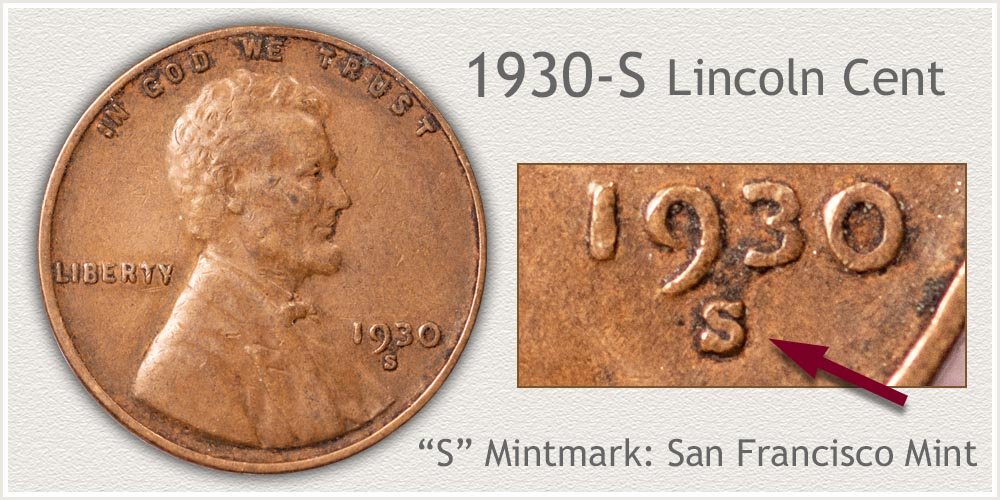 Of the three varieties struck in 1930, San Francisco mint coined the fewest. With 24,286,000 as the total reported by the mint these are a focus of collectors. Demand for coins showing finer details of the design supports premium value.
Inspect both obverse and reverse. A higher quality cent has detail remaining in Lincoln's hair and fine lines in the upper part of the wheat stalks on the reverse.
Step 2: | Judge Condition to Identify Grade
Grading Confirms 1930 Lincoln Penny Value
Grading judges amount of wear appearing on a coin's surface. A set of standard Grades defines the stages of condition. Collectors use grades in the value process and are listed on the charts.
Begin the grading process with an overall opinion of the coin. Pleasing tones of tan and brown are preferred by collectors. Follow with comparing your coin to the images finding a condition match.
Uncirculated Grade: Judging continuous coverage of mint luster over the entire surface is needed to confirm condition. Uninterrupted luster is key in defining the mint state - uncirculated grade.
Collar lines representing Lincoln's coat are clear and bold. A ridge defining the separation of lapel from shirt is well formed on an uncirculated coin. Both are centrally located and high in profile. Inspect closely to confirm texture and luster of original surfaces remain. Smoothness and color change from surrounding areas are often an indication of wear.
Eye appeal is adding value to the example 1930 penny. Collectors judge both the amount of wear to a coin, its technical grade, and its beauty. Lack of dark areas and spots plus ample original luster indicate a high-end coin.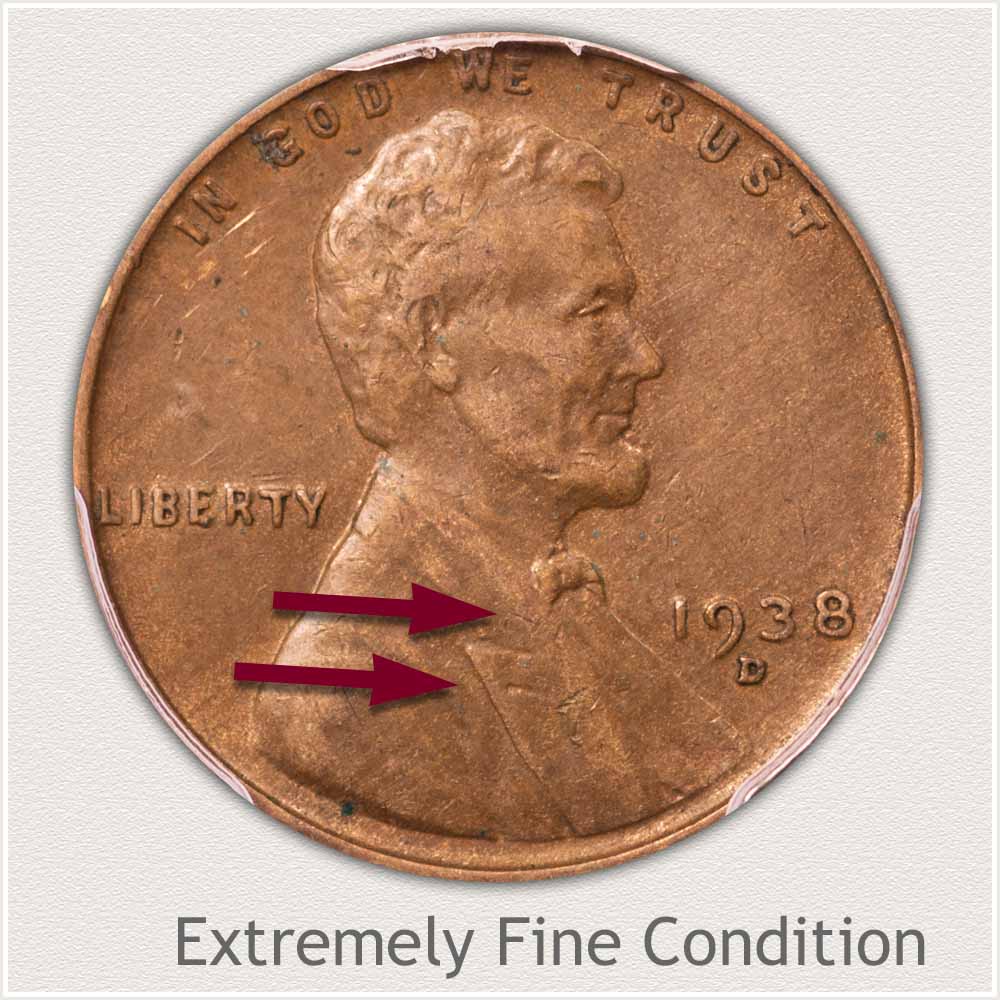 Extremely Fine Grade: Light wear defines the Extremely Fine grade. High areas of the devices and legend are beginning to show smoothness. A minor amount of flatness is noted on high rounded areas.
Lincoln's coat separating his shirt is worn slightly along the entire upper raised edge. Elements defining the lapel are slightly flattened. A distinct line remains at the edge of the lapel from the coat. Notice a raised bow tie with clear elements confirms the Extremely Fine grade.
Highlights of tan help bring out many details on the wheat cent pictured. Pleasing eye appeal is a trait collectors value on lightly worn examples.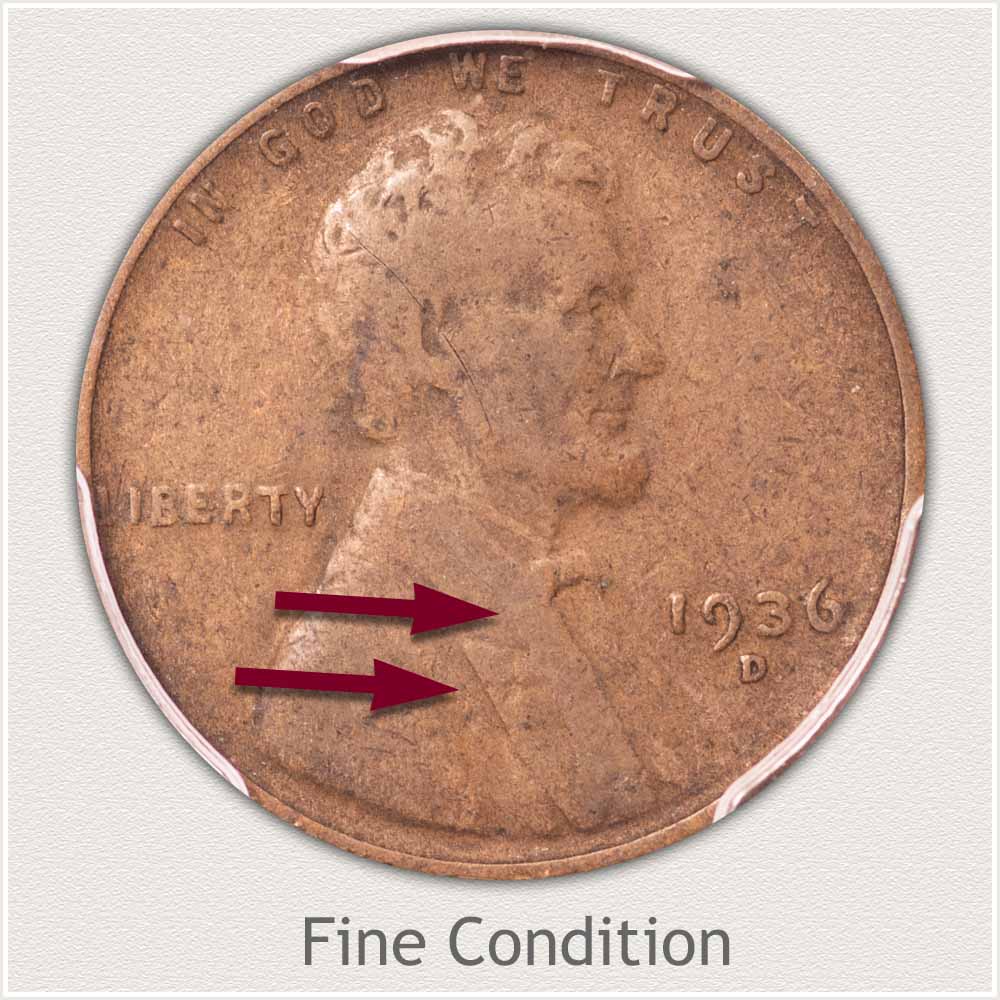 Fine Grade: All legends and date remain clear. Moderate even wear overall defines a wheat cent in Fine grade. Lincoln is bold from the field. Elements of design, such as hair and shirt all contain major features.
Close inspection of the shoulder along the back finds a faint outline indicating the lapel to the coat. Lincoln's coat and shirt are still separated although wear has flattened the contour. A clear bowtie remains. Major details to the coat and lapel are visible.
Nice surfaces remain on the example wheat cent; no distracting marks and discoloration catches the eye. Circulated wheat cents from the early years are collectible when displaying eye appeal. Demand from collectors is steady, holding values strong.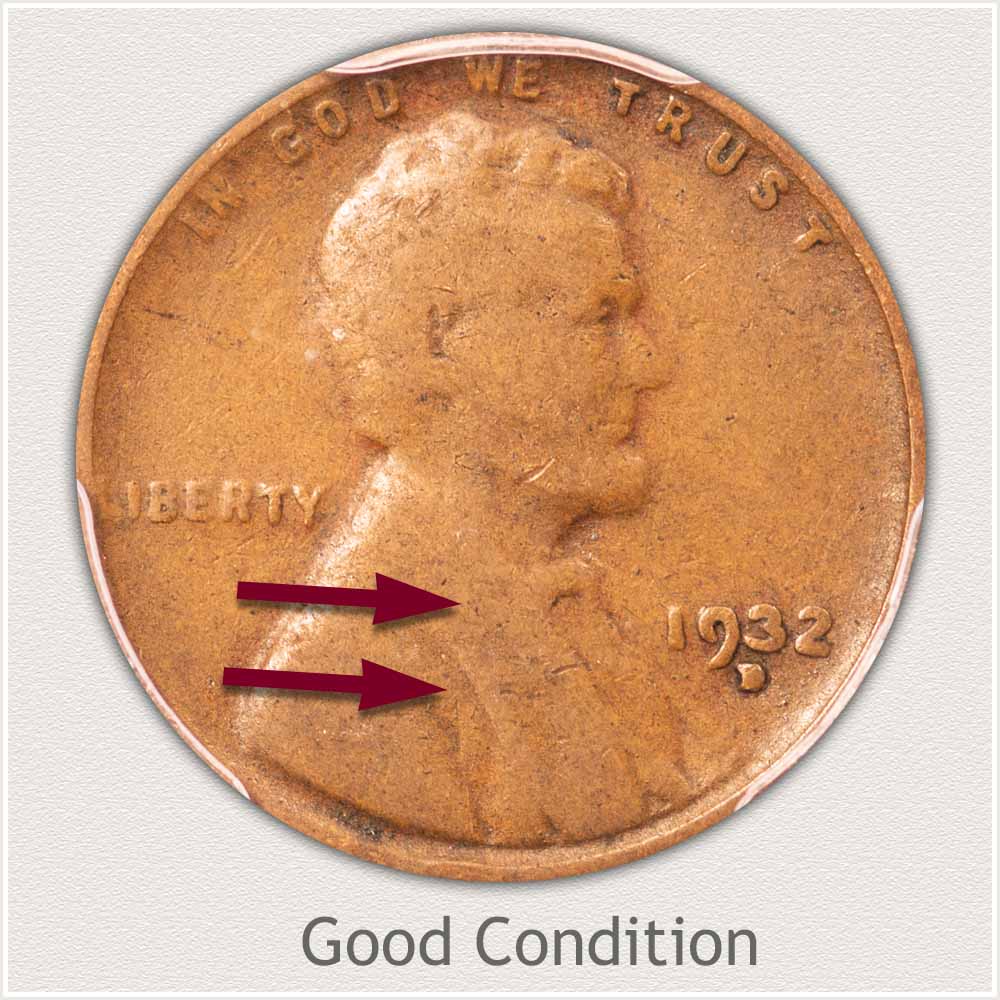 Good Grade: Heavy wear smoothing the design and connecting major areas places a wheat cent in Good grade. Lincoln's cheek and jaw are now connected. Most of the detail within his hair is missing.
A flat area extends along Lincoln's back merging all lines of his coat. Just traces of the lapel line over the coat are visible. Lapel detail separating the shirt is worn almost smooth below the bowtie. A slight amount of detail is visible placing this coin solidly in the good grade.
Bold features remaining: Lincoln's portrait, legends, and date add to appeal. Although heavy wear is present, these major details remain. Nice even toning is a plus to the example penny in good grade.
Video | Grading Lincoln Wheat Pennies
Grading Lincoln Wheat Pennies covers additional points in greater detail when judging condition. Both the obverse and reverse of these wheat pennies have many areas to examine to help confirm and establish a grade. When grading is complete you are in a position to realize true market value.
Step 3: | Special Qualities Enhancing Value
Protecting Future Value of Old Wheat Penny
There is one overriding element that determines value of any wheat penny; condition. Dates and mint marks are separated by rarity but all are judged by their current state of preservation. Maintaining the condition of your coin going forward is needed to assure future value.
Collectors have a choice from a variety of coin holders, each specific in their level of protection.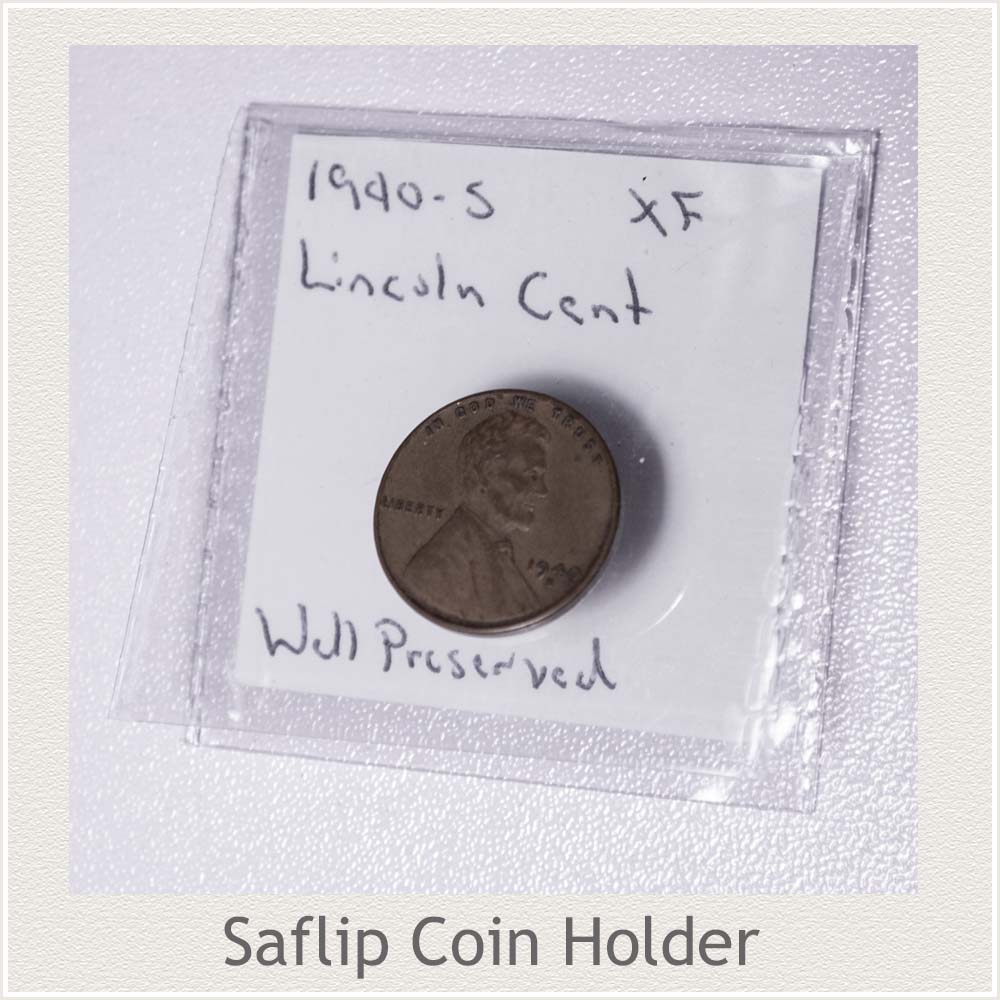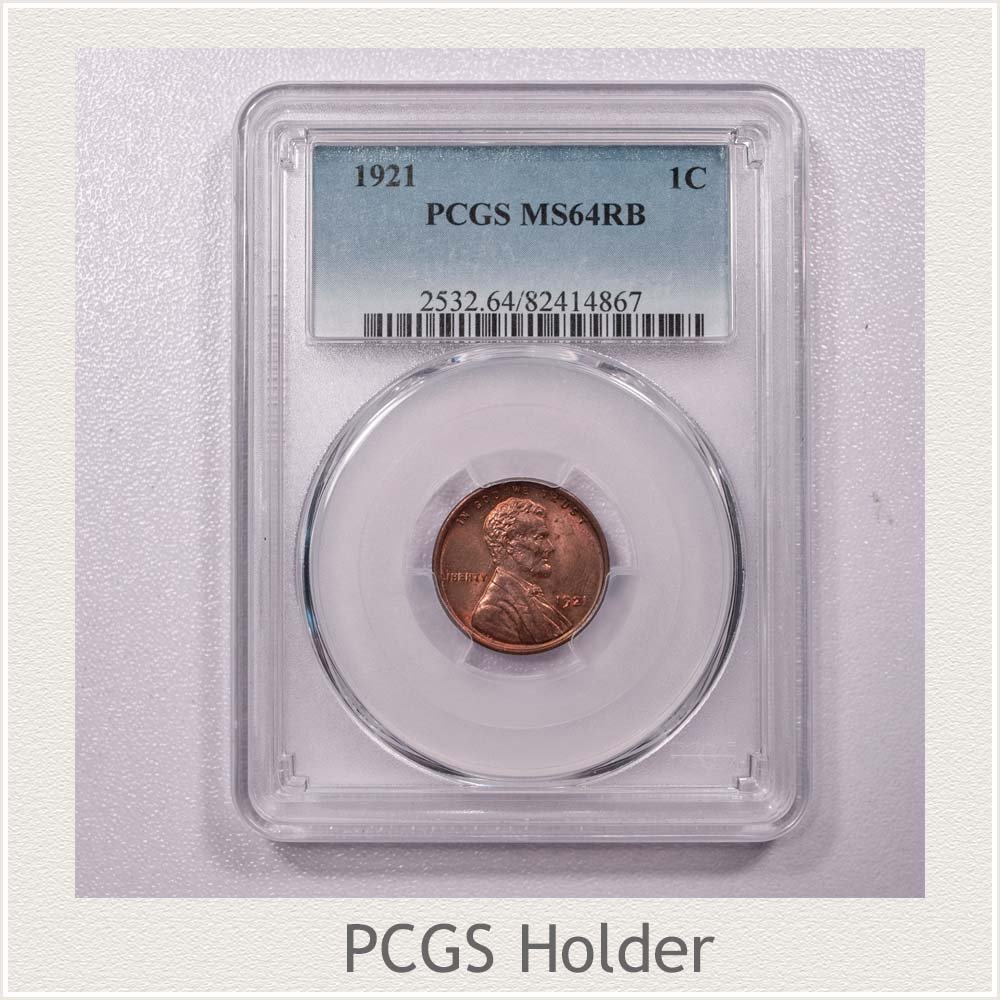 Coin Tubes are excellent when keeping large amounts of average circulated pennies safe from further abrasions and the elements.
Any above average condition wheat penny and all Extremely Fine grade and above are best stored in an individual holder. Saflips are specifically designed for coins, providing safety from further contact with other coins and handling. Article: Safe Coin Stroage
High end cents both in value and condition need a high level of protection. Imaged is a wheat penny in a PCGS holder. PCGS and NGC are accepted by collectors as the top two services that authenticate, grade, and encapsulate your coin. A valuable wheat cent is now protected, assured of its authenticity, and the grade assigned is market accepted, strengthening value. Article: Coin Grading Services
These levels of protection each suited to your coin's condition and value halt a steady decline in preservation of copper coins.
References
US Mint. 1931 US Mint Annual Report https://nnp.wustl.edu/library/publisherdetail/51
Coin Values | CoinStudy Articles
Value chart spans the Wheat design years 1909 through 1958 of Lincoln cents. From uncirculated coins collected by advances collectors to worn examples an affordable collection popular with young collectors. Identify date, mint and condition; a wide range of values is found and identified.
Printable sheet to list and inventory your coins.
★ Coin Values Discovery finds 1930 Penny Value and...
US coin value charts covering cents to gold. Identify your coins using the image links. Date | Mintmarks | Condition are described and imaged with each series. Small details necessary to accurately value are described.