Coin Values Moving with Precious Metals: Up-Dated 11/27/2023: Gold $2010 | Silver $24.66
1932 Penny Value
Completing 1932 penny value goes through two major steps. First: Identify the mint that struck the coin. Wheat pennies are collected by date and mint mark combinations. Value charts list these varieties separately and in a range of grades of condition.
Second Major Step: Judging Condition, a key factor in deciding on an accurate value. Small differences used to judge grade are highlighted to compare your coin.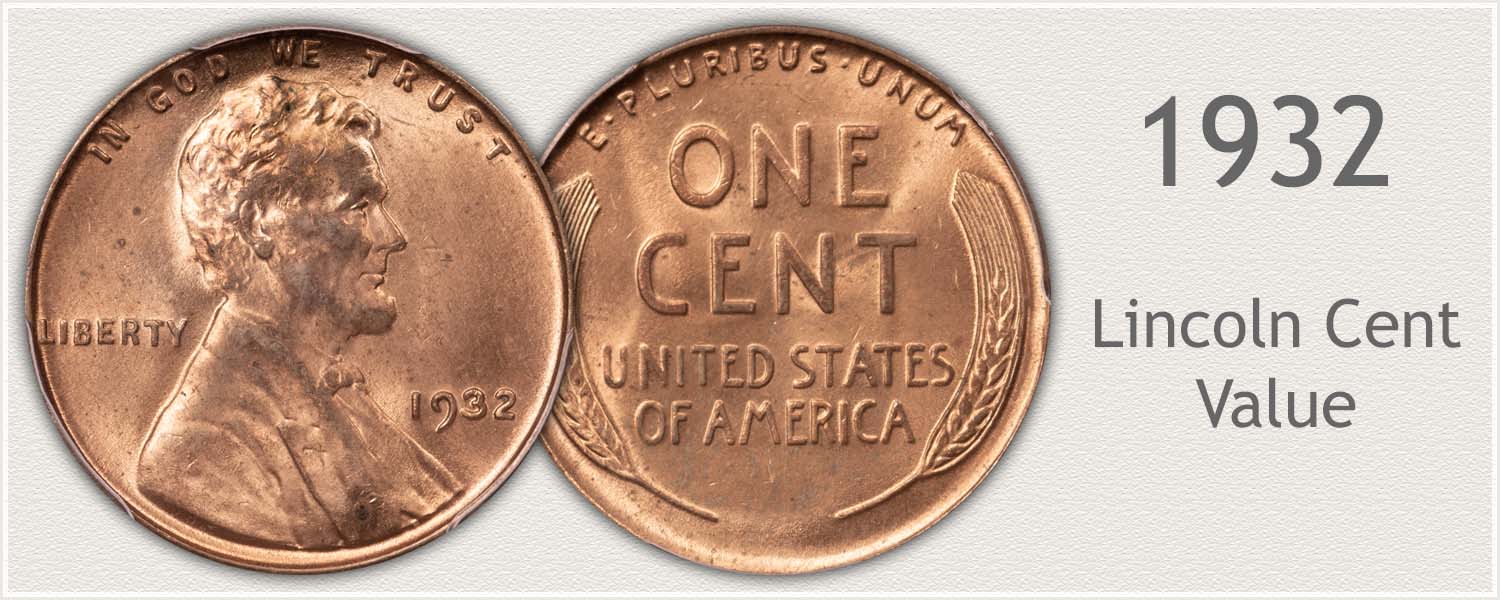 Steps Leading to Value:
Step 1: Date and Mintmark Variety – Identify each date and its mintmark variety.
Step 2: Grading Condition – Judge condition to determine grade.
Step 3: Special Qualities – Certain elements either enhance or detract from value. A step by step process is followed to determine how much these old wheat pennies are worth.
1932 Lincoln Penny Value
Condition of Coin
Date
Good
Fine
Extremely
Fine
Uncirculated
1932 Lincoln Penny Value Up-Dated
2023
1932
$0.92
$1.94
$4.77
$12
1932 D
$0.94
$1.42
$3.20
$12
A 1932 wheat cent is still considered part of the early years of the series. These are closely inspected, determining condition. Moving through a value process of recognizing Date | Mint Mark | Condition: finds the correct place on the value chart.
Identify the mint that struck the coin by comparing to images found below. Match the condition of your coin to the images, finding a close match. Descriptions highlight points to inspect narrowing the value range.
Step 1: | Date and Mintmark Combination
Identify 1932 Penny Variety
1932 is significant as the 2nd lowest year of cent production combined from all mints. As listed within the US Mint Report, 19,562,000 bronze cents were produced. San Francisco mint struck no cents, occupied with coining the new Washington quarters and refining gold and silver.
1932 Lincoln Penny
No Mintmark Under Date: Philadelphia Mint Struck the Coin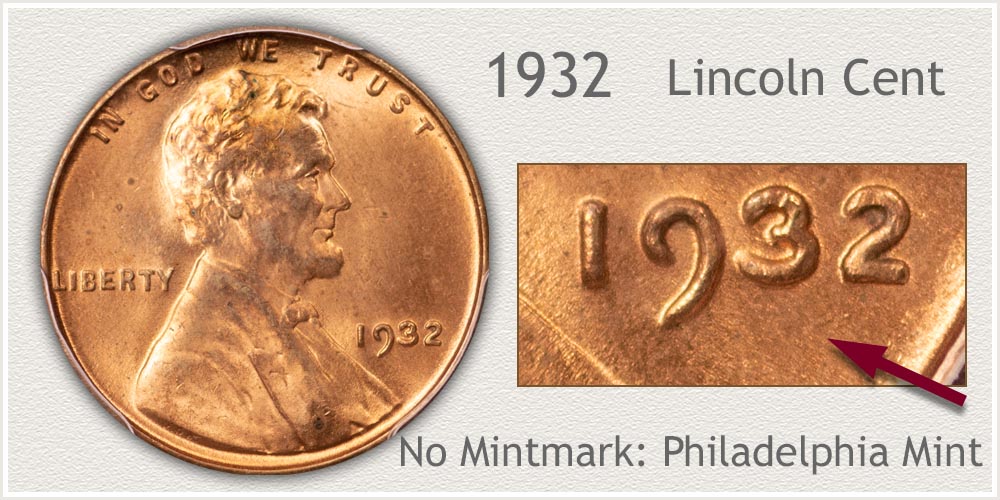 Wheat cents struck at Philadelphia are quietly on a rarity scale as Infrequent. Mintage numbers are the lowest of any wheat cent year from the facility. However, 9,062,000 coined does not stand out as within the 10 lowest mintages, a somewhat overlooked situation.
Without attention as a scarce issue, many 1932 cents stayed in circulation receiving heavy wear. A notable rise in value is found with coins showing only light wear. If there is a clear separation of Lincoln's cheek from jaw a closer judgement of condition is needed. See grading images below.
1932-D Lincoln Penny
"D" Mintmark Under Date: Denver Mint Struck the Coin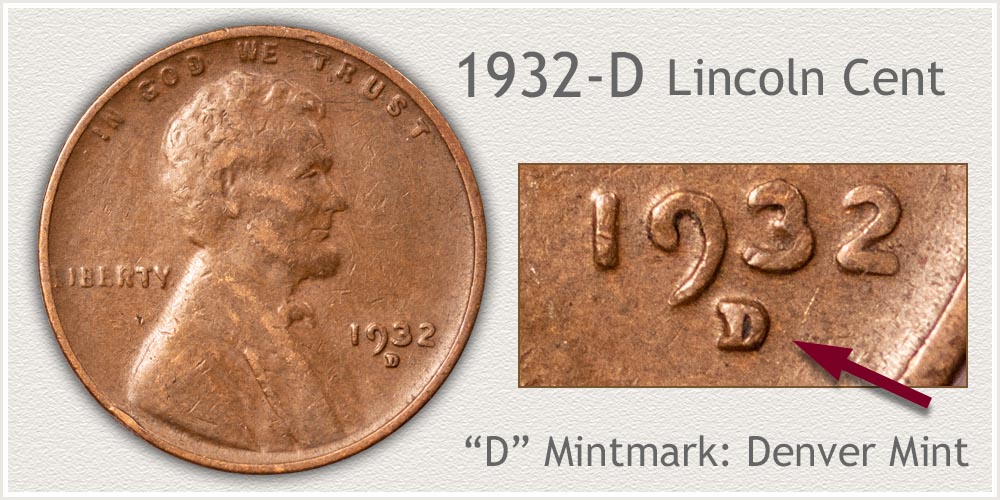 Denver mint divided its time refining gold and silver, striking the new Washington quarters, and striking 10,500,00 cents. Interest with collectors is sparked by the fact it is the first time Denver struck more cents than Philadelphia.
Lightly worn or better condition 1932 cents are sought by collectors. Strong value is found when the coin displays a lack of distracting marks.
Step 2: | Judge Condition to Identify Grade
Collectible Grades Define 1932 Penny Value
Collectors inspect each coin, judging condition. Grade, a notation of condition, is determined and used as part of the description of the coin. Collectors and dealers now combine date, mintmark, and grade as they value an individual coin.
Grading any coin involves subtle points as to its condition. Buyers - collectors see a coin have their point of view. Sellers - dealers view a coin from a different perspective. An overall conservative approach when judging condition finds a solid grade and happy medium.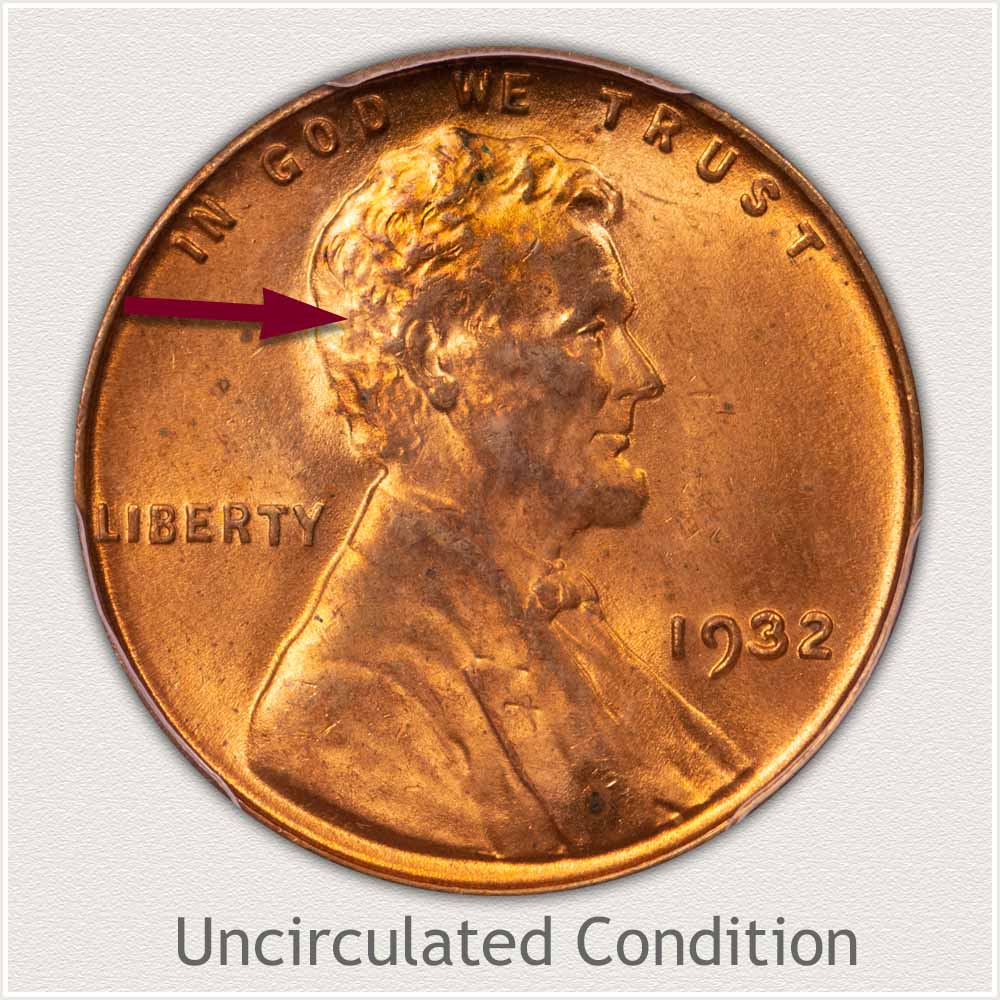 Uncirculated Condition: A coin with no wear to the surface is graded as "uncirculated". These coins are at the top of the collectible and value scale.
Look closely at the hair just above and behind the ear of Lincoln. A small tuft of hair curls over and just covers the very top of the ear. A mint state - uncirculated coin displays the curl with a rounded profile. Any wear shows as a flattening and smoothing effect.
A subtle deeper toning lays on the high points of the 1932 penny imaged. It is the first stages of toning and does not indicate wear. A close examination confirms no smoothing to the surface. To collectors such toning is an added appeal giving a contrast to design elements.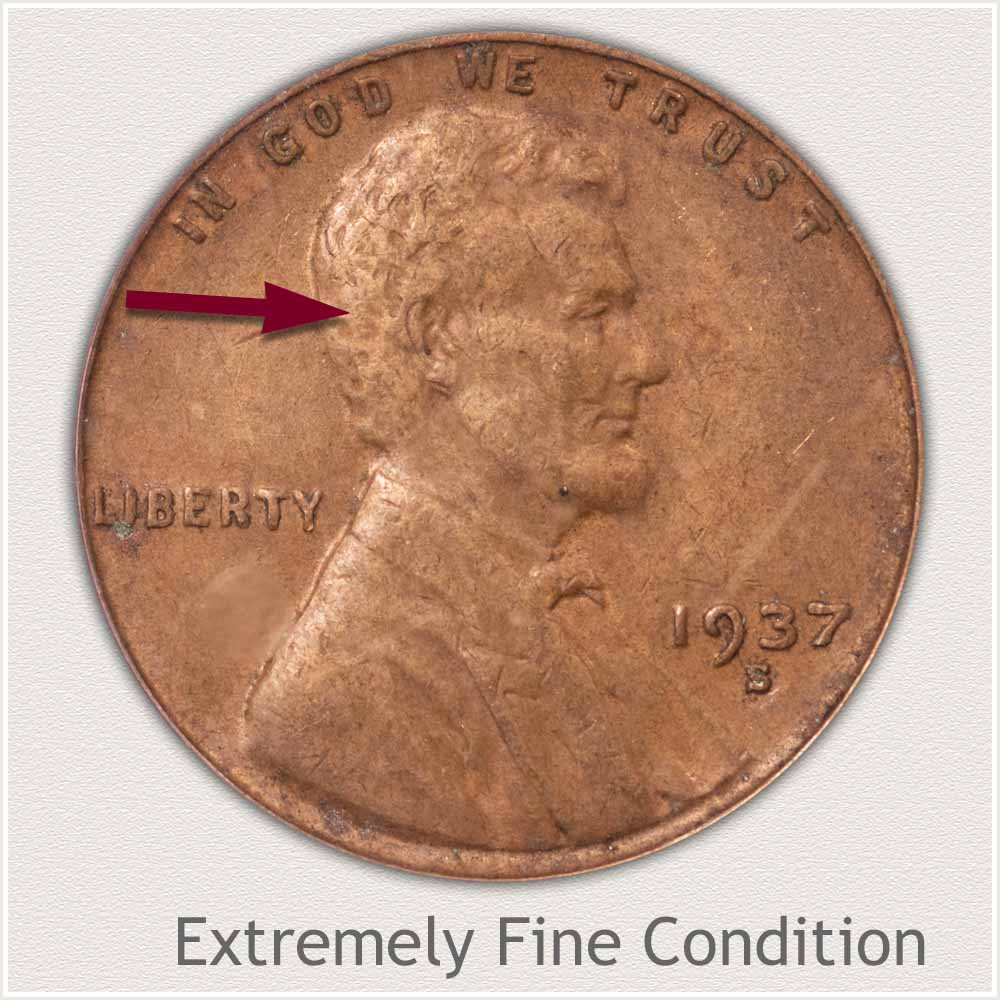 Extremely Fine Grade: An Extremely Fine grade wheat cent displays a light degree of wear over its surface. All major and most minor details remain sharp.
A small amount of wear is evident on the upper edges of the waves of hair. Judge the areas just above and behind Lincoln's ear. Hair is worn but no areas connect. Further back on Lincoln's head wear is very light.
With ample detail left in the coat, shirt, and across Lincoln's face a well-defined portrait remains on this coin. Light tans and deeper brown highlight the outer edges and lettering adding to the eye appeal. A pleasing wheat penny.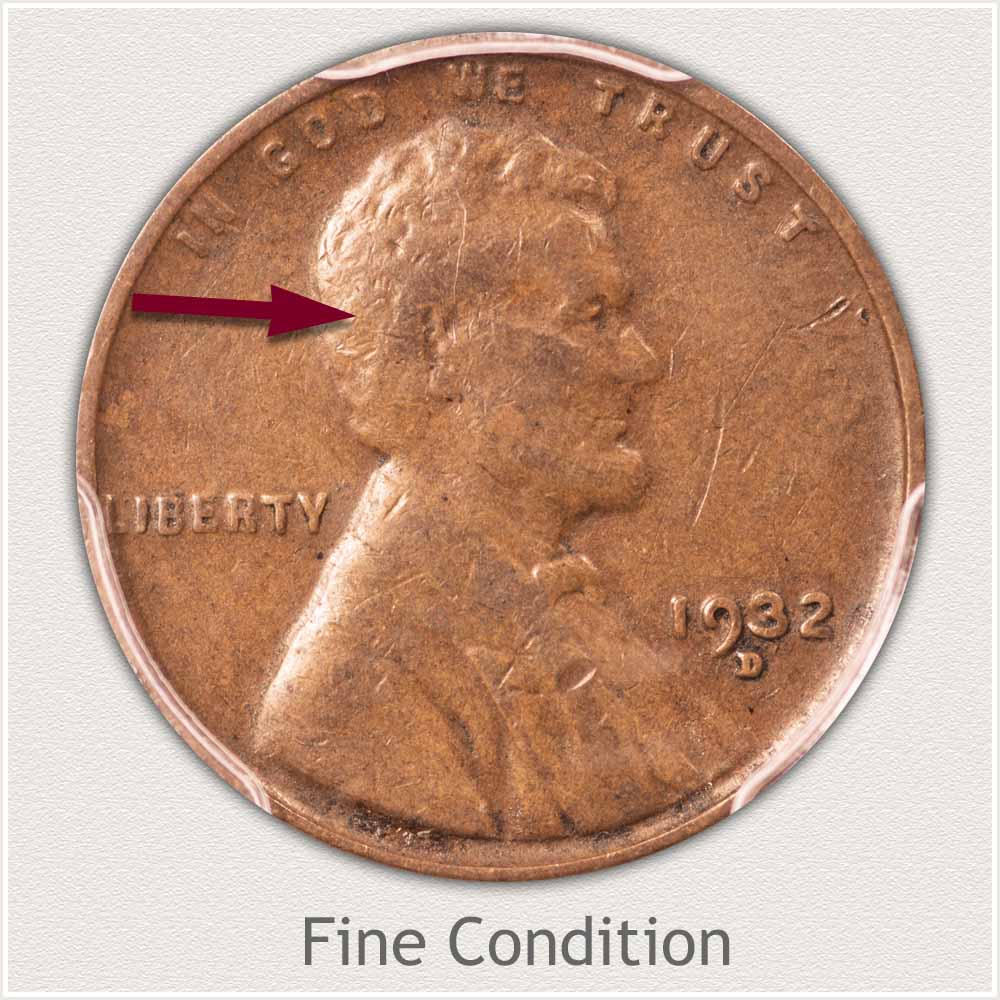 Fine Grade: Moderate wear towards the outer edges with heavier wear within the central areas indicates a coin in Fine grade. Major details are strongly visible.
Lincoln's hair is beginning to show areas of merging. Flatness extends to above his ear and a small connection of his forehead is noted. Waves of hair show ample detail towards the back of his head placing this example strongly in the Fine grade.
Fine condition wheat pennies remain well defined, portrait, legends, and date. Many year and mintmark combinations in Fine grade are worth a premium. Adding to value are subtle qualities. A nice contrast in colors is noted on the example. Lighter tones of tan contrasted by darker shades, helping highlight all details.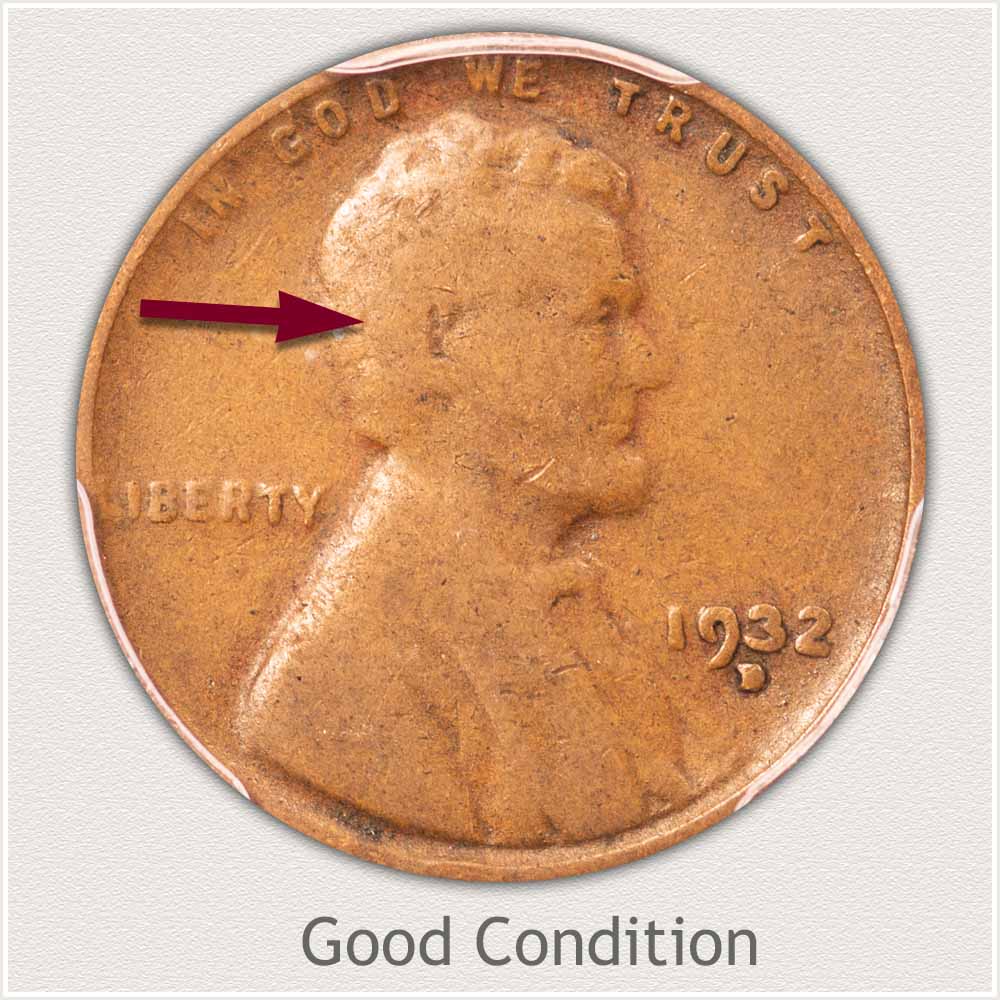 Good Grade: Heavy wear has flattened most of the design to a wheat penny in the Good grade. Contours to the face and most of coat and shirt are level but remain bold from the field. Legend and date, often faded, are visible and clear enough to read.
Wear has flattened all hair detail surrounding Lincoln's ear. A flat surface extends into his forehead and temple area. Evidence of hair detail is now confined to the top of his head.
Eye appealing Lincoln cents from the 1920's are well received by collectors. Examples in good condition are examined for scattered marks and discoloration. Solid grade and value wheat pennies lack noticeable distractions.
Video | Grading Lincoln Wheat Pennies
To further illustrate grading and pinpoint areas to consider Grading Lincoln Wheat Pennies. adds video, images, and descriptions to identify subtle details to condition. Many date and mintmark varieties of wheat pennies have large value ranges because of condition.
Step 3: | Special Qualities Enhancing Value
Resources to Pinpoint Value of Special Qualities
Appraising the value of a coin begins by judging and identifying easily recognizable qualities. A US coin clearly displays Denomination | Date, and once located, a Mint Mark.
A level of study needs to increase when judging condition. Smaller, subtle details are considered to identify a grade. An understanding of "range of grade" is found when comparing a coin to grading images. Helpful with a lower value coin that finds only a small change in value ascending the condition scale. A rare date and mint example often increases in value rapidly the nicer the quality. A rare coin needs an accurate decision of grade to identify value.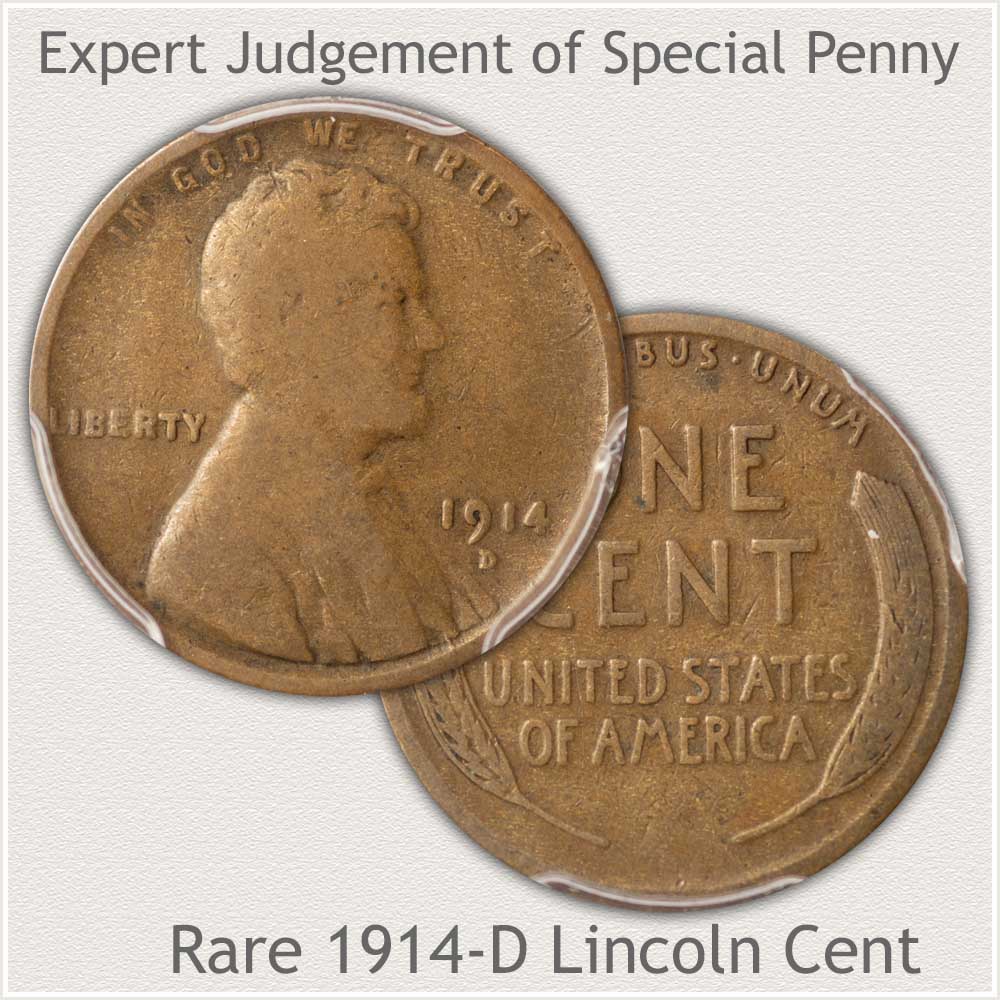 A good example of expertise needed to realize full value is the 1914-D cent imaged. A rare, key date to the wheat series, value begins high and climbs quickly with grade. A high degree of accuracy at grading and authenticating improves marketability.
Within the collecting hobby most rare - valuable coins are submitted to one of the top grading services. Specialists authenticate and grade your coin. Many hobbyists submit their coins themselves to these services. However, the top grading services; PCGS and NGC also list on their sites a network of dealers who handle submission for you.
PCGS Authorized Dealers: PCGS
NGC Authorized Dealers: NGC
Once you have identified a possible higher value coin, and need assistance in further evaluation, an authorized dealer helps determine the best actions to take.
References
US Mint. 1933 US Mint Annual Report https://nnp.wustl.edu/library/publisherdetail/51
US Mint. 1932 US Mint Annual Report https://nnp.wustl.edu/library/publisherdetail/51
Coin Values | CoinStudy Articles
Lincoln Wheat cents span the years 1909 through 1958. From the top condition coins collected by advanced collectors to worn examples; to an affordable collection for young collectors, the range of value is extensive. Identify your date, mint and condition and refer to the value chart.
Coin Value Guide | How to Value a Coin Collection
A step by step method combined with the coin value online guide identifies how to value a coin collection. Discover how much your box of old coins is worth.
★ Coin Values Discovery finds 1932 Penny Value and...
US coin value charts covering cents to gold. Identify your coins using the image links. Date | Mintmarks | Condition are described and imaged with each series. Small details necessary to accurately value are described.