Coin Values Moving with Precious Metals: Up-Dated 9/25/2023: Gold $1921 | Silver $23.44
1954 Penny Value
Locating the correct position on the chart is a step by step process to identify key factors. Date | Mint Mark | Condition
1954 penny value first confirms Date and Mint Marks. An important part is condition of the coin.
Mint marks create varieties of 1954 wheat pennies, each collected and valued separately. Closely followed by condition of the coin. A large separation of premium is noted starting with the Extremely Fine grade.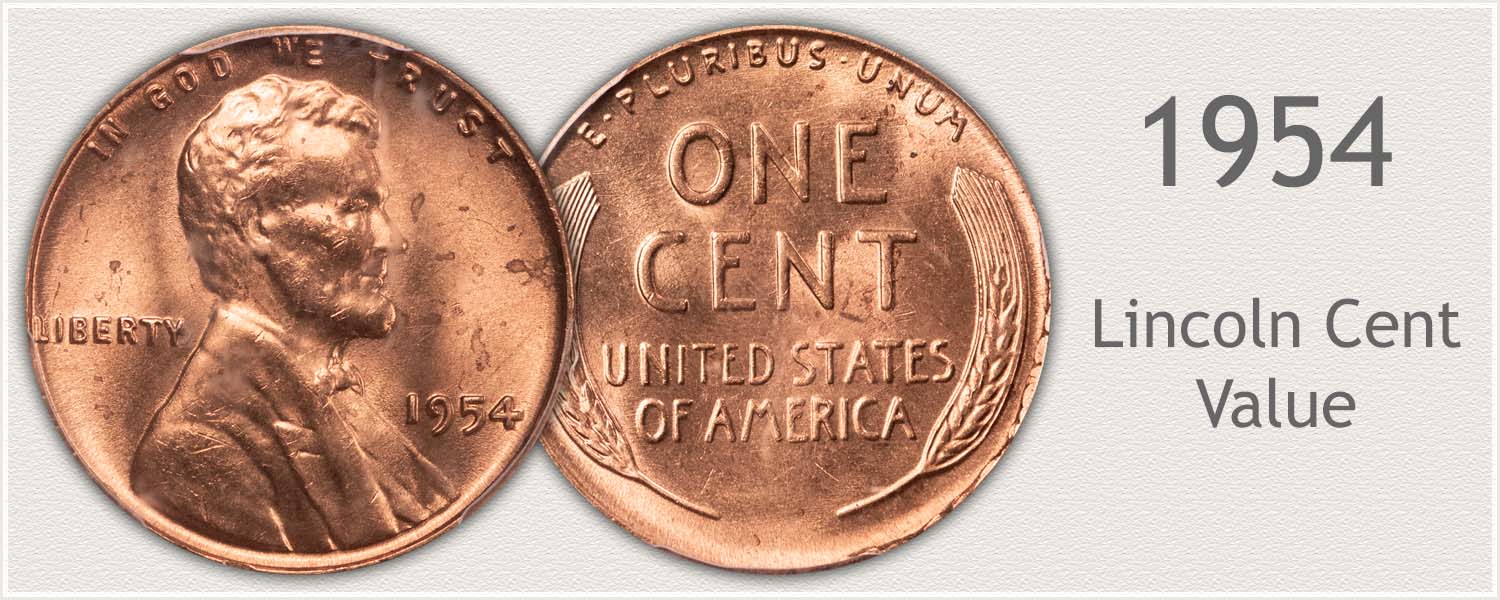 Steps Leading to Value:
Step 1: Date and Mintmark Variety – Identify each date and its mintmark variety.
Step 2: Grading Condition – Judge condition to determine grade.
Step 3: Special Qualities – Certain elements either enhance or detract from value.
1954 Lincoln Penny Value
Condition of Coin
Date
Good
Fine
Extremely
Fine
Uncirculated
1954 Lincoln Penny Value Up-Dated
2023
1954
$0.02
$0.02
$0.04
$0.83
1954 D
$0.02
$0.02
$0.04
$0.58
1954 S
$0.03
$0.03
$0.05
$0.69
A 1954 wheat cent is part of a popular series of coins to collect. These are closely inspected, determining condition. Moving through a value process of recognizing Date | Mint Mark | Condition: finds the correct place on the value chart.
Step One: Date | Mint Mark combination. Identify the mint that struck the coin by comparing to images found below.
Step Two: Condition is listed on the chart as a range of values. Match the condition of your coin to the images, finding a close match. Descriptions highlight points to inspect narrowing the value range.
Step 1: | Date and Mintmark Combination
Identify 1954 Penny Variety
Collecting interest drive values of Lincoln pennies. Most collectors obtain an example from each date and mint of the wheat series as part of a collection. Three varieties of the 1954 penny were struck, each in demand. Values are listed separately on the chart.
1954 Lincoln Penny
No Mintmark Under Date: Philadelphia Mint Struck the Coin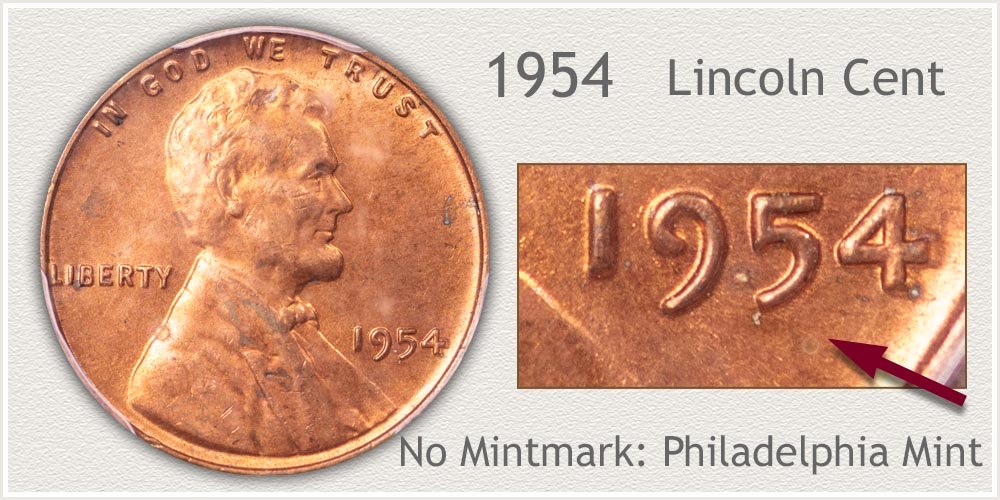 In 1954 production at Philadelphia shifted away from minor coinage. Striking 71,873,350 cents, 8th lowest of the entire series. Philadelphia was still shipping prior year cents from stock. An unusually low mintage prompted saving of these, placing them as Abundant on the rarity scale.
A higher end example 1954 penny displays crisp "in focus" details. Consider your coin as above average if all lettering has a well-defined look and sits bold from the field. On the reverse examine letters of "ONE" for a strong dimension above the field.
1954-D Lincoln Penny
"D" Mintmark Under Date: Denver Mint Struck the Coin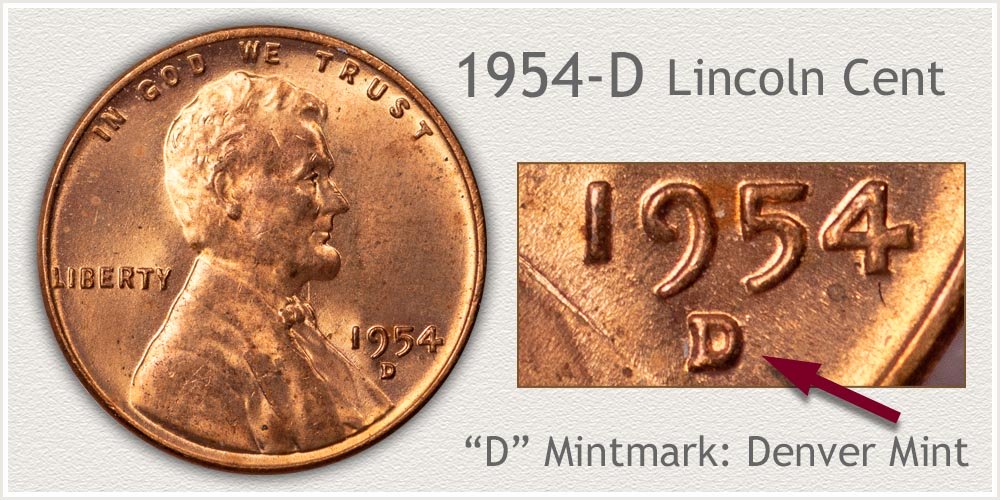 Denver variety 1954 cents are Abundant on the rarity scale. Collectors have many to select from in both Mint State condition as well as worn examples. Judging condition is needed to single out collector grade pieces.
Examine any 1954-D penny with an eye towards higher end condition and details. Noticing the reverse wheat stalks ending in separated lines is an indication of a well-preserved coin. A lightly worn example is affordable to young collectors adding to their popularity.
1954-S Lincoln Penny
"S" Mintmark Under Date: San Francisco Mint Struck the Coin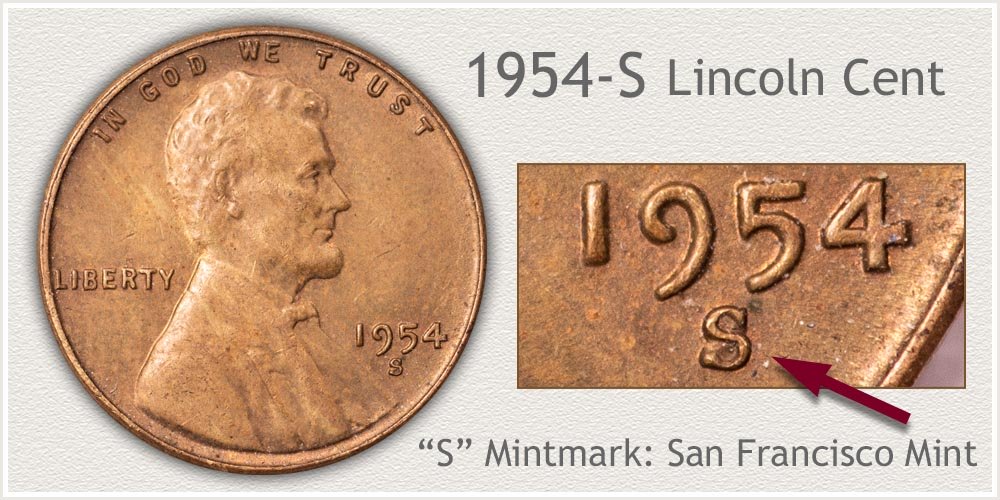 In the collecting world San Francisco striking more cents in a year than Philadelphia is a headline. First and only time in the wheat cent history. Producing 96,190,000 pennies in 1954. Many were saved and are Abundant on the rarity scale.
San Francisco variety wheat cents carry a slight premium because of their overall lower production numbers. Higher end examples, sought by collectors, are slightly circulated or higher condition. Distinctive details in Lincoln's coat as it passes over his shoulder are pennies in above average grade.
Step 2: | Judge Condition to Identify Grade
Grade Separates Average from Above Average 1954 Penny Value
Collectible condition is key to finding added value. Many 1954 pennies exist, many worn beyond collectible status. Condition is judged using the following images and a conservative approach.
Grading pennies needs a close view of small areas. A 5x power magnifying glass is a good choice. If a magnifying glass is not available, an image is often taken and used to enlarge key points.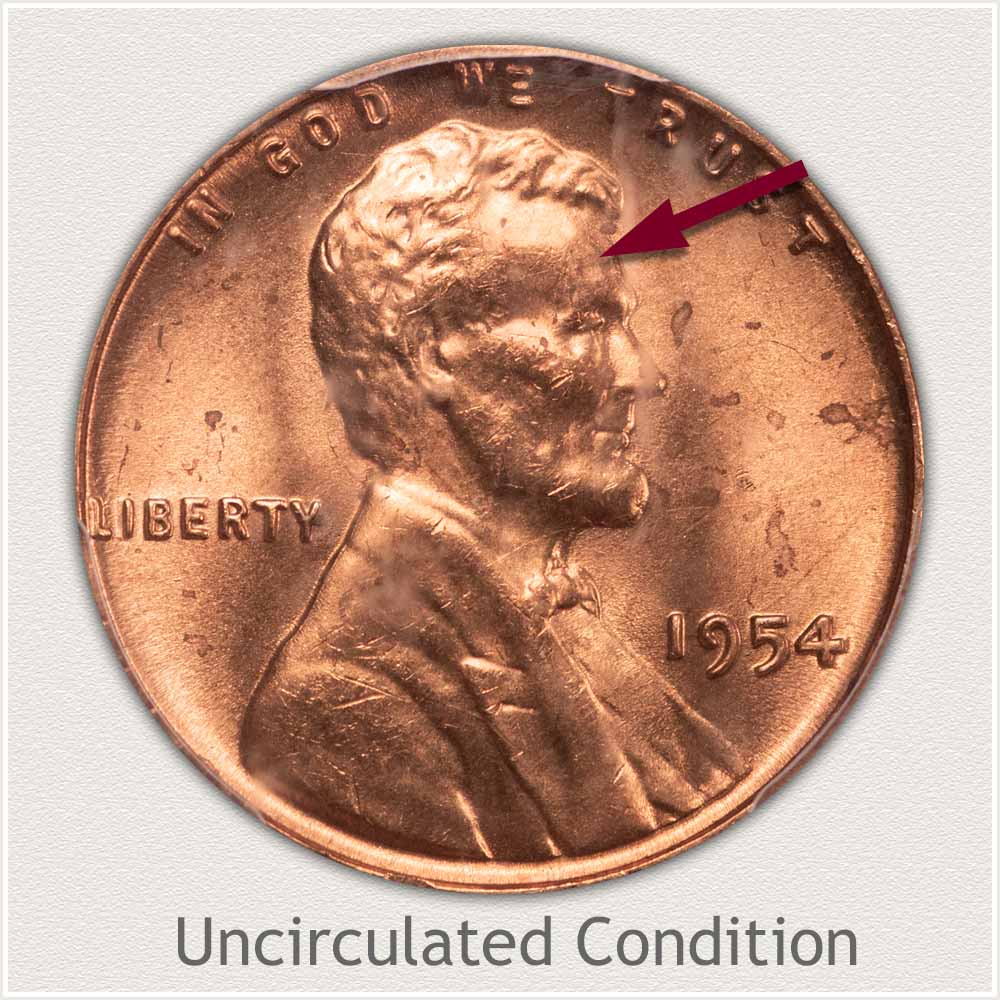 Uncirculated Grade: An uncirculated coin has no wear to its surface. Lincoln's forehead and temple area extending to his eyebrow is an area prone to first wear, judge for any smoothness and lack of luster.
With all original design detail still intact, view Lincoln's forehead. Mint state grade is covered with a fine grain texture producing luster. Many subtle high and lower areas are visible extending to his eyebrow. A texture of luster must cover the entire area and sit on top of high and low relief areas. No smoothing to the metal is evident.
Wear quickly shows once a coin enters circulation. Bright luster is a plus for the 1954 mint state coin imaged. Few marks disturb the surface and no dulling of shine caused by wear.
Evaluate Toning of 1954 Penny: Amount of toning is considered within the mint state - uncirculated grade. Technical judgement to absence of wear is not indicated by the presence of toning. Toning develops on all copper coins independent of wear.
All three example wheat cents are uncirculated, no wear to the surface. Looking "underneath" the toning finds undisturbed surfaces. Lincoln's forehead remains with original minted texture. His high-profile temple and eyebrow display no smoothing.
Toning does change the look and eye appeal of these old pennies. A bright fresh luster is top in preference with collectors. A moderately toned coin is often pleasing with shades of brown and reds. Mostly brown is least favored.
Extremely Fine Grade: Areas of light wear are visible on an Extremely Fine grade wheat cent. Overall appearance is bold with many protected areas full of finer details.
Lincoln's forehead is high in profile extending from the hair line to eyebrow. Wear on the forehead and temple remains light with only traces of flattening to the metal. A separation is noted from all elements; hair line, temple, and eyebrow.
Bold devices, sharp legends, and defined date give this coin a quality sought by collectors. Wheat pennies from the 1950's have a strong collector base. Extremely fine grade examples are sought by new and beginning collectors learning finer points to collecting. An affordable, pleasing, circulated example fits nicely into collections.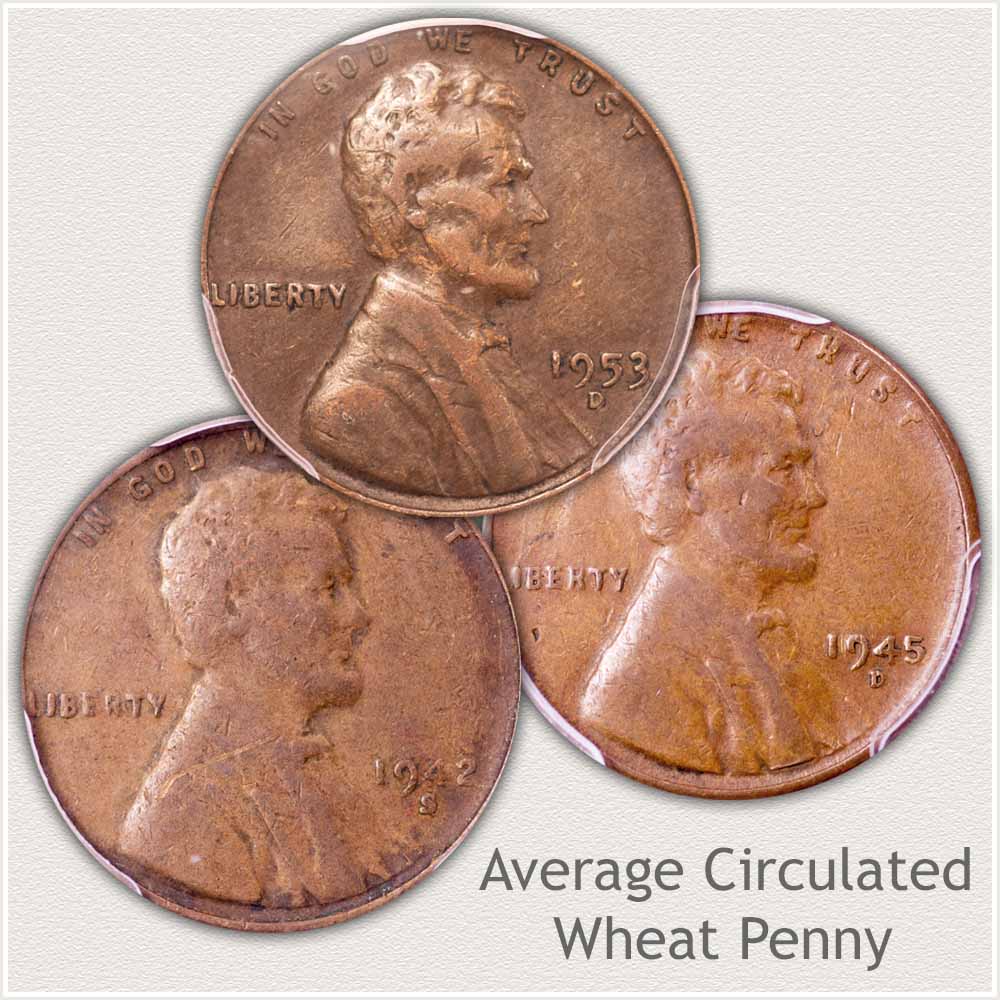 Average Circulated Condition: Wheat pennies worn to less than extremely fine grade are available in quantities. As the wheat design was retired in 1958, saving of these old coins began with many from the 1950's. Readily available, these circulated coins form the base value to wheat cents.
An average circulated coin displays wear flattening many of the bold features of Lincoln. His hair is now connected to the temple. Forehead is flattened and merges with the eyebrows. Loss of high-profile elements is distinct.
Each of the coins display a nice natural brown toning, an important positive. Note also a lack of large marks, any distractions would reduce market acceptance.
Video | Grading Lincoln Wheat Pennies
Grading Lincoln Wheat Pennies covers additional points in greater detail when judging condition. Both the obverse and reverse of these wheat pennies have many areas to examine to help confirm and establish a grade. When grading is complete you are in a position to realize true market value.
Step 3: | Special Qualities Enhancing Value
1954 Penny Displays a Strong Strike
Minting a wheat penny involved a high-speed striking process. Millions were produced, bins full of cents per day. Demand for minor coinage often caused mints to work overtime and multiple shifts. The pace within the striking room was intense.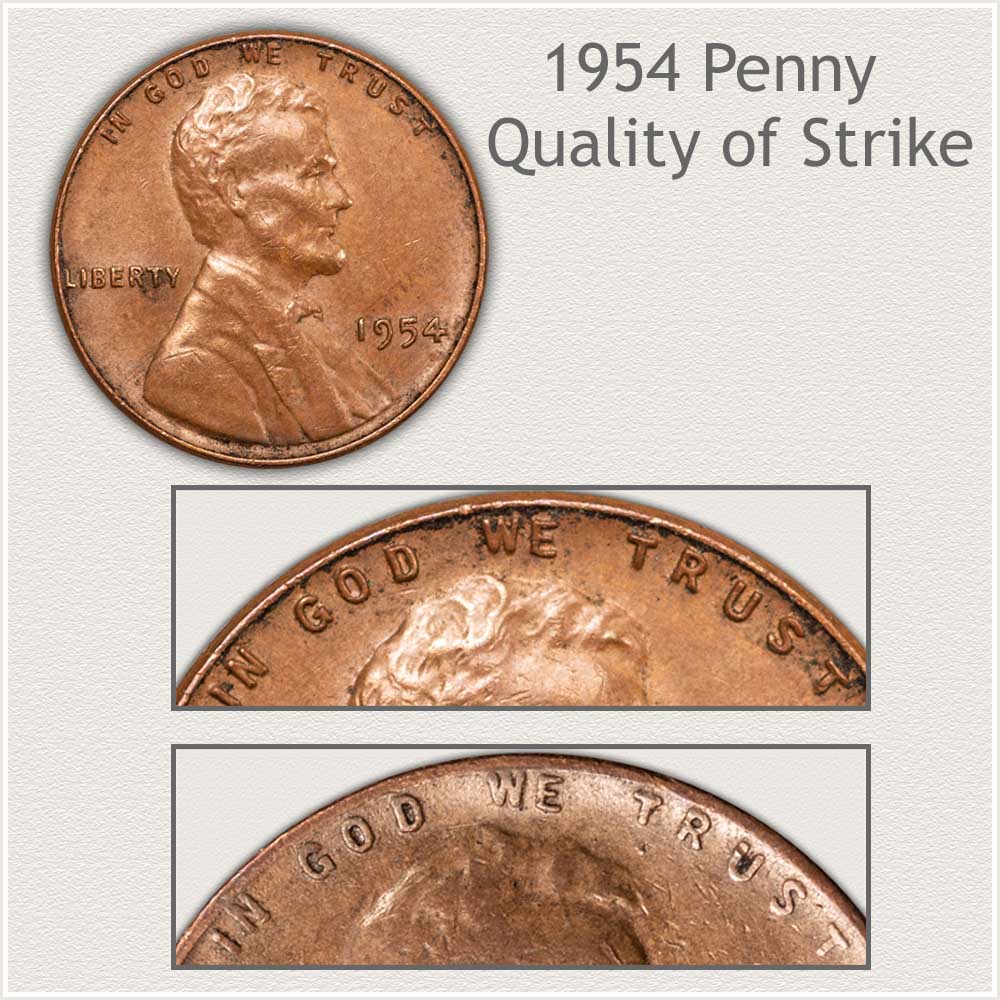 In 1954 the Philadelphia mint recorded 71,873,350 cents struck. Within this large amount, variances in depth and sharpness of strike occurred. Part of any coin's value is it overall appeal to collectors. A well struck coin is favored over a softly struck example. During grading a coin an added refinement is identify "quality of strike".
A nice, well struck 1954 wheat penny is somewhat elusive. Crisp lettering and sharply defined rim add to eye appeal. Notice a clear legend, a strong, raised rim; both nicely separated. Compare to the somewhat "faded" legend. Lettering is shallow in height, appearing to curve upwards and connecting with the rim. Rim itself is weakly defined with no clear drop and separation with fields.
Subtle details of a sharp strike, glossy brown toning, and lack of marks adds to the charm of an old wheat cent.
References
US Mint. 1955 US Mint Annual Report https://nnp.wustl.edu/library/publisherdetail/51
Coin Values | CoinStudy Articles
Lincoln Wheat cents span the years 1909 through 1958. From the top condition coins collected by advanced collectors to worn examples; to an affordable collection for young collectors, the range of value is extensive. Identify your date, mint and condition and refer to the value chart.
Understanding value of your old pennies is a great first step to successfully selling these coins. Resources helping find markets is the next step.
Coin Value Guide | How to Value a Coin Collection
A step by step method combined with the coin value online guide identifies how to value a coin collection. Discover how much your box of old coins is worth.
★ Coin Values Discovery finds 1954 Penny Value and...
US coin value charts covering cents to gold. Identify your coins using the image links. Date | Mintmarks | Condition are described and imaged with each series. Small details necessary to accurately value are described.