Coin Values Moving with Precious Metals: Up-Dated 11/27/2023: Gold $2010 | Silver $24.66
1942 Penny Value
Important to 1942 penny value are key elements. Mint Mark recognition and a good judgement of condition. Applying the step by step process of identifying: Date | Mint Mark | Condition narrows its value range on the chart.
Old wheat pennies are collected by dates and mint marks. Also, attention to condition plays a large role in deciding to add coins to a set.
Viewing the chart illustrates the premium enjoyed by finer condition coins. They are in greater demand with a limited supply.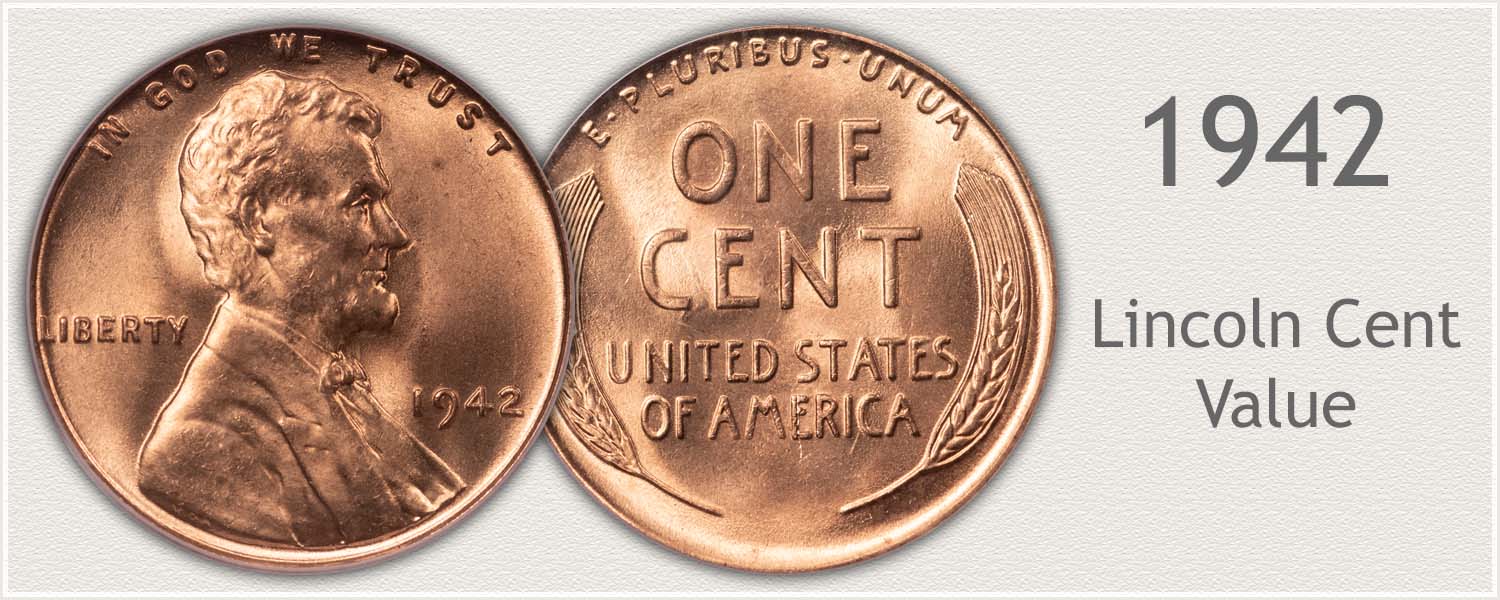 Steps Leading to Value:
Step 1: Date and Mintmark Variety – Identify each date and its mintmark variety.
Step 2: Grading Condition – Judge condition to determine grade.
Step 3: Special Qualities – Certain elements either enhance or detract from value. S-Mint mark variety is explored.
1942 Lincoln Penny Value
Condition of Coin
Date
Good
Fine
Extremely
Fine
Uncirculated
1942 Lincoln Penny Value Up-Dated
2023
1942
$0.02
$0.06
$0.16
$1.26
1942 D
$0.02
$0.06
$0.16
$1.40
1942 S
$0.03
$0.14
$0.40
$4.08
Reading the chart and deciding where your coin fits is part of a value process. Key factors are needed. Date | Mint Mark | Condition
Date and mint mark combinations identify the correct variety 1942 penny. Three mints struck wheat pennies in 1942, each with different production numbers. Images locate the mint marks of the branch mints.
Judging condition begins with first impressions. Is the coin flat and tired in appearance, verses nice and well detailed? Bold features of Lincoln with crisp lettering indicates an above average condition coin.
Images comparing different stages of wear are used in the grading section to match your coin. Attention to subtle points of condition are described.
Confirm: Date and Mint Mark first.
Step 1: | Date and Mintmark Combination
1942 - Three Varieties to Identify
Large mintages of all varieties in general equate to many still available today. Saved and removed from circulation long ago. These represent an opportunity to place in a date and mint variety set, enjoyed and collected by all ages of collectors. San Francisco variety cents of 1942 standout as having higher value in above average condition.
1942 Lincoln Penny
No Mintmark Under Date: Philadelphia Mint Struck the Coin
Philadelphia struck the 6th highest number of wheat cents in 1942 of all years of production. 657,796,000 in total. Because of a large mintage these are Abundant today on a rarity scale. Available in a wide range of condition from well-worn to Mint State.
Desirable mint state coins are bright in color and few abrasions. Circulated coins, those with wear, are desirable if wear is light and Lincoln's profile is well detailed. Look close at his bow-tie, all four edges visible is indicating a desirable coin to a circulated set.
1942-D Lincoln Penny
"D" Mintmark Under Date: Denver Mint Struck the Coin
On a rarity scale, Denver Varity 1942 cents are Abundant. Ample production leaving many surviving today. A market exists for pleasing examples with minimal to no wear. Circulated coins fit the needs of young and beginning collectors, upper grade pieces are part of higher end collections.
Any old wheat cent with sharply defined devices needs a closer look. One indication of a coin with strong value is bold lettering along rims on both sides. Often letters LI in Liberty (to the left of Lincoln) seem to curve upward. A sharp transition from field to rim adds desirability.
1942-S Lincoln Penny
"S" Mintmark Under Date: San Francisco Mint Struck the Coin
San Francisco produced the fewest of the 1942 cents, creating interest to the variety.
The 1942-S is the last copper wheat cent with a significant value jump when found in above average condition. Most wore heavily through extended use. In Extremely Fine grade and above it is in demand by collectors assembling circulated sets. Somewhat elusive is shows a nice premium on the chart.
Step 2: | Judge Condition to Identify Grade
1942 Lincoln Penny Value is Conditional
Grade is a definition used by collectors when describing the condition of a coin. Grades listed on the chart range from Good (heavily worn penny) to Uncirculated (no wear). Specific areas are inspected to judge condition.
A magnifying glass is helpful to bring small details closer. 5x power is commonly used by collectors when examining coins.
Uncirculated Grade: Mint state - uncirculated wheat pennies are identified by determining there is no wear to the surface of the coin. Two factors are used to help judge this grade. Luster is a fine texture causing the shimmer to the surface. Second are the high points of design. Luster is delicate and if removed from the high points causes a dulling and smoothing to the metal.
Inspect the area of Lincoln's temple, a fine grain texture of luster remaining confirms a mint state grade. Continue judging the rest of Lincoln's profile within the central portion of the coin.
The example 1942 penny remains bright with original luster and no distracting marks. Open fields in front and back of Lincoln's are prone to contact, added appeal is noted by the absence of marks and nicks.
Extremely Fine Grade: A small amount of wear is visible on a wheat cent grading Extremely Fine condition. Areas are just slightly flattened and the fields of the coin lack original luster.
With minor wear on all high points, identify these areas as still separated. Lincoln's temple just above and in front of his ear shows a small amount of flattening. There remains a separation of temple and cheek line.
A pleasing light brown toning combined with mark free surfaces enhance the eye appeal of the example extremely fine grade cent. A collectible grade wheat penny is marketable with these qualities.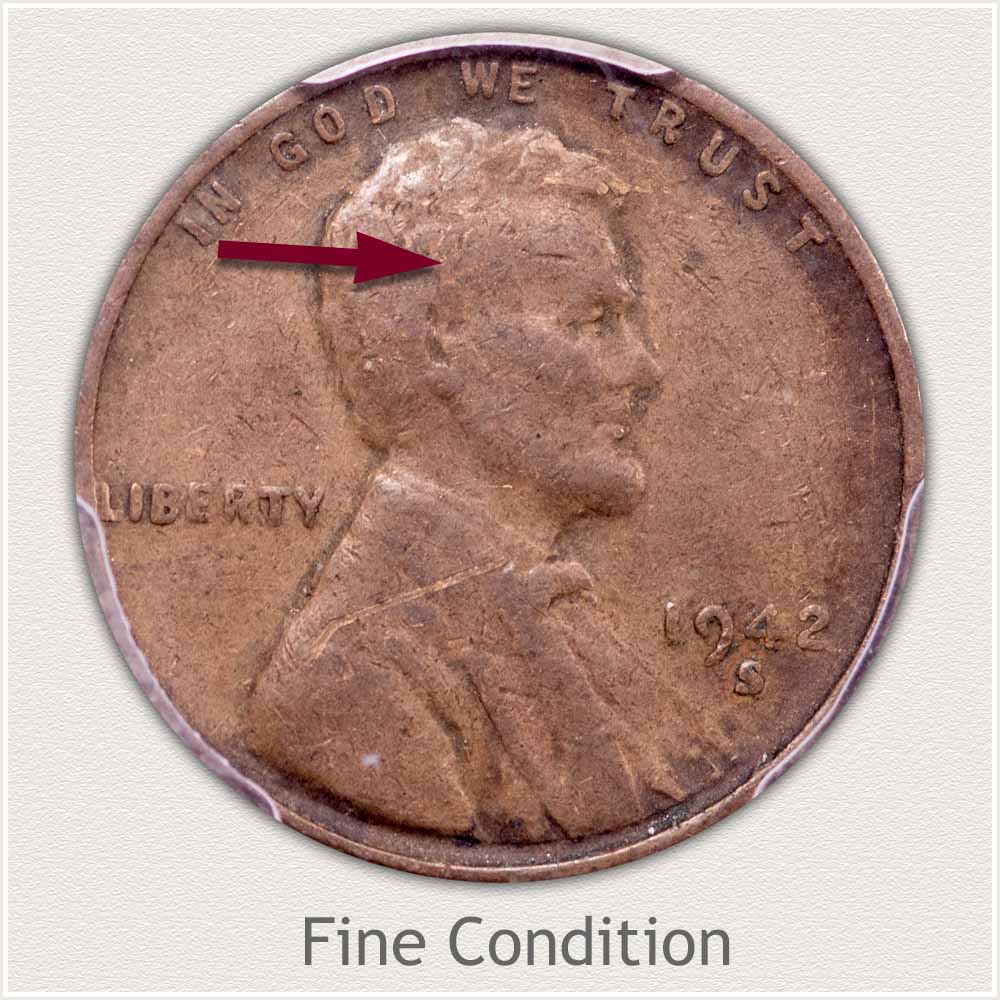 Fine Grade: Lincoln's portrait displays flattening to all major features in the Fine grade. His coat and hair are without most minor details.
Judging the temple area, notice a wide flat area connecting with the ear and upper cheek line. Once high contoured elements are now reduced and merging creating large areas of flatness. A slight depression remains separating Lincoln's temple towards his eye and cheek.
Eye appeal becomes important to value once a wheat penny becomes worn to the fine grade. New collectors find these coins appealing as an affordable collection. Favored are examples lacking large marks and very dark color.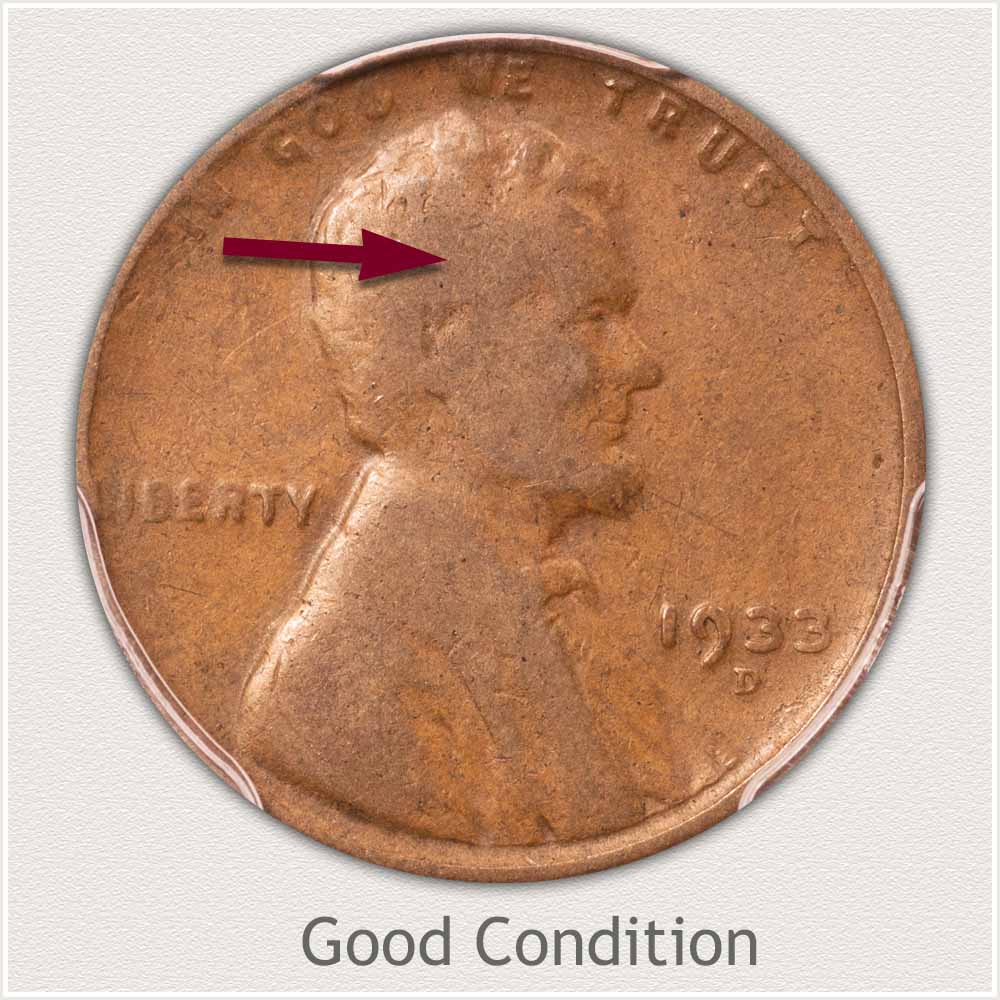 Good Grade: Defining a wheat cent in Good grade is large flat areas throughout the central portion. Lincoln's jaw connects with his cheek and the area surrounding the ear is one flat plane.
Viewing the temple area finds all raised contours flattened. Hair line has merged into the temple and upper cheek line is missing in front of ear. A small depression separates the temple from Lincoln's eye brow.
Nicely blended toning complements the remaining design and legends of the example good condition wheat cent. A pleasing mark free surface is in front and behind Lincoln with no discoloration.
Video | Grading Lincoln Wheat Pennies
Expanding the grading process with video and images: Grading Lincoln Wheat Pennies includes descriptions highlighting key elements to judge when grading.
Obverse and reverse sides of wheat cents are imaged and described. Grading subtle points to condition confirms value range on chart.
Step 3: | Special Qualities Enhancing Value
Identify Premium Value 1942 Penny
Lincoln wheat cents appeal to three large groups of followers. Advanced collectors seeking mint state coins and building high quality condition sets. A second, affordable approach, is pursued by collectors assembling collections of circulated grade examples. Thirdly, many accumulate quantities of pennies, establishing a base value to all wheat cents.
A complete value chart of the wheat series shows the three collecting approaches identified by the large separations in value depending on condition.
Mint state coins sought by advanced collectors are well ahead of all circulated grade coins in value.
Pennies dated 1909 to 1933 in circulated grades are worth a premium, and appeal because of affordability.
A break point in value occurs in 1934 to 1943 separating extremely fine grade coins from the rest.
From 1944 to 1958 the separation in value is between circulated and mint state grades with most circulated coins close in value.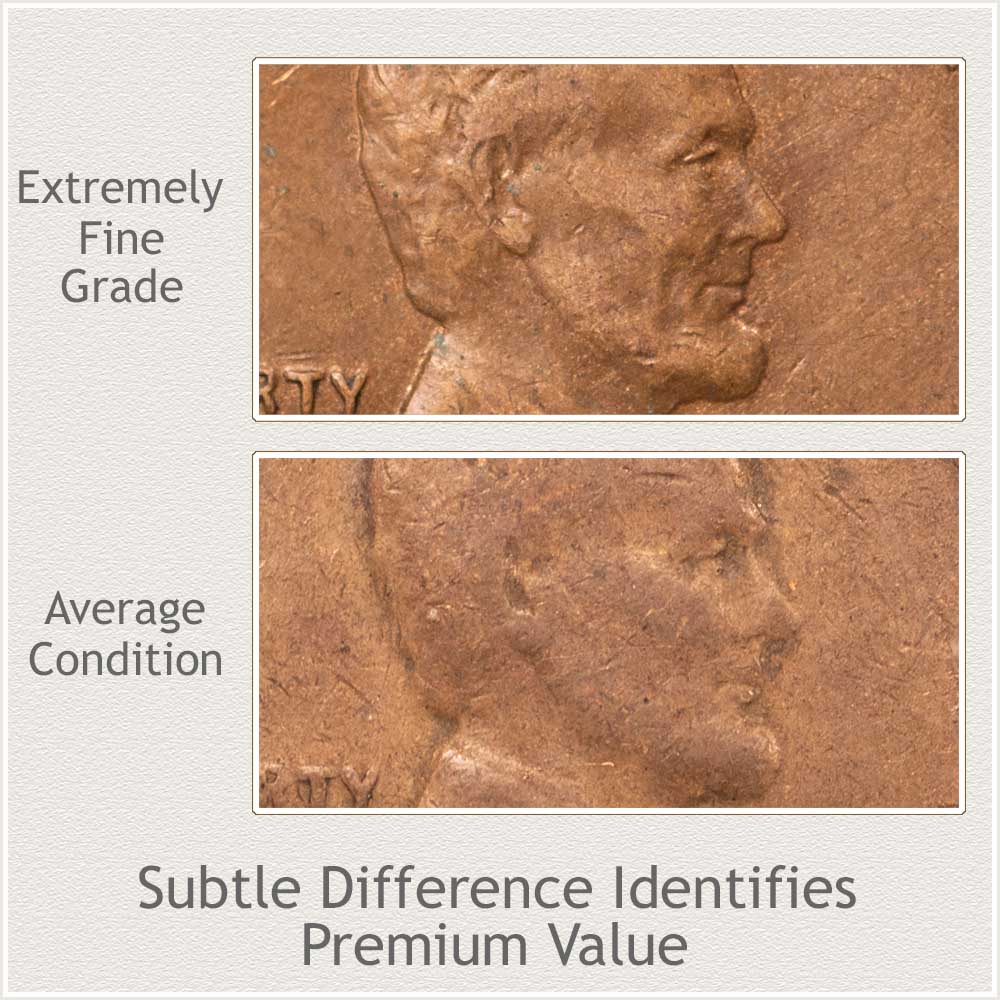 It is the era of 1934 to 1943 a special situation is beginning to develop. Nice circulated pennies in lightly worn condition are now worth a premium over lesser quality. Collectors realize these affordable, older wheat cents are elusive and worth more than base value. With a widening value gap from one grade to the next, judgement of any wheat cent dated 1934 to 1943 has potential finding a special coin.
References
US Mint. 1943 US Mint Annual Report https://nnp.wustl.edu/library/publisherdetail/51
Coin Values | CoinStudy Articles
Lincoln Wheat cents span the years 1909 through 1958. From the top condition coins collected by advanced collectors to worn examples; to an affordable collection for young collectors, the range of value is extensive. Identify your date, mint and condition and refer to the value chart.
How to Reap the Best Value When Selling Wheat Pennies
As with all selling processes; organizing the coins in a manner a dealer can efficiently asses their worth aids in returns to you. Selling a few or many wheat pennies for the best value starts by separating the coins into "market categories" for consideration by the dealer.
★ Coin Values Discovery finds 1942 Penny Value and...
All US coin values. Recognize your old coins using the image links leading to value charts. Date | Mintmark | Condition are considered; all described and imaged within each series. Surprising value is often found in the smallest of detail.