Coin Values Moving with Precious Metals: Up-Dated 9/25/2023: Gold $1921 | Silver $23.44
1949 Penny Value
Matching your coin to grading images finds 1949 penny value. Lincoln wheat cents are inspected for three main features: Date | Mint Mark | Condition
When viewing the chart, date and mint mark combinations, show little difference in how much they are worth.
Standing out is rise in value beginning with the Extremely Fine condition. Grading is key to judgement.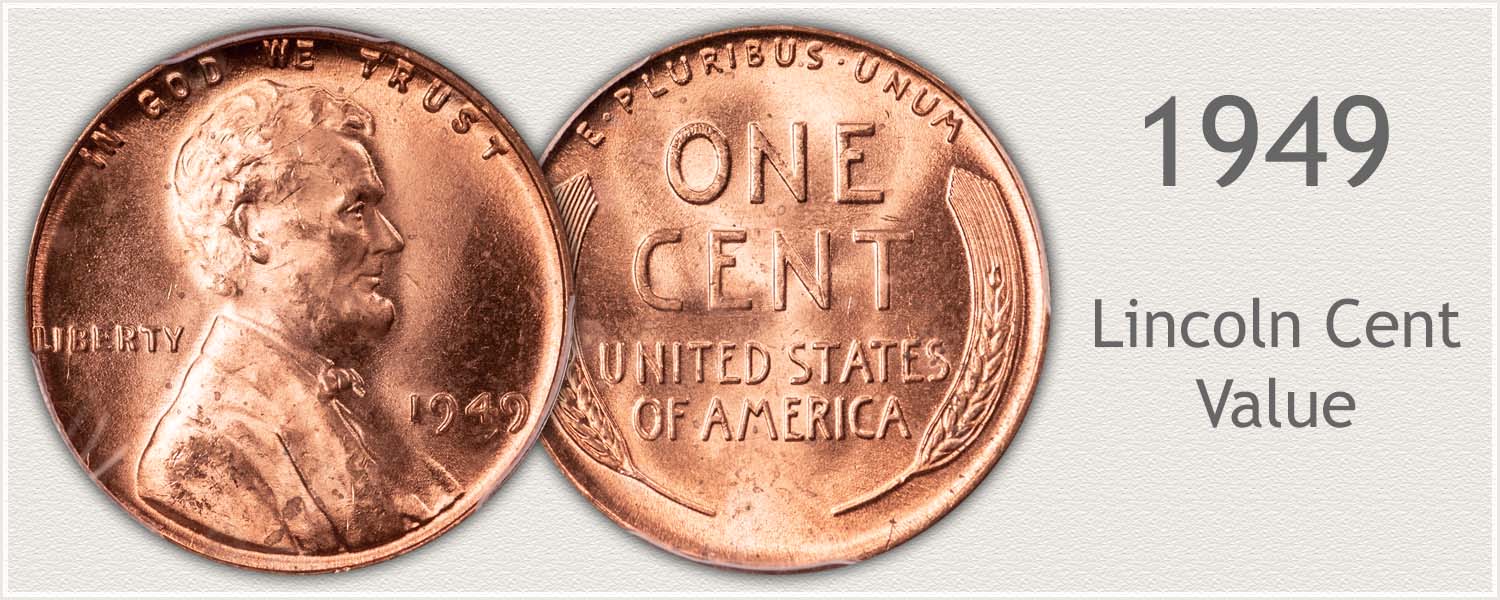 Steps Leading to Value:
Step 1: Date and Mintmark Variety – Identify each date and its mintmark variety.
Step 2: Grading Condition – Judge condition to determine grade.
Step 3: Special Qualities – Certain elements either enhance or detract from value.
1949 Lincoln Penny Value
Condition of Coin
Date
Good
Fine
Extremely
Fine
Uncirculated
1949 Lincoln Penny Value Up-Dated
2023
1949
$0.02
$0.02
$0.04
$2.28
1949 D
$0.02
$0.02
$0.04
$1.50
1949 S
$0.03
$0.03
$0.05
$1.74
Value process used by collectors and dealers identifies three main factors: Date | Mint Mark | Condition
Listings on the chart begin with Date and Mint Mark combinations. Close-up images help identify and confirm the correct variety. Date collecting is typical of how wheat cents are collected. In combination with mint marks, values reflect availability and demand.
Grading condition follows. A set of images showing a progression of wear helps visualize the differences. Descriptions of important areas to judge helps match your coin to a grade. Each different combination of these factors is listed on the value chart.
Step 1: | Date and Mintmark Combination
Identify 1949 Variety
San Francisco produced the fewest of 1949 varieties, Philadelphia cents lead in Mint State condition value. A combination of variety recognition and state of preservation determines 1949 penny value.
1949 Lincoln Penny
No Mintmark Under Date: Philadelphia Mint Struck the Coin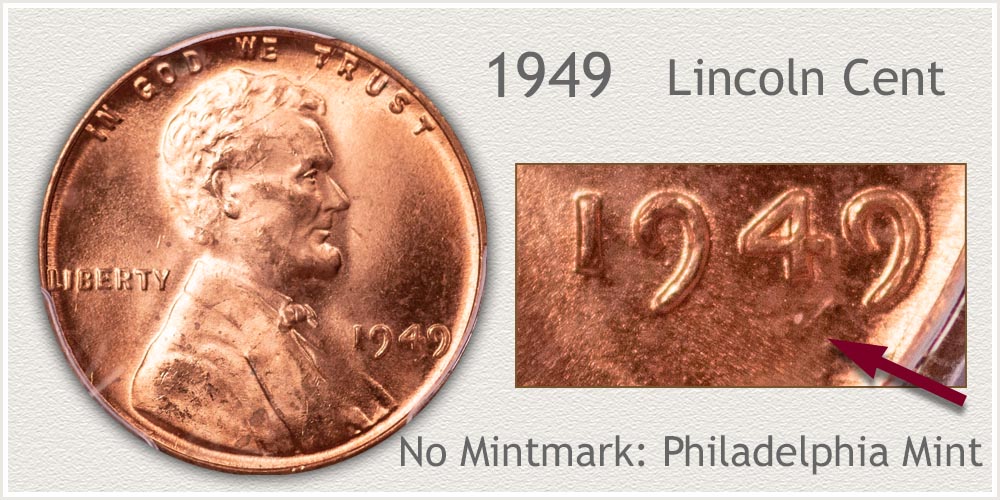 In circulated grades, Philadelphia variety 1949 penny is Abundant on the rarity scale. Striking an impressive 217,775,000 supplying a large quantity to circulation. Noted on the chart is a nice premium in mint state condition, no wear to the surface.
Mint state value out pacing other varieties of 1949 cents is unusual for Philadelphia wheat pennies. Mint state examples are usually the "affordable" one. Saving - speculating - patterns were typically concentrated on lower mintage varieties. A lack of saving mint state pieces is showing in today's value.
1949-D Lincoln Penny
"D" Mintmark Under Date: Denver Mint Struck the Coin
Denver penny of 1949 is Abundant on the rarity scale. Collectors favor lightly circulated or nicer examples. A small rise in value is noted starting with the Extremely fine grade 1949-D penny.
Separating popular grades from less popular grades is the presences of strongly defined lines in Lincoln's coat. A full line indicating the lapel and a complete separation of his bow-tie from coat is a desirable feature.
1949-S Lincoln Penny
"S" Mintmark Under Date: San Francisco Mint Struck the Coin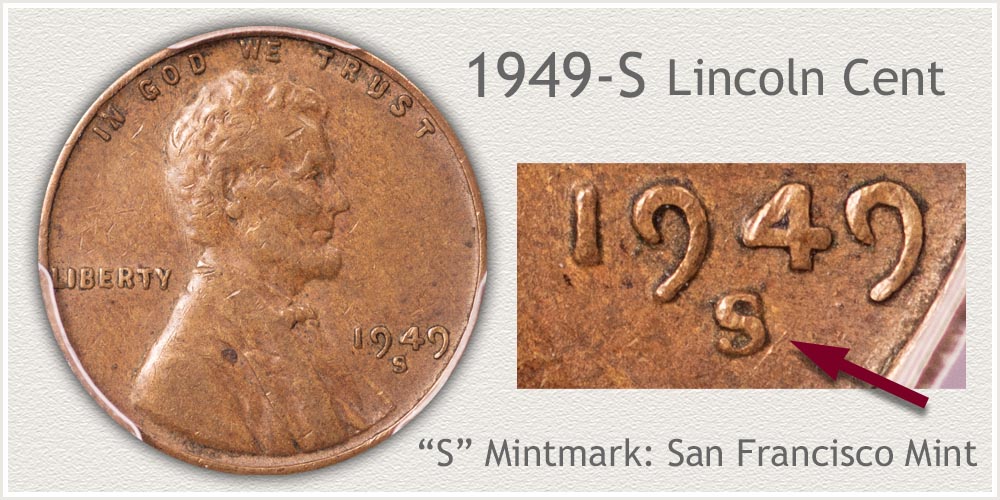 San Francisco struck the fewest variety of 1949 cents. 64,290,000 were released into commerce. Numbers remaining however places these as Abundant on the rarity scale. A typical small premium is noted in circulated grades.
Sharpness of details is important to 1949-S penny. Bold and complete lettering is a special quality. A desirable example displays all letters of "One Cent" well defined, no fading of height towards the "O".
Step 2: | Judge Condition to Identify Grade
Grading Finds 1949 Penny Value Listing on Chart
Grade of an old penny is a definition used by collectors and dealers defining its condition. Grades are listed along the rows in the value chart. Each coin is judged, wear and surface preservation are noted. A comparison with the images of each grade visualizes these different grades.
Preserve collectible value by examining these old pennies over a soft surface. A sheet of paper helps define your work space and provides contrast to the coin.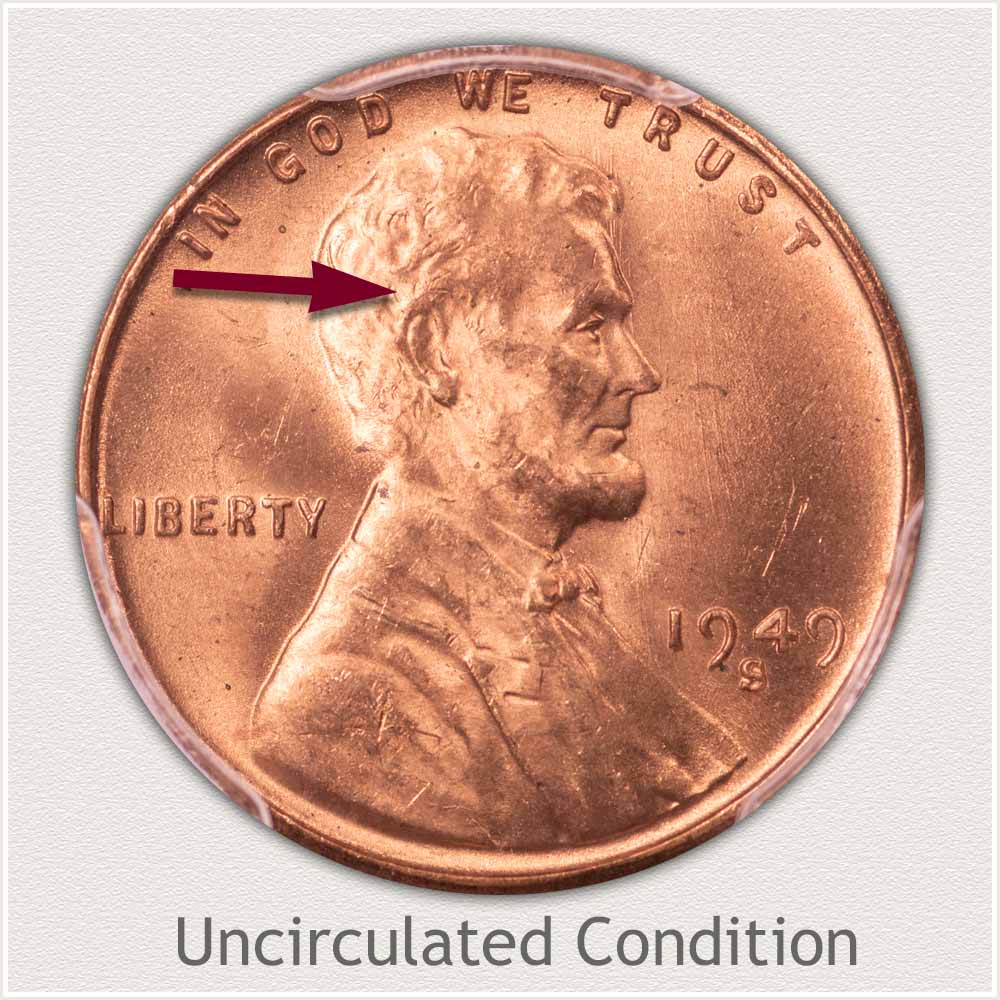 Uncirculated Grade: As a collectible, mint state - uncirculated pennies rise to the top in value. Because of a larger worth a close inspection is needed to confirm this grade.
All high areas of a cent are prone to contact and wear. Centrally located on a wheat penny is Lincoln's ear, hair above and behind. Very quickly luster is removed from this area as wear begins to develop. A change in texture is first to notice. Look closely at the wave of hair just above the ear. A rounded profile of the curl with no smoothing indicates no wear and a potential mint state grade.
The 1949-S penny is notable for a lack of marks to the surface. A small, light scrape is visible above the date. Overall a nice coin.
Judge Color and Wear of 1949 Penny: An important consideration to value is color of old pennies. The 1949-S remains bright with luster, a premium condition.
Toning is developing and darkening the surface on the Moderate Toning example. This coin is eye appealing because the toning is evenly distributed.
As you grade wheat pennies, toning is not used as an indication of wear. The 1949 penny toned brown is still an uncirculated piece because no wear is present. Toning has covered the entire surface; however, the texture of luster remains underneath. Collector preferences run, bright luster, moderate toning, to brown toning and values follow closely.
Extremely Fine Grade: Light wear evident on the surface defines a wheat cent in Extremely Fine grade. Condition is dependent on the amount of fine detail removed.
Lincoln's ear is surrounded by waves of hair. High and low points of the design remain with only a slight flattening of the top edges of hair. Smoothness is evident, however only slight merging of one wave of hair to next is seen.
Eye appeal further separates a coin that appeals to collectors. A nice warm brown color is evenly distributed over the surface of the 1949-S cent. A lack of dark spots and large nicks adds to the overall look of the coin.
Average Circulated Condition: A moderate amount of wear places these wheat pennies from the 1940's in average circulated condition. Grading below extremely fine in condition they are abundant in supply.
Looking closely, wear has merged Lincoln's ear with the surrounding hair. Additionally, most of the original high roundness to his cheek and jaw is now a flat area. These coins trade in the base value range. The coins imaged are nice for the condition, representing honest wear without distractions of dark colors and large marks. A small premium value is seen in the "S" mint mark varieties.
Video | Grading Lincoln Wheat Pennies
Grading any coin involves many points to judge. When either; value is high or condition is at the higher end, a closer inspection of the coin is needed. Grading Lincoln Wheat Pennies expands on the grading process with video, images of the grades and in-depth descriptions.
Step 3: | Special Qualities Enhancing Value
Uncommon Die Break Wheat Cents
A small die break within the lettering of "Liberty" is an alert to an uncommon coin. Wheat cents from the 1940's are available in quantities. Identifying a quality to set the coin apart requires a close inspection.
Spacing of lettering requires minute engraving of dies striking a coin. Spaces between letters are thin raised portions of the die, and if broken, cause metal to fill the area. Wheat cents with filled areas within Liberty became known as BIE cents. BIE refers to the die break filling the B and E space. These breaks filling between any of the letters is possible, BIE is somewhat a catch-all term.
Uncommon are "BIE" cents earlier than the 1950's. Finding a wheat penny exhibiting a die break within Liberty dated in the 1940's is far less common than later years.
Popularity is the driving force when placing a value of these coins. Although an uncommon coin, demand from collectors is focused on other error and variety areas. Premiums are small; however, the coin is no longer a common wheat cent from the 1940's.
References
US Mint. 1950 US Mint Annual Report https://nnp.wustl.edu/library/publisherdetail/51
Coin Values | CoinStudy Articles
Lincoln Wheat cents span the years 1909 through 1958. From the top condition coins collected by advanced collectors to worn examples; to an affordable collection for young collectors, the range of value is extensive. Identify your date, mint and condition and refer to the value chart.
Storing your coins correctly preserves value. Single high value coins need protection from elements in the air and contact to their surfaces. Large quantities of coins are conveniently housed in special holders. Safe methods are explored.
★ Coin Values Discovery finds 1949 Penny Value and...
All US coin values. Recognize your old coins using the image links leading to value charts. Date | Mintmark | Condition are considered; all described and imaged within each series. Surprising value is often found in the smallest of detail.