Coin Values Moving with Precious Metals: Up-Dated 11/27/2023: Gold $2010 | Silver $24.66
1937 Penny Value
Matching your coin to grading images finds 1937 penny value. Lincoln wheat cents are inspected for three main features: Date | Mint Mark | Condition
When viewing the chart, date and mint mark combinations, show little difference in how much they are worth.
Standing out is the quick rise in value beginning with the Extremely Fine condition. Grading is key to judgement.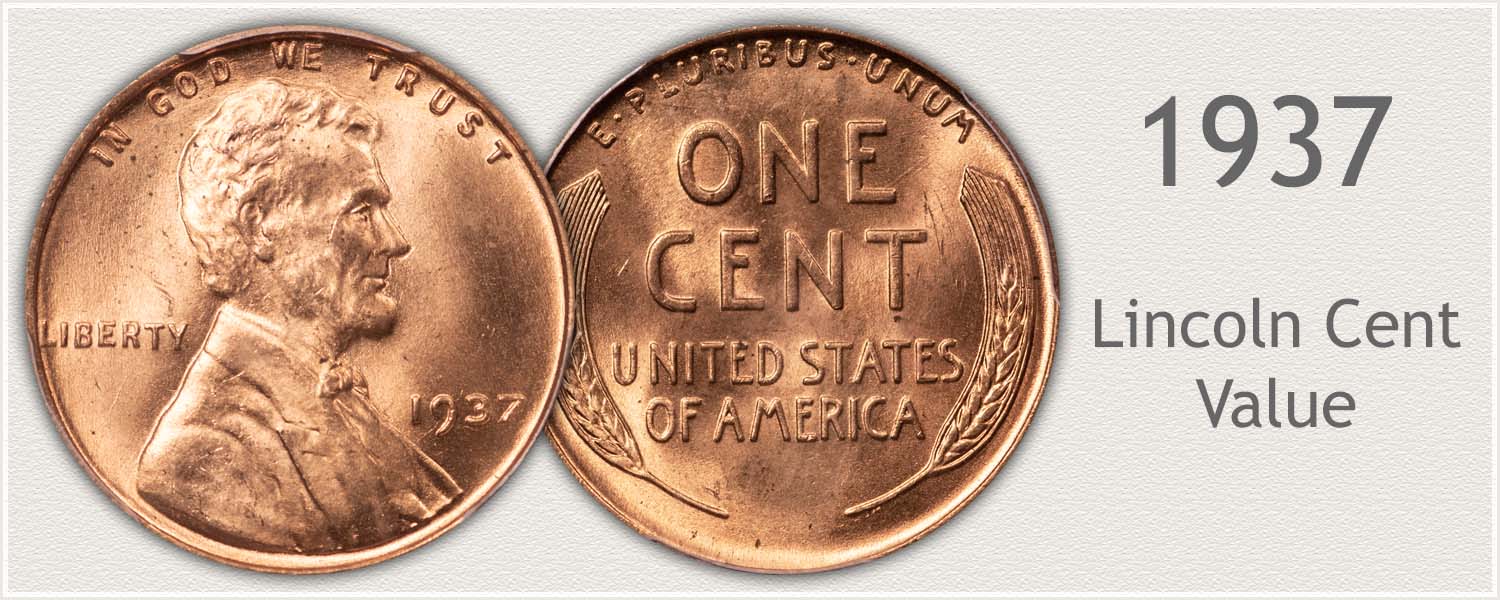 Steps Leading to Value:
Step 1: Date and Mintmark Variety – Identify each date and its mintmark variety.
Step 2: Grading Condition – Judge condition to determine grade.
Step 3: Special Qualities – Certain elements either enhance or detract from value.
1937 Lincoln Penny Value
Condition of Coin
Date
Good
Fine
Extremely
Fine
Uncirculated
1937 Lincoln Penny Value Up-Dated
2023
1937
$0.04
$0.16
$0.28
$2
1937 D
$0.04
$0.32
$0.44
$2
1937 S
$0.04
$0.36
$0.44
$2
Accurate identity of Date and Mint Mark is the initial step inspecting coins. Part of a defined process used by all collectors and dealers. Attention to small details is key to a complete picture of value.
Step One: Accurate identity of Date and Mint Mark combination. Collections are assembled including these varieties. Each listed with its own category on the chart. Mint marks are described below.
Step Two: Condition is the next deciding factor to higher value. Matching your coin to images in the Grading section narrows its range. Confirming a 1937 penny is in lightly worn condition raises its statue with collectors.
Step 1: | Date and Mintmark Combination
1937 Lincoln Cent Mintmark Varieties
1937 cents are part of the second era of the wheat cent series (1934 to 1958). All varieties of 1937 pennies are beginning to have a premium value beginning with the Extremely Fine grade. Large mintages are not indicating the true number of collector quality coins available today.
1937 Lincoln Penny
No Mintmark Under Date: Philadelphia Mint Struck the Coin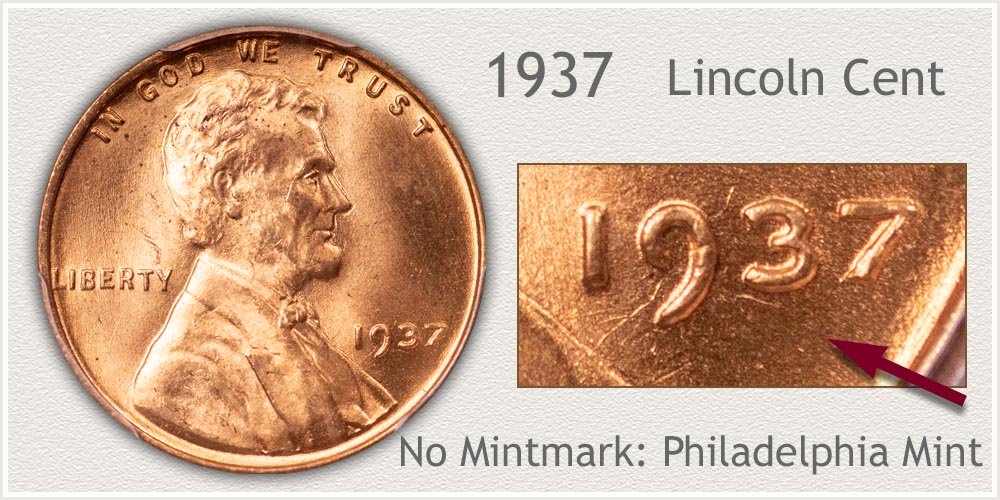 A 1937 Philadelphia cent is Abundant on the rarity scale. This availability does not extend to lightly circulated examples graded Extremely Fine and higher. Nicer quality coins are noted as having a premium value.
Quality examples are free of rim bruises, dark spots and heavy wear. Eye appeal plays an important role in values and any noticeable marks, discoloration and faded details detract.
1937-D Lincoln Penny
"D" Mintmark Under Date: Denver Mint Struck the Coin
Denver struck 50,430,000 cents in 1937. Placing a "D" mintmark on each, this variety is Abundant in circulated condition.
Now a very old coin, it is beginning to attract attention in the Extremely Fine grade. A breakaway value is noted in higher end examples. Inspect the reverse, bold lettering both along the rim and within the center is an indication further grading is needed. The next step, judging condition follows.
1937-S Lincoln Penny
"S" Mintmark Under Date: San Francisco Mint Struck the Coin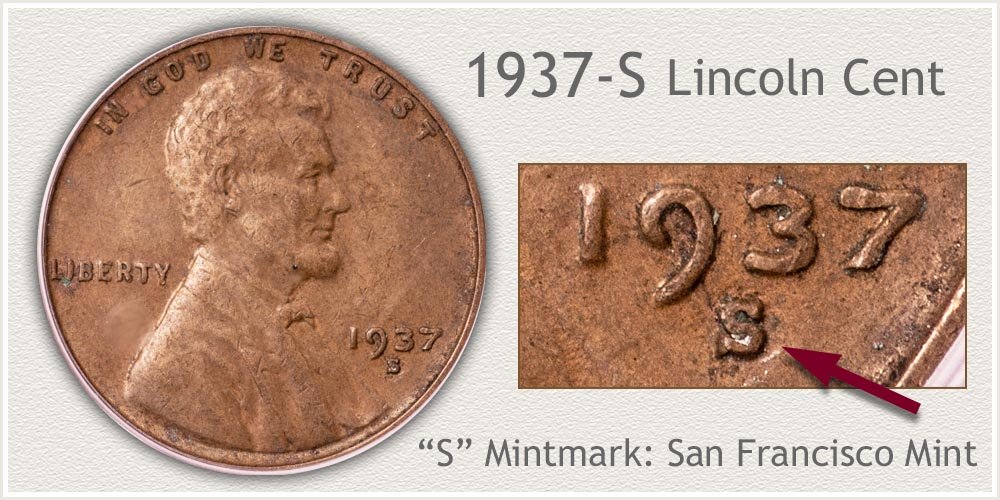 Of the three 1937 varieties; San Francisco mint produced the fewest coins - 34,500,000. Enough were saved from circulation it is Abundant on the rarity scale. Available today in average worn condition indicated by values on the chart.
Lightly circulated coins and Mint State examples are coins with added premiums. Ample details of Lincoln's coat and hair indicate a nice circulated example. No wear to the surface defines a Mint State penny. Grading your coin, the next step recognizes condition.
Step 2: | Judge Condition to Identify Grade
Examine Condition of 1937 Penny
Grade is a definition used by collectors when describing the condition of a coin. Grades listed on the chart range from Good (heavily worn penny) to Uncirculated (no wear). Specific areas are inspected to judge condition.
As you inspect your coin work over a soft surface. A sheet or two of paper protects the surface of coins from any abrasions. Handling gently at this point preserves value.
Uncirculated Grade: To reach the Mint State - Uncirculated grade a wheat penny has survived without any wear to the devices, legends, and fields of the coin. Original surfaces remain covering this 1937 wheat penny. Mint frost displays a fine texture and reflectivity.
Many fine details exist on a coin without wear. One area prone to contact is just above the ear extending forward to Lincoln's temple. His temple is a rounded profile and sits high above the fields. Hair next to the temple continues and is also prone to first signs of wear. On the example a clear separation is visible separating hair from forehead.
First minted, copper is a bright reddish color. Toning begins almost immediately changing the colors to shades of brown. Mint state coins retaining original color are avidly sought by collectors. Those without any spots are especially sought and valued. Note the original color covering both high-profile areas and fields.
Extremely Fine Condition: A small amount of wear scattered over the high points of the design identifies the grade.
A small curl of hair at the top of the ear now displays a minor but distinct flatness to its once rounded profile. Lincolns temple is beginning to show a smooth slightly flat appearance. Hair next to the temple is also flattened slightly. However, the curl is clearly separated from the larger curl of hair just above.
Other areas of the hair also are beginning to show evidence of minor flattening. Importantly, the majority of hair detail is well separated. Fine details are highlighted with a soft brown toning on the example 1937-S penny. Eye appeal is added to place this coin solidly in the Extremely Fine grade.
Fine Grade: An entire design is still evident with major details remaining. Moderate wear is judged, deciding on the Fine grade. Areas of flatness are showing along the temple area but minor.
Small waves of hair have merged in the area above Lincoln's ear. A minor amount of merging is evident connecting his temple and hair line. Roundness and depth of profile remains to the temple confirming the Fine grade.
With a moderate amount of bold and minor detail a pleasing "look" to the coin is presented. Wheat cents of the 1930's are collectible in Fine condition provided eye appeal is strong.
Good Grade: Heavy wear has flattened most of the design to a wheat penny in the Good grade. Loss of detail has removed the contours to the face and most of Lincoln's coat and shirt.
Wear has removed all hair detail surrounding Lincoln's ear. A flat surface extends into his forehead and temple area removing traces of a line separating the hair. Evidence of hair detail is now confined to the top of his head. A clear profile of his eye and nose is bold from the field lending character to this worn wheat cent.
Eye appealing Lincoln cents from the 1930's are affordable to new collectors. Examples in good condition are also examined for scattered marks and discoloration. Solid grade wheat cents with pleasing even color are sought.
Video | Grading Lincoln Wheat Pennies
Place higher grade coins in individual holders. Small zip lock bags are a good temporary solution. For higher value coins, Grading Lincoln Wheat Pennies expands on the grading process with video, descriptions, and images.
Step 3: | Special Qualities Enhancing Value
Condition Balance Obverse to Reverse 1937-D Penny
Always consider the reverse as important in deciding on quality when judging coins. By habit the obverse is given a closer look, date and mint mark are viewed and a first impression of condition begins to form. A pleasing reverse is needed to complement the obverse and complete a thorough inspection of a wheat cent.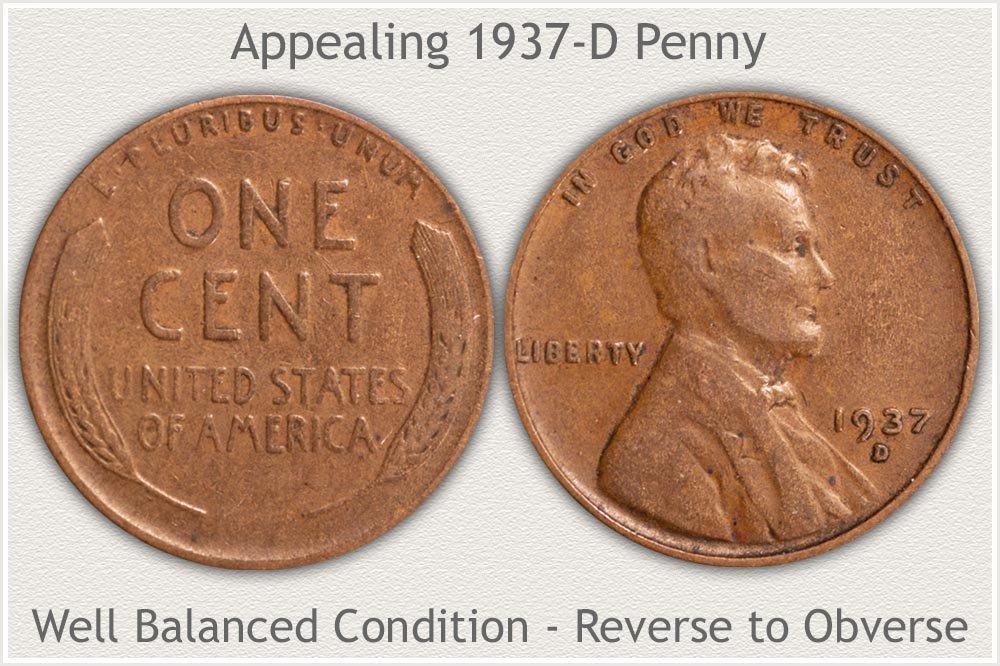 It is a combination of both the reverse and obverse that determines desirability of coins. Subtle and abstract elements tend to give one coin a better appearance than another. A mismatching front to back is a less appealing coin.
Balance: Both sides of a coin matching in overall condition and toning. Because of how coins are stored and handled many are distinctly different in toning, front to back. An old collection, housed in a penny board, often shows vintage colors on the front different from the backs of the coins.
Strike Qualities: An original bold impression on the obverse and weak strike on the reverse present wear slightly different. An eye appealing obverse is diminished by a mussy appearing, less well struck reverse.
Surface Abrasions: All coins suffer from varying amounts of contact marks. Whether mint state or circulated. Coins coming in contact with coins is inevitable. Few, light marks balanced in appearance on both sides is expected. A noticeable difference in numbers of marks favoring one side lowers the total appeal.
An eye appealing obverse with a matching reverse combines to strengthen any grade level.
References
US Mint. 1938 US Mint Annual Report https://nnp.wustl.edu/library/publisherdetail/51
Coin Values | CoinStudy Articles
Value chart spans the Wheat design years 1909 through 1958 of Lincoln cents. From uncirculated coins collected by advances collectors to worn examples an affordable collection popular with young collectors. Identify date, mint and condition; a wide range of values is found and identified.
Coin series enjoy different levels of popularity within the hobby. Lincoln cents are avidly collected and pursued. Values are directly related to their interest by collectors. Knowing a coin is in demand by many is an understanding into your coins.
★ Coin Values Discovery finds 1937 Penny Value and...
All US coin values. Recognize your old coins using the image links leading to value charts. Date | Mintmark | Condition are considered; all described and imaged within each series. Surprising value is often found in the smallest of detail.