Coin Values Moving with Precious Metals: Up-Dated 9/25/2023: Gold $1921 | Silver $23.44
1922 Penny Value
Complete a step by step process to finding 1922 penny value. Date | Mint Mark | Condition are the main factors used. Each imaged and described below.
1922 wheat cent is a semi-key to the series and condition is very important. Narrow the range of value on the chart by matching your coin to grading images.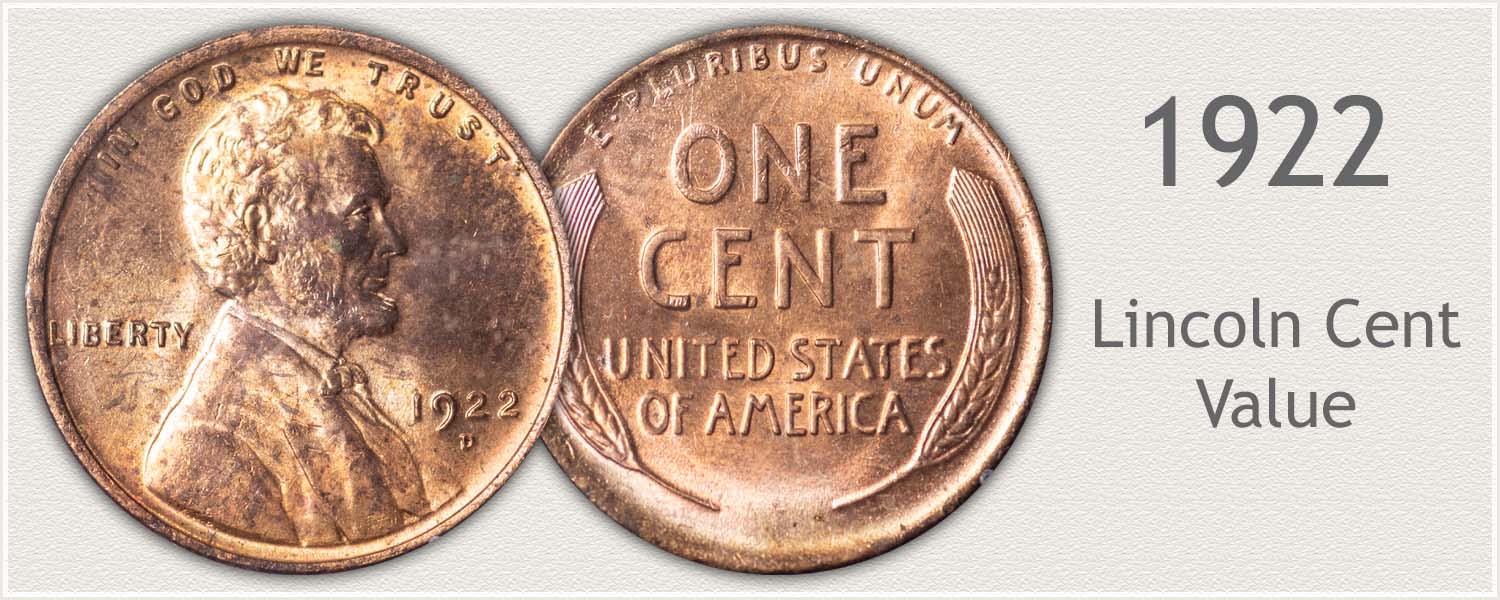 Steps Leading to Value:
Step 1: Date and Mintmark Variety – Identify each date and its mintmark variety.
Step 2: Grading Condition – Judge condition to determine grade.
Step 3: Special Qualities – Certain elements either enhance or detract from value. A mint error variety is part of the series.
1922 Lincoln Penny Value
Condition of Coin
Date
Good
Fine
Extremely
Fine
Uncirculated
1922 Lincoln Penny Value Up-Dated
2023
1922-No D
$176
$322
$585.00
RARE
1922 D
$11
$18
$39
$107
Evaluating how much old wheat cents are worth follows a process of identify and judging:
Date | Mint Mark | Condition
Completing the same steps used by collectors finds an accurate place on the value chart
1922 values are listed across the chart by condition. Grading condition seems difficult. However, first impression is a good sign of grade and starting point. In the grading section compare and find a visual match to your coin. Descriptions help decide finer points.
Step 1: | Date and Mintmark Combination
Identify 1922 Penny
Only one variety of wheat cent was struck in 1922. The Denver mint produced 7,160,000 cents. Notable as the lowest total mintage for any one year of the wheat penny series.
1922-D Lincoln Penny
"D" Mintmark Under Date: Denver Mint Struck the Coin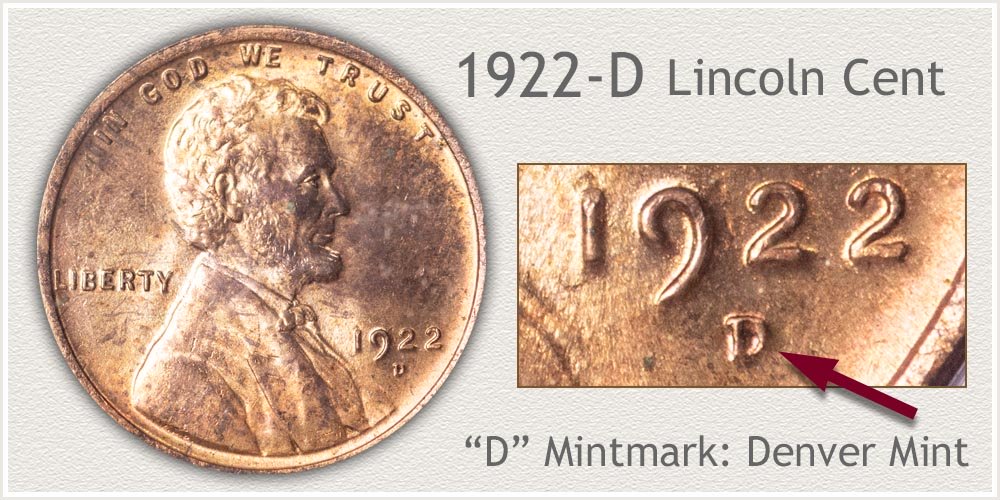 Collector have only one choice to collect a 1922 wheat cent. Denver mint operated briefly in the first half of 1922 striking cents. Devoting most of its time to production of silver dollars.
Popular in all grades these coins are avidly inspected by collectors. To find a coin with well detailed devices is considered Elusive on a rarity scale. Strong impressions on the reverse of the wheat stalks is a coin desired in any condition.
Step 2: | Judge Condition to Identify Grade
Examine Condition of 1922 Penny
Depending on condition - the grade of your coin, values often cover a large span. View the images of coins in different grades and compare your coin to each. A close match when comparing the amount of detail and wear gives a good indication of condition.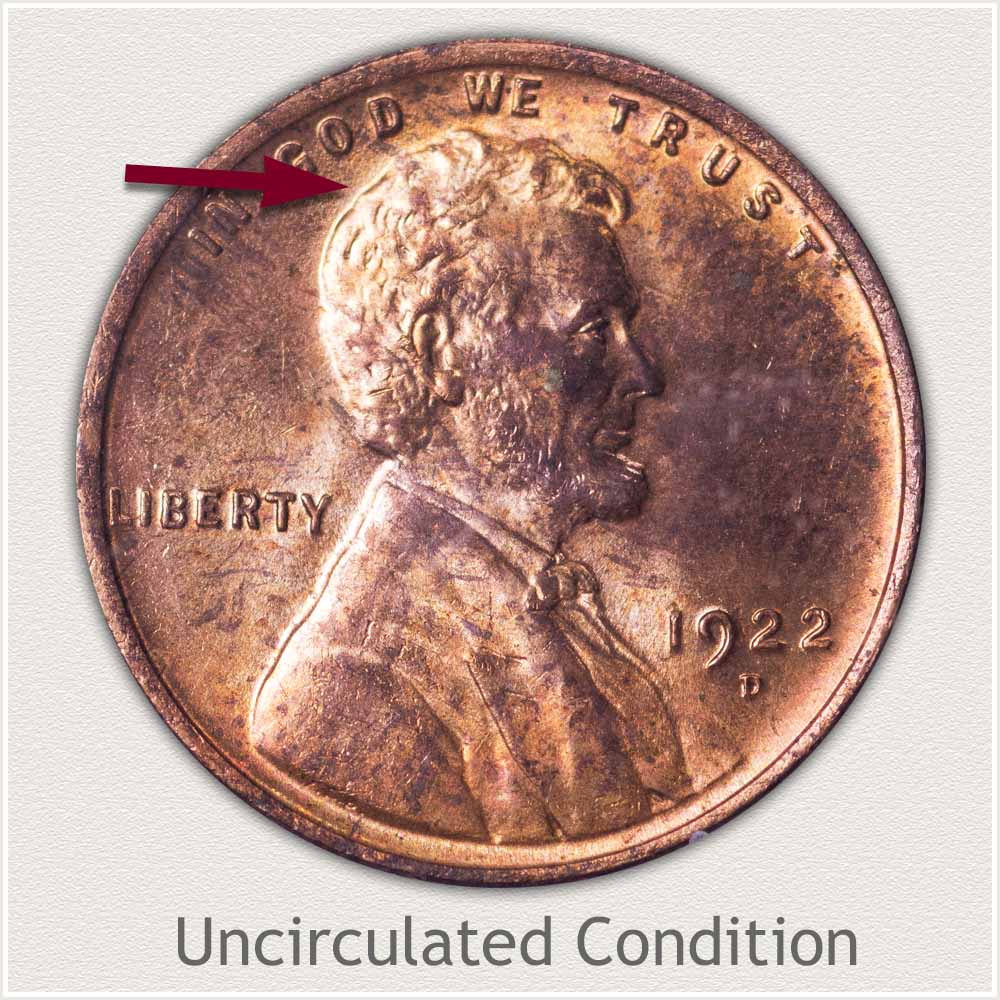 Uncirculated Grade: Today's collectors of wheat cents are fortunate; examples of 1922-D pennies were saved before entering circulation. Mint state coins are distinctive; no worn spots disrupt the original luster. Remaining mint state - uncirculated coins are sought and highly valued.
Judge the area of Lincoln's hair towards the top of his head. Waves of hair in this area are prone to show signs of circulation. Confirm luster remains unbroken and the fine texture of the metal is without any smoothing.
Light amounts of toning is often present on these older wheat cents, a natural occurrence of the copper alloy. Toning is evident in the face area of Lincoln and the field just in front. In a close inspection, judge no smoothing to the surface is present.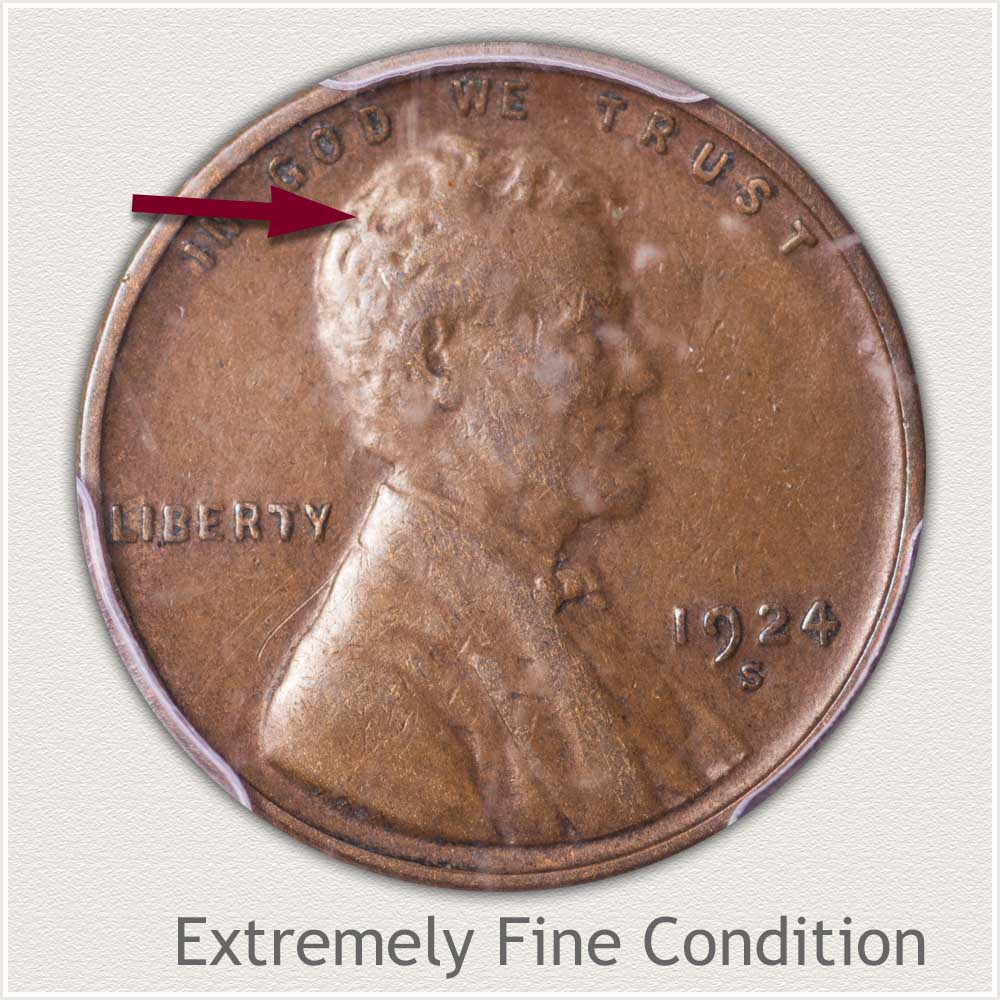 Extremely Fine Grade: A collectible 1922-D penny in Extremely Fine grade shows only a small amount of wear. Defining the grade is even, light wear on high areas.
Toning has developed a light brown color to the surface and wear is noticeable on high profile elements of the design. Lincoln's hair above the ear and forehead shows a small degree of flatness to the tops of the waves. All major lines remain separating waves of hair.
All features of Lincoln, date and legend are well raised above the field of the coin. A bold look is a positive to the example coin. Pleasing toning is helping to highlighting remaining detail.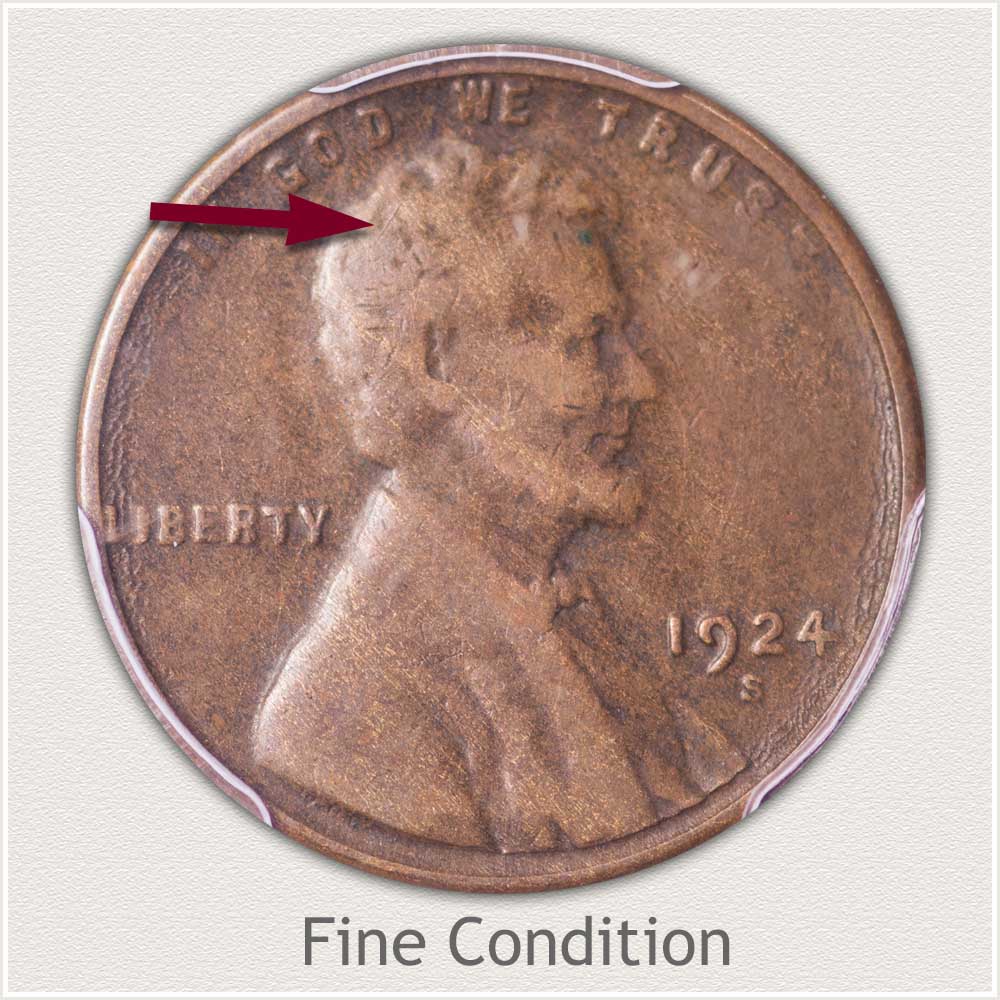 Fine Grade: Moderate wear with major design elements remaining defines a wheat penny in Fine grade. Smoothing of finer detail is missing, however no wide-spread flatting is evident.
Waves of hair at the top of Lincoln's head are beginning to merge. Smooth surface areas just begin to connect along the forehead. A separation of hair from the temple area is faint but evident.
Important to value is a pleasing appearance of color and mark free surfaces to these old wheat cents. Light brown color with deeper shades within the recesses and fields presents a nice-looking collectible coin.
Good Grade: An overall flattened surface lacking finer details places a wheat cent in the Good grade. Lincoln remains well outlined and raised from the field. Lettering is visible and often connected to the rim.
Hair detail is mostly worn flat. A large smooth area now connects all traces of the waves of hair from the back of Lincoln's head, over his ear and extends to the forehead.
Despite heavy wear, interest and value is high for a 1922-D penny in Good grade. A pleasing example with mark free surfaces is scarce. Judge your coin for even color and no distracting nicks.
Video | Grading Lincoln Wheat Pennies
Grading Lincoln Wheat Pennies covers additional points in greater detail when judging condition. Both the obverse and reverse of these wheat pennies have many areas to examine to help confirm and establish a grade. When grading is complete you are in a position to realize true market value.
Step 3: | Special Qualities Enhancing Value
Identify Scarce 1922 D Mint Mark Varieties
Two elusive varieties of 1922 Denver pennies have gained popularity. Dies striking cents with missing "D" mint marks are the clear leader in interest. Also, quantities of 1922 cents have a very shallow impression of the "D" mint mark, these are gaining interest. Only the Denver mint struck wheat cents in 1922; the fact rare examples exist without a "D" mark and some with shadows of a mark raises the uniqueness factor.
Identity of each is key. Recognizable mint marks are the norm. Faint marks, detectible by magnification are the "weak D" variety. Tops in rarity are the "no D mark" variety. In the example a faint "D" tipped somewhat forward is just visible.
Any 1922-D cent is desirable, if at first glance the "D" seems missing, magnification is needed. Looking closely at the image a faint shadow of a "D" is seen. This coin is not the rare No D but the Weak D and still a sought-after variety.
Proper identity and authentication is need for 1922 pennies "lacking" the mint mark. Many attempts were made over the years to create the rarity. Removing a "D" from an existing 1922 is detectible by experts. Studies of dies and minting processes have identified features of genuine pieces. Here is an introduction to Coin Grading Services
A top grading service confirming a scarce variety removes any doubt of authenticity and improves market acceptance.
References
Cite: US Mint. 1923 US Mint Annual Report https://nnp.wustl.edu/library/publisherdetail/51
Coin Values | CoinStudy Articles
Value chart spans the Wheat design years 1909 through 1958 of Lincoln cents. From uncirculated coins collected by advances collectors to worn examples an affordable collection popular with young collectors. Identify date, mint and condition; a wide range of values is found and identified.
Rare pennies are identified in series from wheat cents back to the early years of the US Mint. These one-cent and half-cents coins first struck in 1793 have a number of stand-out issues.
★ Coin Values Discovery finds 1922 Penny Value and...
US coin value charts covering cents to gold. Identify your coins using the image links. Date | Mintmarks | Condition are described and imaged with each series. Small details necessary to accurately value are described.