Coin Values Moving with Precious Metals: Up-Dated 11/27/2023: Gold $2010 | Silver $24.66
1914 Penny Value
1914 penny value continues the run of premiums for the San Francisco mint issues. Three mints: Philadelphia the main mint and two branch mints: Denver and San Francisco minted wheat cents in 1914.
Special attention is given to the 1914-D issue. Highly prized, careful inspection is need to accurately determine worth.
Steps Leading to Value:
Step 1: Date and Mintmark Variety – Identify each date and its mintmark variety.
Step 2: Grading Condition – Judge condition to determine grade. A view of the value chart highlights the large differences both mint mark and grade have.
Step 3: Special Qualities – Certain elements either enhance or detract from value
1914 Lincoln Penny Value
Condition of Coin
Date
Good
Fine
Extremely
Fine
Uncirculated
1914 Lincoln Penny Value Up-Dated
2023
1914
$0.60
$2.55
$17
$30
1914 D
$60
$175
$591
$1,432
1914 S
$9
$17
$72
$187
To complete the process of placing a value on 1914 pennies; determine: Date | Mint Mark | Condition
1914 is a year of two premium varieties. Both branch mints issues are scarce and climb quickly in value when found in high condition. Find a close match of condition by comparing to the images in the grading section below.
Somewhat in the shadow of the Denver mint issue, notice the San Francisco mint values. A scarce and highly sought after coin in any condition.
First step: Confirm the mint that struck your coin.
Step 1: | Date and Mintmark Combination
1914 Mintmark Varieties Important to Identify
1914 mintage of all varieties is 9th lowest of all wheat cents. A difficult coin to find in nice condition. Notable are the semi-key and key varieties struck by the branch mints. Collectors prize eye appealing coins.
1914 Lincoln Penny
No Mintmark Under Date: Philadelphia Mint Struck the Coin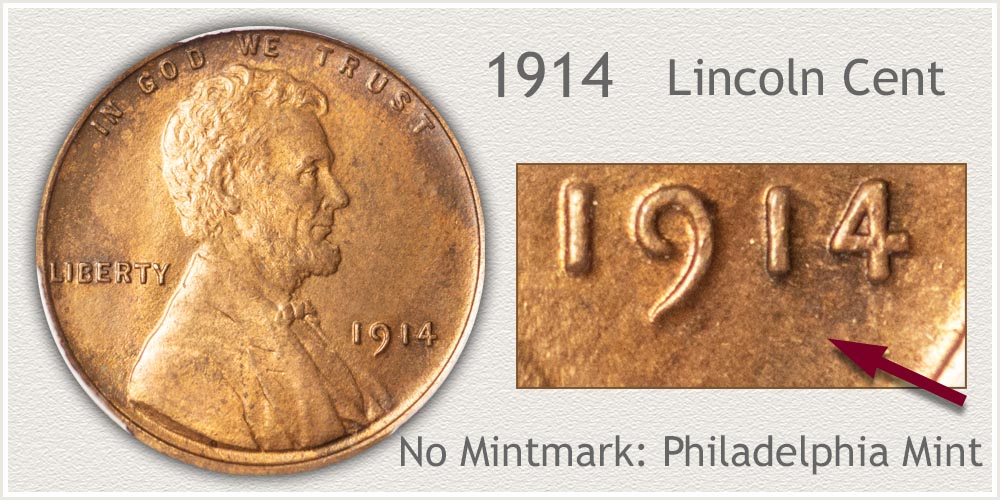 Of these early year Lincoln cents many examples of 1914 pennies from the Philadelphia mint exist in worn circulated grade as reflected in good through fine values. It does however become a valuable coin in Extremely Fine grade and higher.
Considered abundant overall, a coin without any problems, such as large marks, raises it above of many. Accurate grading, the next step to value, also identifies subtle factors necessary to grade Extremely Fine condition.
1914-D Lincoln Penny
"D" Mintmark Under Date: Denver Mint Struck the Coin
"D" Mintmark Under Date: Denver Mint Struck the Coin
Denver mint issue 1914 is a key date to the series, considered scarce in heavily worn condition. Initial mintage numbers place it 3rd lowest of all wheat date and mintmark combinations. 1,193,000 were struck and released into circulation by the Denver mint.
Eye pleasing examples are sought by collectors. Well detailed coins are rare. With all early wheat cents; desirable pieces are ones with even tan to brown color, without dark patches. Copper, the primary metal of the coin, tends to accumulate both dirt and spotting due to it active nature.
Alert: Altered Dates: High value attracts forgeries. A 1944-D with part of the "4" removed tries to fool. However, an uneven spacing of the numbers is an indication of an altered date.
1914-S Lincoln Penny
"S" Mintmark Under Date: San Francisco Mint Struck the Coin
Notable as the 7th lowest mintage, with 4,137,000 coined by the San Francisco mint. In Extremely Fine grade a 1914-S is a Semi-Key rarity factor. Grading becomes important if details to Lincoln are evident in his hair and beard.
Alert: Altered Dates: Unfortunately, a 1944-S cent with part of the "4" removed is altered in an attempt to pass as a genuine 1914-S. Close inspection of the date is needed with an eye to spacing of the numbers. Genuine examples display even spacing of all numerals.
Step 2: | Judge Condition to Identify Grade
Grading Condition Confirms Value of 1914 Lincoln Penny
Grading descriptions indicate focal points of devices to examine when judging condition. Compare to the images to visualize areas needed to confirm grade. Grades are defined and used as standards when finding values on the chart.
A magnifying glass is helpful to bring small details closer. 5x power is commonly used by collectors when examining coins.
Uncirculated Grade: A mint state - uncirculated grade is determined of this 1914 Lincoln cent because no wear is evident to the surfaces. Complete coverage of original mint luster remains.
All details to the hair both just above and behind the ear is undisturbed. Minting of coins imparts a luster to the metal, fine grains that reflect light in a shine. If worn, luster is removed, replaced by a smooth surface and a lack of shimmer.
On this example of a mint state 1914, nice colors are just beginning to develop over original copper-red and yellow. Shades of reddish-brown are showing the advanced age of the coin.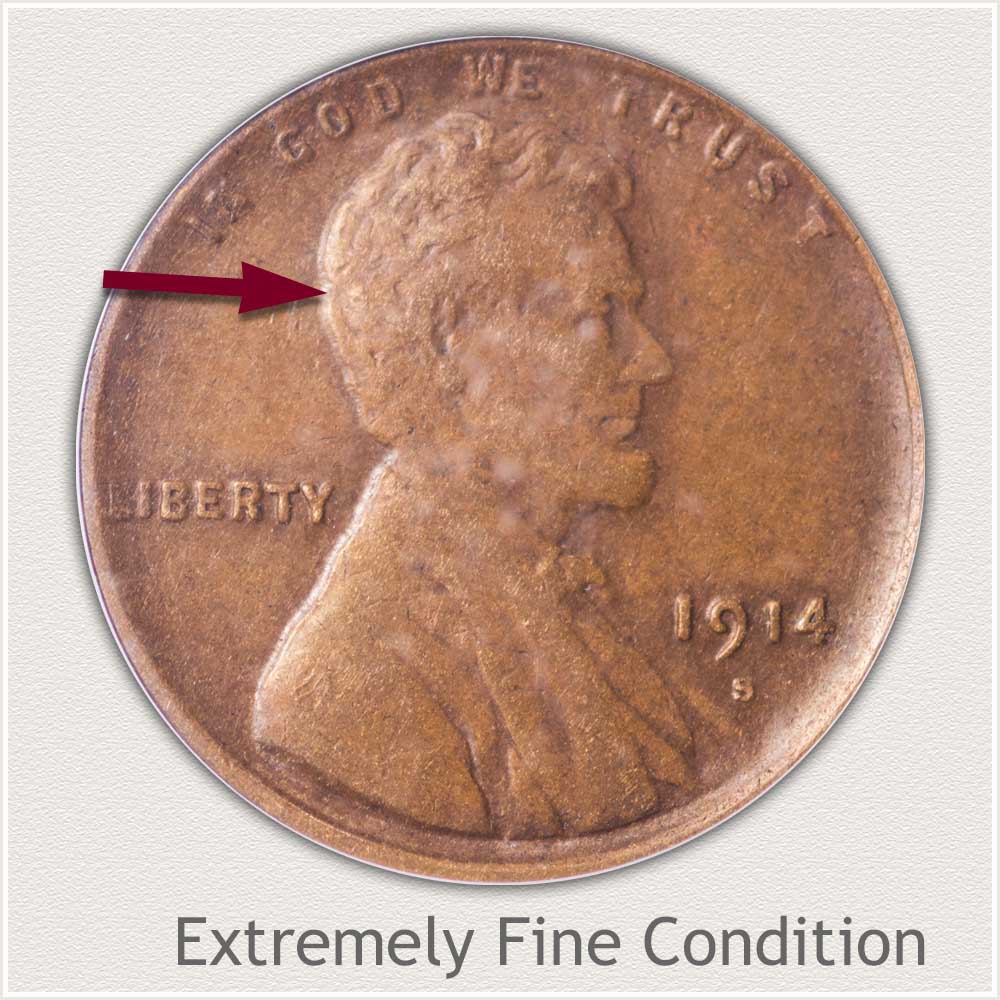 Extremely Fine Grade: An Extremely Fine grade wheat cent displays a light degree of wear over its surface. All major and most minor details remain sharp.
A small amount of wear is evident on the upper edges of the waves of hair. Judge the areas just above and behind Lincoln's ear. Hair is worn but no areas connect.
With ample detail left in the coat, shirt, and across Lincoln's face a well-defined portrait remains on this coin. Light tans and deeper brown highlight the outer edges and lettering adding to the eye appeal. A pleasing 1914-S penny.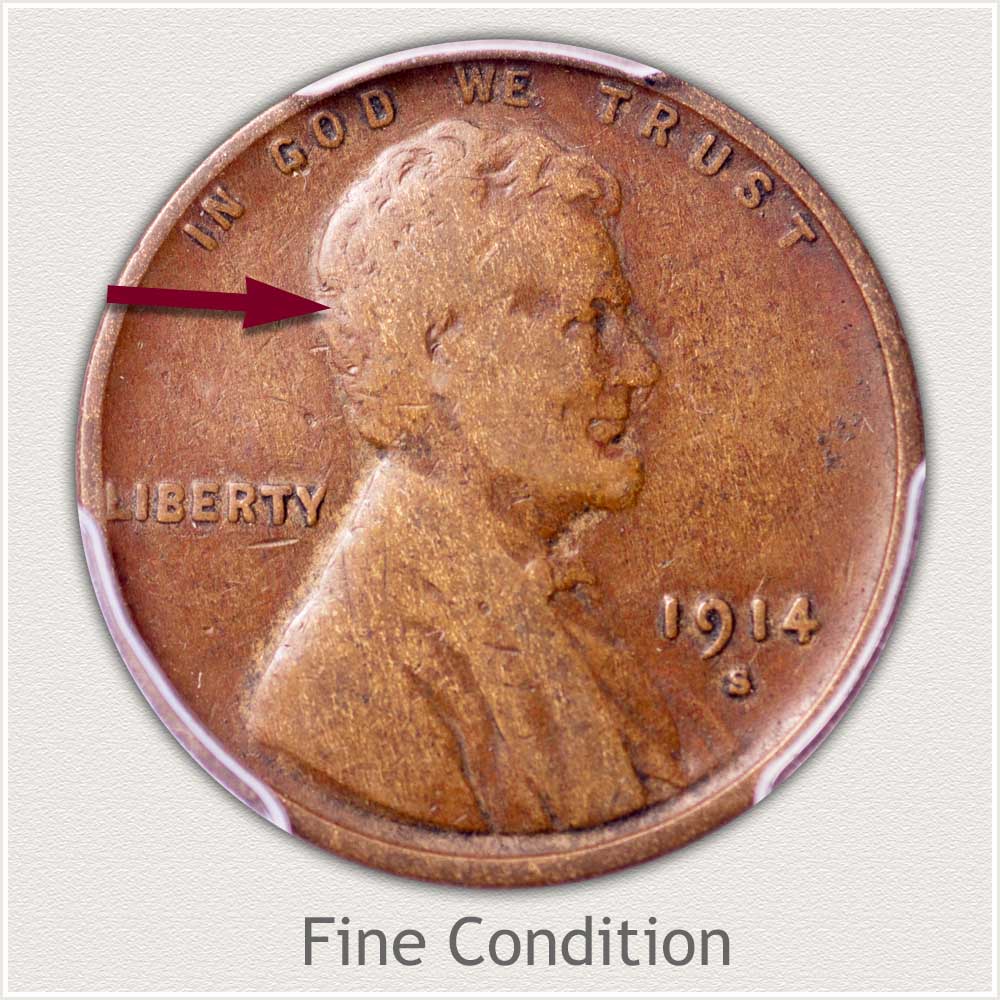 Fine Grade: An entire design is still evident with major details remaining. Areas of flatness are showing but not connecting. Moderate wear is judged, and decides the Fine grade.
Small waves of hair have merged in the area behind Lincoln's ear. A minor amount of merging is evident, however not continuous. Roundness and depth of profile remains confirming the Fine grade.
With a moderate amount of bold and minor detail remaining a pleasing "look" to the coin is presented. Many early wheat cents are collectible in Fine condition and with added eye appeal are in demand.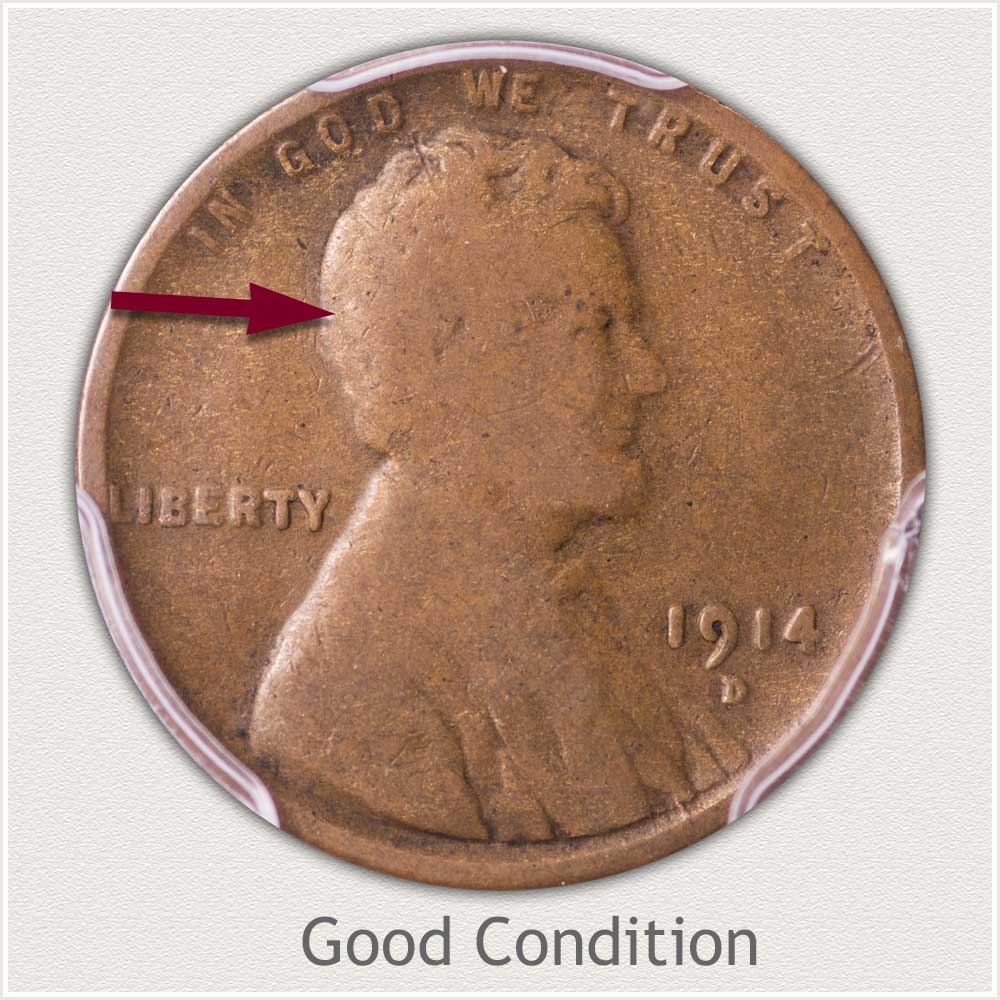 Good Grade: Heavy wear, removing most detail, represents a coin in Good condition. A strong portrait remains with full legends and date.
All of the details and distinct wave to Lincoln's hair are now merged and flattened. Behind his ear is now a smooth area connected to his cheek and forehead. A small contour remains along the back of his head, slightly raised from the field of the coin.
A nice even color is noted on this 1914 Denver mint coin. Deep brown encircles the rim blending into the central, lighter area adding to eye appeal.
Video | Grading Lincoln Wheat Pennies
Fine points to condition often separate a significant change in value.
Grading Lincoln Wheat Pennies expands upon the grading process. Video plus descriptions focus on key elements to condition. Examine high value and high condition old pennies in greater detail.
Step 3: | Special Qualities Enhancing Value
Confirming 1914-D Penny Value
By 1914 Lincoln wheat cents began their sixth year of production. Excitement of a new design was focused on rising values of the 1909 issues. Well known for its variety's of 1909 pennies with VDB and without VDB designer initials. Additionally, low mintage numbers of 1909 cents from San Francisco contributed to a quick rise in their value.
Arrival of the 1914-D cent created a new key date and mintmark variety. Denver struck 1,193,000 wheat cents, a total that eventually placed it third lowest of the entire series. With a mintage fewer than the earlier San Francisco 1909-S, attention was drawn to the coin and values reflected demand.
Because of its notoriety and value, 1914-D cents became the subject of alteration attempts. Modifications were made to create these scarce pennies from other less valuable coins. One method involved adding a "D" mintmark to 1914 Philadelphia issues. A delicate removal of the "D" mintmark from one coin was required and a skillful adding to the subject coin. The level of deception relied on the ability of those attempting the alteration. Adding metal and design to a coin is difficult.
A second method to produce a 1914-D presented itself in 1944. By now values of original 1914-D cents were well established. Removing portions of the "4" from a 1944 coin is a less technical skill. Filing resulted in a deceptive "1" in place of a "4". Another round of creating altered dates began.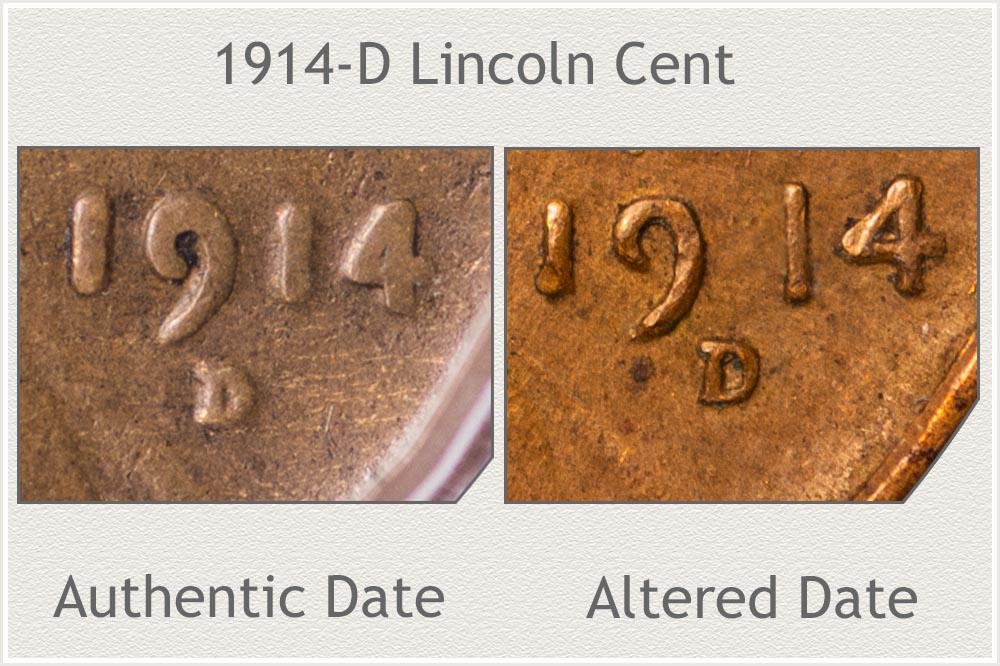 Detection of these methods is needed to confirm an authentic key Lincoln cent. Close examination is required to see an added mintmark. Spacing of the numbers often alerts to an altered 1944 date. Best defense is having any 1914-D Lincoln cent authenticated by PCGS or NGC grading services.
References
US Mint. 1915 US Mint Annual Report https://nnp.wustl.edu/library/publisherdetail/51
Coin Values | CoinStudy Articles
Lincoln Wheat cents span the years 1909 through 1958. From the top condition coins collected by advanced collectors to worn examples; to an affordable collection for young collectors, the range of value is extensive. Identify your date, mint and condition and refer to the value chart.
How to Reap the Best Value When Selling Wheat Pennies
As with all selling processes; organizing the coins in a manner a dealer can efficiently asses their worth aids in returns to you. Selling a few or many wheat pennies for the best value starts by separating the coins into "market categories" for consideration by the dealer.
★ Coin Values Discovery finds 1914 Penny Value and...
All US coin values. Recognize your old coins using the image links leading to value charts. Date | Mintmark | Condition are considered; all described and imaged within each series. Surprising value is often found in the smallest of detail.