Coin Values Moving with Precious Metals: Up-Dated 9/25/2023: Gold $1921 | Silver $23.44
1926 Penny Value
Appraising these wheat cents involves judging a few key areas. 1926 penny value is determined by three main factors: Date | Mint Mark | Condition
After identifying Date; a close inspection determines Mint Mark.
A detailed description of the grading process is used to evaluate condition, further narrowing the range of how much your coin is worth.
Steps Leading to Value:
Step 1: Date and Mintmark Variety – Identify each date and its mintmark variety. Three mints struck pennies this year, each listed separately on the chart.
Step 2: Grading Condition – Judge condition to determine grade.
Step 3: Special Qualities – Certain elements either enhance or detract from value.
1926 Lincoln Penny Value
Condition of Coin
Date
Good
Fine
Extremely
Fine
Uncirculated
1926 Lincoln Penny Value Up-Dated
2023
1926
$0.08
$0.33
$1.41
$5
1926 D
$0.88
$2.19
$13
$57
1926 S
$5.75
$10.83
$25
$202
Judging each coin individually is important to an accurate value. A step by step approach of examining: Date | Mint Mark | Condition quickly determines worth.
Value charts separate these three categories to narrow value ranges. Identify and confirm both Date and Mint Mark combination first.
Condition of a coin finds a moving value scale from worn examples to uncirculated examples showing no wear. Find a close match of condition by comparing your coin to the images in the grading section below.
Step 1: | Date and Mintmark Combination
Varieties of 1926 Cents Identified
Values and rarity cover a wide range in 1926 pennies. San Francisco variety cents are the standout issue. Identifying nicer condition coins contributes to the Denver issue. Popularity underpins value of Philadelphia cents.
1926 Lincoln Penny
No Mintmark Under Date: Philadelphia Mint Struck the Coin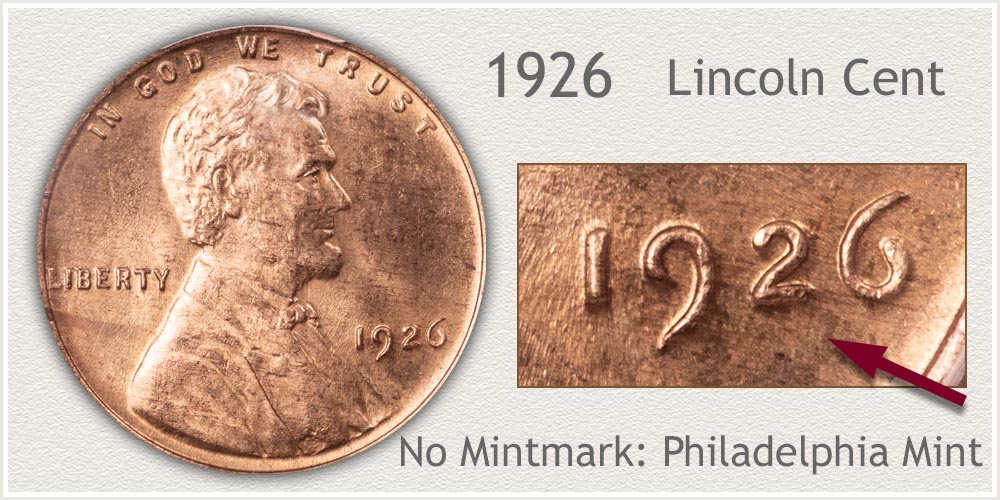 1926 Philadelphia cents are Abundant in the Good grade. A coin displaying detail of wheat stalks on the reverse is a better than average condition penny. Popular with young and beginning cent collectors and an affordable issue.
Part of the early era 1909-1933 wheat series, initial value is above latter year dates.
1926-D Lincoln Penny
"D" Mintmark Under Date: Denver Mint Struck the Coin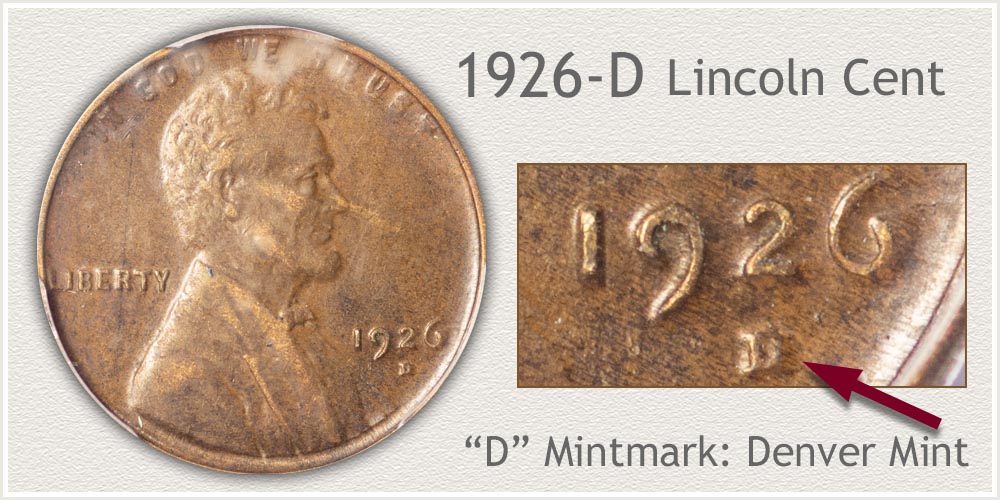 A well circulated Denver 1926 cent is Abundant on a rarity scale. Examples removed from circulation before heavy wear occurred are in demand by collectors. Noted on the chart is an important point to grading. Bold detail to Lincoln and lettering along the rim is an elusive condition and premium value.
A favorable coin is sharp in appearance on both obverse and reverse. Lettering along the rim sitting flat on the field is very desirable in higher grades.
1926-S Lincoln Penny
"S" Mintmark Under Date: San Francisco Mint Struck the Coin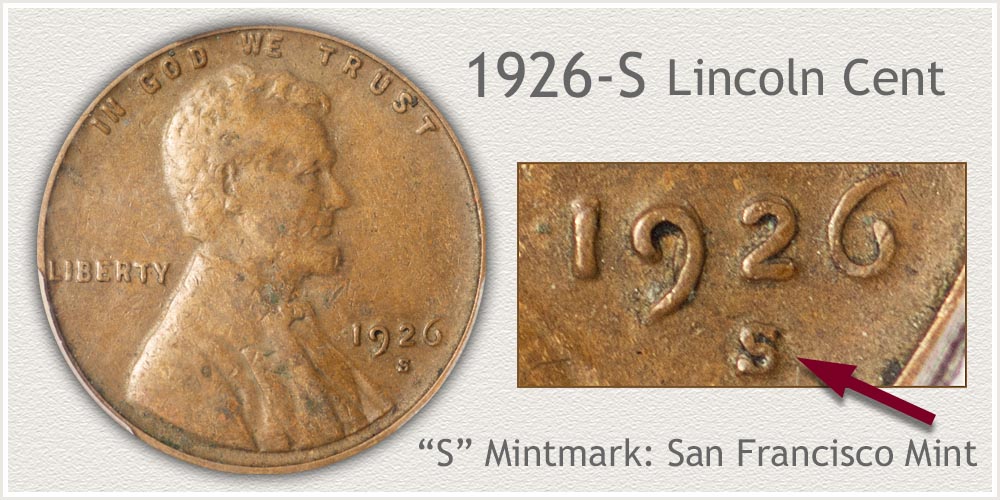 San Francisco 1926 pennies are the standout value issue of the year. With the distinction of the 10th lowest mintage of any wheat penny. 4,500,000 were struck. Valued and of interest to collectors in all levels of condition.
An average low condition 1926-S is worn to the point wheat stalks lack any detail. Above average examples begin to show separation of lines in the upper wheat stalk area. Lettering clearly separate from the rim is also an indication of better quality.
Step 2: | Judge Condition to Identify Grade
Grading Finds Accurate 1926 Penny Value
Grading descriptions indicate focal points of devices to examine when judging condition. Compare to the images to visualize areas needed to confirm grade. Grades are defined and used as standards finding values on the chart.
Review the uncirculated example image first, it gives a good illustration of the complete amount of original detail on a coin without any wear to the surface.
Work over a soft surface and when viewing, tilt the coin under a light helping bring out subtle details.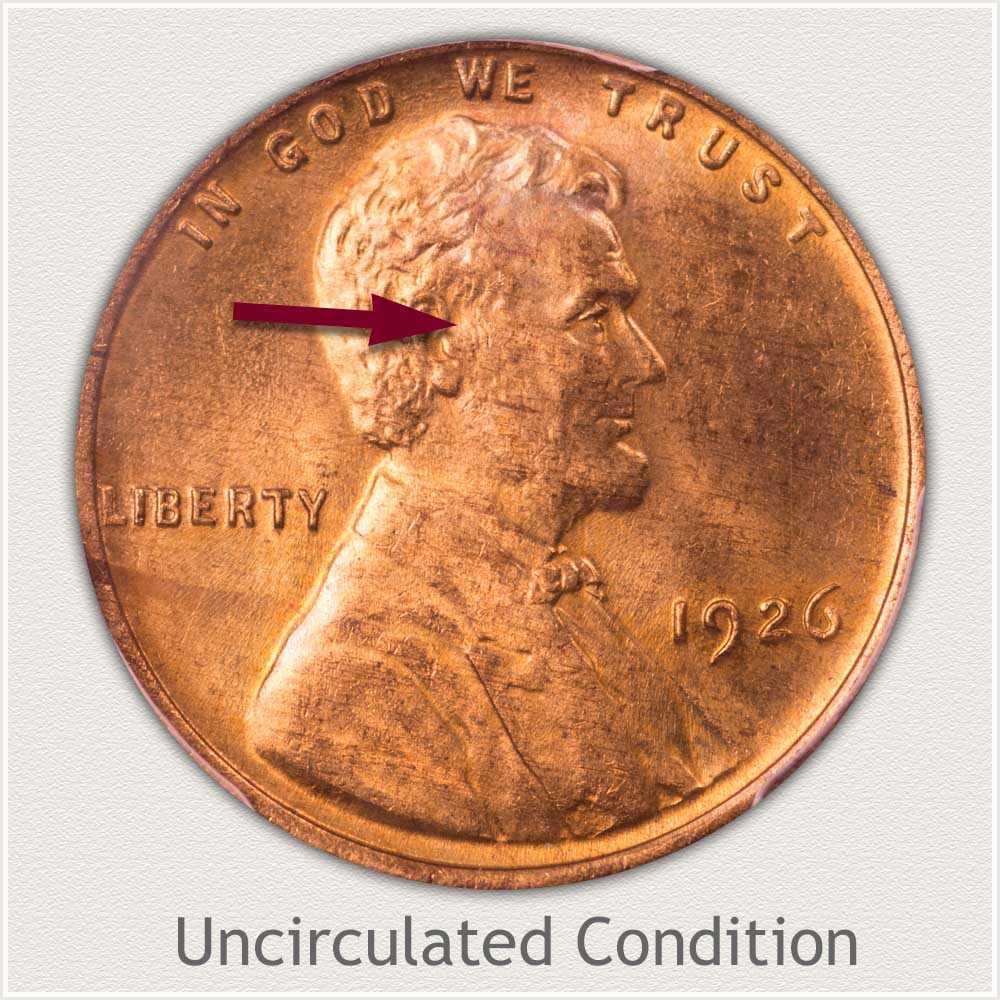 Uncirculated Grade: Original surfaces not disturbed by wear is a wheat cent in Mint State - Uncirculated grade. Absence of wear is key to determining the top grade, uncirculated.
Examine Lincoln's cheek below the eye extending to his ear. High profile areas show evidence of wear first by a smoothing effect and change in color to the metal. A minute texture gives a mint state coin its brilliance. Wear reduces luster and leaves a dullness to the surface.
Brilliant luster is noted on the 1926 penny, covering the entire surface. Rotate and tilt your coin under a light, mint state luster follows the light and remains unbroken.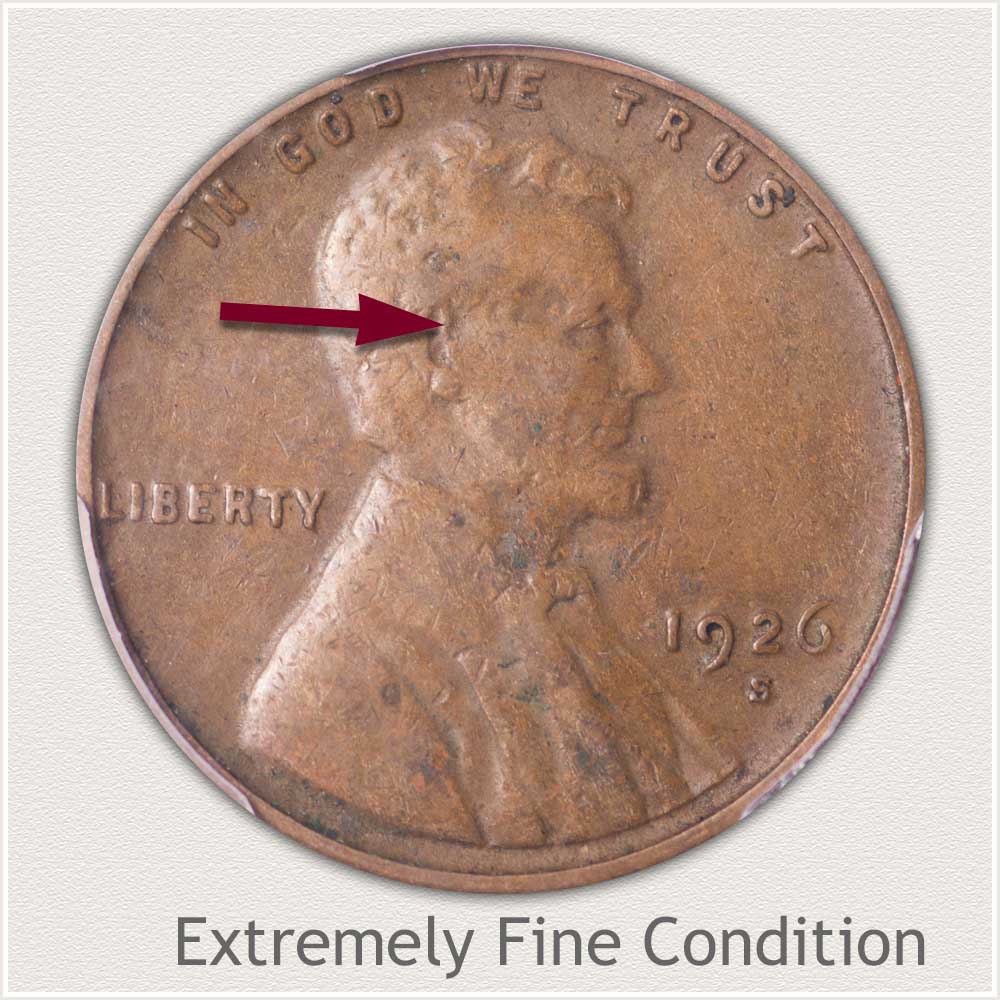 Extremely Fine Grade: A moderate flattening of the highest parts of Lincoln, legends and date places a wheat cent in Extremely Fine grade. Important in reaching the grade is flatness is unconnected from one area to the next.
Only the highest areas of the design are seen with evidence of wear. Lincoln's cheek is just slightly worn, only removing the very top of the contour. A separation from his ear remains.
A nice rich brown toning covers the 1926-S penny. Toning is highlighted with lighter shades bringing out the major elements of the design. A pleasing look is important to collectors wanting to assemble a collection of circulated wheat cents. Light wear and eye appeal is a popular theme and enjoys a strong demand of these old coins.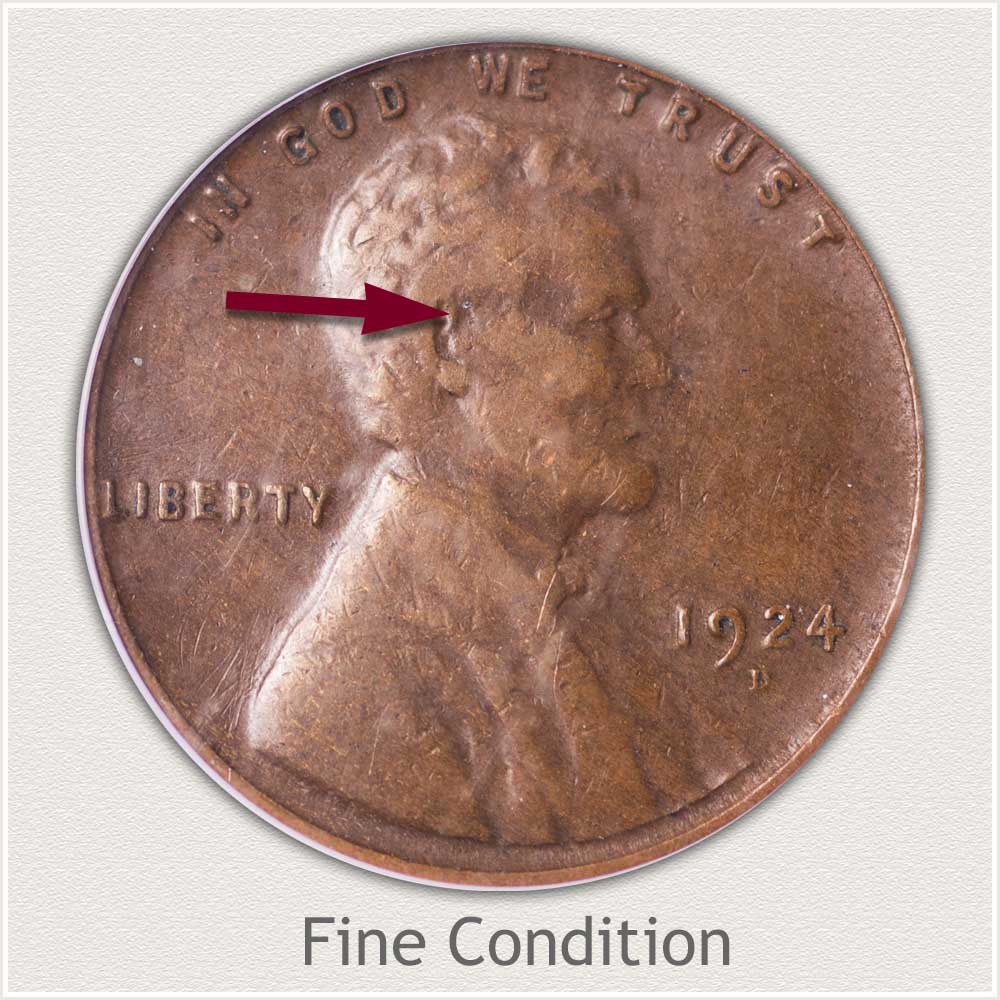 Fine Grade: Wear is moderate to heavy on a wheat penny in Fine grade. Major detail is still bold. Areas of design are beginning to connect due to the reduction in profile.
Across Lincoln's face the contours of his hair and forehead are just merging. His jaw and cheek are still separated and well defined. A slight merging of the temple and the now flattened cheek is beginning.
A mark free surface adds appeal to a coin in Fine grade. Avoiding noticeable damage sets any coin apart. Part of the challenge enjoyed by collector is finding a pleasing circulated wheat cent.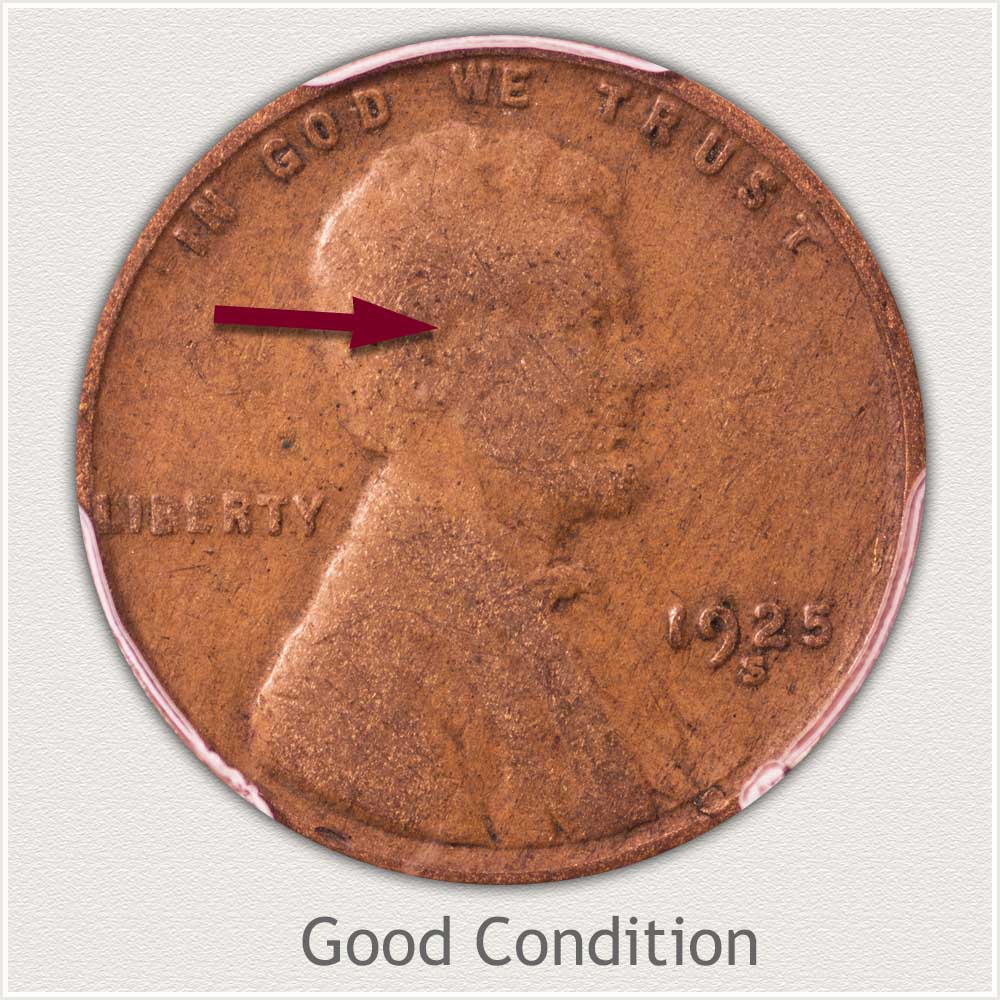 Good Grade: Wear covering the entire surface defines a penny in Good grade. A smooth surface is noted over all devices. Lincoln's portrait is well outlined and a clear date is necessary.
A continuous flat area now covers Lincoln's face, jaw, and hair. His ear is well connected to the cheek. Any contours are reduced and merged on both his coat and hair.
Well-worn wheat cents are further judged noting positives and distractions. An even toning covering a relatively mark free surface is a strong plus to a good grade wheat cent. Early era cents dated 1909 to 1933 enjoy premium value and demand when displaying positive eye appeal.
Video | Grading Lincoln Wheat Pennies
Old pennies handled with care and well preserved are sought by collectors. With subtle points to condition separating values Grading Lincoln Wheat Pennies examines the different grades using video and descriptions.
Step 3: | Special Qualities Enhancing Value
Machining Error 1926 Penny
With high mintages comes the potential of an error in production. Error coins occasionally slip through quality control at US mints. Once released into circulation Lincoln cents pass through many hands, collectors included. Easily visible imperfections have become a specialty sub-set of Lincoln wheat cent collections.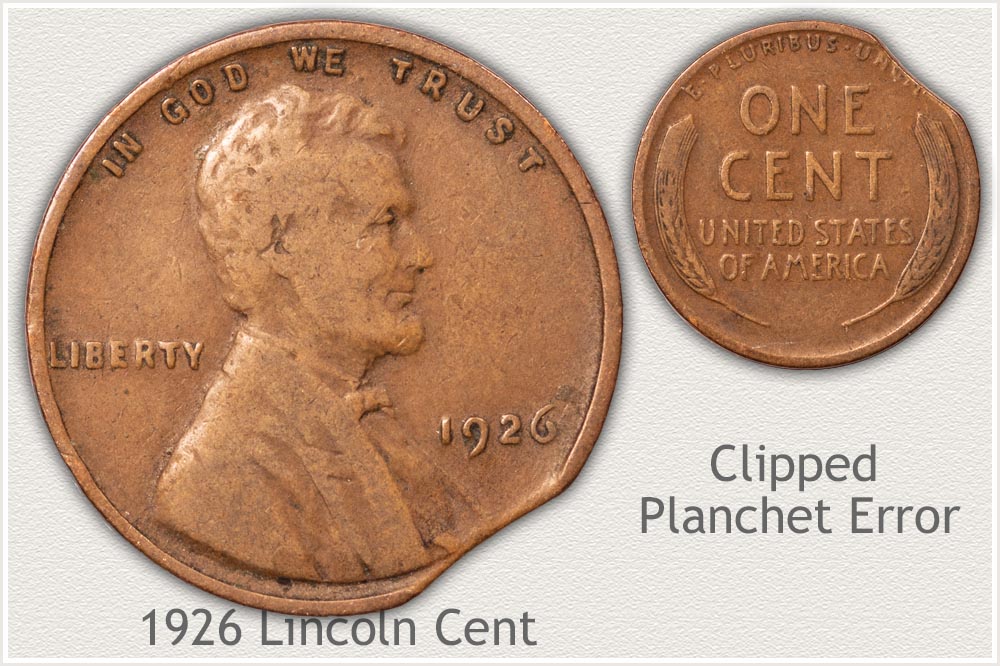 The 1926 penny imaged is a type of machining error with a following of collectors. During the stage of punching cent blanks this blank was punched to close to a preceding hole, resulting in a clipped-planchet. When struck as a cent a small void is visible just under the date.
Judging by the amount of wear this coin circulated freely without attention paid to its clipped planchet. Today added value is awarded because of the error. The amount and depth of missing design gives a premium of a few dollars. It is fortunate the date is visible, missing date and missing facial features of Lincoln clipped planchet errors are not as highly valued. A nicely toned, evenly worn example without any distracting marks, it is a fascinating look into the minting process. A coin that can spark interest of new collectors.
References
US Mint. 1927 US Mint Annual Report https://nnp.wustl.edu/library/publisherdetail/51
US Mint. US Mint at Philadelphia Tour. https://www.usmint.gov/about/mint-tours-facilities/philadelphia/tour-information
US Mint. Coin Term glossary. https://www.usmint.gov/learn/collecting-basics/glossary
Coin Values | CoinStudy Articles
Lincoln Wheat cents span the years 1909 through 1958. From the top condition coins collected by advanced collectors to worn examples; to an affordable collection for young collectors, the range of value is extensive. Identify your date, mint and condition and refer to the value chart.
How to Reap the Best Value When Selling Wheat Pennies
As with all selling processes; organizing the coins in a manner a dealer can efficiently asses their worth aids in returns to you. Selling a few or many wheat pennies for the best value starts by separating the coins into "market categories" for consideration by the dealer.
★ Coin Values Discovery finds 1926 Penny Value and...
US coin value charts covering cents to gold. Identify your coins using the image links. Date | Mintmarks | Condition are described and imaged with each series. Small details necessary to accurately value are described.